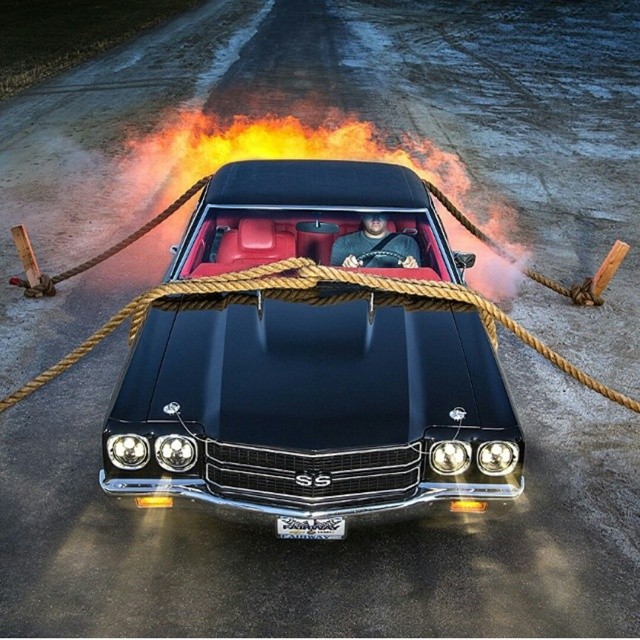 Built by Ironworks Speed and Kustom
    Story from Popular Hot Rodding
   Lock your doors. A lynch mob of angry purists is about to descend on Las Vegas. That's where you'll find a real '70 SS 454 Chevelle that's been stripped of its LS6 big-block for a Gen IV LSA small-block. Never mind that the supercharged LSA's 556 net horsepower trounces the LS6's 450 gross horsepower, this is automotive sacrilege at its best. The Chevelle's floppy chassis and factory F41 suspension are also long gone, replaced by an Ironworks custom frame and an all-aluminum C6 Corvette suspension. Nevertheless, while tossing aside the heritage and mystique of the legendary SS 454 Chevelle for not-so-legendary modern technology seems like hot rodding blasphemy, it's exactly why we like it so much.
As a magazine that espouses older classic iron over newer plastic, you'd think we'd empathize with the purists' pain. Although collectors don't go quite as bonkers for SS 454 Chevelles as they do for Hemi 'Cudas and Boss 429 Mustangs, it still ranks as one of the most intimidating and revered muscle cars of all time. We say, so what. These days, its lunch gets eaten by any ordinary six-cylinder Mustang. As far as we're concerned, if you're restoring a '70 SS Chevelle to new condition, it belongs behind glass in a museum. Some guys like Greg Heinrich "get it," and would rather drive a unique creation than park one behind a velvet rope.

We don't think car owner Greg Heinrich is worried about purists chasing him across the desert though. At 61 years of age, he isn't some punk kid who has no respect for rare Detroit iron. To the contrary, his family has been running Chevrolet dealerships for almost 50 years, so he's watched firsthand as muscle cars evolved from ordinary commuter cars to collector's items that sell for six figures at auction. Not surprisingly, Greg's a Bow Tie man to the core, having restored several midyear Corvettes, Tri-Fives, and first-gen Camaros to factory original condition. Interestingly, he's not a man who fears modern technology. He embraces it. "Some people say that they don't build cars like they used to in the good old days, and they're right. They build them even better today," Greg quips.
That same appreciation for modern technology directly influenced the destiny of his Chevelle. "When I first purchased the car 20 years ago, it was in very rough shape. It had extensive hail damage, the floors were rotted out, and the original LS6 was long gone," Greg recalls. Although he considered scrapping the project entirely and cutting his losses, some mysterious force … perhaps the purist deep within his psyche convinced him that it was a car worth saving. After performing some extensive sheetmetal repair, Greg painted the Chevelle at his dealership. For the next 15 years, Greg made do with a GM 454 crate motor matched with a TH400 transmission, but he found the Chevelle's driving dynamics terribly unsatisfying. "I got frustrated with the car because it handled like an old '70 Chevelle. It didn't steer, brake, or ride well, and driving a black car in Las Vegas without air conditioning isn't much fun at all. I took the car over to Roger Lee at Ironworks Kustom, and told him that we need to make this thing drive like a modern performance car.

While many hot rodders would be perfectly content cruising around in a real SS 454, even if the engine isn't original, Greg admits that he's been spoiled by the virtues of modern technology. Other cars in his stable include an LS9-powered '57 Chevy and several LS-powered street rods. Obviously, Greg isn't a hot rodder who is easily impressed, but he's smitten with the power, smooth street manners, and fuel efficiency of the LS-series small-block. Having tried just about every Gen III/IV crate motor in the Chevrolet Performance catalog, he decided to go with a supercharged LSA small-block this time around, which is essentially the same 556hp beast strapped to the Camaro ZL1 from the factory. To tame the LSA on long-distancing cruises, it's mated to a Tremec T56 Magnum six-speed manual transmission, which routes the torque back to a GMR 9-inch rearend.
Special thanks to Rick Amado at rickamado.com for the amazing photography.
See more pics and full feature HERE