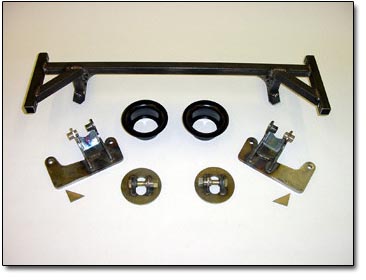 This is what is included in the kit from DSE:
Upper control arm mounting plates with integral upper coil-over mount brackets and gussets
Stamped steel rings that trim the coil-over shock penetration through the subframe
Locating fixture for the new upper control arm plates
The first step is to remove the stock upper control arm/shock mounts.
After the mounts are removed, you'll want to grind away the mess of slag and welds that the factory guys left behind.

Next thing on the list is to enlarge the factory shock pass-through. You only need to cut away the horizontal portion on the inside edge of the spring pocket.

You can now bolt the supplied fixture to the engine stand bolt holes in the crossmember.

Once you have the fixture in place, you can mark the area of the subframe to be removed. Make sure the new plate is flat against the fixture and the bolt holes are aligned.

Remove the fixture and make your cuts.

You can now re-install the fixture and......

Attach the new mounting plates using 7/16 x 2" bolts. (You'll have to buy these, as that's the only thing needed that's not included)

Tack the new mounting plates into position, then weld completely around the new plates. The gussets should be welded in at this time as well; position them under the front control arm mounting bolt. As DSE suggests, an experienced welder should do this. Good penetration and weld quality are a must for these plates.

You can now fit the trim rings to the new upper control arm plates.

I had heard the clearance between the coil-over shock body and the trim rigs was a little tight, so as a precaution, I mocked up the lower control arms and shocks at full droop to make sure they cleared before I welded them in.
Well, nothing ever goes as smoothly as planned, so this was my only hang up. It seems that my subframe fell victim to thirty-seven year old installation tolerances. The forward crossmember was welded in a hair out of square with the frame rails, so the new lower control arm on the passenger side wouldn't slide into the front mount. I never had this problem with rubber, or even poly bushings, but the Delrin bushings have no deflection what so ever.
After a session with the number three BFH didn't work, I approached the problem with a more methodical, politically correct solution. I cut a piece of 3/8" all thread long enough to reach from the rear of the front mount to the front of the rear mount with washers and nuts on each end, then tightened it up until I had that extra 1/8" I needed.

With that problem out of the way, all you have to do is weld the trim rings in place and grind to perfection.