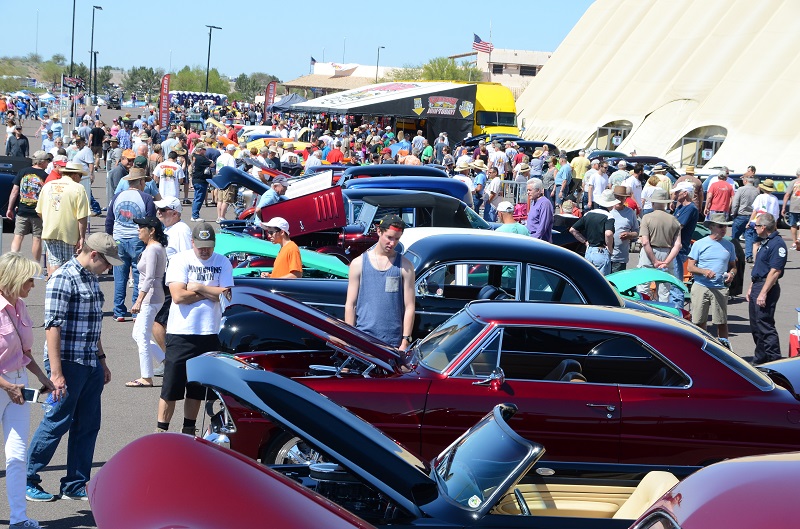 Story by John Drummond
Our Goodguys 2015 season got off to a sizzlin' start last weekend as the 6th Spring Nationals presented by Brown's Classic Autos enjoyed three straight days of summer-like conditions! It was top-down cruisin' at its finest as Westworld of Scottsdale rocked and rolled with over 2,500 Classic American show cars of all colors, shapes and sizes. As season openers go, it was perfectly scripted…Full Throttle Fun you might say!
The weekend started off with a 200-car strong Thursday Hot Rod Cruise and cruise they do in this part of the country! With free lunch (1/2 pound cheeseburgers!) provided by Dang it Herb Classic car consigners, and a trip to a couple of spectacular museums, the day was a smashing success.
While the giant show & shine (2,500 cars) , vendor midway, healthy swap meet & AutoTrader Classics Cars for Sale Corral filled Westworld's paddocks and polo field through the weekend, Goodguys AutoCross launched a brand new season on the western side of the facility. Familiar faces, new cars and nonstop action blistered the blacktop all three show days. Defending PRO and Street Machine champion Kyle Tucker and his bruising blue Detroit Speed equipped '70 Camaro slalomed to a convincing win in 64.850 seconds while Brandy Phillips returned to action (after sitting out the 2014 season) with a sinister looking Spectre Performance backed '72 C-10. Her best lap of 69.901 was good for the Truck class win. Other winners were Kevin Daigle (Street Machine), Cameron Bishop (Hot Rod) and Marsall Machado (All American Sunday).
With over 100 awards to distribute, the Goodguys staff along with Mike & Randy Way of All Ways Hot Rods (on hand to select the Builder's Choice awards) were busy pouring over thousands of amazing entries. Found in Sunday's sun-soaked winner's circle were Dean Osland's '59 Rambler, Yancy Taylor's '66 Chevy truck, Paul Alderman's '70 Camaro and Bob Leenstra's '71 Cuda – all of whom drove away with the new season's first four Top 12 finalist picks.
The weekend also saw the first special parking areas of the year, highlighted by the all new '40 Fords Forever grouping! Thanks to a hearty showing of the Phoenix 40's club, over 100 1940 Fords made the scene. Joining them were healthy turnouts for Deuce Doins, Mighty Muscle, Trick Truck, Ya Gotta Drive 'Em, Young Guys and of course the Homebuilt Heaven gang!
Add it all together and you had a spectacular and sunny season opener. It was so much fun, we'll do 21 more events just like it this season! See you on the road!
Click here for a look at all remaining 2015 Goodguys events.
Click here for our Facebook event coverage.
Click here for AutoCross results.
Click here for all weekend award winners.
RESULTS