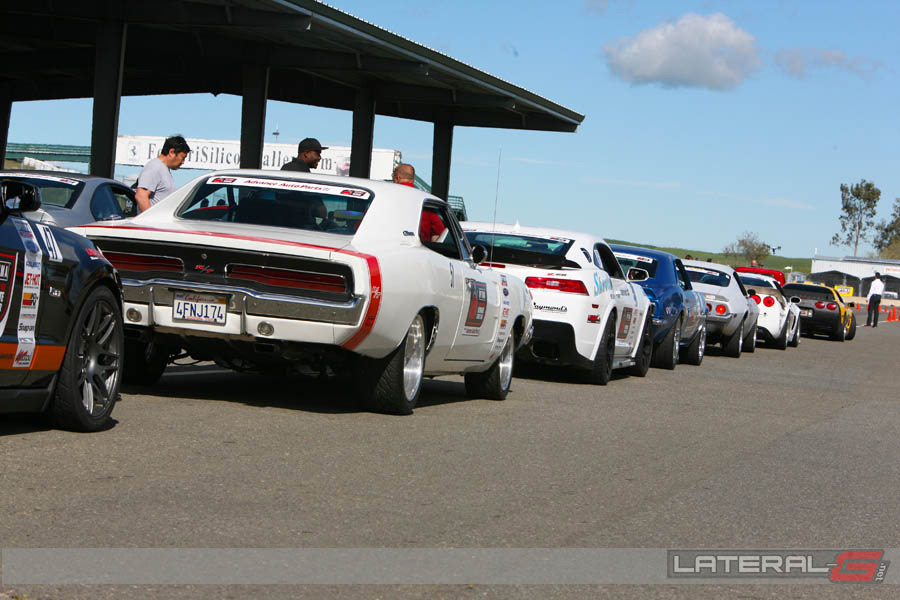 Advance Auto Parts USCA 2015 Event #1 – Thunderhill
Tony Huntimer
The USCA Series
If you don't already know, the USCA is the Ultimate Street Car Association. It's a sanctioning body formed to create safe, fun, and high profile national events for street legal performance vehicles. This association is used to find the cars to populate the Optima [Batteries] Ultimate Street Car Invitational (OUSCI) held in Las Vegas, NV that's held the day after SEMA ends.
There are 9 USCA events throughout the season. Each USCA event is made up of multiple competitions to award the best cars and drivers. The points from the autocross, speed-stop, road course, road rally, and build/design competitions all add in the end to determine the winners. There are multiple classes for each USCA event: GTV, GTS, GTL, GT, and EC
For more USCA information: http://driveusca.com/
This year the USCA event series presenting sponsor is Advance Auto Parts. Other sponsors that support the events are: Falken Tire (Road Course Sponsor), Jet-Hot High Performance Coatings (Education and Instruction), K&N Filters (Spirit of the Event), Lingenfelter Performance Engineering (Design and Engineering), Wilwood Disc Brakes (Speed Stop Challenge), and Detroit Speed (Autocross).
The Plan
Last year I was only able to go to the three-day Optima Batteries USCA for a few hours on the first morning due to some unchangeable appointments. This year the event was being held at Thunderhill Raceway in Willows, CA. It streamlined down to a much more manageable two-day event and I was determined to attend. There's no way I could compete or go the event both days, but I could at least drive the TestCarDatabase.com project '69 Camaro the three hours to the event and at least watch one day. If you've seen coverage of other events from me here on Lateral-G.net, you know that I don't attend automotive related events without a camera in hand.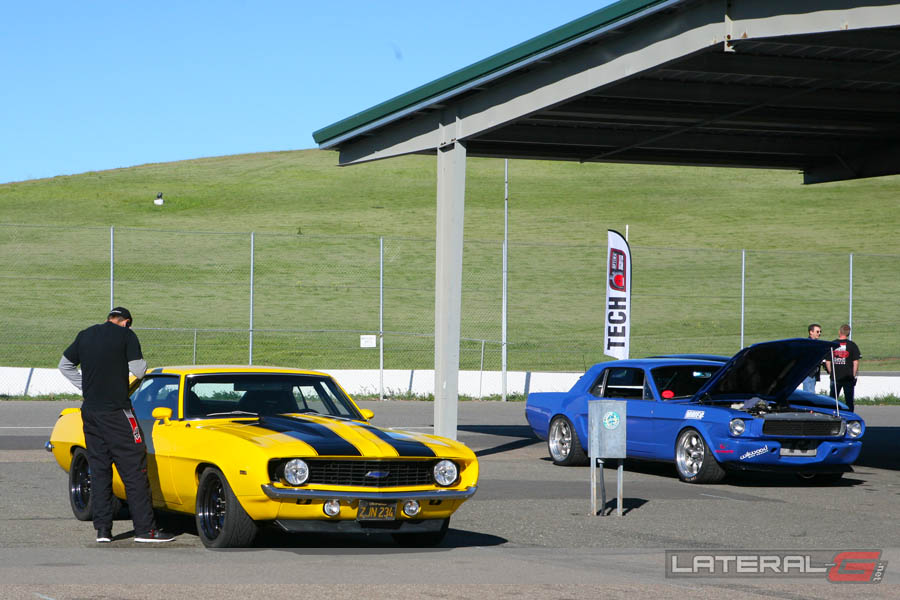 The Transportation
My friend Eric bought a "finished" Pro-Touring '69 Camaro about 5 years ago. It appears that the previous owner had started building a drag race Camaro and half way through decided to go the Pro-Touring route. It has a beefy CA Chassisworks Fab-9, Cal-Tracs, drag-style full cage, sumped stock tank, and Global West front and rear suspension. It had a 355 SBC that was a total dog. It turns out that the car had previously been equipped with a supercharger, but the owner had already removed it…hence the low-compression engine.
Eric's first order of business was to swap in the 496 BBC I built and had sitting around.
Every time Eric had received his Camaro from a trip to a local shop, he would drive it a few times and then something would go wrong. Luckily, the 496 BBC I built for him has never been the source of the mechanical woes.
About a year ago, I took over doing all the work and fool-proofed many of the questionable systems. I even safety wired some cross-drilled ARP header bolts, so they would not unexpectedly come loose. After Eric drove the car a few times, the car died and would not restart. Over a cell phone call, I walked him through getting direct 12 volt power to the fuel pump once I diagnosed the inoperative fuel pump. After getting my hands on the car, I found out that he had accidentally kicked the fuel pump wire off the accessory spade in the face of the fuse box. Needless to say, I know this car and trust it.
The Camaro had recently been featured in the March 2015 issue of Chevy High Performance magazine for an article which covered an underhood makeover. A week before the Optima Batteries USCA event, I was going to replace the Demon carburetor with a FAST EZ-EFI2 fuel injection for another magazine article. Since I had already performed a lot of work under the hood without driving the car more than a couple of miles, I decided to halt the fuel injection job before it was too late to turn back. I tightened all the loose bolts and got it ready for a 3-hour drive to Thunderhill Raceway.
The Drive
It was 6 AM on race day. Like everyone else going to the Optima Batteries USCA (Ultimate Street Car Association) event, all week I had been watching the weather every couple of hours. Out of all the days of great weather in California, it was supposed to storm. Even up until 18 hours before the start of the event, there was rain and hail in the forecast. The forecast gradually cleared up with only a bit of rain in the morning and then again in the afternoon. That was a sign that we were waiting for.
My buddy Scott Timmons and I had a three hour drive to Thunderhill ahead of us, so we hit the road early. We got a few miles down the road and I noticed the volt gauge was reading about 11 volts, when it should be reading about 13.5 while running. The volts weren't dropping as we drove, which was a good sign. The sun was coming up, so I shut the lights off and the voltage didn't increase as I suspected it might. We got another 20 minutes further and pulled into a parking lot. I pulled my voltage tester out of the trunk (I never go anywhere in a hot rod without my Power Probe electrical tester) and tested voltage at the battery and at the alternator. Both were 13.7 while running. Good deal! The inaccurate gauge was going to have to wait. We shut the hood and hit the road.
After a couple of gas station stops in the thirsty beast, we arrived safely at Thunderhill Raceway a few minutes after the driver's meeting started. I parked the car, grabbed my camera, and started shooting photos right away! There's no messing around when I'm in photog mode.
The Event
The meeting was semi-quick and to the point. Essentially, don't screw up and have fun! A minute later, engines were fired, tires were spinning, and people were grinning.
There was plenty of awesome driving and a few spectacular cone kills. Even some spectacular cone misses! Chris Smith driving his badass Smitty's Custom Automotive C10 truck was one of the victims of the dip in the middle of the autocross. He whipped the truck around in spectacular smoking tire fashion, but didn't touch a single cone with all the smoke.
We saw James Larieau smashing and dragging cones in his late second-gen Camaro, all while grinning from ear to ear.
Clayton Ross was extremely talented when he slid completely sideways through the checkered flags at the end of the autocross with his '69 Dodge Charger.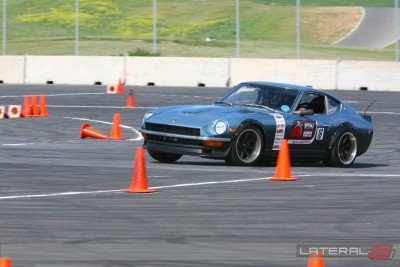 David Carroll is a great guy and always seems to be in good spirits. He has had a rough year so far, but seeing him out at the event, you wouldn't know it. David put a lot of effort in getting his LS-powered Datsun 75 280Z going this last year and decided to make a go of the event. He ran hard all weekend with a smile on his face and did great in all the events, considering that he's mostly using factory parts from late-model Nissans and Toyotas and essentially a takeout LS and 6-speed. On Sunday at the end of the day, he was awarded with the K&N "Spirit of the Event" award, which includes K&N products, an invitation to SEMA and the Optima Batteries OUSCI event, and a badass K&N racing helmet. The award couldn't have gone to a better recipient.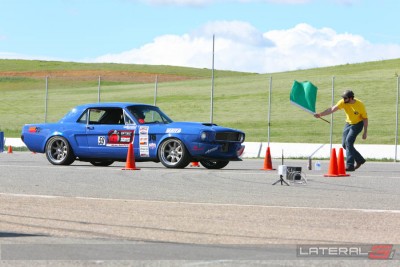 The first time I met Mike and Brianne Maier was on the side of the road about 6 years ago. I was on my way to a job interview and saw a blue Mustang on the side of the road on an off-ramp. I pulled my old '68 Camaro over and asked them if they needed help. He had already diagnosed that the distributor gear had failed. I put Mike in touch with my friends over at Campbell Auto Restoration since they were the closest shop that I trusted. When I felt I did all I could, I was on my way. After the interview, I contacted Mike and Brianne and made sure they were taken care of. I still didn't know who they really were until I got home and performed some Google searches. That blue Mustang is now their test mule for Mike Maier Inc. I've been watching this beast change a lot over the last few years. Mike keeps getting better and faster too. His newly formed company MikeMaierInc.com is a force to be reckoned with after seeing his latest achievements. Mike and Brianne are some of the nicest people in the business. I wish them well. No need to wish them luck. It's all skill with them. Everyone knew he was one of the top contenders all day. He ended up taking second place overall in the GTV class, with a best lap at the autocross of 26.64 seconds. Only six drivers in the GTL class beat Mike's time!
Jake Rozelle, "The Kid," kicked some serious butt in his badass GTV class '69 Camaro! He was only bested by Mike Maier in the autocross and he took first in the class overall because he beat Mike in the Wilwood Speed Stop challenge and the Hot Lap road course. Jake is crazy-talented and a great guy. He'll be a force to be reckoned with at OUSCI.
Good guy, James Shipka got to put his newly designed rear spoiler to work and came in third place in the GTV class. He had a bad break and his engine failed the last day on the road course. He won't let that stop him. Like Arnold Schwarzenegger, he'll be back! There were so many great cars and cool people, I could go on forever!
In the eyes of everyone I saw and talked with, the USCA event was a blast. Everyone was in a good mood and there were tons of smiles all around the place. I heard a lot of people talking about the top contenders and fastest times. So I know everyone was there to have a good time, but most of them truly had their eyes on the prize.
The Transportation Prognosis
In the end, we only hit 5 minutes of rain on the way home. The car performed well. It killed about 4 stock Camaro tank-fulls of 91 octane. On the road, Scott and I shot the $hit for the 6 hours over the loud 3-inch exhaust with SpinTech mufflers that dump under the car. I was horse by the time I got home. I need to find out why the gauge voltage is low and seal up the shifter boot so the car doesn't continue to fill up with fumes. Other projects to pitch to Eric that were also made apparent during the journey, it could use: a heater, kick panels that seal out cold cowl air, some quieter mufflers, and exhaust that runs all the way out the back. Known future projects already include Art Morrison Enterprises front subframe and IRS, mini-tubs, and a larger fuel tank. We'll be doing more than taking photos next year.
Scott was good company. The trip also gave him a much better real-world understanding of what he would want from his current Pro-Touring projects. One of which, is my old white Pro-Touring '68 Camaro which is currently getting a total makeover…which is another story.
Overall results:
http://driveusca.com/wp-content/uploads/2015/03/USCA-ThunderHill-2015-RESULTS-for-Release.xlsx