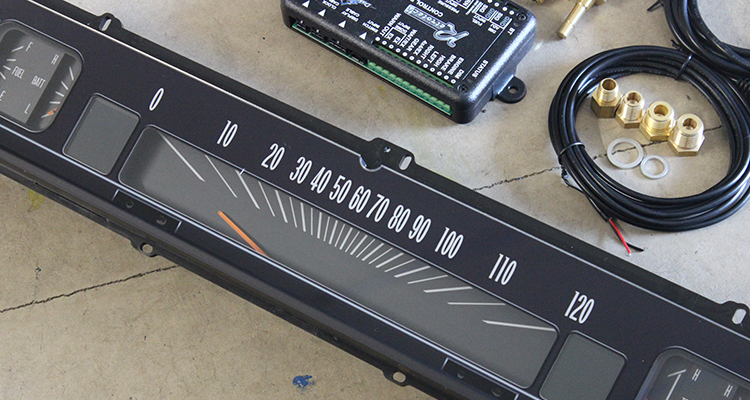 One of the most popular interior modifications is upgrading your factory gauges. In many classic cars, they were lacking the proper instrumentation that most people want. A speedometer and fuel gauge were the most common found and gauges like a tachometer, water temp, volts or oil pressure were usually upgrades from the base model.
Even if your car has these, they aren't as accurate as modern gauges. Dakota Digital has been making accurate, bolt-in gauges for decades, and continues to expand their product line. They started out with a truly futuristic digital gauge set up. But the old saying of "what's old is new again" has certainly bit them in the behind. Their latest line of gauges in the Retrotech or RTX series of gauges. These gauges feature all the modern upgrades Dakota Digital offers, but with an OEM look to them. Think of these gauges as the way the OEM's would build them now if they built a new '55 Bel Air or '69 Camaro.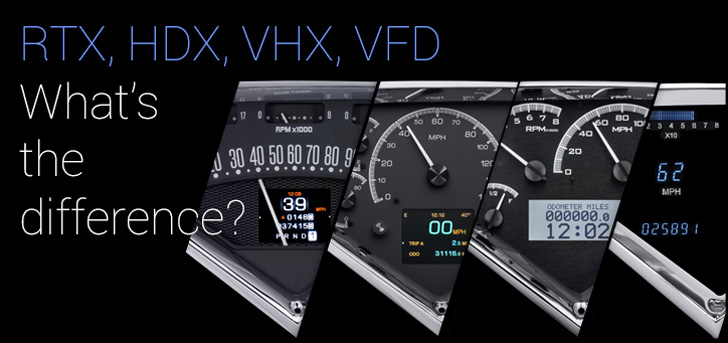 VFD – The Digital Revolution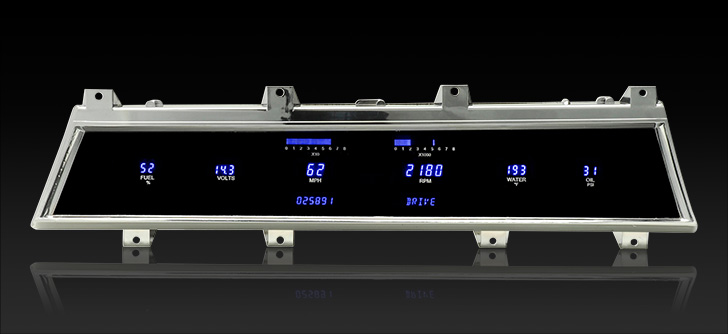 Their first product line was a digital set of gauges which were originally released back in 1986 but has continued in development. These gave an ultra modern look to classic cars and featured the full line up of gauges. This first offering was a complete bolt-in set up gauges that went away from the traditional round gauges. Instead of welding and cutting up a dash, you could use the stock dash to add in the full set of gauges. These gauges were just the start of what Dakota Digital has to offer.
Vacuum fluorescent displays
Sleek blacked-out look when off
Easy, at-a-glance viewing
0-255MPH speedometer
Rocker switch for programming
VHX – Going Analog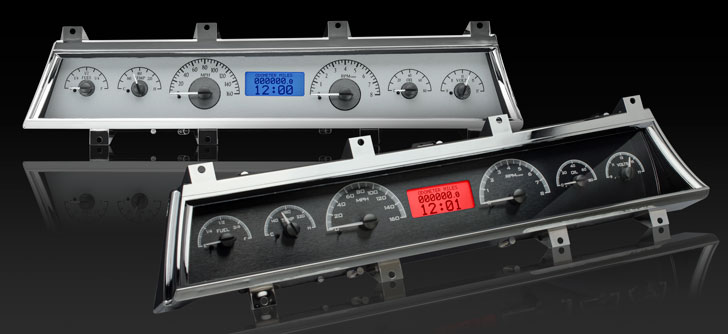 Before too long though, the market shifted it's tastes and demanded the bolt-in style gauges, but with analog needles. Enter the VHX series in July of 2010, which was a revolution in the gauge industry. These gauges are the beginning of the new platform for Dakota Digital and all of them feature a Speedo, Tach, Fuel, Oil Pressure, Water Temperature, Voltometer, and Fuel gauges. The also feature dual LCD read outs that allow you calibrate and customize the gauges or read out instrumentation in a digital format. When these came out, we had to have them and we installed a set into our '65 Chevelle. These gauges have thousands of miles from California to Louisiana up to Pennsylvania and all over.
Backlit LCD screens
Satin black needle caps
Lighting available in: White with red needles, all red, all blue
Available in black or silver overlay
Rocker switch for programming
The gauges came in a few different colors and were just a clean, basic gauge set up for cars and trucks. They have a bunch of features packed in too, such as high speed, high RPM, quarter mile time, and others. The only downside we could see is that they only came in a few select colors which for a few people just wasn't up to to par with their builds.
HDX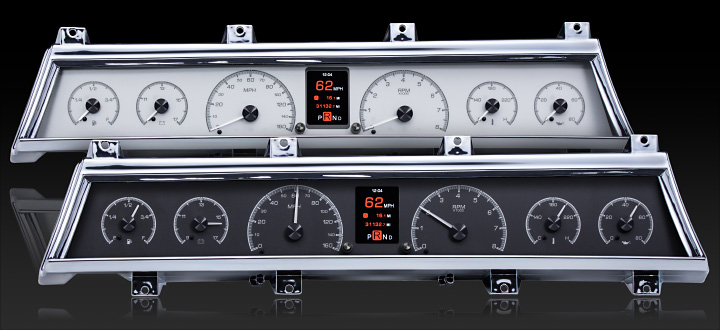 Enter the HDX gauges in July of 2016. These gauges have all the cool features of the VHX gauges from before, but even more features. Remember how you can only get the VHX in a few colors? The HDX you can customize in over 30,000 color combinations. You can sit there and dial in the perfect backlight, needle color, or display color.
Spun aluminum needle caps
Full-color TFT screens
30+ selectable color backlighting
Available in black or silvery overlay
Capacitive touch buttons
Speedometer sweep split-scale
The other upgrade was a bigger, full color screen over the VHX as well. We even installed a set of these into our '55 Bel Air and compared them to the VHX gauges that were in them. One huge upgrade the HDX gauges have over the VHX gauges as well is the option of bluetooth connectivity. On the older ones, they required a button to be installed to calibrate or go through the menus. While you can still use a button, the news ones can be changed with your phone! You can easily change the colors of your gauges to match your driving mood.
RTX

With all these gauges, there's always that one guy that isn't happy. We loved all these options, but we started to see people who wanted something that looked a little more factory. Enter the RTX or RetroTech series of gauges in May of 2018. Now these gauges are the perfect blend of modern performance with a classic stock feel.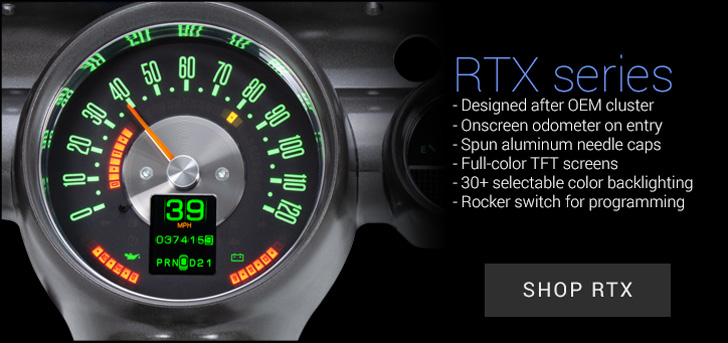 Designed after OEM cluster
Onscreen odometer on entry
Spun aluminum needle caps
Full-color TFT screens
30+ selectable color backlighting
Rocker switch for programming
On our 1966 Chevelle Wagon, Project Way-Gone, we knew that these were the perfect gauges for the car. The car has some nice modern upgrades, such as an LS engine, but will have a nice stock feel to it as well. For example that LS engine is painted orange and features SBC valve covers. These gauges are a great compliment to it where they have a very classic feel but have been fully modernized as well.

Installation
Opening the box, we saw a lot of familiarity to the other gauges Dakota Digital offers. A similar black box that gets wired up with a cable that connects to the bolt in gauges. We decided to read through the instructions just to make sure there wasn't anything different with installation though.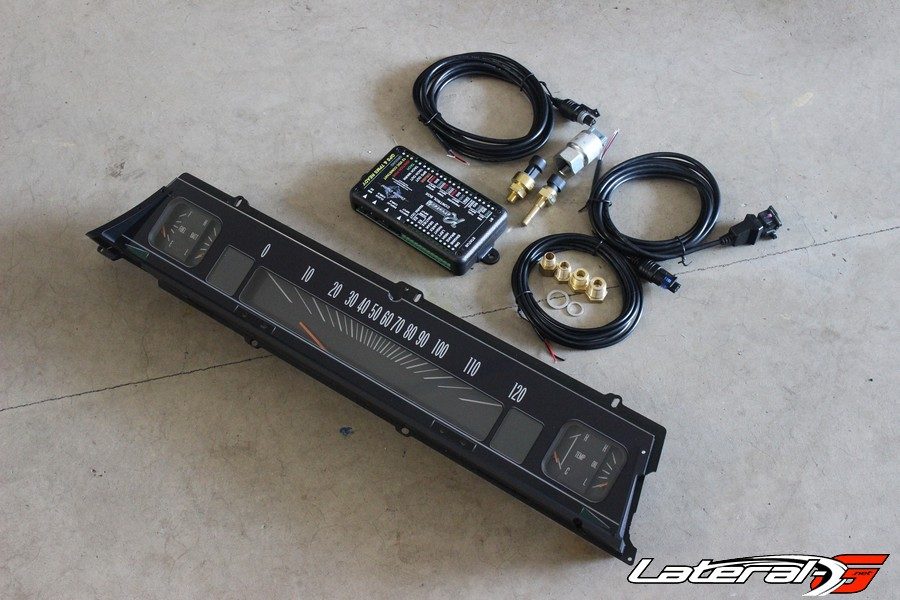 We decided to start by installing the supplied water temperature and oil pressure sending units. For the water temperature, we used the port on the side of the head by the exhaust manifolds. On the oil pressure side, we used the stock sending unit location in the intake valley cover. On the transmission we used the supplied mechanical to electrical sending unit that bolts in place of the cable.
Since we hadn't installed the dash yet, this made installation even easier. If your '66/67 Chevelle has the dash installed, you'll have to drop it down to complete this install.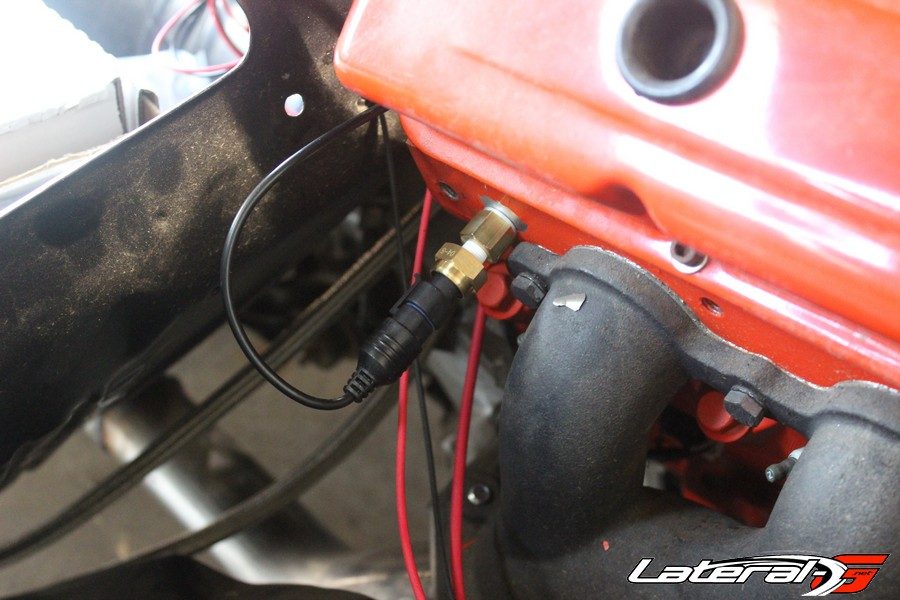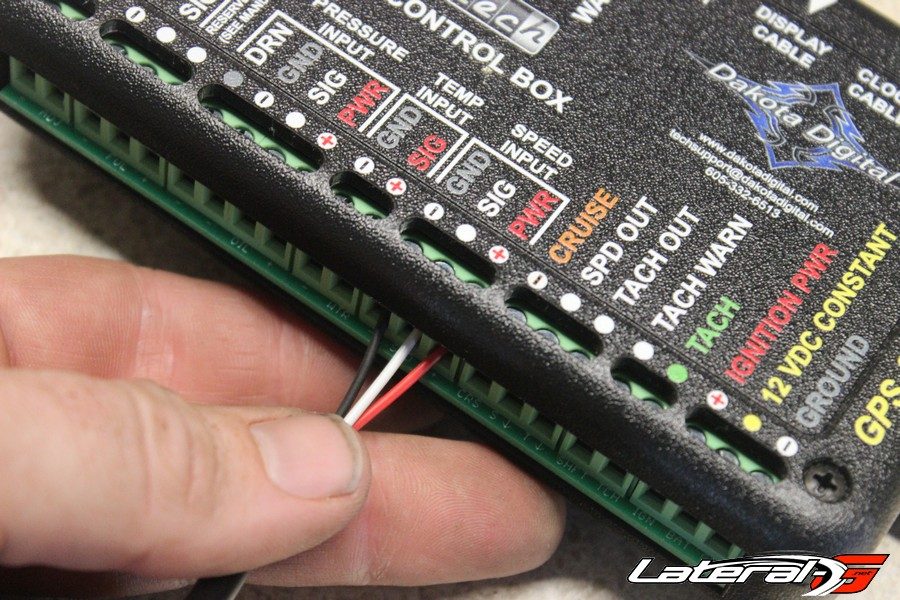 The black box which houses the computer is small and compact, just like it's predecessors. These gauges are so easy to install you almost don't need to to read the instructions. We wired up the sending units then used some of the Painless Performance wiring such as turn signals, high beam indicator, fuel sending unit and lights.
The last step in wiring was to wire in hot, hot in run and a solid ground. Then we will be bolting the gauges into the dash and connect the cable between the gauges and computer. Right now we are still finishing up other projects so we aren't bolting them in place yet.
Overall these are just as easy as all the other gauges to install. We love that they look very similar to the factory gauges, but have all the modern conveniences that we expect out of modern cars. A win-win in our book!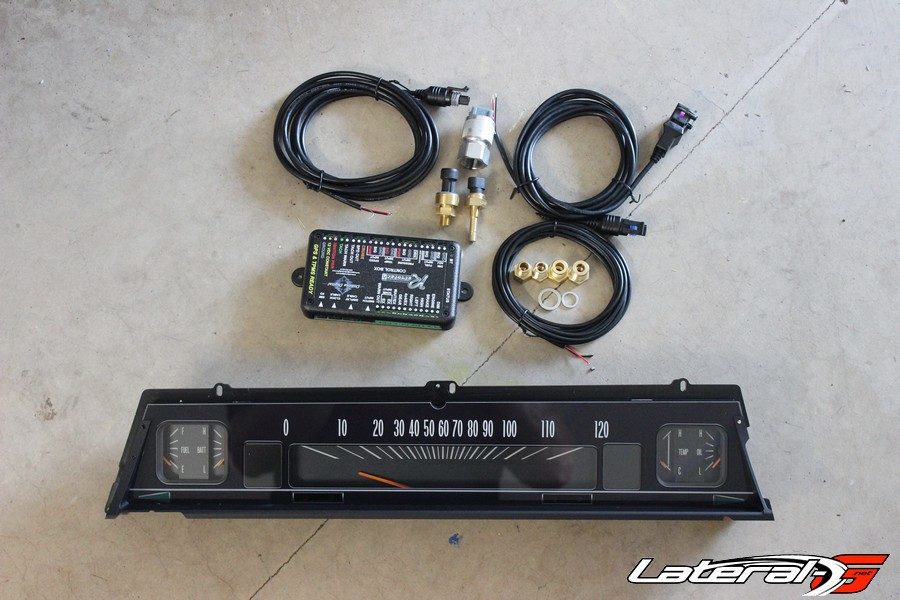 For more information or to place your order, hop on the Dakota Digital website or give them a call at (800) 593-4160