As a kid I always had a fascination with cars, reading about all my favorite Ferrari's in the old Road & Track mags. As a teen I wanted a '72 Nova, I started buying Chevy mags and picking out all the parts I wanted, and what it was to look like. I was always building car models at this age, and I built a Nova just like what I wanted. I was building so many of my favorite cars, it was a great hobby. Another was the '69 Camaro RS Z/28. this was one of my last models I built before I turned 16 and could start driving a real musclecar.

This model was painted candy red with black stripes, I used wheels from an old IMSA race car (scaled to look like 18 fronts and 20 rears) I even used '90 Vette ZR1 seats and console with 6-speed shifter. This was my first real look into the pro-touring, g-machine idea.

When I was getting close to the age of 16 I told my father about my plan and he was like no way! Your getting a newer car and that's it. Well I always loved Camaros and Firebirds. This was the time of the 3rd gen, and I loved the 3rd gen GTA's. Soon after the 4th gen came out, and it was so much more refined and that is what I ended up with. A brand new 94 Trans Am in Black, LT1 T56 full load. I quickly started hopping up the car, with exhaust, suspension, wheels and a couple years later an ATI ProCharger Blower. The car made 415 rwhp and ran 12's in the ¼ on street tires. The car had its share of problems due to not being engineered for this kind of power. Mainly 6 blown 10-bolts and 2 blown clutches. So I started thinking of a new project.

I wanted to build a car with my father, he used to have a '67 & '72 Olds 442. So initially I thought to build one of those with him. He didn't really care too much of the idea, all this time I was still buying all the Chevy mags, trying to decide on the car. One day I saw in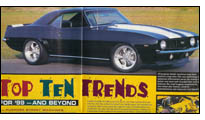 a Super Chevy mag an article that stated new trends. (It was the Jan 99 issue) There was a picture of a '69 Z28 in Black with white stripes. It had 17" TTII's and Baer brakes on all 4 corners, it sat nice and low and screamed attitude. That car was THE ONE that did it; I wanted to build that car with my ideas and flare. And I had my 1/24 model already built with the vision of what I wanted!

I also used to frequent the www.camaroz28.com message boards for info on the 4th gen, and then as my interest grew on 1st gens I was checking out the classic forum of that board. A name popped up here and there Teeto_Jones or Tyler Beauregard. He had swapped in an LT1-T56 from a 4th gen into his green '67 camaro, and I was like oh yeah! That is so slick! Late model power in the look of a classic 1st gen! And I already knew a ton of info on the LT1.

The hunt for the car began, At this time I had just turned 21 years old. I didn't have a lot of money to spend, so I was looking on the lower end of things. Back then there were built running '69 Camaro's going for around $10-$12K Canadian, but I did

n't have that kind of money going through tech school and with my money pit of a 4th gen. I looked at some pretty rough cars, and couldn't get myself to do it. I posted a wanted ad for a '69 Camaro project car. And what do

you know, the phone rang and the owner called and said he had a car. I got together with a buddy to go take a look at it. That night I went to look at the car. It was raining at it was night ti

me, and this was my fate. The car looked relatively complete, it was an RS and I really wanted an RS! It looked to be a complete car. The passenger ¼ was smashed, but I was going to replace those anyways, not a big deal. And the floors, well those were a breeze too. I had it all figured out and picked the car up for $2500 Cdn. What a deal! Or so I thought…..
I was pumped and excited; we shipped the car to my dads old furniture plant. There my friends and I started the task of stripping it. As we were taking it apart I threw out a lot pieces I had no clue I would still need. The Camaro was an original RS 4-speed V8 car, Ralley Green with green interior and a Vinyl top. It didn't have to be a high value car as I wanted to give it the pro-touring treatment. So I sold off the 327 and TH-400 it had in it (the clutch pedal was zap-strapped to the floor boards LOL) At this time I realized how bad the car really was. I was motivated though. The next thing was to have the shell sandblasted, and that is when I really found out how bad it was. Gone were both the ¼'s (which had about a ½" of bondo over the rust) the outer wheel wells, trunk ends, trunk floor, both full floors, one rocker panel, both shock towers, the rear valance below the window, even the roof skin had damage on the drivers side (under the painted on simulated vinyl top) the tail pan was removed and repaired and the whole front clip sheet metal was garbage. Well I needed almost everything new. Once I had gotten my hands on some new full ¼'s I called up a body man I knew, Colin, he did great work, and I convinced him to come take a look. When he first laid eyes on the car and said: "tow it back to the junk yard and scrap it" I was kind of offended thinking, what is he saying?? But he knew what lay ahead for me, and I didn't. Well he ended up doing the ¼'s in a whole 3 days! And I was excited as the car started to come together. He didn't want to do the rest of the work, so I farmed out another guy to do it. Mike, this guy supposedly had a huge shop, did great work and was reasonable for price. Well this is where it started to spiral downwards; the car was brought to his shop. An old barn in an old yard that had crap dumped everywhere, old

cars, wood etc. People were living in containers and old trailers it was pretty sad. He actually lived in an old trailer "down by the river" and had a dog named Fred?? I made

about 20-30 trips out there to view the WIP only to find him not there, he didn't have a phone, was always drunk, it was a complete nightmare. It took him 6 months to replace the floors, trunk, rocker, shock towers, repair the roof skin and patch some other holes. And I finally had it back in my hands. 2 good original parts were the subframe and 12-bolt. Once those were blasted and powdercoated we then got her rolling after it was painted semi-gloss black inside and out.

At this point I got more serious with my girlfriend and we had been dating for a few years. In 2003 I decided we were to get married, well anybody knows getting married is a fiasco in itself, especially if your Italian and your wife to be is Croatian, big wedding plans! At the same time I started my current furniture business www.mg-design.ca And we also bought our first house, and decided it needed a full Reno job. So 3 months before the wedding that project started. My mother was also battling cancer for the 2nd time, so the Camaro took a back seat.

During this time I also sourced out an LT1 & T56 to go with the pro-touring theme. I had assembled all the parts to build a 383 LT1. At that point the Camaro sat for a while, collecting dust for a good 2-3 years sitting as a rolling chassis. I was too busy getting my business going, and my wife and I were trying to start our new lives.
I then decided to sell the Camaro project, having lost interest in it and having no money or time to finish it. I decided to keep my 4th gen T/A for old times sakes. The Camaro's motor and tranny were sold off first. Then as I was trying to sell the car and turning down useless offers, I pondered what to do. At this time, I was still trying to enjoy my 4th gen, but it was telling me it was time to go. I replaced the stock 10-bolt with a 12-bolt from Strange, only to have it blow up as well (rear-end #6). After that was fixed, a buddy I knew from a while back offered to buy the T/A. Well we struck a deal and a few days later it was history. This sort of got me going again on the Camaro.

In 2004 I built some custom sofas for one of my good friends, who happen to own a body shop. We struck a deal to exchange the sofas for the paint on the car. This was the spark that got me going again, since after the car was assembled and painted I was on it steady for almost 2 years assembling it to the car you see here.
There were quite a few influential cars that inspired me:

1) The black car pictured in the '99 Super Chevy mag,
2) Mark Stielow's Thrasher built in the pages of CHP
3) Tyler Beauregard's green '67 with the LT1-T56 combo
4) The Mule
5) DSE's Twister
6) Oh… and of course my '69 RS Z/28 plastic model kit!

I would like to thank my friends (too many to list), and family for helping me out through this. To my wife for having the patience. And special thanks to my friend Mo for basically helping me finish the car for about the last 8 months. And to all the parts suppliers who came through to get it done in time for this season. Thanks to www.ls1tech.com for info on the LS1 swap and the pro-touring community. Also a big thanks to Scott and all the forum members of Lateral-g.net for their inspiration, help and guidance through this long project. How long you ask….7 years from start to finish!
TECH SHEET

Engine:
2002 346 ci Camaro LS1
TSP 233/239 112 Cam
PRC dual valve springs, titanium retainers & pushrod kit
ASP underdrive pulley kit (crank & alt)
TSP & Speartech custom tune
S&P ceramic shorty headers (to be changed)
S&P custom oil pan mod.
LS6 intake
Ron Davis custom radiator for LS1 with Dual Spal Fans & custom shroud
Custom 3.5" ceramic coated intake pipe w/ K&N filter
Speartech custom modified stock wiring harness
Taylor 8mm wires
2.5" custom exhaust w X-pipe, Magnaflow stainless mufflers and 3" rear exit tips, to be ceramic coated
S&P LS1 engine plates with Energy Suspension poly motor mounts.
AC Delete
Ricks Hot Rod Shop stainless EFI gas tank with Walbro intank pump
Braided -6 line throughout with Russell fittings and 99+ Vette regulator/filter
Expecting close to 400 rwhp on the dyno.
Drivetrain:
2002 T56 6 speed from a Camaro (came with engine)
Hurst Billet Plus shifter with Hurst Chrome shifter stick, with white 6-speed ball
ATS T56 install kit: Firewall plate, custom cross member & hydraulics.
Spec Stage III clutch
Custom Steel driveshaft (made locally)
Original 12-bolt rear end, Auburn Pro-Series posi-unit with GM 3.73 gears
Summit rear-end girdle
Front Suspension, Steering & Brakes:
Rear Suspension & Brakes:
3" De-arched Suspension Techniques multi leaf muscle car springs
Edelbrock rear shocks
Suspension Techniques rear swaybar
Global West Subframe Connectors
Baer rear brake kit with drilled/slotted rotors & e-brake
Lakewood driveshaft loop
Wheels & Tires:
American Racing Polished Torque Thrust II
18 x 8 fronts with 5" BS and 245-40-18 BFG G-Force KD tires
18 x 10 rears with 5.75" BS and 275-40-18 BFG G-Force KD tires
Interior:
Front APC seats redone in 100% black leather, w/ custom brackets.
Stock rear seat redone in 100% black leather to match the front seats
DSE Dash with silver Autometer gauges, 5" Speedo & Tach, 2-1/16" water temp, fuel level, voltage & oil pressure (all with red LED lighting)
Sparco Lap 5 steering wheel with polished center, Momo adapter and stock tilt column
Lokar billet shifter boot w/ Hurst chrome stick and white 6-speed ball
DSE select-a-speed wiper kit
Modo Innovations Aluminum Race pedals
Factory black standard door panels, headliner and dash pad etc (all new)
Paint & Body Mods:
True Candy Red tri-coat with Silver base and Black Z/28 stripes
Marquez Design billet taillights (RS), front turn signals, and side marker lights
Smoothed & Painted rear bumper to match painted front Endura bumper
Rear ¼ Lips were rolled and inner wheel wells clearanced for 10" wheels
Sound & Electrical System
JVC Faceplate CD & MP3 player head unit
Custom ported Baltic birch sub woofer box w/ dual 8" JL subs
Custom rear deck lid panel (black grill cloth so no speakers are visual)
MTX Thunder Series Amp
4" coaxial speakers mounted in OE kick panels (custom pods mounted in body)
Rear mounted Optima red-top battery w/ box
New Painless Chassis Wire Harness
Custom mounted PCM under dash
LED lighting (red): interior, side markers & gauges
Compustar Pager Anti Theft system with GPS option
Under dash antenna