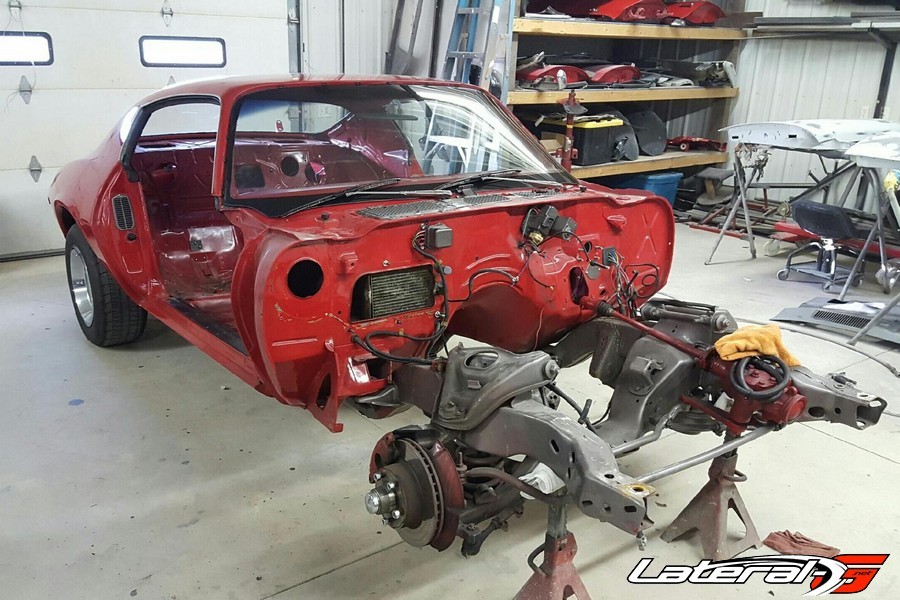 DAYTON, Ohio – Forgeline Motorsports knows a thing or four about all-out performance. It's with this same single-minded focus that the team at Forgeline has decided to build their own pro-touring style 1970 Camaro. "We've been dreaming about building our own world class, pro-touring machine for several years," says Dave Schardt, President of Forgeline Motorsports. "We're a long-time supporter of this segment of the performance aftermarket and have been the wheel of choice for many of the builders and the cars that have made these pro touring events so popular. But now, this year, it's our turn to participate."
A quick tour of the paddock at any pro touring event is literally a rolling catalog of Forgeline's expertise in fabricating custom wheels that can stand up to the rigors of autocross, speed/stop and timed lap competitions, all while looking like forged and machined aluminum works of art. So it really should be no surprise that Forgeline Motorsports' '70 Camaro will be constructed using components from top-of-their segment manufacturers.
The foundation of any pro-touring machine is the suspension. For the Forgeline '70 Camaro, a Detroit Speed hydroformed subframe along with tubular upper and lower control arms will serve duty up front, while in the rear of the car, a Detroit Speed QUADRALinkTM rear suspension and adjustable anti-roll bar system will take care of the 3.89:1 geared, full-floating rear axle assembly.
Keeping the suspension in check will be a quartet of Ridetech triple-adjustable coil-over shocks and springs. An award-winning Ridetech TigerCage will provide both an increase in chassis stiffness as well as protection for the driver and passenger. Slowing the Forgeline '70 Camaro and working behind the GA3C 18″ Forgeline wheels will be a quartet of Baer Brakes' proven 14-inch diameter Extreme 6S disc brakes and performance matched master cylinder.
As for the powertrain, current plans are for the installation of a Lingenfelter enhanced Corvette ZO6-sourced LT4. However, with this being one of the first repowers of a 1970 GM F-body, the team is also preparing a Lingenfelter-built LS7 engine with a Harrop Hurricane manifold.  Regardless of which engine the build team eventually ends up going with, a Bowler Transmissions modified Tremec T56 transmission with ZR1 gears and Quartermaster extreme duty clutch will handle the horsepower and torque distribution duties.
Rounding out the Forgeline Camaro build will be a Vintage Air air conditioning system, JW Speaker LED headlights, Recaro seats and a custom built stereo by California Custom Sounds.   Adding both style and function to the build, a Carbon Kustoms carbon fiber hood and front fenders will be paired with a D&Z Customs front spoiler.
Smitty's Custom Automotive, Tiffin, Ohio, is completing the vehicle build, at the direction of Forgeline President David Schardt.  "We build a lot of pro touring cars here.  In fact, we maintain all three of Ridetech's race cars," said Chris Smith, owner of Smitty's Custom Automotive.  "The key is to choose the very best parts from the companies that offer the best possible products, because that makes it much easier to build a competitive pro touring car."
The Forgeline Camaro is scheduled to make its competition debut at the new 2016 Cars & Cones Road Trip event May 2-6 beginning in Concord, N.C. that winds up in Indiana.  Be sure to visit the Forgeline website and Facebook page for additional information and updates on the build.