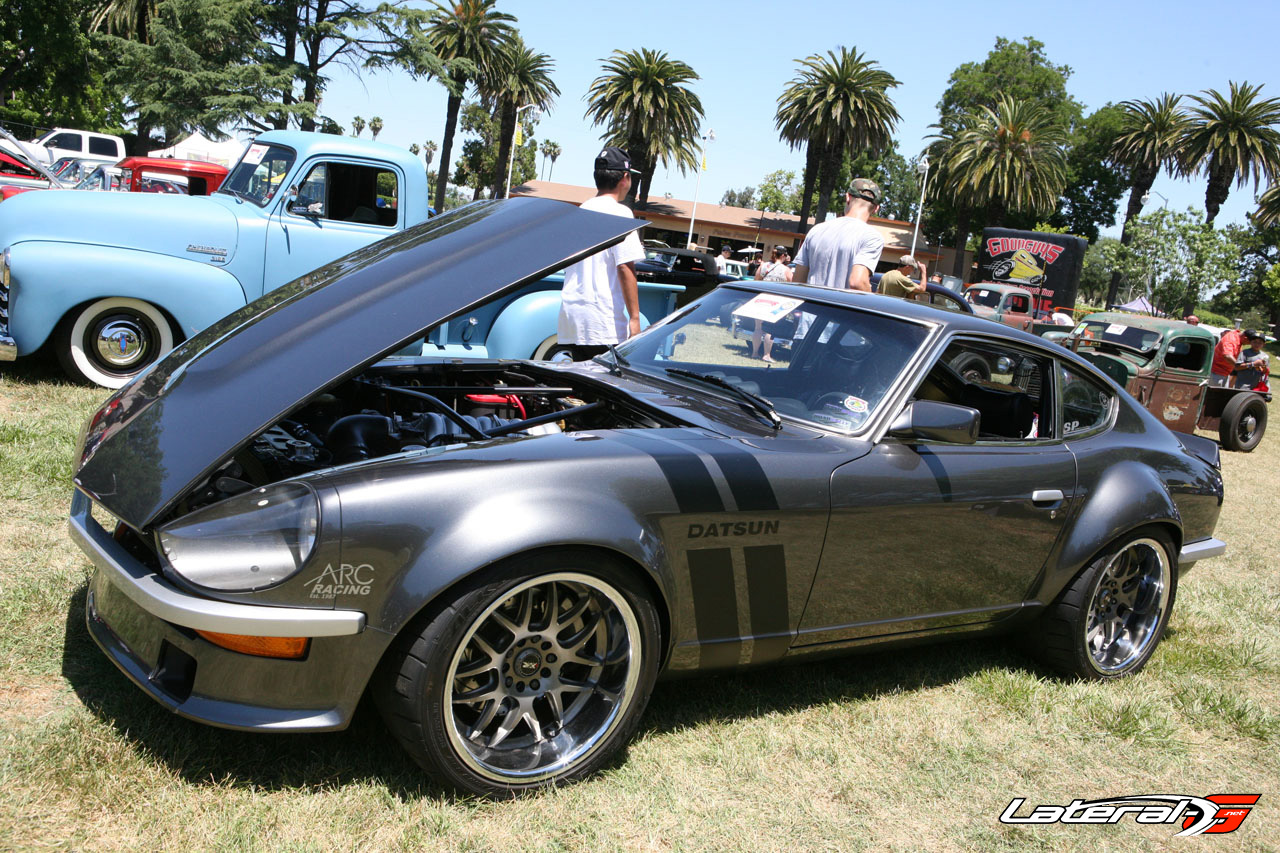 Competition at its Finest! – By Tony Huntimer
The Goodguys 23rd Summer Get-Together car show in Pleasanton, CA was timed with many other California and Bay Area competitions. The day of the show, the San Jose Sharks were going for the Stanley Cup, the Golden State Warriors were in the Finals, and the California Primary Elections were coming up in days. So, the car show and autocross was steeped in the California competition mindset! To compete at Goodguys, you don't have to be a professional athlete or a crooked, crazy, or misguided politician. You've just got to put your best project forward and hope that people like what you've got going on. If you impress the right people, you'll earn the chance to represent what you stand for…hot rodding and having fun!
The weekend brought out some warm weather and a great turnout of cars and trucks! The busiest part of the event with most spectators on the fairgrounds seems to be under the large sun shade overlooking the autocross. That sun shade is a life saver! Goodguys (@goodguysrodandcustom – for Instagram users) really deserves some credit for putting on such a great event within an event. If you didn't know better, you'd think their events have turned into autocross events that happen to have a car show, swap meet, and corn dogs as a sideline.
Kevin Stearns of @tilden_motorsports in Gilroy, CA debuted his Magnuson supercharged LS-powered '69 Pontiac Firebird. It was laying down some rubber around the cones with a hint of blower wine to boot! The LS is an iron-block 6L LS with forged internals, AFR heads, Tilden cam, and a Tilden engine management system. He's no stranger to limited traction, since he does a lot of off-roading, so sliding the car around the cones made for a good show.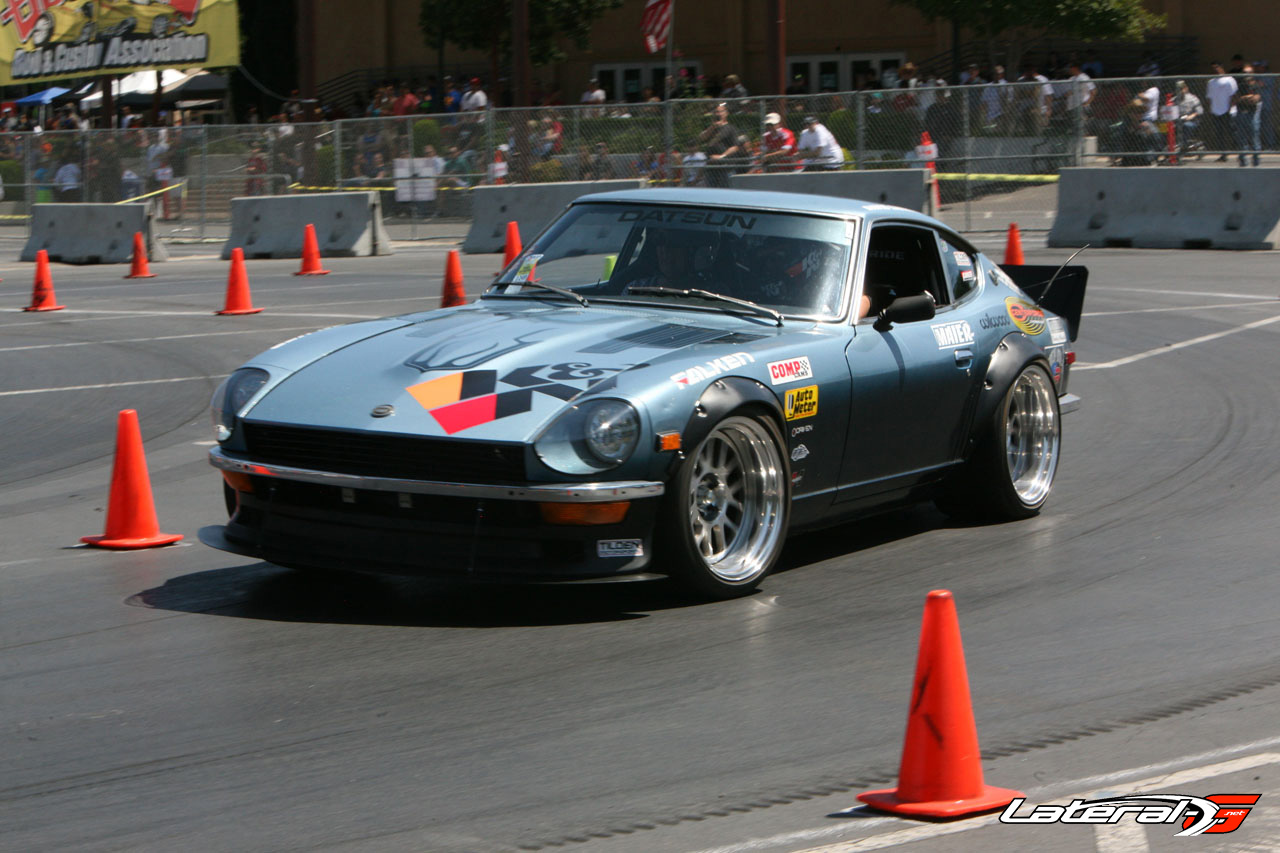 David Carroll @datsun570Z is usually a serious threat out on the course, but he decided to run the Exhibition class. He had fun honing his autocross skills in his 280Z without competing against the clock. He did have a little bit of cooling problems with his new setup. He better start looking at what radiators are out there on the market before he heads out to Pikes Peak. Maybe C&R Racing or Griffin Radiator will be his latest edition.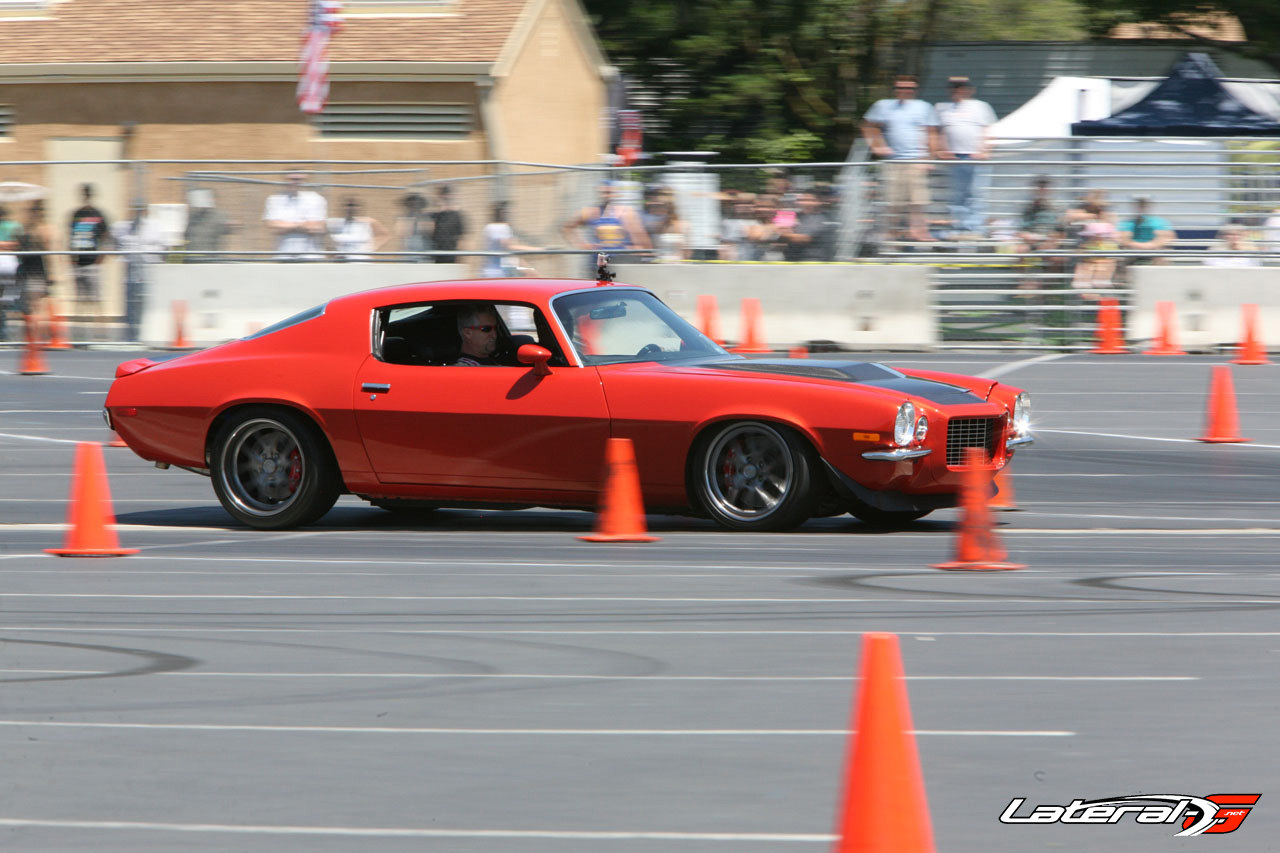 Nick Relampagos @bowtie_garage was having a blast out on the course in his beautiful LSA-powered 1970 Camaro. So beautiful in fact, he walked away with a 3rd place finish in the Street Machine autocross class and a well-deserved 2016 Muscle Machine of the Year Finalist (sponsored by Griot's Garage) trophy! Now he can compete at the end of the show season for the top Street Machine crown!
The winner of the 2016 Autocross 1st Place Pro Class for the second Goodguys Pleasanton event in a row was Scott Fraser @alwaysracin in Bruce Cambern's one-owner 1966 original 427 Cobra. Scott won with a best time of 58.742. These guys don't just go the event and sip wine between runs. They are constantly tuning and working on the Cobra between runs. They even run two different brand tires front and rear, because one turns better and one has better forward motion grip. Whatever it takes! Scott and Bruce are serious competitors, but always have a smile on their faces. Wouldn't you?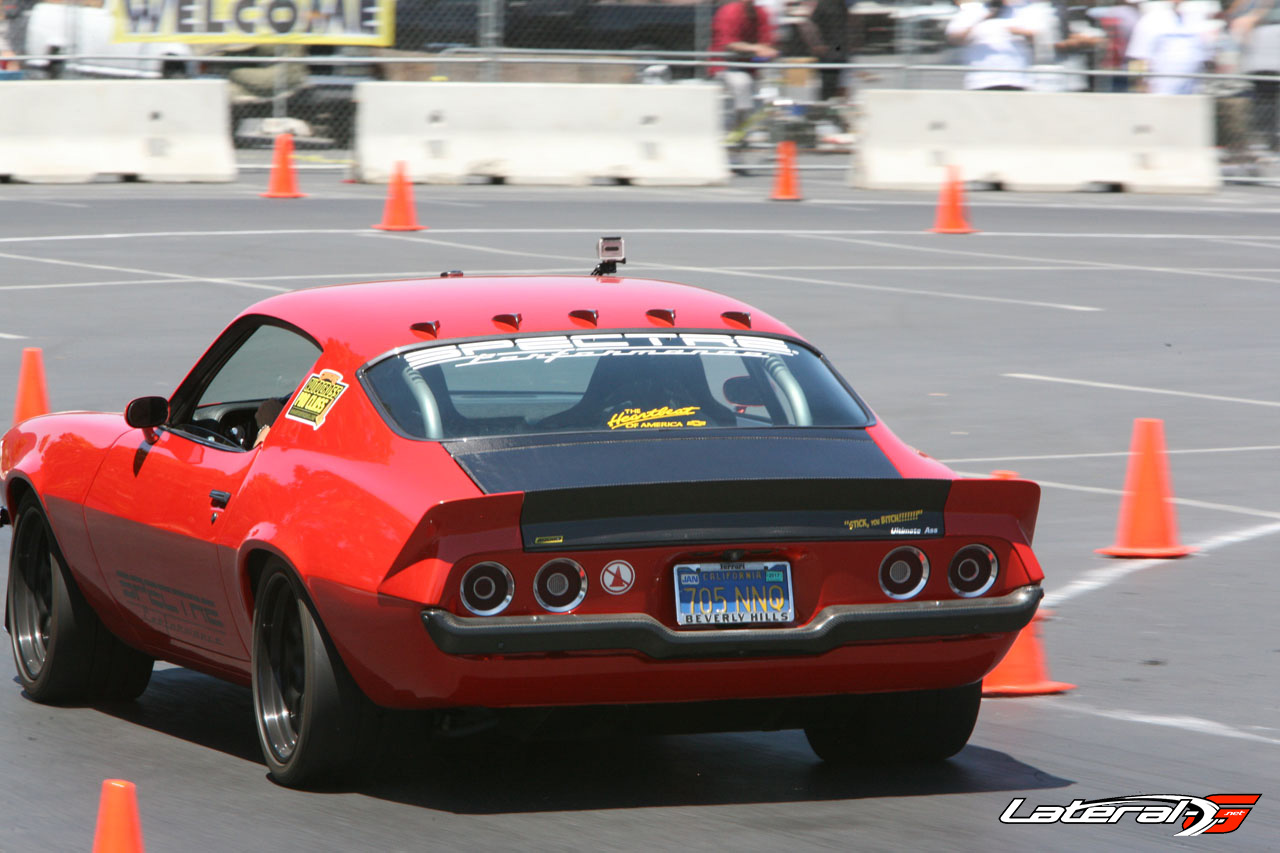 Mary @mary.pozzi and David Pozzi were out with some new tuning on the already flawlessly performing Art Morrison Enterprises IRS and front suspension on her second-gen Camaro. Mary's best time was 59.676 in the Pro Class for second place. David is getting all the tuning down on Mary's Camaro figured out, so he will already know how to tune his AME IRS-equipped '68 Z28 running. This husband and wife team will be a tough pair to beat in the near future!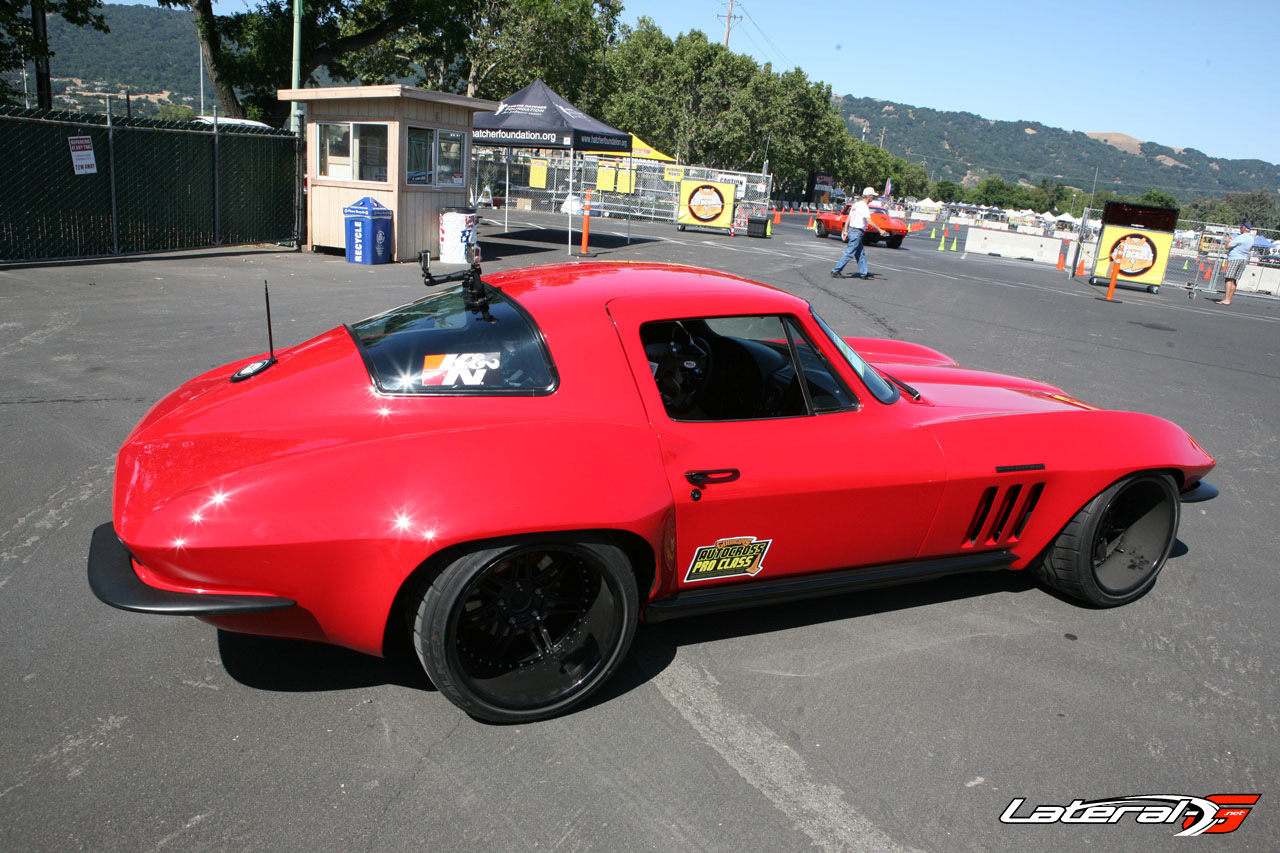 Brian Hobaugh @bdhobaugh was running his C2 Corvette hard, like usual and pulled down a 59.924 for a third place finish in the Pro Class. He ended up going home as the Autocross Shootout winner. He didn't even have his large Lucite spoiler installed out back for additional downforce and traction. He has something figured out in his setup.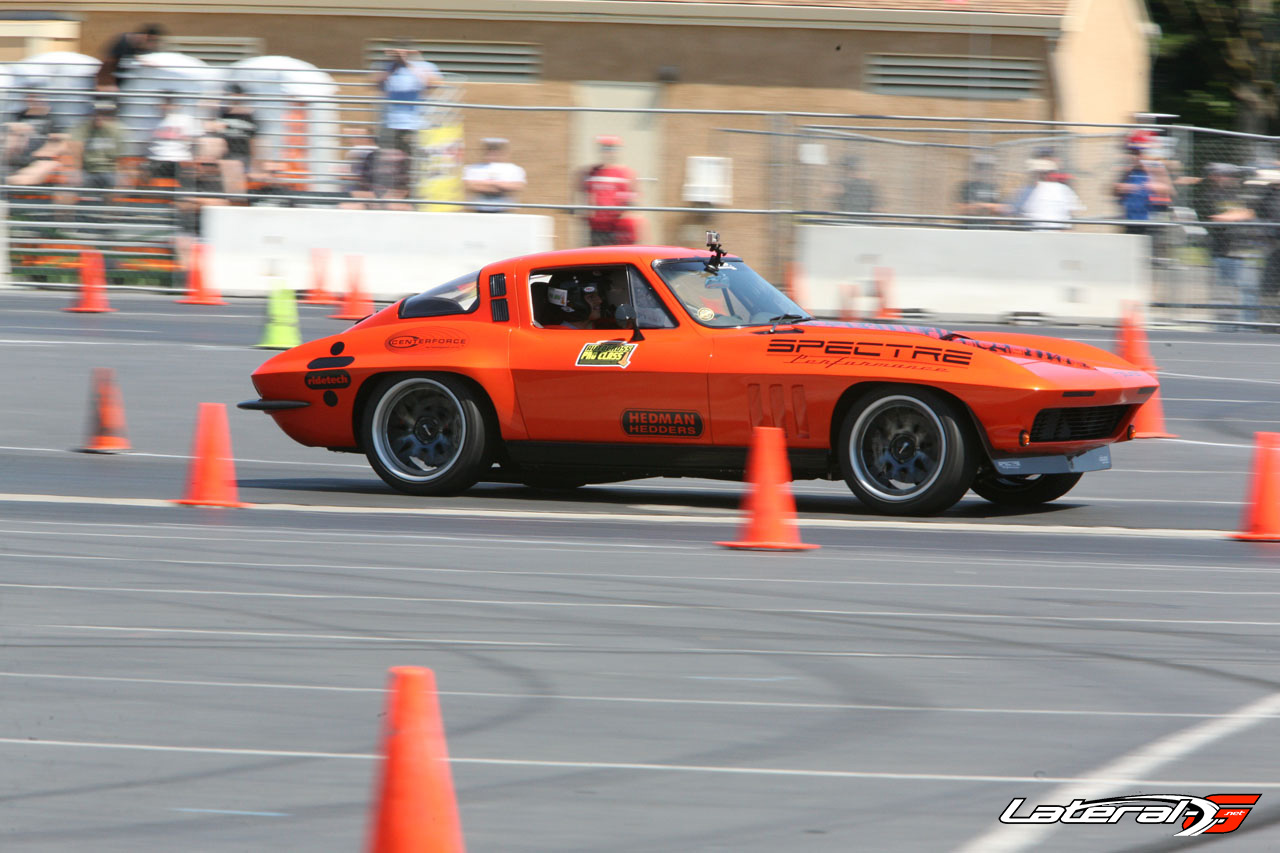 Greg Thurmond @gregthurmond went home with a fourth place Pro Class finish in his badass C2 Corvette with a 61.957. He was followed by Craig Watts with a 63.806 for fifth place.
Who's spelling the names on the leader board? Mike Maier's name was misspelled on the autocross board as Mike Miaer, but that's okay. As long as they get it correct on the award! You can follow him at @mikemaierinc. He still took first place at the top of the column with a 62.194 in the badass small block Chevy-powered C3 Corvette he's been tuning for the last few events. A very close second was Nathan Reid with a 62.222 in his late-model GTO.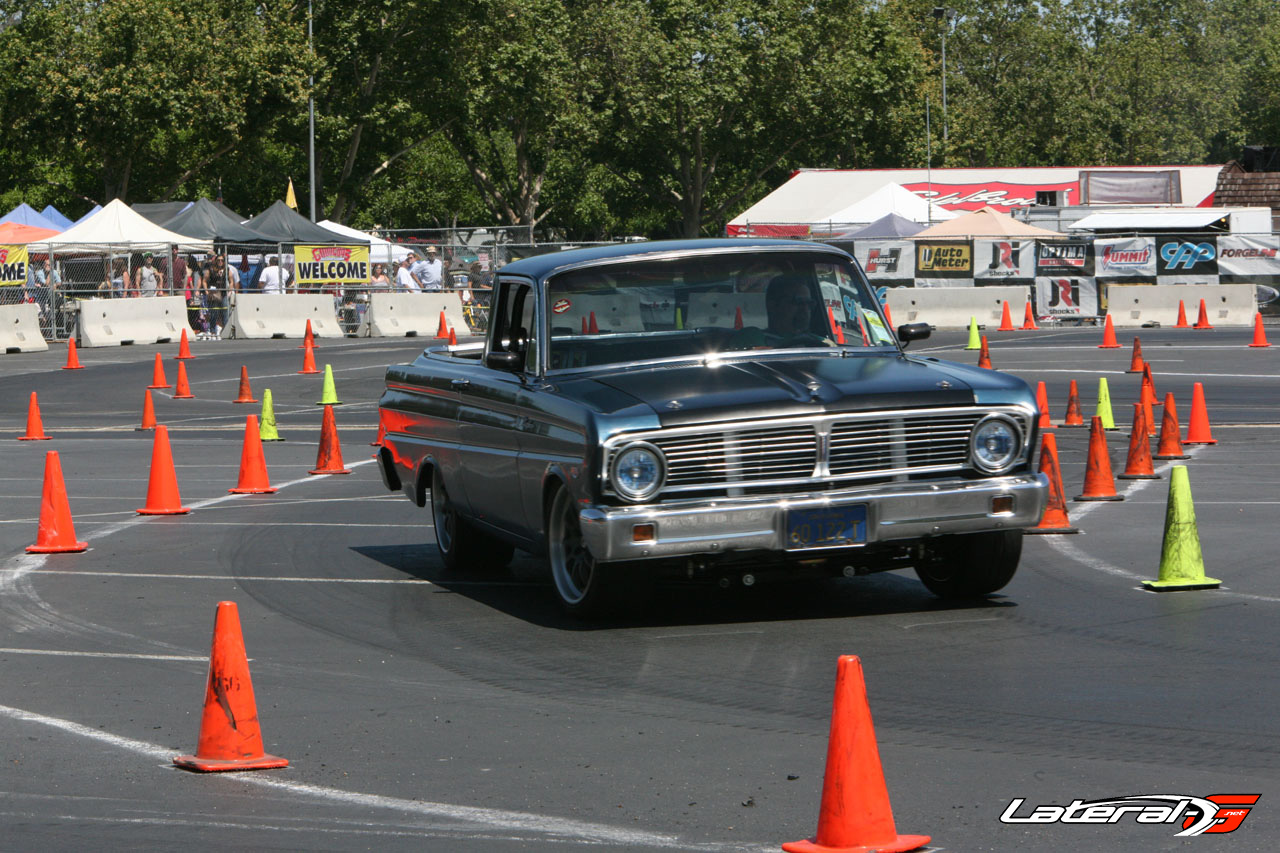 Eric Haas took first place in the Truck class with a 64.319 in his Mike Maier Inc. MOD2 equipped Ranchero!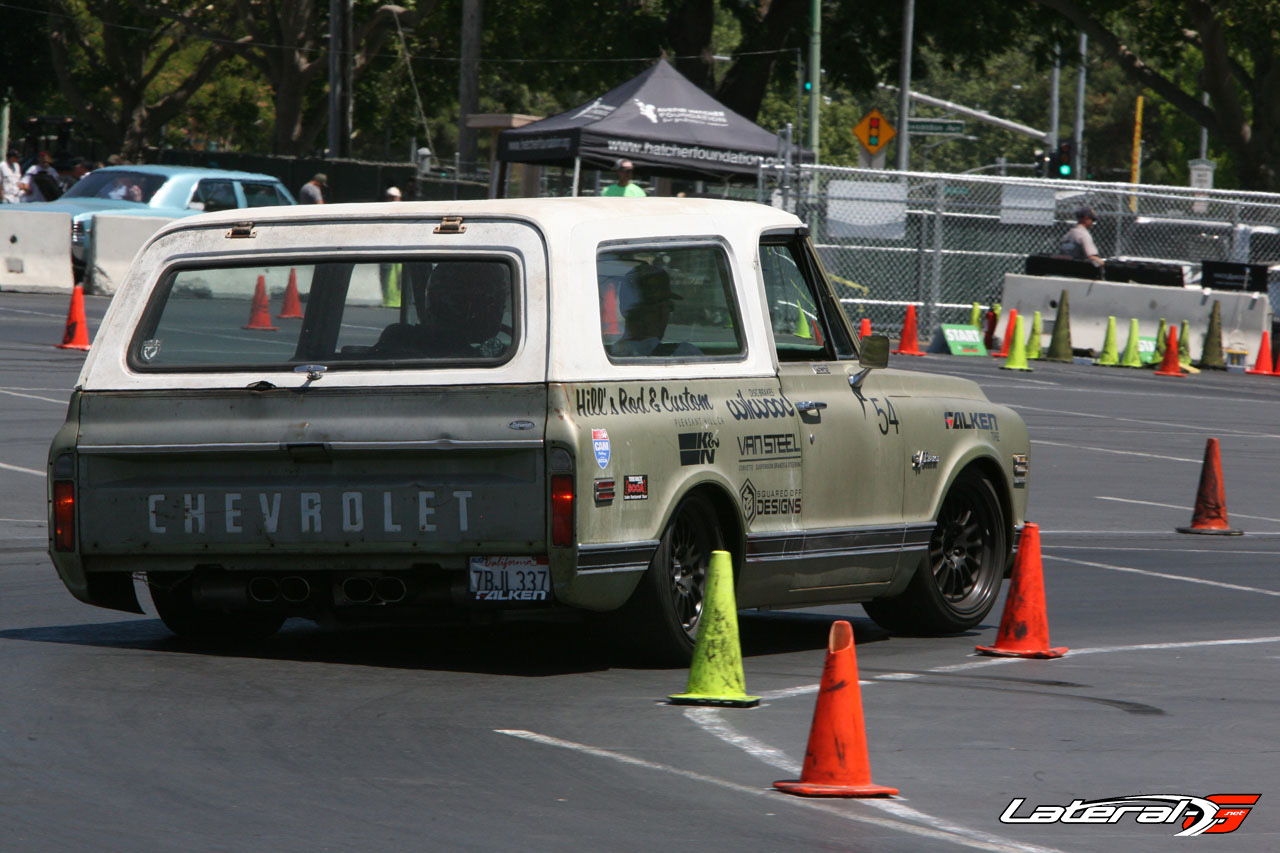 Curt Hill @hillsrodandcustom was flogging his C10 Blazer around the cones and pulled a 65.174 for second place in the Truck class. Watching his Blazer, it's so low that it much that it must scrape the pavement when going through the drainage canal in the middle of the course. If you ever get a chance, check the awesome engineering Curt's setup!
Elsewhere on the fairgrounds, there was a group of slingshot dragsters present for the Cacklefest! As always, once the engines fire up, the crowds appear out of thin air!
Overall, the whole event was puck (hockey pun intended) of a lot of fun with some real competition between autocross warriors. The good thing about competing at Goodguys in Pleasanton, is that if you don't win, you don't have to wait for another season or 4 years to compete again! With the Goodguys Rod and Custom headquarters in Pleasanton, CA, the next event is always a few months away.