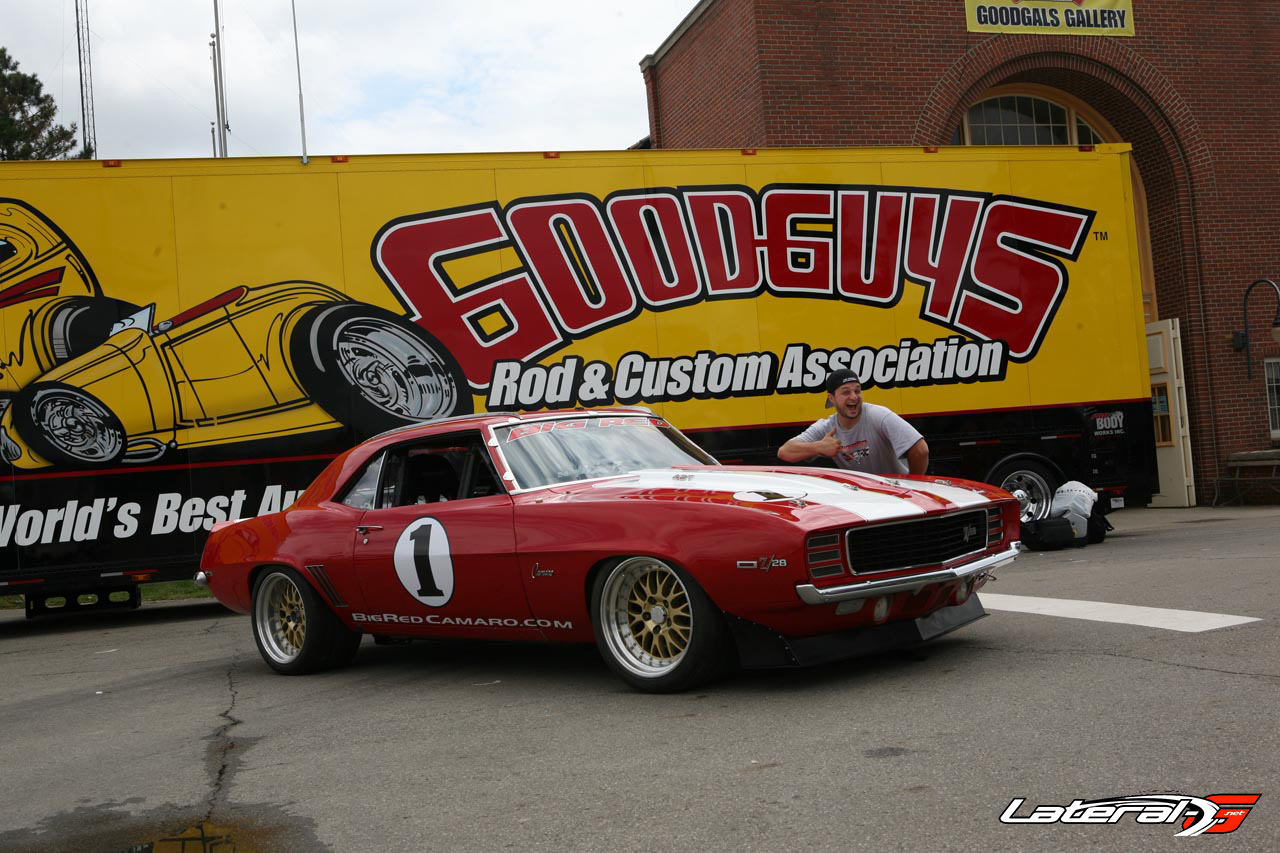 Story and pictures by Tony Huntimer
I was invited to attend the show with longtime friend RJ Gottlieb and his famous Camaro, none other than Big Red. I couldn't pass up the chance to tag along and help support his efforts to support his latest venture, the Big Red documentary series coming to NBCSN on July 27th at 9PM EST. I met a few fans from online forums that met me while hanging out with RJ and Big Red. Since I was hanging out with Big Red, you know that I got plenty of pictures. You'll see some pictures of this awesome Camaro in my PPG Nationals event coverage.
Team Big Red had never taken the car this far from home (Los Angeles, CALIFORNIA) and had never been to a Goodguys car show. I, personally, had been to the Columbus Goodguys event a few years back, so I had a clue of what to expect from the event and from the local weather. All my expectations were met. We had a damp reception on Friday, followed by nice overcast skies for the afternoon and then some rain in the late afternoon. This is normal for the Midwest, but not for California folks. Saturday was clear and beautiful, as well as hot and humid. Sunday started with plenty of precipitation. By 11 am the vacant fairgrounds were filling up. Until that time, only the few diehard car people were rolling in. The attendance was lower on Sunday, but there were still plenty of people on hand.
The Biggest!
This event is always the largest Goodguys event of the season. Since this event has the SMOTY (Street Machine of the Year) awards, it attracts the best of the best of the best from around the country. This was true for this year too. We saw cars that definitely deserved their spots in the Winner's Circle and a few that should have been there, but must have been overlooked. There was some amazing vehicles and craftsmanship all over the place.
The Fans
The show cars all have to roll in though a single entrance before they can park. Unlike the Pleasanton Goodguys event, which is what I'm used to, out in Columbus…the crowds line up along the sides of the of the entrance in their lawn chairs and watch all the cars roll in. There must have been 500+ people lined up, just to check out all the badass iron rolling into the show. These people really know how to enjoy the show in the morning. Then they can go check out their favorite cars up close later in the afternoon.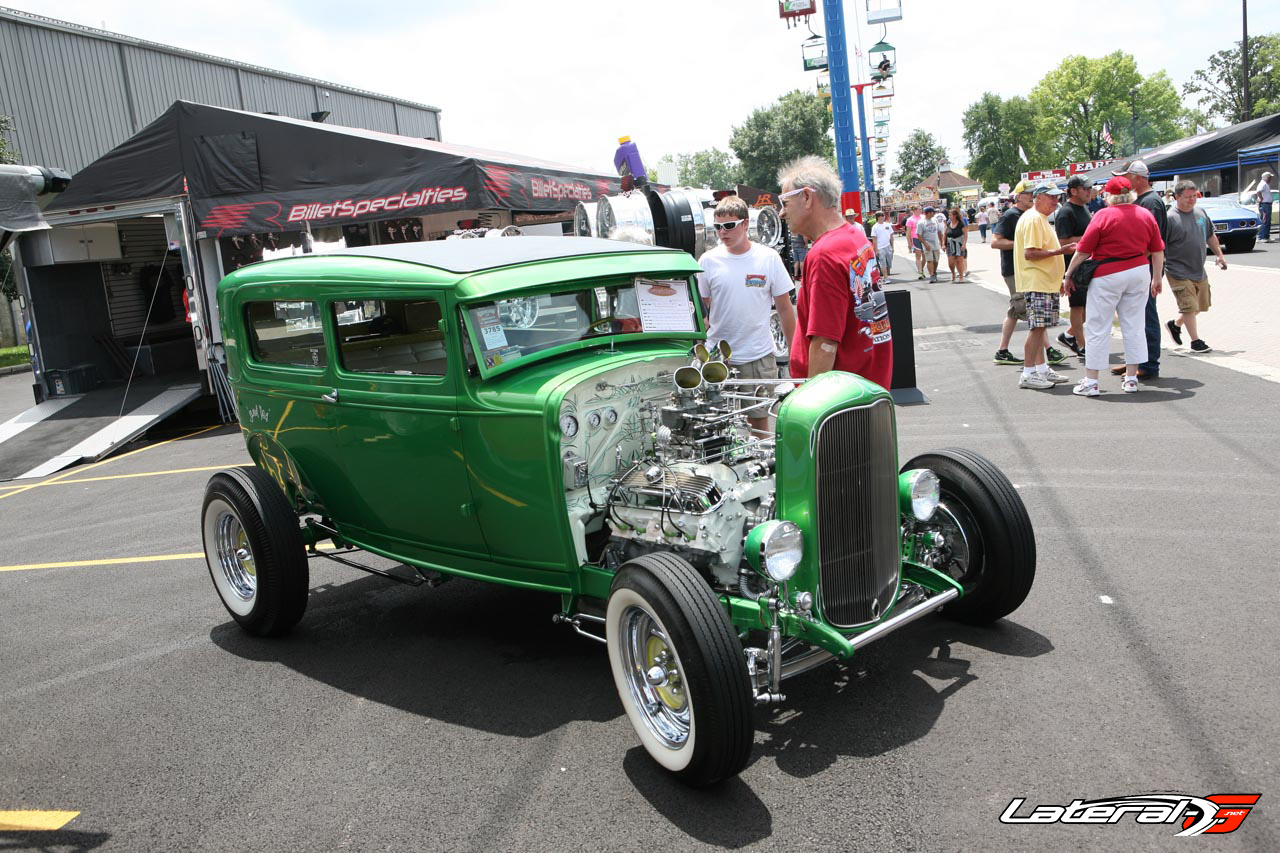 The Cars and Show
I saw plenty of different types of cars and trucks out at the event. The range was from Pro-Touring cars to street rods. The Midwest also had plenty of street machines and pro-street cars too! It was a sight to see! I even saw a '69 Camaro that I remember seeing in Hot Rod magazine back in the 1970s or 80s. It was a long time ago. Damn! I'm getting old.
Since I was helping RJ at the booth, I didn't get a lot of chances to run over to the autocross with my long-lens, but I did hear the event running strong all weekend! At one point on Saturday, RJ got to ride along with Robby Unser in the Speedway Nova and had a blast! You'll notice that I did end up getting a few shots on Sunday.
I did get a chance to get over to the manufacturers midway and see some killer cars by the Ring Brothers, Roadster Shop, Detroit Speed, Johnson's Hot Rod Shop and more! I did meet the new owner of RideTech's old '68 Camaro named Velocity. That car was tearing up the autocross with all new front suspension and other mods. It's great to see a car like that get purchased and not go to a dark corner in a car collection. Velocity is definitely getting modified and used!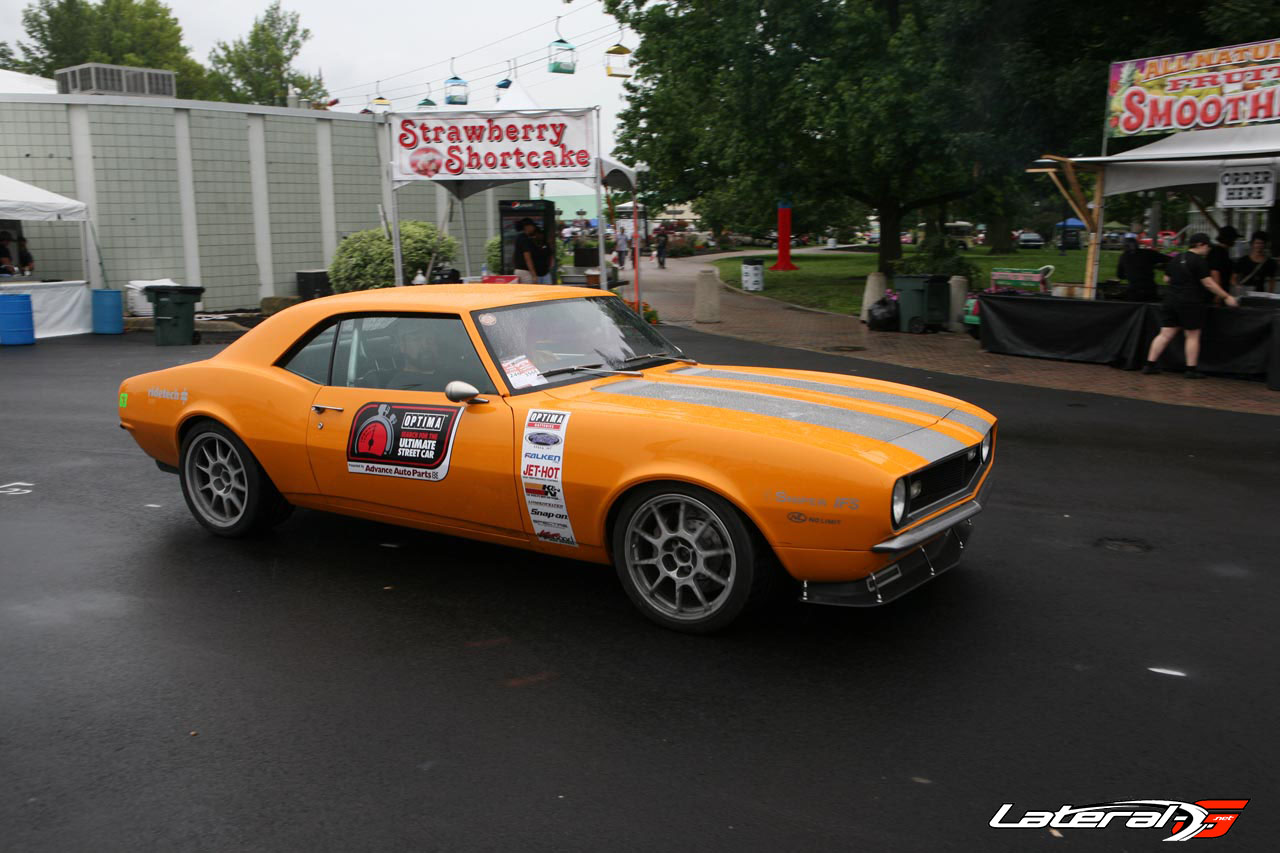 Since I was hanging out with Big Red and RJ most of the weekend, you'll notice a difference in my photography from my usual Pleasanton shots and Columbus, but I couldn't leave without trying to deliver shots for all you enthusiasts who couldn't make it. I hope you enjoy the photos! 🙂