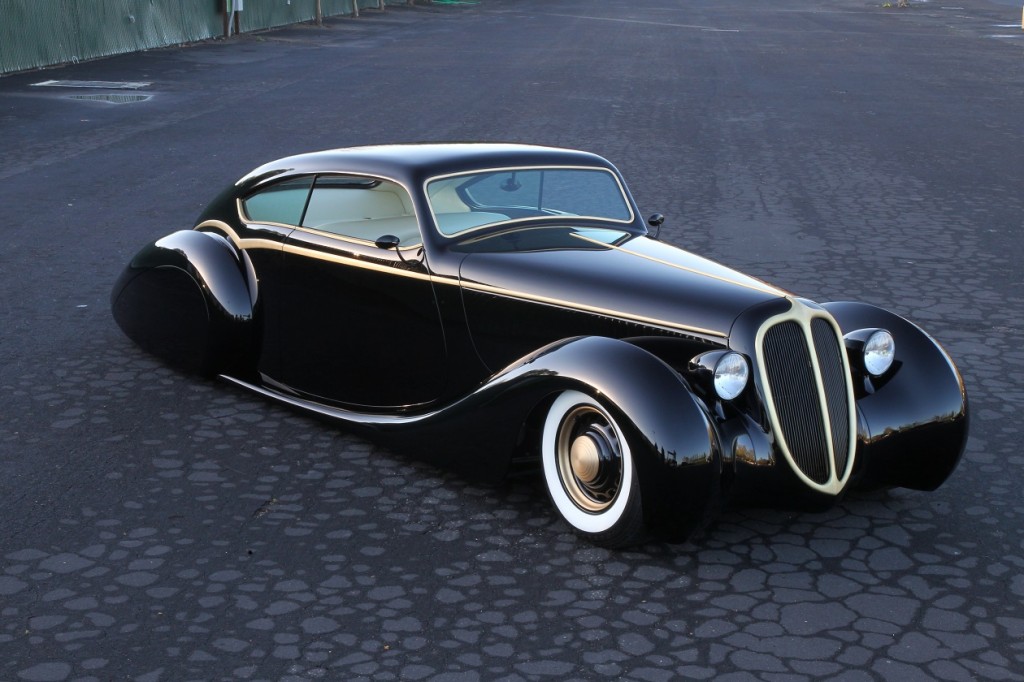 Pleasanton, CA – Rock & roll music and custom cars have a lot in common. A creative spirit, immense talent and uncompromising dedication are required to create and reveal the inner soul of a song or a car. James Hetfield has mastered both. His band Metallica sits in the prestigious Rock & Roll Hall of Fame while serving as the face of heavy metal music for decades. His ever-growing stable of custom cars have won hot rodding's biggest prizes. His latest effort, a coach built custom he designed with partner Rick Dore is his most powerful statement yet. 
He calls it the "Black Pearl." Last weekend in Pleasanton, California the car won Goodguys' 2014 Mother's Custom of the Year award during the Goodguys 32nd annual All American Get-Together.
Unlike Hetfield's previous custom sleds, Black Pearl is completely scratch-built. It's not any particular make or model. It's sculpted, handmade aluminum body is inspired by the tear drop contours and seamless body transitions of coach built European and American cars of the 1930s. It rests on a custom built chassis which utilizes the outer frame rails of a 1948 Jaguar.
Southern California's Marcel and Luc De Lay, two of the top coach builders in the world, handled the chores of forming, shaping and building the body. They're one of only a handful of metal shapers, capable of taking on the task of building a one off custom car like the 'Pearl. Said Hetfield of the De Lay's prowess as metal sculptors, "As an artist myself, I see the passion, dedication and perfectionism it takes to be good at your craft. I am humbled by their gift of metal sculpting. The fact that they started with a 8×10 drawing and ended up with a complete car is a testament to the ability of the human mind and hands. It still blows people's minds when they ask what body we started with and we say 'steel sheets.'"
The' Pearl was painted in a luscious deep PPG black by Darryl Hollenbeck of Vintage Color Studio offering a perfect contrast to the brushed brass trim. Inside the cabin is a stellar Ron Mangus interior. Wheelsmith Fabrications made the black artillery style wheels featuring matching brushed brass caps. Under the hood lies a 375-horsepower 302 cubic inch Ford V8 but this car isn't about power – it's about style. It's also about expanding horizons and breaking new ground.
 In addition to the Goodguys 2014 Mother's Custom of the Year, The 'Pearl won the Sam Barris award as well as the Custom d'Elegance at the Sacramento AutoRama.
Fellow finalists for the Goodguys 2014 Mother's Custom of the Year award included John Fleming, Asher, OK (1939 Lincoln Zephyr) Brandon Penserini, American Canyon, CA (1955 Cadillac),Mike &Rita Gardner, Livermore, CA (1956 Packard)and Mark & Kelly Skipper, Fresno, CA (1951 Ford Victoria).
John Drummond
Communications Director
Goodguys Rod & Custom Association