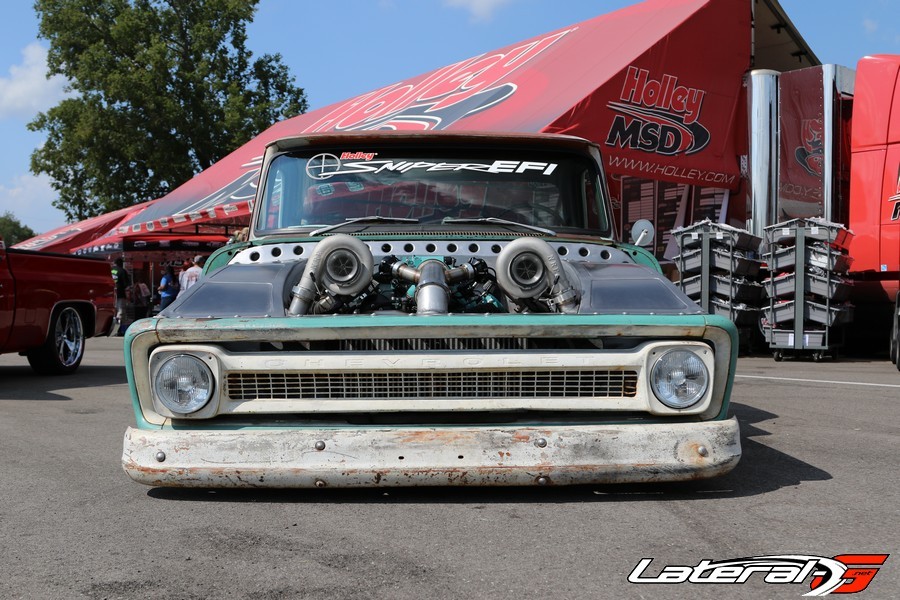 The 2016 Holley LS Fest is off with a bang! We arrived at the beautiful Beech Bend Raceway bright and early to make sure we didn't miss a single piece of the action. Right off the bat there was some major news – Holley will have LS Fest West in Las Vegas May 5th, 6th, and 7th! That's huge news for all of us that aren't on the Eastern side of the states. You can bet we will be there bringing you all the action from that.
This years' LS Fest is bigger and better than last year. There's still the same racing as last year: drag racing, drifting, autocross, dyno, and engine swap. But there is now more action over at the National Corvette Museum track with a second autocross track along with a road course challenge and track cross.
At Beech Bend we started by walking the vendors to see who was here. It was almost like a mini SEMA show with Holley, American Powertrain, Currie Enterprises, Auto Meter, Spectre, RideTech, Viking Performance, UMI Performance, TorqStorm, Texas Speed and Performance, Baer, Wilwood, Flowmaster, Hurst Driveline Conversion, Dakota Digital, and a bunch of other vendors on display. We could have spent a day in just the vendor area checking out the latest products.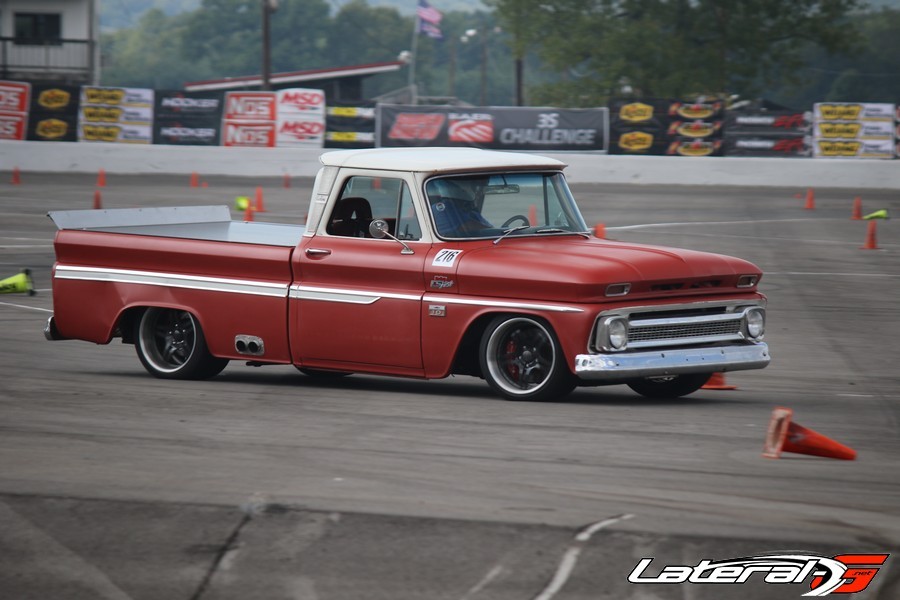 On the QA1/Lateral-G.net sponsored autocross the action was hot! Since last year they repaved the circle track it's set up in, which allowed for a new course layout. They had the course laid out in such a fashion that at any one time, there was three cars on the course – one starting, one mid way through and one finishing up. This meant that each competitor didn't wait an hour between runs, only 20-30 minutes. This made for lots of action and was great for spectators.
Abruptly at Noon the autocross shut down for the Chevy High Performance shootout. This is where six drivers take their cars out on the autocross and each competitor takes three runs. All three times are added up and the driver with the fastest combined times wins. Nick Lacata from Chevy High and Jimi Day were present reading off the results. No surprise as to who the winner was – Danny Popp. You could put him in a shopping cart with a broken wheel and he'd still beat most competitors on the course. He was piloting Todd Rumpke's Corvette.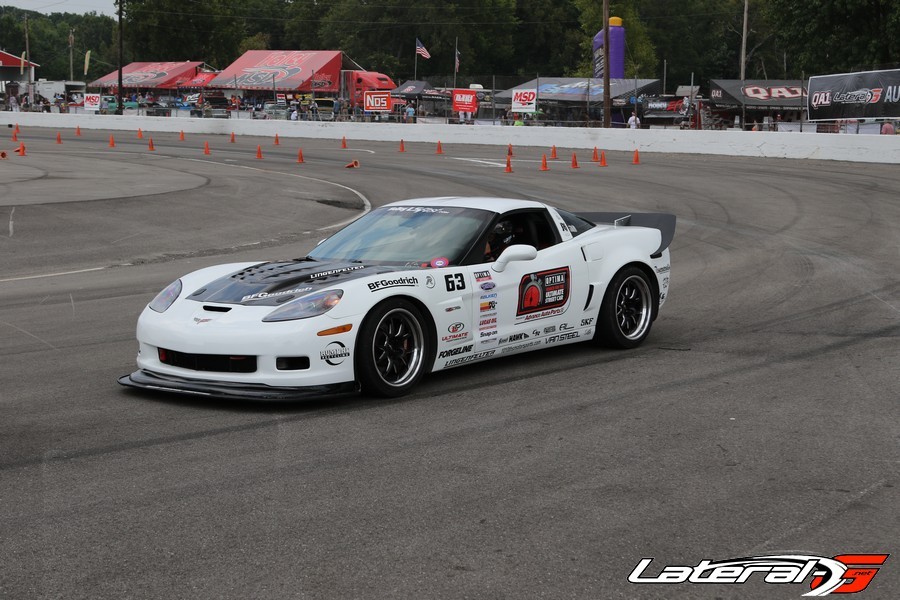 In case you didn't know Todd Rumpke lost his battle with cancer this last week. He was an amazing driver and one of the nicest people. He was very close with a lot of the racers here and he will be honored all weekend long. He has his own spot reserved all weekend for him reserved at the front of the autocross course. May he rest in peace.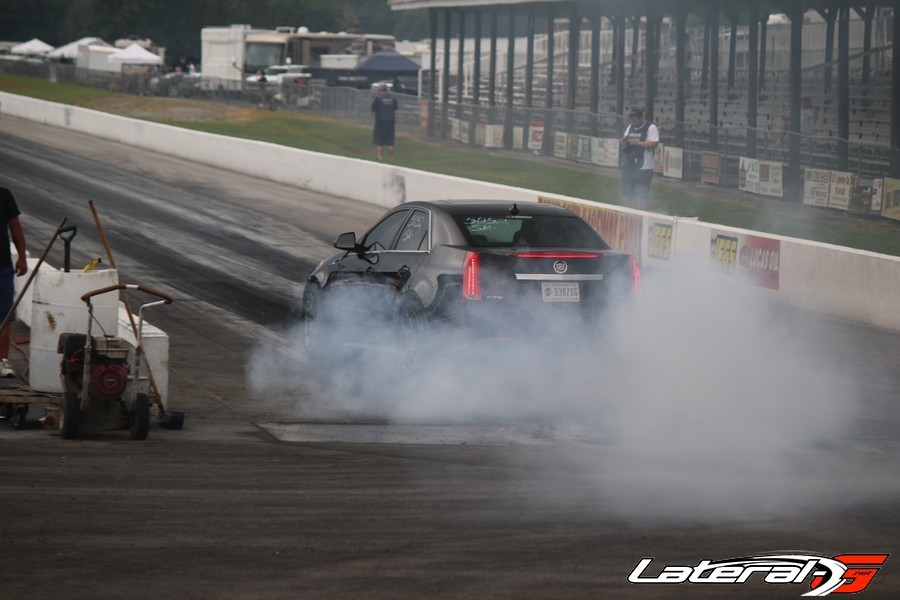 Meanwhile the drag racing was going on directly behind the autocross course. Between the sounds of screeching tires on the autocross course, you could hear the sound of LS powered cars launching on the drag strip. And there was quite a variety of LS powered cars running down the strip too. At one point we saw a 60's Mercury Cougar racing a 60's Ford Fairlane – both LS powered! Today was just a test and tune day until 3PM when qualify started. As much as we love autocross, there's still something so amazing about a car going from a dead stop to well over 100 MPH in less than a quarter of mile.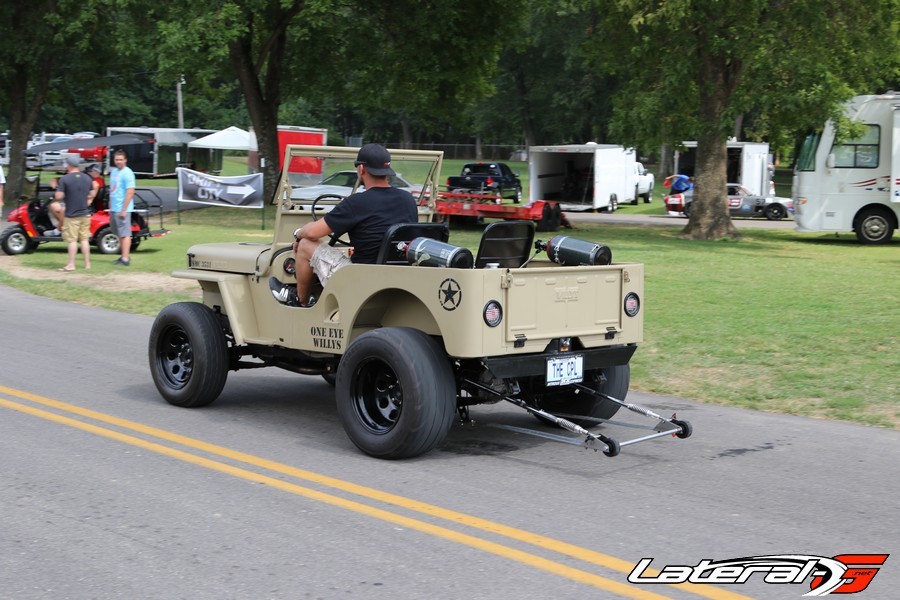 The drag racing and autocross kept going strong all afternoon. The autocross finished up at 5PM and they changed the course for the drifters' to come out and start practicing for their race tomorrow night. Tomorrow morning we are going to head to the NCM track and check out all the action over there! Make sure to check back.