The last few years FiTech EFI has made big waves in the fuel injection market. Their throttle body fuel injection units are packed with all the options and more of their competition, yet are often priced for half the cost. While they are still producing these fuel injection units, they have started to expand their product line as well.
Enter their new Ultimate LS Induction Kit. Everything needed for the top end of an LS included, starting at only $1,495! Our curiosity got the best of us, and we stopped by their shop to take a better look.
What's In The Box – FiTech's Ultimate LS Induction Kit
Everything needed to get an LS to fire up and run is included in the box, just like their throttle body units. They have it set up so that if you have an LS motor sitting in under hood that's complete but needs induction and wiring, you can order this kit and have it running. Here's a complete list of every part that's inside the box:
-92MM or 102MM* Billet Aluminum Throttle Body
-Handheld Controller with color touch screen
-Windshield mount for touch screen Controller
-36 or 66* lb/hr Injectors
-High volume fuel rails
-Fabricated Aluminum Intake Manifold
-Plug and Play Wiring Harness
-BAR MAP Sensor
-Throttle Position Sensor
-Idle Air Control Sensor
-Coolant Temp Sensor
-Bosch Wide band O2 Sensor
-Stainless Oxygen Sensor bung
-AN fittings and fuel crossover
-Two programmable fan control outputs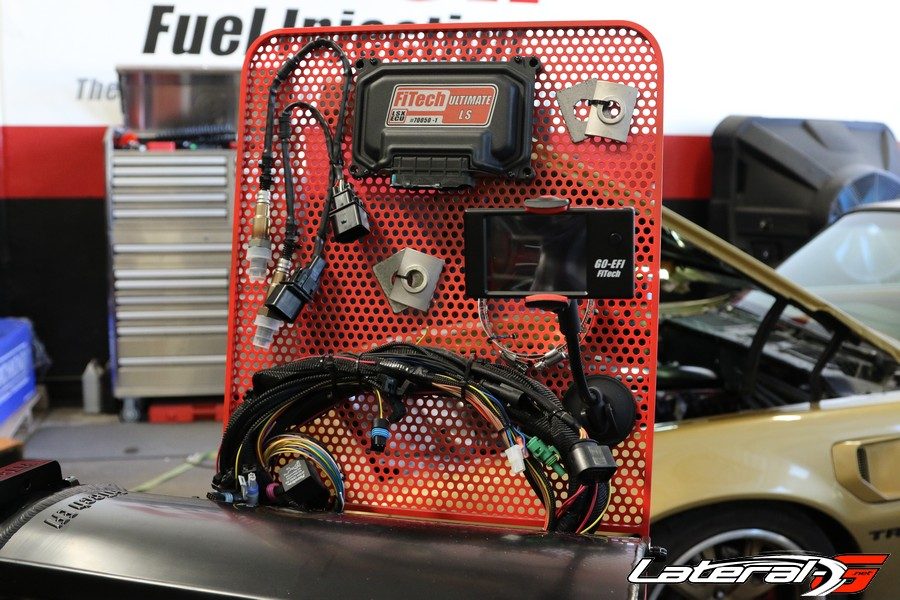 Depending on your needs they have several different versions of the kits to fit your needs. Available in either 500HP or 750HP, with or without transmission control and either LS1/LS2/LS6 or LS3/L92 configurations. If you already have an intake and just need the wiring and computer, they offer that as well.
Does It Work?
We were skeptical at first. At that price point, there has to be a catch right? In order to find out, we hung out as they installed one of these new kits on their project Firebird. The 'Bird sports an LQ4, that minus headers and cam, is bone stock.
Installation was simple as basic as you'd imagine with an LS. A few bolts and the intake was mounted to the stock heads. Stock style sensors were used through-out, meaning if at some point one of them fails you can easily go down to your local auto parts store and grab a replacement off the shelf. Wiring up was basic as well with push on OEM style connectors found through-out. Overall the installation was quick and took roughly an hour.
The real proof was when FiTech had the car on the dyno and ran it. First start up was a little off as they adjusted the throttle body to get it to idle. After that, they punched it and made it scream. Without any sort of tuning, the LQ4 made a smidgen over 400HP at the wheels! We were impressed. For more information or to order, hop on the FiTech EFI site or give them a call at (951) 340-2624