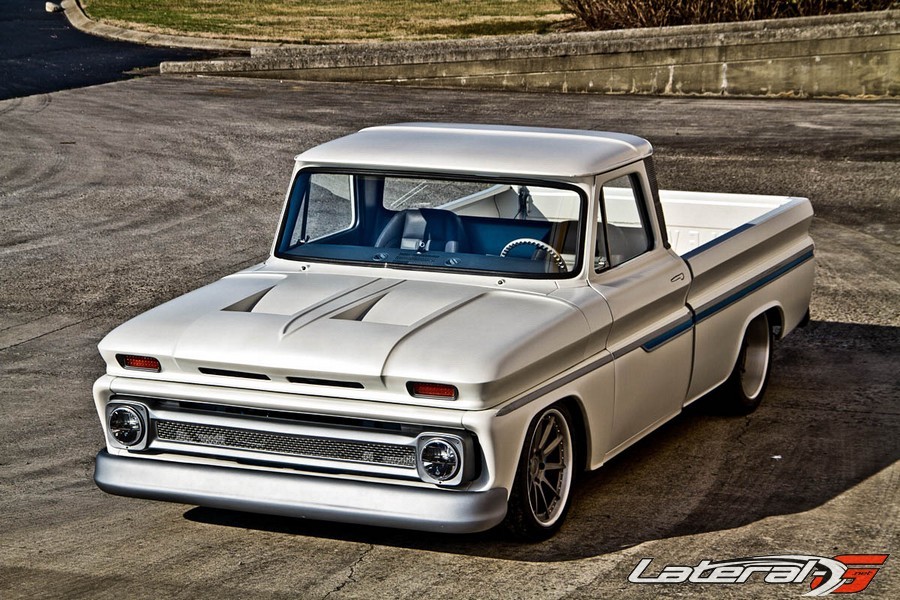 Introducing James Otto and his 1966 Chevy C-10 dubbed "For Pete's Sake." At first glance, the name James Otto might ring a bell for you, and there's a good reason for that. He's one of the top country music artists out there. When he's not standing on a stage in front of thousands of people, he's standing under the hood in front of hundreds of horsepower.
Otto is a car guy, through and through. He's had old cars his entire life with the first one being a 1972 Chevelle. "I've always had something old in the garage," Otto told us. This might be because his father built funny cars and he was raised in the garage wrenching with his dad. The 1966 C-10 you see here is actually a bit of a family heirloom, passed down from his Grandpa Pete, hence "For Pete's Sake." Grandpa Pete picked up the old truck at an auction in the early 1980's and James actually learned to drive in this truck on his Grandpa's farm in North Dakota.
The truck as it sits took about four years to how you see it, but this is actually the second version of the truck. "When I first got the truck, I restored it back to stock. Long bed, six-cylinder, the whole bit," explained Otto. He enjoyed driving it but soon the Pro Touring bug bit him. He decided to redo the entire truck and started jotting down ideas and envisioning the truck in his mind. "I'm obsessed with cars. I'm always shopping and looking, it's really my main hobby," continued Otto.
For Pete's Sake started with a rendering, completely coming from the vision in Otto's mind. While the truck is completely transformed, after putting a few miles on it Otto already has a list of modifications he's looking to make.
The Foundation
In order to be more competitive on the course, Otto knew the long bed had to go. He picked up a short bed chassis then added a Porter Built frame stiffener to make sure the frame didn't twist like a pretzel with the new duties. All the unused holes were also filled and the entire frame was powder coated as well. A complete RideTech Stage 3 kit was added along with a set of RideTech triple adjustable coil overs at each corner to compliment the RideTech suspension.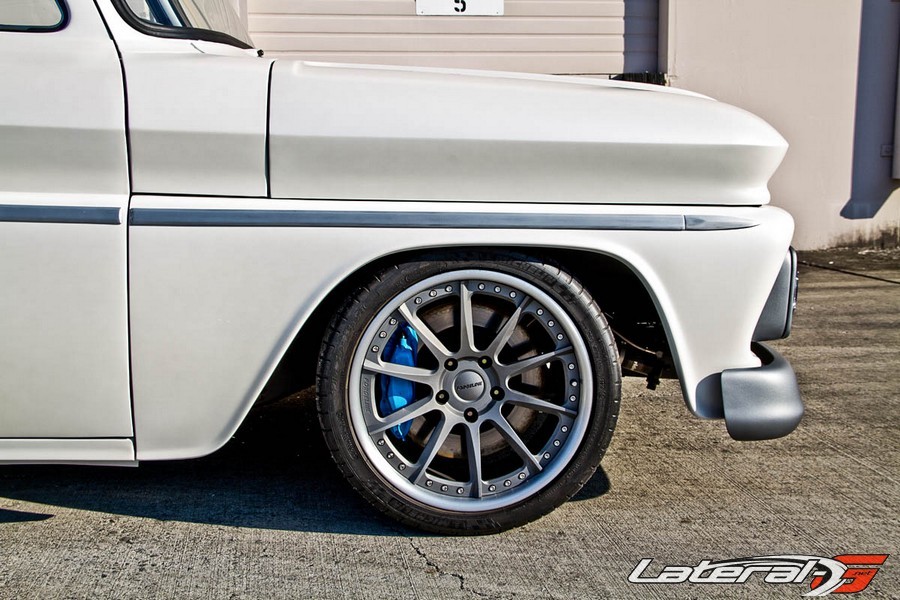 Otto then picked up a set of Brembo six-piston calipers for brakes in the front and four-piston in the rear with 14.5″ rotors off a 2010 Camaro SS for stopping power. Surrounding the brakes is a custom set of Forgeline RBC3's, 19×10″ in the front and 19×12″ in the rear with Michelin Pilot Super Sport tires. 295/35/19's in the front and 345/30/19's in the rear respectively.
Long To Short
With the short bed chassis completed, the body needed to match as well. A set of LMC Truck short bed sides made the transition an easy one. While working the new short bed, all unnecessary body lines were removed and things were shaved to give it a much cleaner look. A custom hood extractor was added and the vent and cowl were smoothed out as well.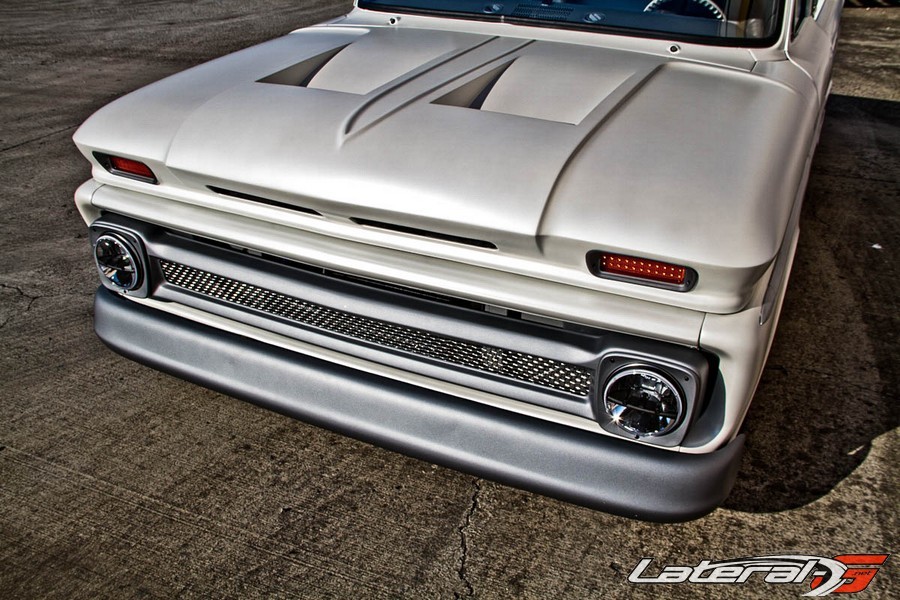 Once the body was up to par, James wanted a custom color. He didn't want something that was shiny, a matte color was in order. He went with Balloon White Satin Pearl, which is more of a flat color with some pearl in it to make it shine. Dupont's Hot Hues Baby Blue was used for the stripe, and all the chrome work was painted with Eastwood's Meteor Gray.
Creature Comforts
Back when this truck was made, the interior wasn't very comfortable or flattering. The sole purpose was for work, and it served it's purpose. With the rest of the truck being brought into the 21st Century, Otto knew the interior would have to be the same way.
"We started by cutting out the center of the dash and smoothing it all out," explained Otto. Since he's obviously a big lover of music, a killer stereo was needed. They started with an Alpine ILX-007 head unit which is attached to a set of 6.5″ Kicker speakers and a Kicker amp and 10″ subwoofer. From here the dash was filled with Classic Instruments gauges, a mix of vintage and modern.
In order to keep him cool in the humid and hot summers, Otto had a complete Vintage Air system installed. Finishing off the interior is a complete TMI Products interior, with a custom set of Sport XR Pro Series seats and a matching set of Sport XR Door Panels. These seats and door panels have the signature TMI grommets in them which helps give the truck a much more custom and race type look.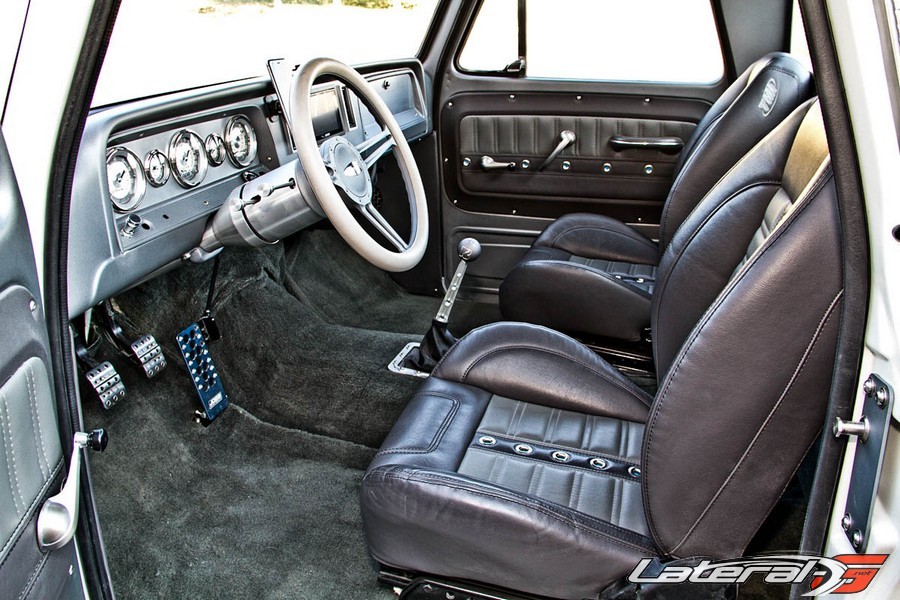 LS Power
The heart and soul of any vehicle is the motor. That's what gives it life and enables everything else to do it's job. Ditching the stock six-cylinder was an easy decision and in its place is an LQ4 from a 2003 Chevy SS truck was put in. A custom ground cam was installed to wake up the LQ4 and a set of ARP rod bolts were installed for future insurance.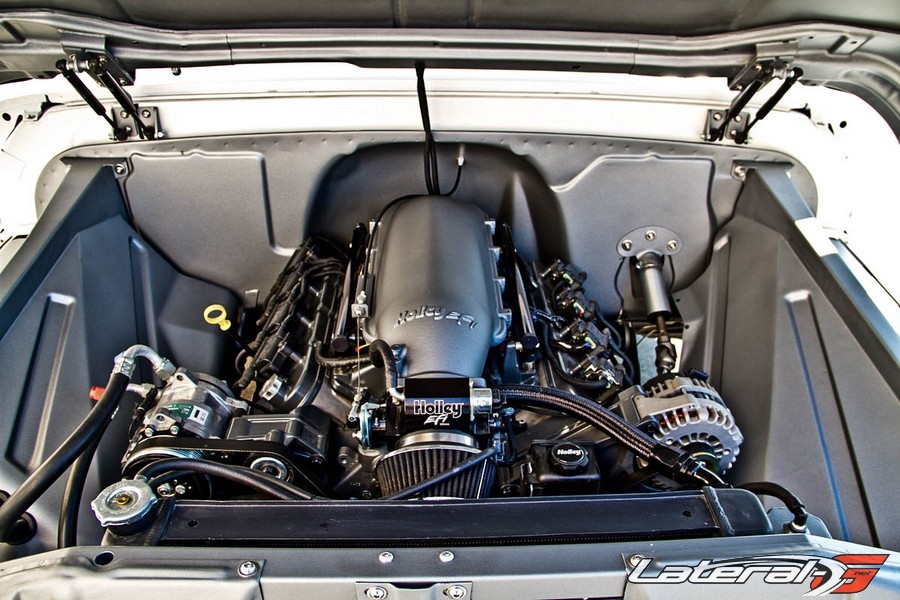 A Holley mid-rise intake was used to make extra power and a Holley front runner set up was used to keep the belt spinning. Otto also used a Holley EFI system for a cleaner look than the stock truck wiring harness and to get the most performance he could out of the motor. The icing on the cake is a Holley LS Throttle body for max power. A set of Gibson stainless steel headers finished off the engine.
Backing the powerhouse motor is a Tremec T-56 Magnum transmission with a Centerforce DYAD clutch which all runs through a custom built Ford 9″ rearend with a Tru-Trac locker installed.
Finishing Touches
The truck was debuted at SEMA 2015, in the TMI Products booth. After completing the week in Vegas, it was shipped back to Nashville and fine tuned. Now that the truck is finished, James has been putting lots of miles on it. "My goal with this truck is to take it to races and compete. It's not just a show truck," explained Otto. Since putting some miles on it he's now ready to make a few changes as well, like the addition of a supercharger and fine tuning the suspension even more. We can't wait to see it on the course and the future upgrades!
Thank You's
James wanted to take a minute and thank all the people and companies that helped make his dream come true!
Kevin Tetz, Brent Buttery, Tri-Works Hot Rods, Classic Instruments, RideTech, Holley, LMC Truck, John Bouchard Jr. Racing Engines, Centerforce, Magnaflow, Eastwood, Vintage Air, Bowler Performance Transmission, Kicker, Bed Wood & Parts, Forgeline, TMI Products, Ididit, and Finch Performance.