Story by Lenie Hamm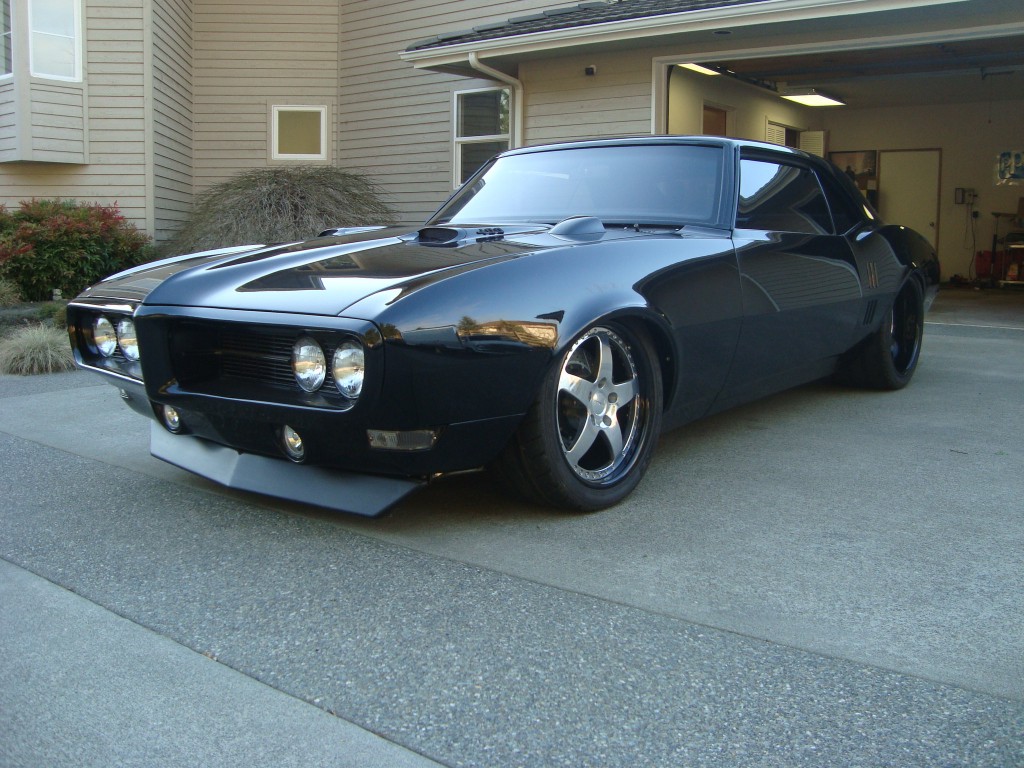 Like so many of you I grew up in the era of muscle and have always had an interest in cars. When I turned 16 my first car was a 1964 GTO that I absolutely loved but like everyone else I sold it for one reason or another and moved on. As time went by there were other priorities in life that were far more important than my desire of old cars but I've always had a soft spot and attended local shows and purchase magazines off the shelf to quench my thirst.
Early on in my marriage I purchased a 1956 Ford PU I had intentions of restoring but financially just wasn't feasible so I sold it. Fast forward about 20 years … I took the wife down to the Portland swap meet and at the end of the day she told me I should find a car I liked and fix it up. That's all it took, I was on the computer the minute I got home and started looking. It took a while but on a Friday night back in April of 2006 I found a 1968 Firebird that an individual had started but never got the chance to finish. It had been worked on by DSE in their early years and was on the website listed in their projects section under owner Charles Bolin. I decided to put my max bid on it that night but it didn't reach the reserve although I was the high bidder. The auction ended Saturday the following morning, Sunday the seller contacted me to see if I was still interested, I was and we agreed on a price. Monday I went in and took the week off work, rented a 24' enclosed trailer, hooked it up to my 1997 ½ ton Chevrolet Silverado 4×4 and drove from Port Orchard Washington to Brighton Michigan, loaded it up along with all the misc. boxes into the trailer, paid him cash and was gone within two hours and back home Thursday afternoon, what a ride.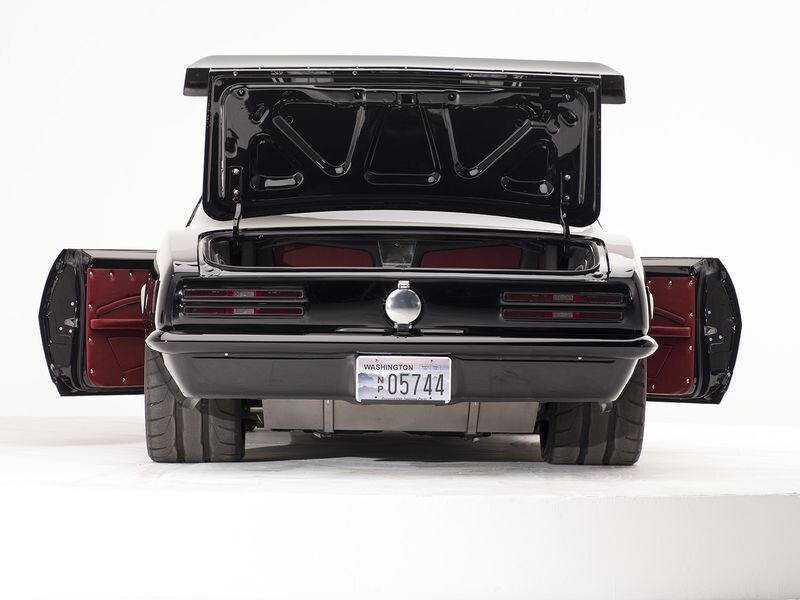 Man was I excited but had no idea of what I was getting into. What I've always been drawn to at the shows was a car that had a nice stance with a good set of wheels and was done up subtle. It wouldn't stick out from far away but the closer I would get, the more I would appreciate it, this was the kind of car I had in mind. So it was time to get started, I worked on it for about seven months with the intentions of quickly reassembling it with the parts I had and lowering it to my desired height. Figured I'd be into it about another 15k and done with it in about a year, sure. I try to do most of the work I can myself, even when I hire things out I usually pay for the services then bring the car home and rework it. Some would probable tell you I'm a little/a lot OCD when it comes to building anything so in January 2007 when I found Lateral-g.net it was like taking an alcoholic to a bar and giving him an open tab. I'd be sleepless at night on the site trying to find ideas. I'd wake up at all hours with visions! Eight years later and numerous rework/ direction changes, I've finally got it on the road showing it. One of my biggest decisions I had trouble making was whether to go LS or stay Poncho. With it being a Pontiac and several conversations with forum members I decided to stay with the 400 and couldn't be happier, next project will be LS. My favorite part of the whole build has been everyone I've got to know on the Lateral-g forum through discussions/ advice, Sema and other car events. Just want to say thanks and what an awesome group. Without going into great detail, here's the hit list.
SPECS: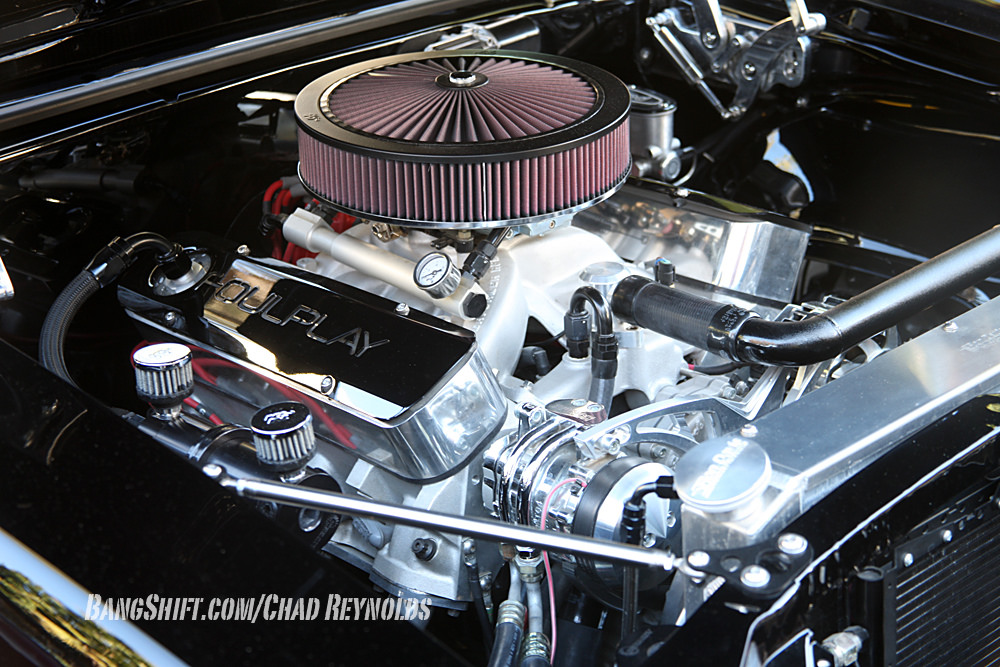 -461 cubic inch 68 Pontiac 400
-Built by Steve Wilkening, CFM Inc.
-Edelbrock heads ported by SD Performance
– Comp Cam custom grind by SD Performance
-Mahle Pistons thermo coated 5cc dish
-Eagle crank has been knife edged and balanced
-Ron Davis radiator with twin fans
-Speedway Engineering custom splined swaybar
-March front pulley system
-Tin Indian aluminum covers with custom fabricated covers
-Wilwood master brake cylinder
-Mc leod scatter shield
-Richmond 5 speed with Hurst shifter
-X factor crossmember
-Dynotech 3" aluminum driveshaft
-DSE custom built 9" with 3.08 gears, Trac-Loc and Strange
-Wayne Due subframe with C4 suspension
-Ridetech e3 airride 5 gallon tank with 2 compressors
-Stainless Headers MFG.
-Custom Spintech mufflers with 2 ½" oval/round exhaust with x-pipe completely ceramic coated & wrapped end to end
-DSE 4 link with panhard bar, DSE minitubbed , DSE subframe connectors, ½" solid body bushings, DSE custom built vintage air bracket, DSE wiper motor and raised rear shock towers.
-Custom bent SS fuel/brake lines
-Baer brakes
-American Autowire
-Body and paint by Mark Naglich, Lakeside Rod and Custom
-PPG no toner Black 2 stage paint
-Body shaved and trim painted to match car
-Front and rear bumpers shaved, modified, tucked and painted to match car
-Modified front valance
-Recessed Shelby gas cap.
-Modified interior upper door sheetmetal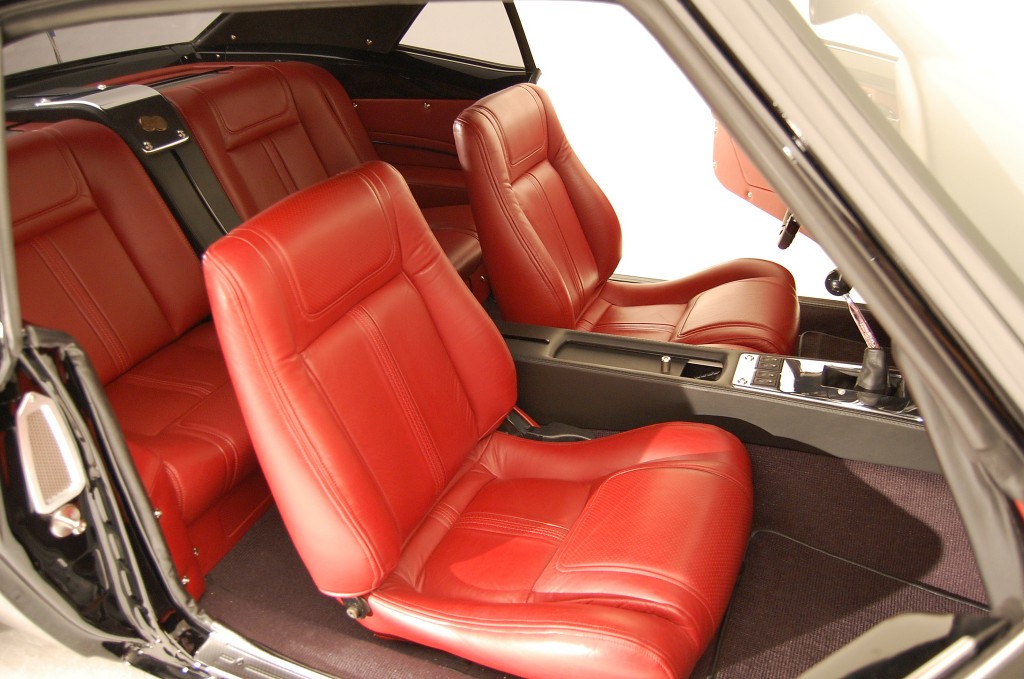 -Custom Interior by Lenie Hamm, Quinton Daniel Upholstery and Stitches Upholstery (Tony)
-Modified Fiero front bucket seats
-Custom fabricated rear buckets
-Custom full length console
-Screamin' Eagle Performance kick panels
-Custom trunk
-Custom door panels
-Custom package tray
-All wrapped in Italian leather
-Marquez 3 piece fiberglass head liner covered with Alcantara. Also Marquez front valance running lights, door jamb strikers and vents
-Musclerodz (Mike) Nu-Relics power window, Metro seals, tinted front and back glass
-Billet Specialties steering wheel
-Ididit Steering column
-Dakota Digital VHX gauges
-Ring Brothers exposed ss hardware
-Stitches upholstery custom german square weave carpet
-Electric life shave door kit with remote key fobs
-Forgeline SO3P 3 piece wheels, fronts 18×9, rears 19×12, polished inners with Black powder coated hoops wrapped with Nitto NT 05 ZR's , fronts 275/35-18's, rears 335/30-19's
-Pioneer DEX-P99RS head unit
-Hertz Mille 3 way speakers, ML 1600 woofers, ML 700 mid ranges and ML 280 tweeters
-JL subs 8"
-JL amps 1000/1, 450/4 and 300/2
-Optima Battery
-Royal Purple fluids
-Too much to list…..any questions, feel free to ask.