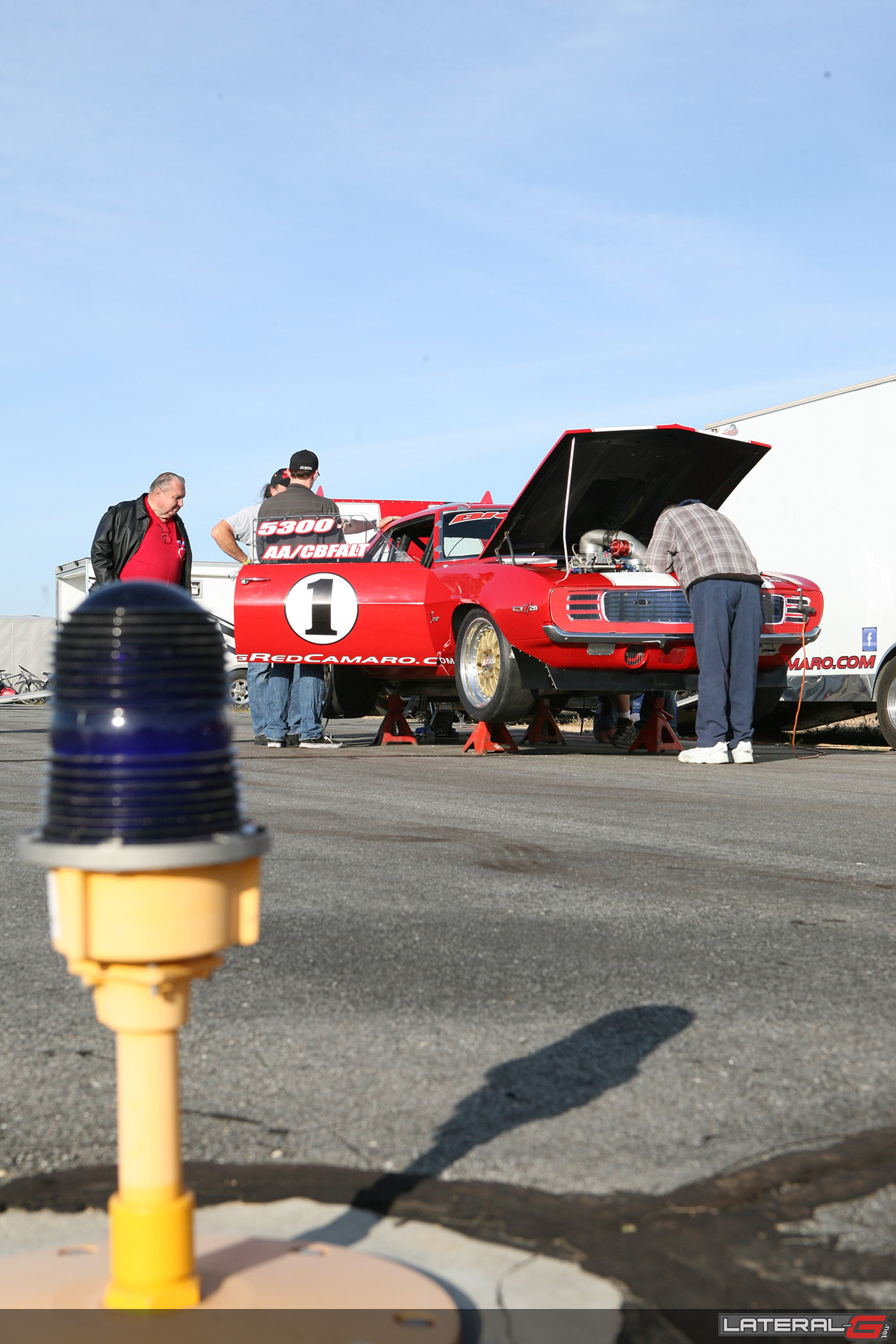 Author: Tony Huntimer
Event Date: 4/11/15 – 4/12/15
My weekend was spent at the MKM Racing Promotions Mojave Mile, now called the Mojave Magnum. The Mojave "Mile" was a mile long race that has a standing-start. The Mojave Magnum is the same race, but it's 1.5 miles from start to finish.
The main reason for my visit to the Mojave Magnum was to hang out with Big Red and be there to witness the attempt for a new speed record. The car had been sorted out at previous races, but in an attempt to beat a previous record at the Magnum of 234 mph, there were some upgrades. A peak under the hood revealed the 598 Brodix big block with a huge new F3A ProCharger and an experimental blow-through carburetor from The Carb Shop. A dyno was used to tune the new setup, but it's hard to duplicate the environment of a race like the Magnum.
RJ purchased a 2014 Z28 with the full intention of keeping it bone stock and enjoying it. So far, RJ has not modified it, except to stripe it like Big Red. He's also been enjoying the heck out of it. Since his '69 Camaro had a name, it only made sense to name the '14. He has officially landed on the name, "Little Red." Size-wise Little Red is physically larger than Big Red, but Little Red is only a year old and Big Red is 45 years old. Little Red was right at home at the Mojave Magnum. By the end of the event, RJ had made a pass of 163.6 mph in the Mojave Magnum (1.5 miles).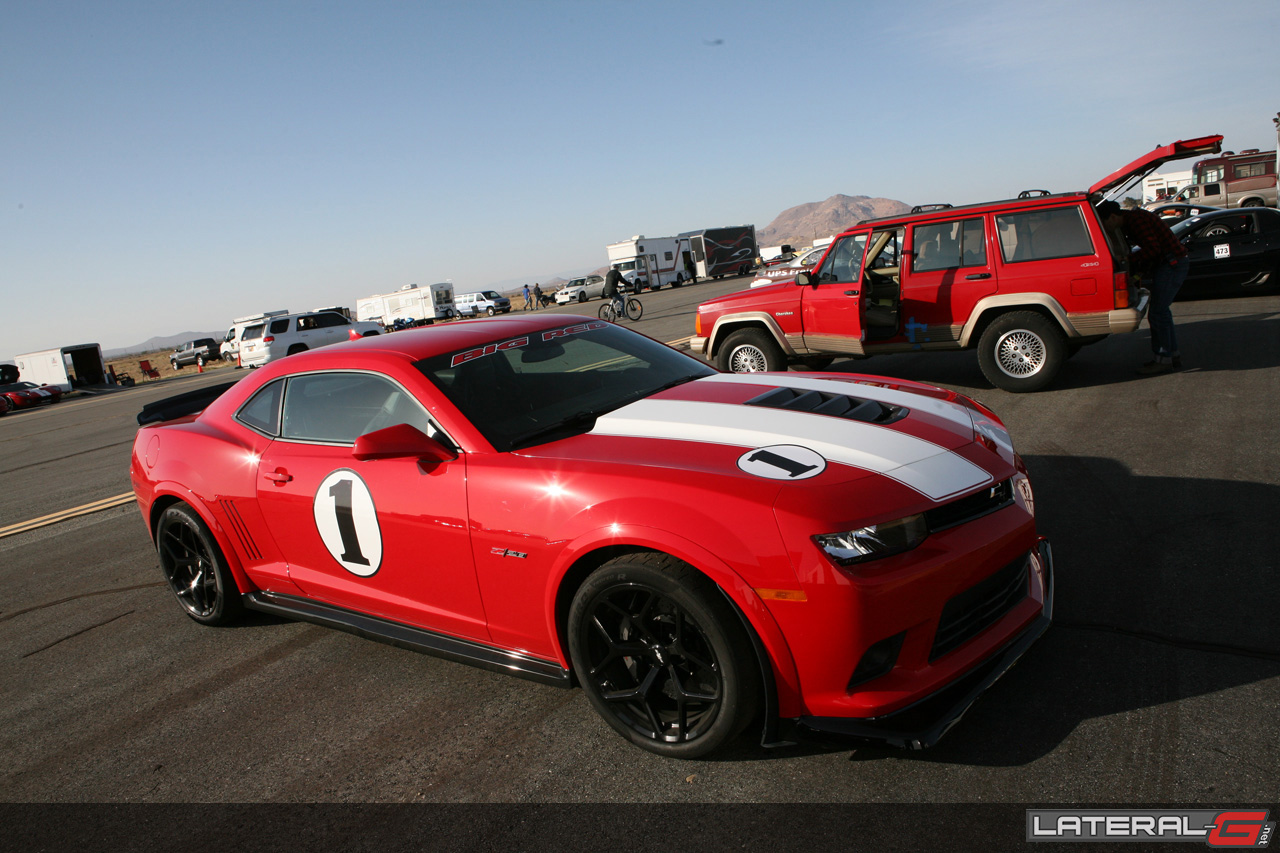 There were plenty of Corvettes on hand. They are always popular at high-speed events. You can get over 150 mph with the air conditioner and radio on.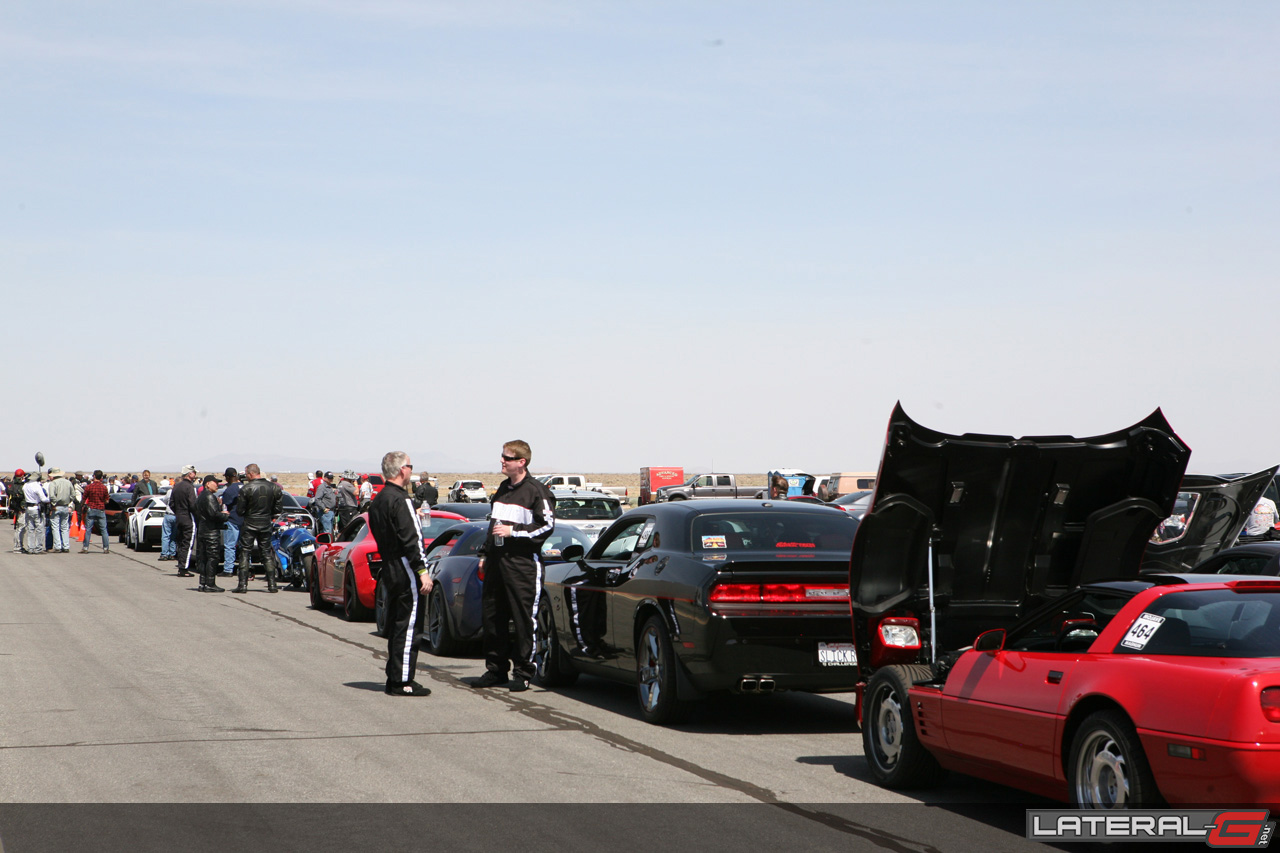 There were very few vehicles on hand that were produced before 1975. Lance Smith's 1975 Monza clicked off a 162.8 mph and did it in big block Chevy style.
David Parks' Hot Rod Special is a 1957 Plymouth Savoy. This thing sounded badass and went 160.5 mph.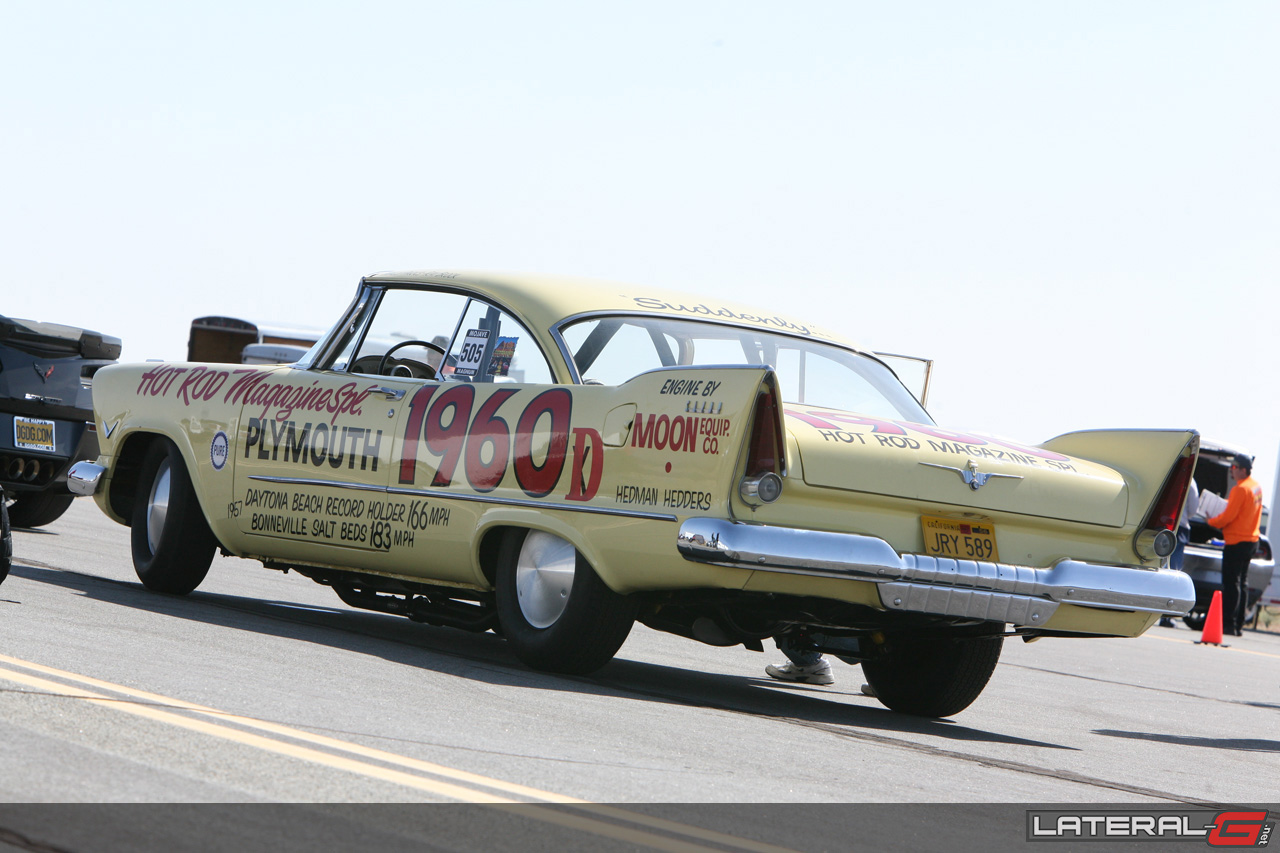 Brent Josephson's badass LS-powered 1968 Pro-Touring Chevelle ripped off a 161.2 mph!
1955 Chevy Wagon sounded wicked. It was driven by a husband (Christopher Curtis) and wife (Judy) team. Christopher clocked a 171.7 and Judy clocked a 164 mph.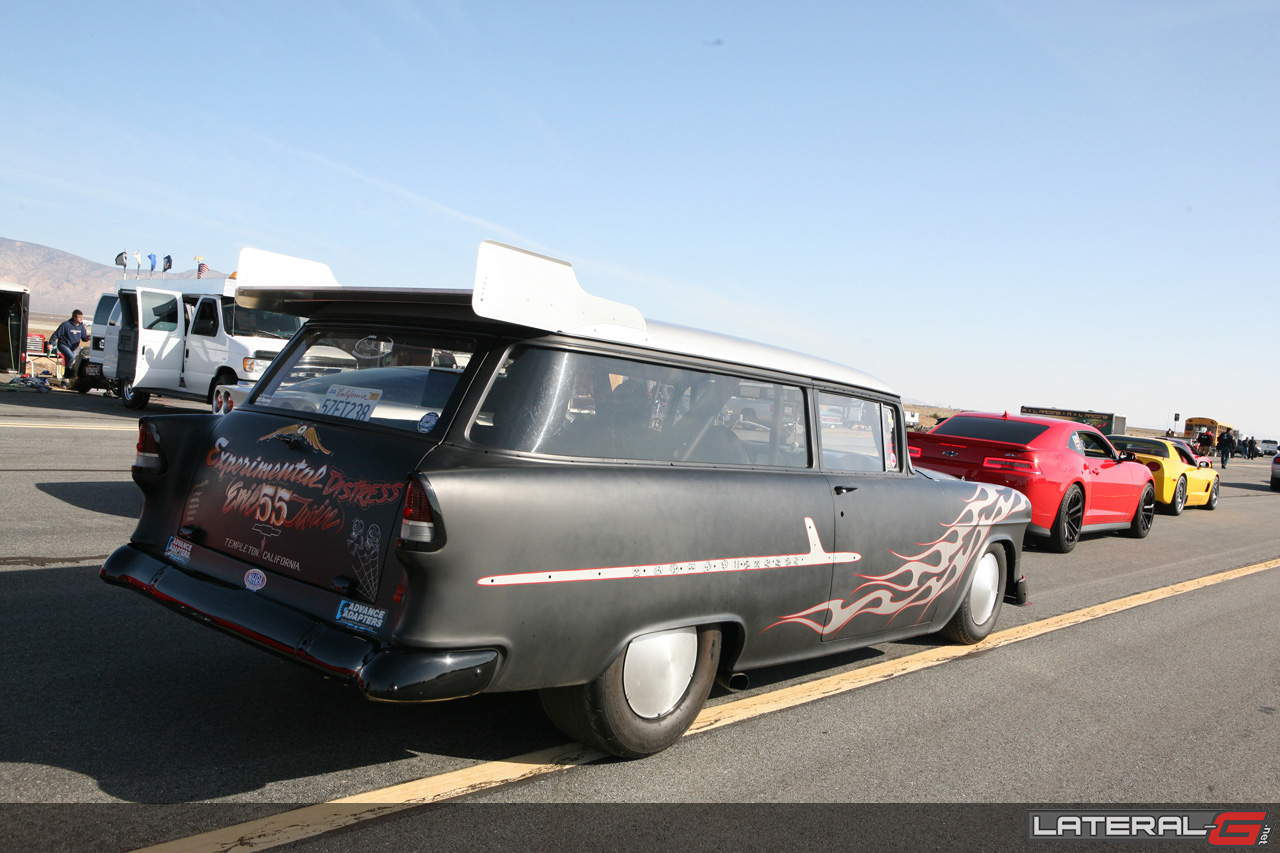 Virgil Benton's 1965 Shelby Cobra broke a long-standing record when he went 199.0 mph!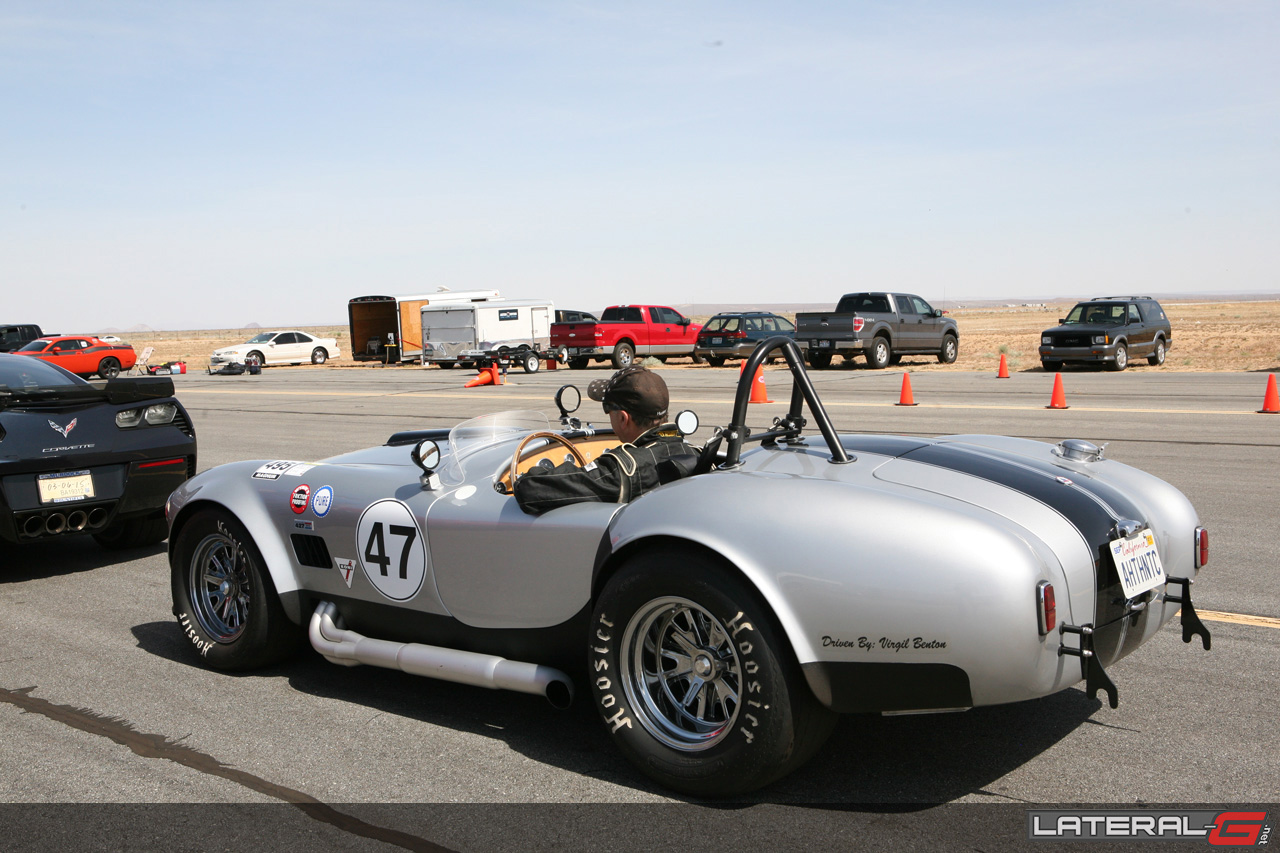 This event brought out one very different ride. A front wheel-drive Triumph GT6 Streamliner that was purpose-built for high-speed runs on salt and dry lake beds. It was out at Mojave for testing and ran a 183.3 mph. Not bad for testing!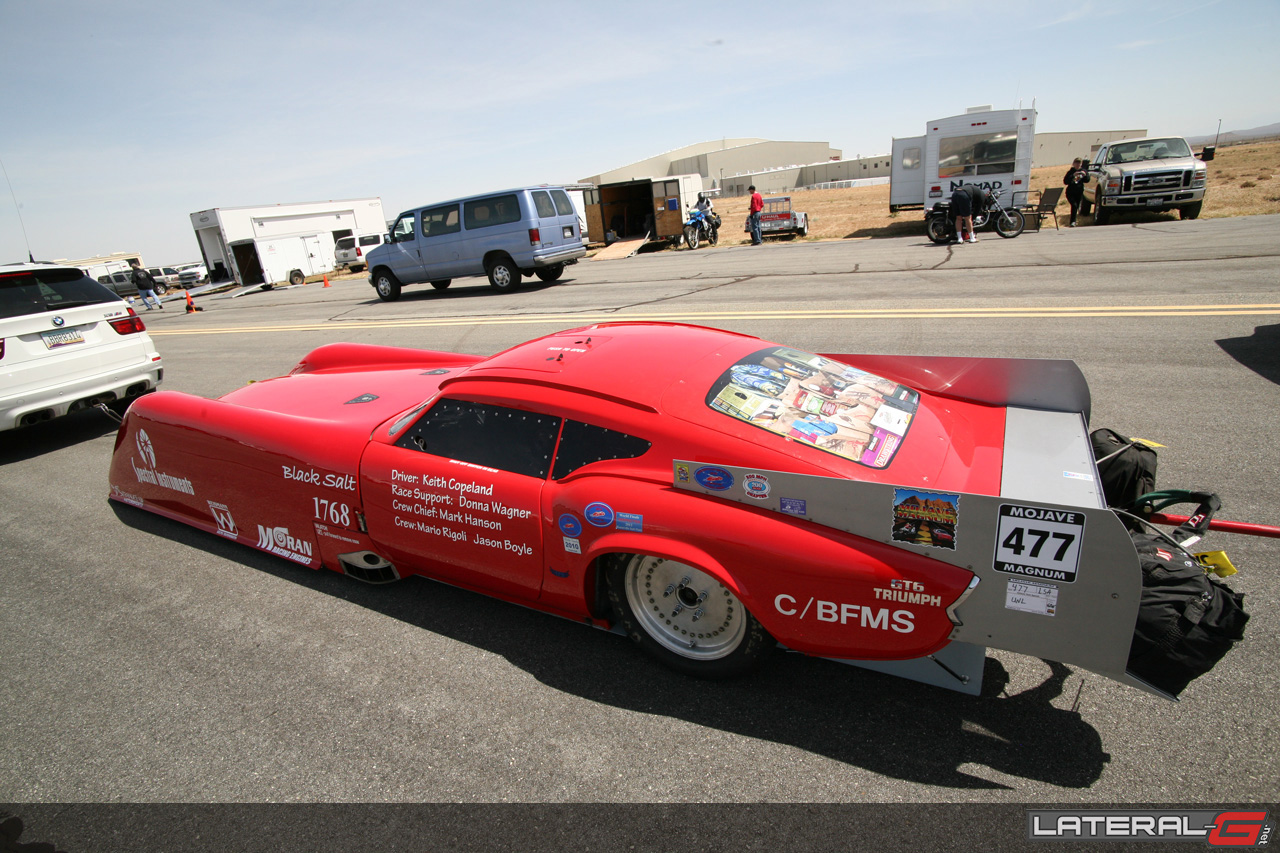 Two Karmann Ghias ran the Magnum. Dick Simon's Bugpack Karmann Ghia clocked 116 mph!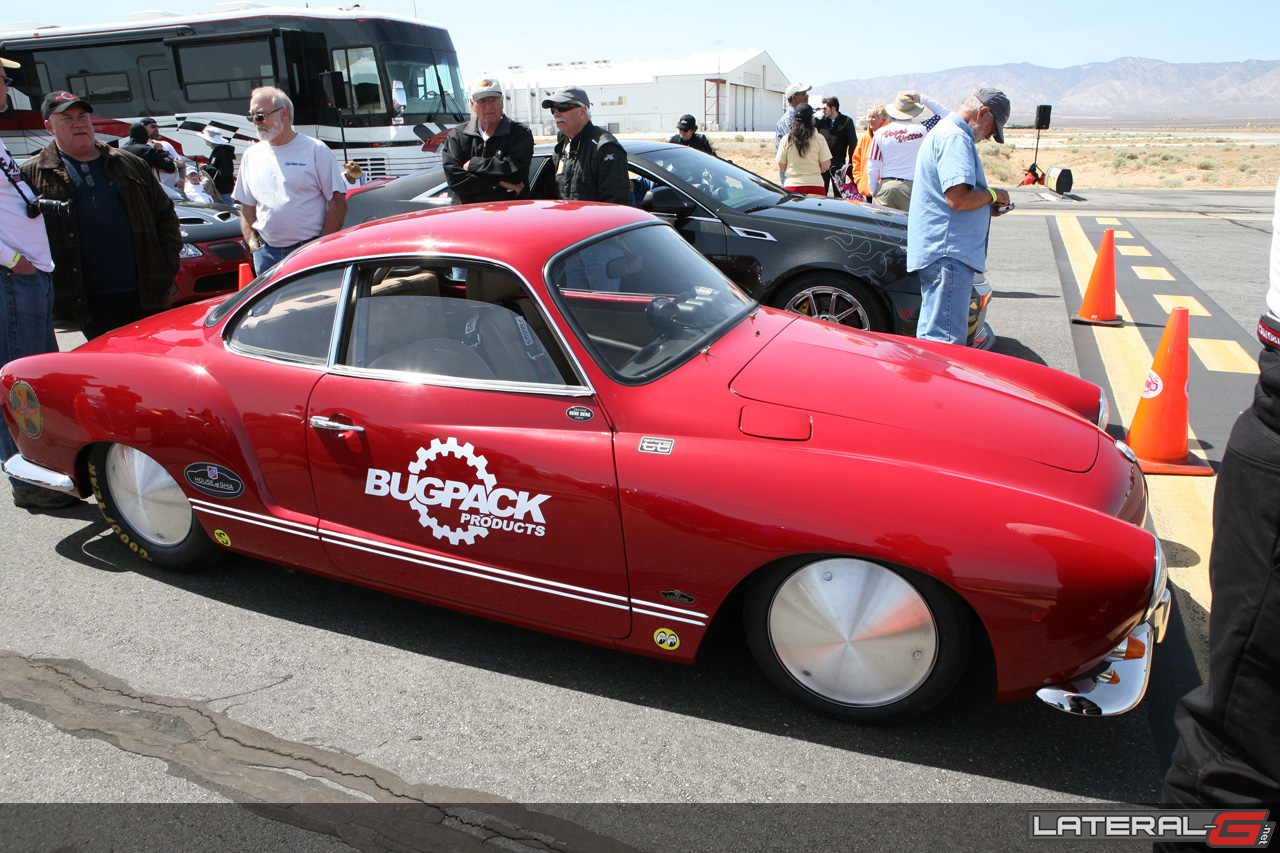 Juan Cole's yellow Karmann Ghia was running the 36 hp challenge and clocked a whopping 150 mph. That's awesome speed for a VW pancake engine.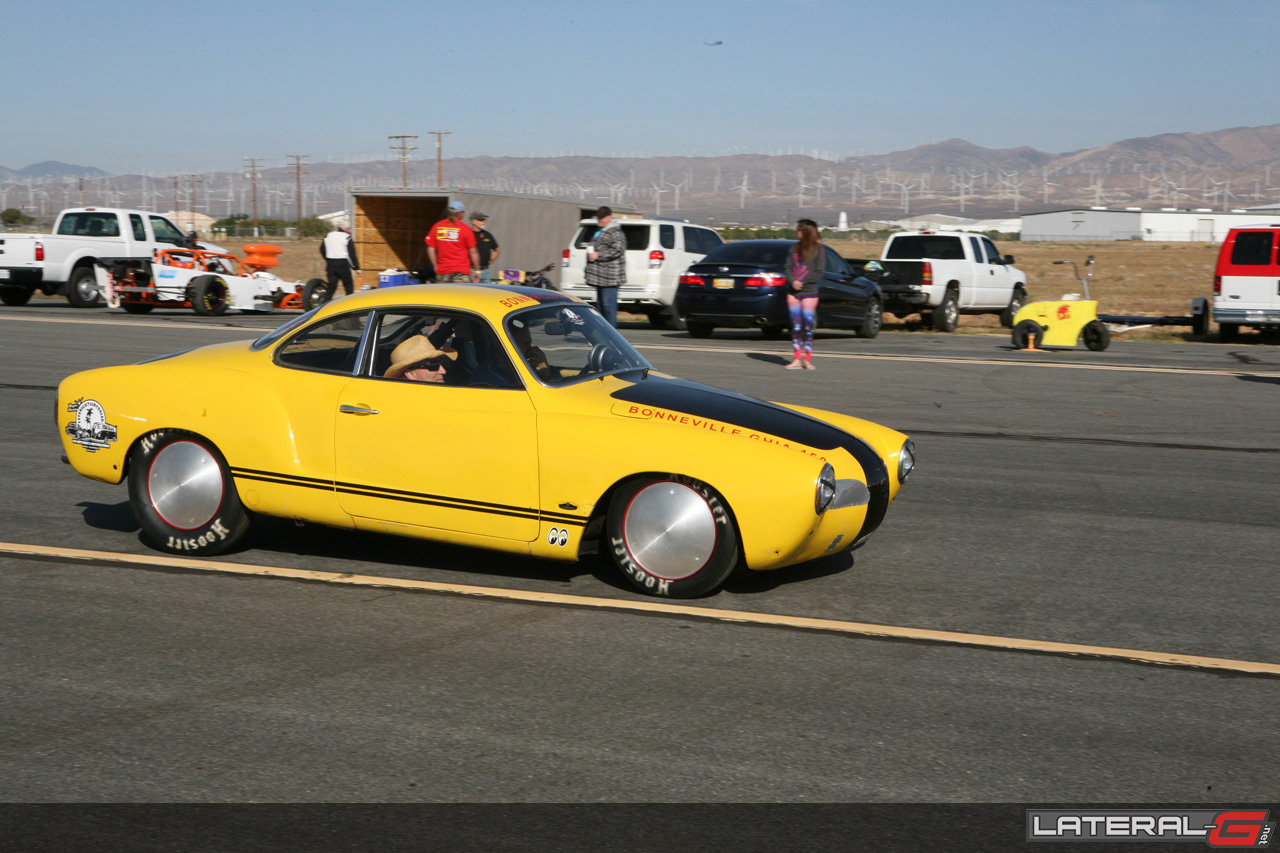 Of course there were a few Supercars on hand. A few Ford GTs were blasting out some awesome times. Tom Fries III was the closest competition to Big Red with a run of 231.4 mph!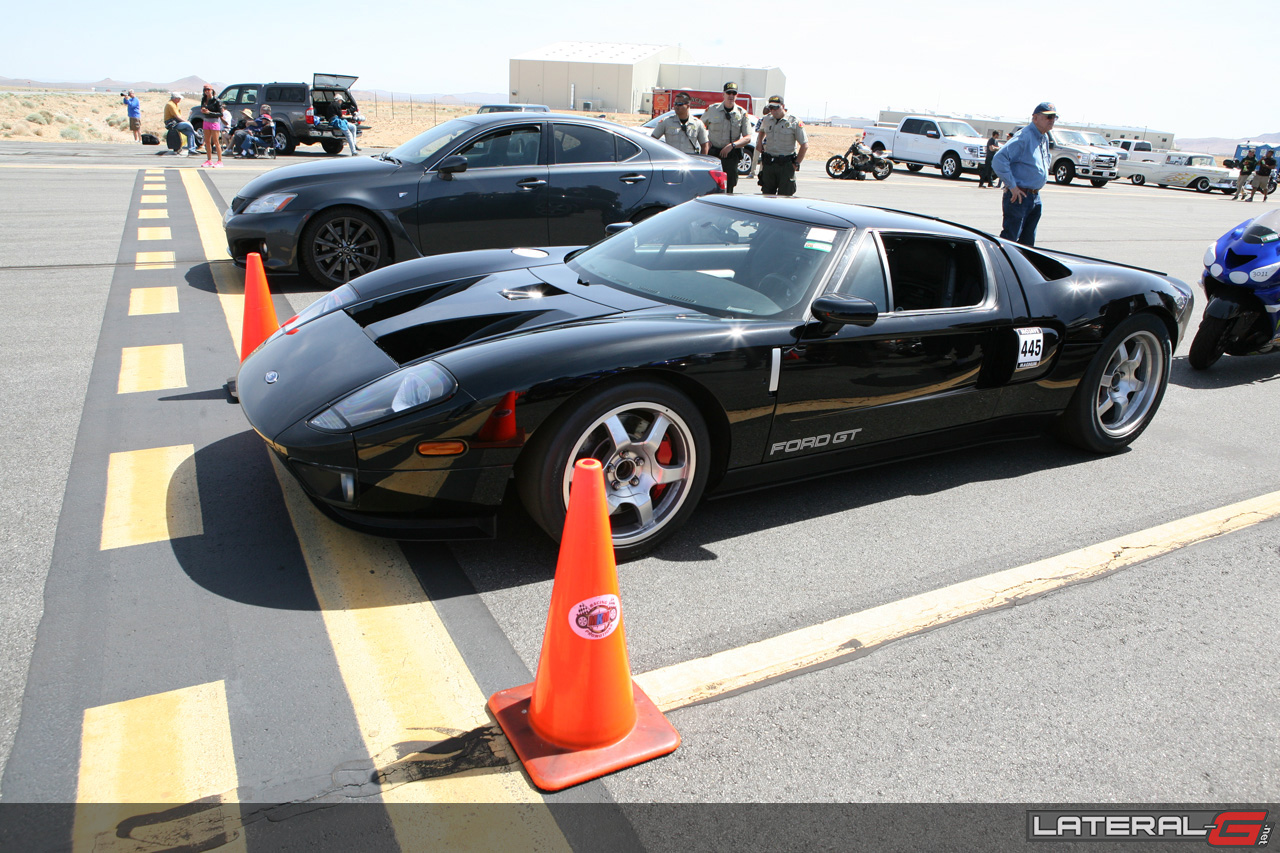 A couple of McLarens were on hand to have fun. Michael Holdsworth's white 650S ran 201.5 mph. Anthony Hallak's black 12C ran 192.8 mph. That's awesome for some stock street cars.
A Vision SZR showed up, but I never saw it run. Maybe the owner was just at the event to watch. I'd never seen one before, so I had to stop and snap photos.
There were multiple Porsches on hand. Two of the them were GT3s.
Mark Capener's Lamborghini Gallardo was one of the serious competitors for Big Red at the event. Unfortunately the Lambo's clutch gave up on its first run, so it was out of the running. The door was left open for Big Red.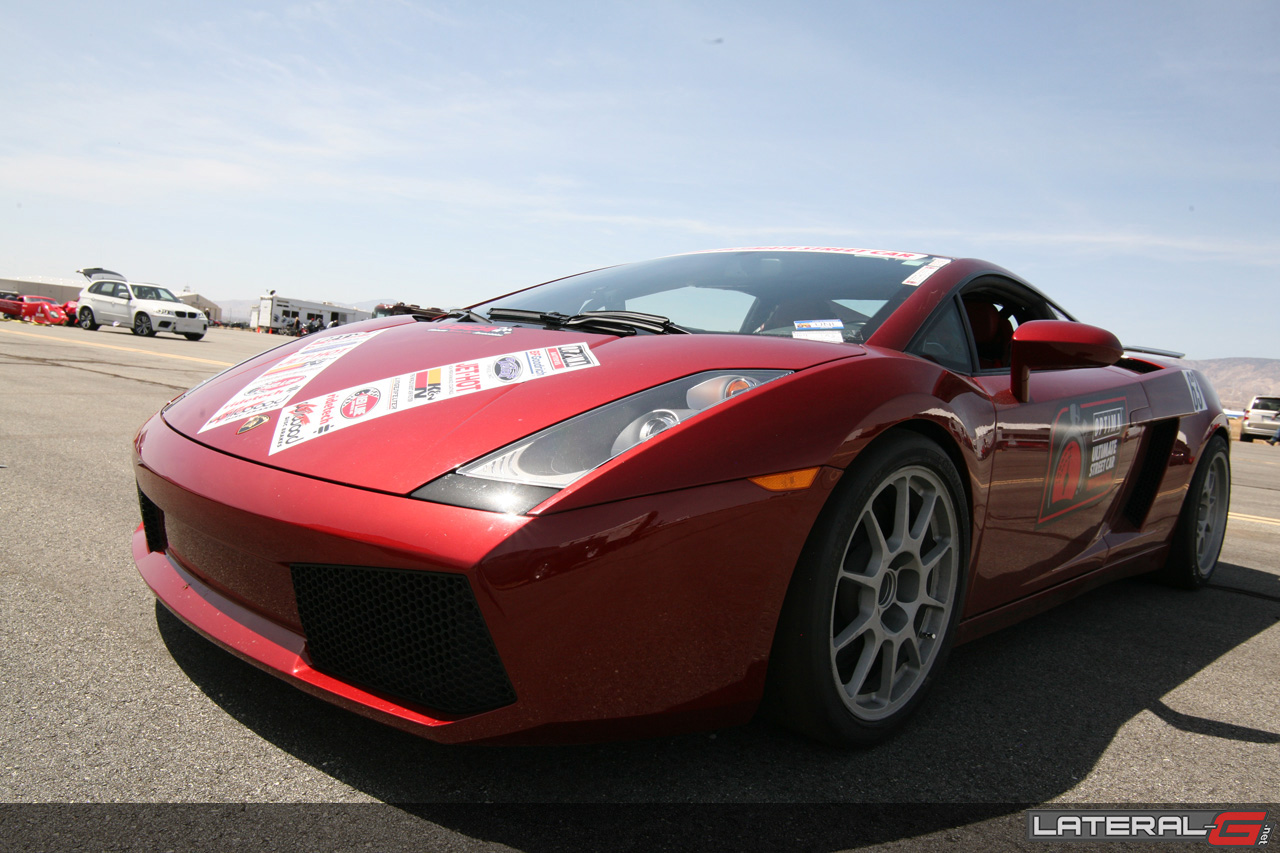 Greg Vallejo's Ferrari F12 Berlinetta ran 194.7 on the pavement. It got visually mistaken as a Corvette a couple of times, but the exhaust note set it apart.
Big Red eventually clicked off a 238.1 mph in the Magnum, and was officially the fastest car at the event! Big Red was also the official winner of the Unlimited class!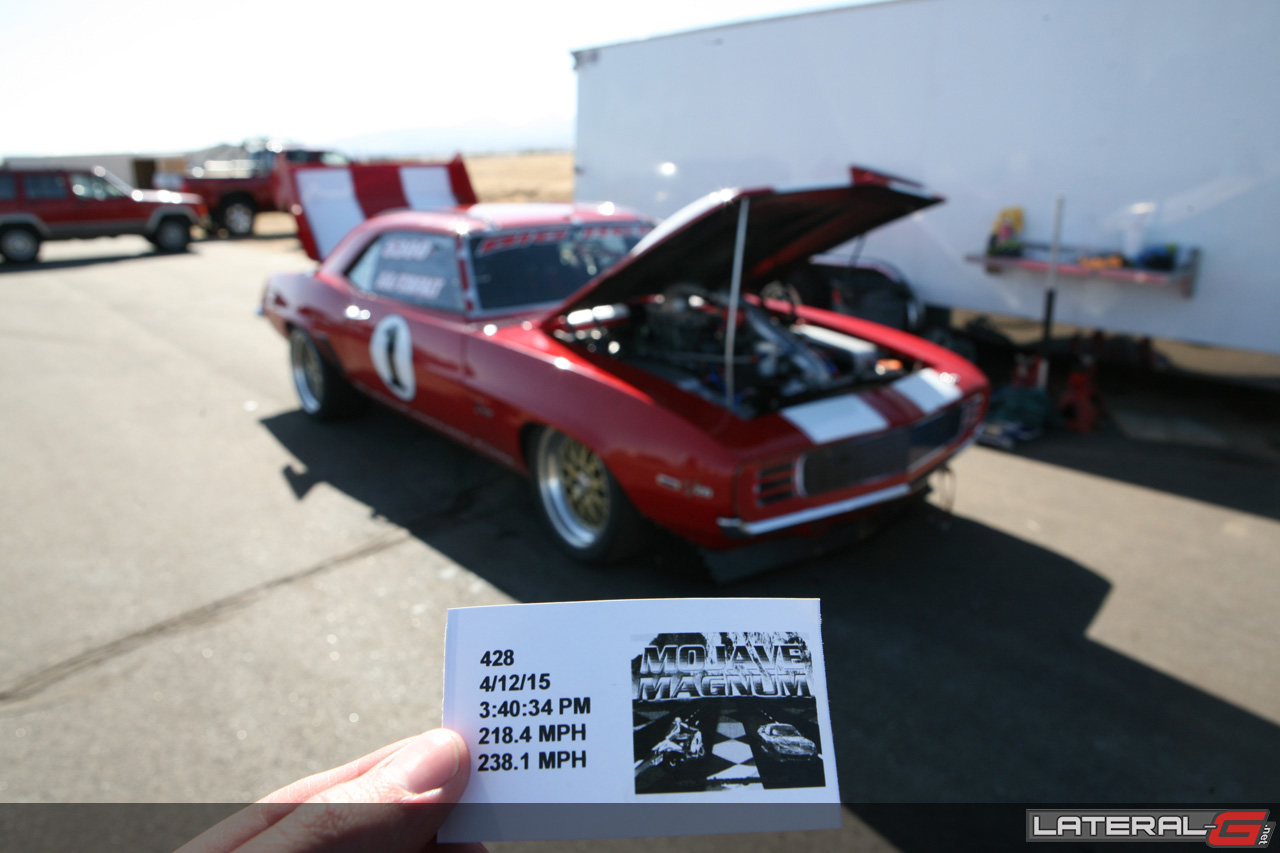 Plenty of awesome motorcycles were in attendance. Some with full aero and some without. There were plenty of killer two-wheeled terrors blasting the Magnum close to (and over) 200 mph!
Overall, the Mojave Magnum was a cool event. I'll have to bring a really long lens next time I go, they enforce a huge distance between the spectators and the runway. Sharing the active runway with flights coming in and going out caused slowness in getting through the classes, but everyone seemed to be having a blast…and it was all done in a safe place without the threat of getting a speeding ticket! That's awesome!
SIDEBAR
Big news for Big Red Camaro fans!
There's an awesome Big Red Camaro documentary series coming very soon! It will be broadcasting on NBC Sports Network (check your local cable TV listings). Keep watching Lateral-G for an official press release, as well as dates and show times.
www.mojavemile.com
www.bigredcamaro.com
https://www.facebook.com/BigRedCamaro