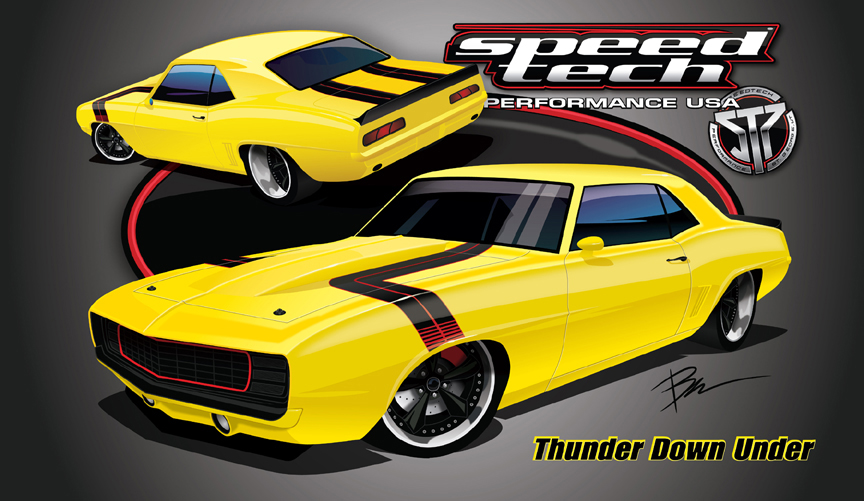 Thunder Down Under
Stacey's '69 RS Camaro built by Speedtech Performance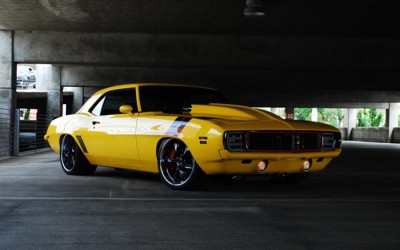 While Speedtech was located in Canada a call came in from Stacey in Australia to order up a Speedtech Pro Touring Subframe package for his mostly stock '69 Camaro SS. After discussing the potential of the suspension's handling capability, Stacey realized the frame was better off in a g-machine type car, and so the hunt began for another '69 Camaro for him to build full tilt.
Shortly after Speedtech relocated to the US, Stacey called again and said a builder '69 RS Camaro he found in the states was ready to come to the Speedtech shop for a complete build. It already had some work done, the rear suspension had been converted to a triangulated 4 link and it had new ¼ panels hung on it. It also came with an early design Marquez dash and door panels. The trouble with buying cars long distance though is that they really are like a box of chocolates, it's likely Stacey didn't realize what he was going to get.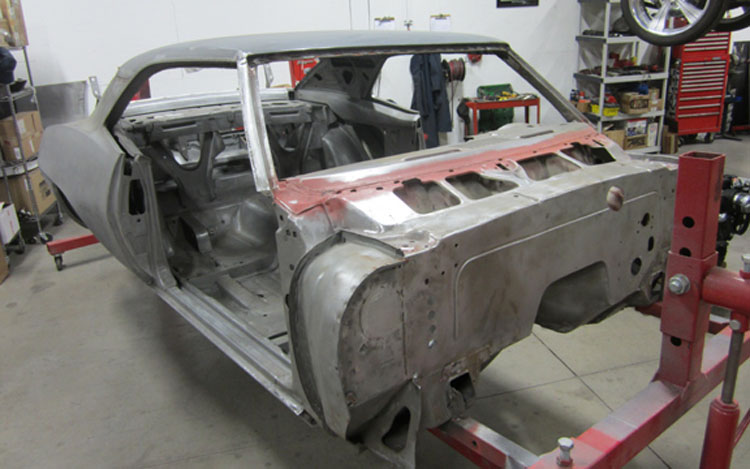 After arriving at the shop, the car was torn down the rest of the way and media blasted, revealing the little bit of the good, and the lotta bit of the bad and the ugly. The original game plan got shifted backwards to first install a new roof inner structure and skin, new rockers for both sides, new trunk lid, and one new door. A new firewall and trans tunnel were built to replace the completely hacked and hammered factory sheet metal.
Speedtech's in house designer took the car from crappy to cool on paper, designing in some subtle body mods and a super bold color and stripe combination. With the completed rendering in hand, their lead techs started the sheet metal replacement. Additional body massaging took place in the form of a tucked, narrowed and shortened rear bumper, tucked endura front bumper, a smoothed rear valance, and shaved drip rails. On the underside of the hood all the holes in the support frame were filled and smoothed and Ring Bros hood hinges and Fesler trunk hinges keep things operating smoothly. Finally all the body panels were straightened to perfection, all panel gaps fitted and matched, and the rear wing was flushed to the deck lid. After coating the underside with yellow tinted box liner, Speedtech's paint crew laid down the yellow base, black and red stripes, and the final smooth as glass clear. Once it was cut and buffed, 2nd gen Camaro mirrors were added along with Ring Bros. billet door handles.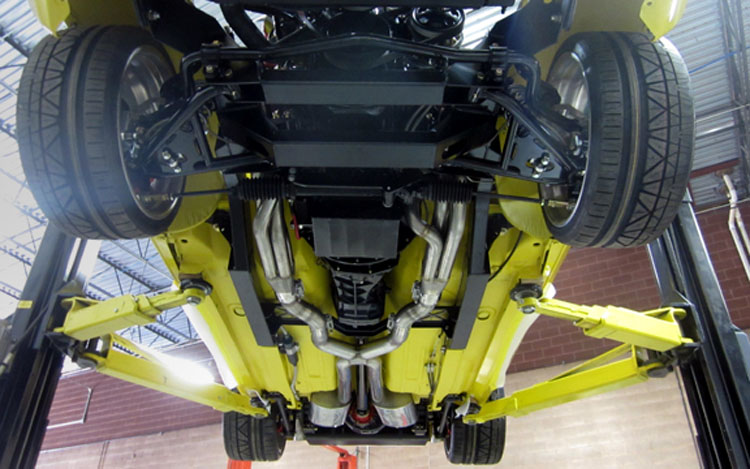 While the body was getting into shape, so was the suspension. To keep costs down Stacey decided to stick with the rear 4 link, so those parts were cleaned up and painted as needed. As for the front suspension, Speedtech installed that Pro Touring Subframe package Stacey had been waiting for. This package includes a totally redesigned frame, high clearance upper and lower control arms mated to geometry correcting ATS AFX tall spindles, double adjustable Viking coilover shocks, and massive Baer 6 piston calipers and 14" rotors mated to 2013 Corvette ZR1 hubs. A high clearance sway bar, rack and pinion steering and down tube support braces finish things off. For hoops and skins the minitubs are filled up with 20×12 Foose wheels, featuring the centers painted to match the car's stripes and wrapped in 345-25-20s. Up front resides 19×9.5s sporting 265-30-19s.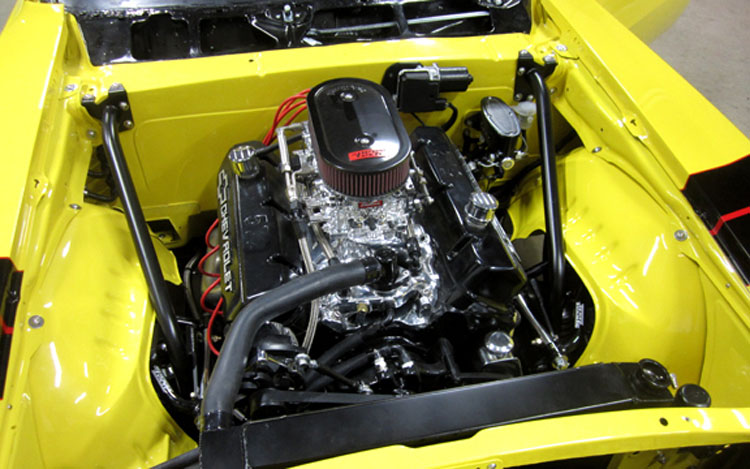 For motorvation, if your Aussie mate doesn't have a big blower atop his engine than he at least needs some big cubic inch power. This '69 is no exception, with 572 inches nestled in between the Speedtech frame rails. Covered by dual 4 barrels, ported aluminum heads and building power through a custom cam, this big inch bad boy produces over 700 hp on the engine dyno, plenty of power to roast those big meats Aussie style. This beast is backed by a T56 6 speed trans and a 9" Ford rear axle.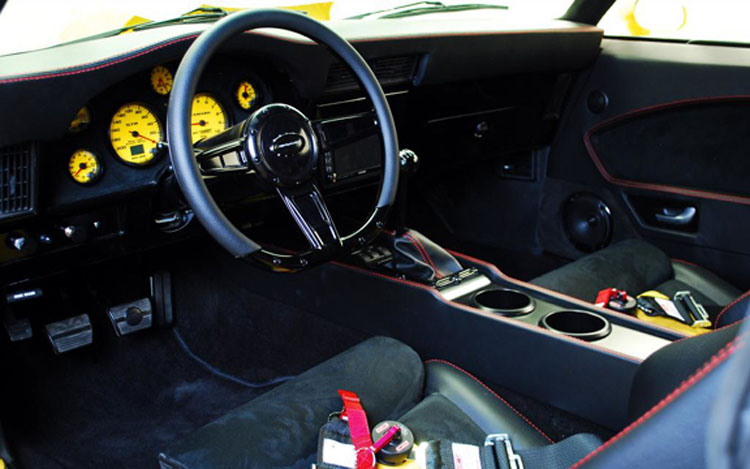 For comfort and quality the seating has been updated to Recaro front seats. The rear seat was modified to clear the rear suspension changes to the floor while new foam was shaped to resemble the front seats. All seats were recovered in black leather and velour accented with yellow leather stripes and topped off with red French stitching. The Marquez dash and door panels along with the clean and smooth custom center console with billet shifter boot surround were also covered in black leather and velour with matching red stitches. Behind the Billet Specialties steering wheel is a custom set of back lit yellow, black and red gauges that have a couple of fun features. The gauge rotations are set up as opposing sweeps between left and right sides and to honor the down under destination of the car the clock is printed with the digit locations upside down, 12:00 being at the bottom and 6:00 at the top. Power door locks and windows wrap things up.
While on a business trip to the states Stacey dropped by to check in on it and he was blown away by the "simplistic boldness" of the car. First time out, his Camaro won first place in it's class at a recent car show in Utah and Speedtech predicts there will be many more shows and more awards in the future. The Speedtech Performance crew has loved working on this fine Camaro, and will be sad to see it get loaded in a crate to be shipped overseas. Knowing how much Stacey will enjoy cruising it makes it all worth it though.
---