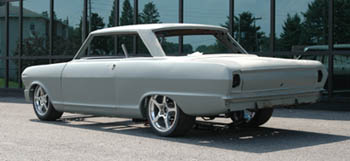 Engine:
427 cu in 4.125" bore x 4.00" stroke
All aluminum LS1 block with Darton MID sleeves
4.00" SCAT Billet crank
Callies 6.125" Connecting Rods
JE Custom pistons w/-29cc dish. 2618 alloy
AFR 225 cylinder heads with Inconnel Exhaust Valves
Custom sheet metal intake
90mm throttle body
Custom 1 ¾" 321 stainless steel headers
Twin T60-1 T4/T4 built by Innovative Turbos
Twin Spearco Intercoolers
Custom 3" exhaust
Big stuff 3 DFI for management
Estimated hp: 1000-1200 flywheel
Transmission:
HD 4L80E
Precision Engineering 9.5" Vigilante 3200-3400 Triple disk stall converter
Rear:
Ford 9" w/Strange locker and 3.50 gears
35 spline Strange axles
Suspension:
Art Morrison Engineering 2" x 4" tube frame
Front- C5 upper and lower control arms w/ spindles, Strange double adjustable coil overs, sway bar
Rear- Triangulated 4-bar w/Strange coil overs and sway bar
Tires and wheels:
REARS 295/35/18
FRONTS 245/35/18
Wheels to be determined!!