Having a classic vehicle is a bit like having a drug addiction. It never goes away and can get away from you. Jason Oberhelman's truck here is the perfect example. "I wanted to buy something finished and done. I've restored a dozen vehicles and this time just bought a really nice truck that was finished," explained Jason. However we all know that little itch started and only got worse. Soon he was swapping out parts and making upgrades to the clean C-10.
Jason Oberhelman's 1972 Chevrolet C-10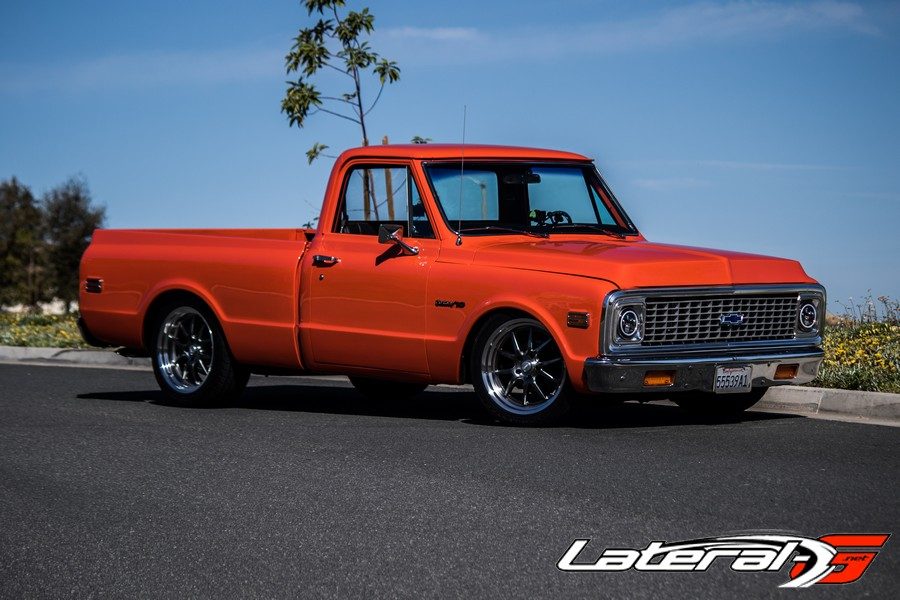 "Stock is boring," laughed Jason when we asked why he bought a nice truck then started messing with it. You see, Jason works at FiTech EFI. That meant even though the carburetor was in working order it had to go. That started the snowball of modifications for the Dime Piece.
Normally when Jason picks up a vehicle, he starts working on the suspension and brakes to make them safe. However he started under the hood. This truck sports a very healthy 350 SBC that has a Edelbrock Performer intake and a set of Doug Thorley Headers with Flowmaster Super 44 mufflers. Ditching the carb, Jason installed a FiTech Easy Street unit on it. Now the truck starts without any hesitation and runs like a modern car.  Eddie Motorsports was utilized for valve covers, breathers, and hood hinges to keep things sharp under the hood.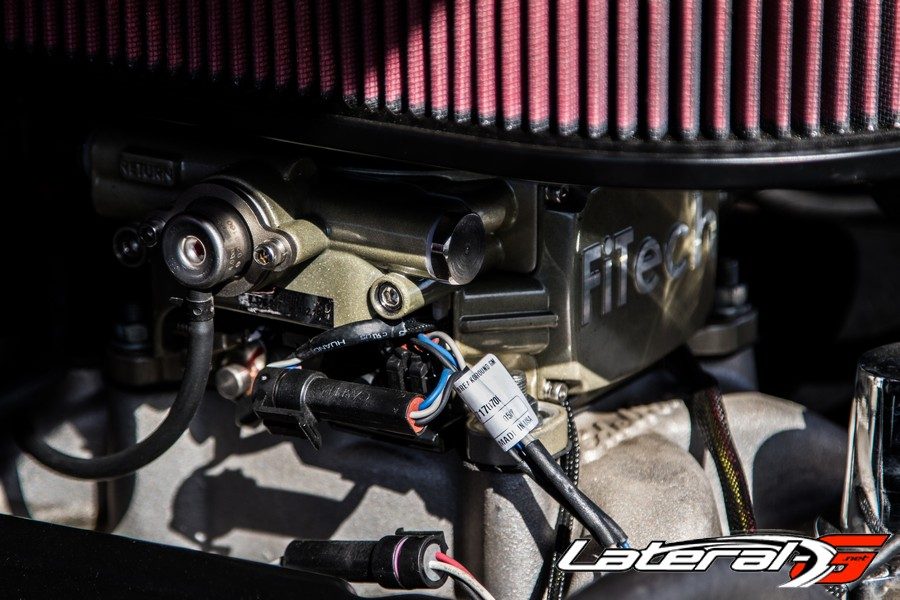 Behind the stout SBC was a 200R4. But that itch needed to be scratched and Jason swapped in a 4L60E transmission. "Before with the Easy Street unit and 200R4 this truck would knock down 15-18MPG on the street. I can't wait to see what it will get with the new 4L60e," explained Jason. For now the rearend is a stock 12-bolt unit, but he already has a Currie 9″ waiting to be installed. Once everything under the hood was how he liked it, Jason moved onto the stance and wheels.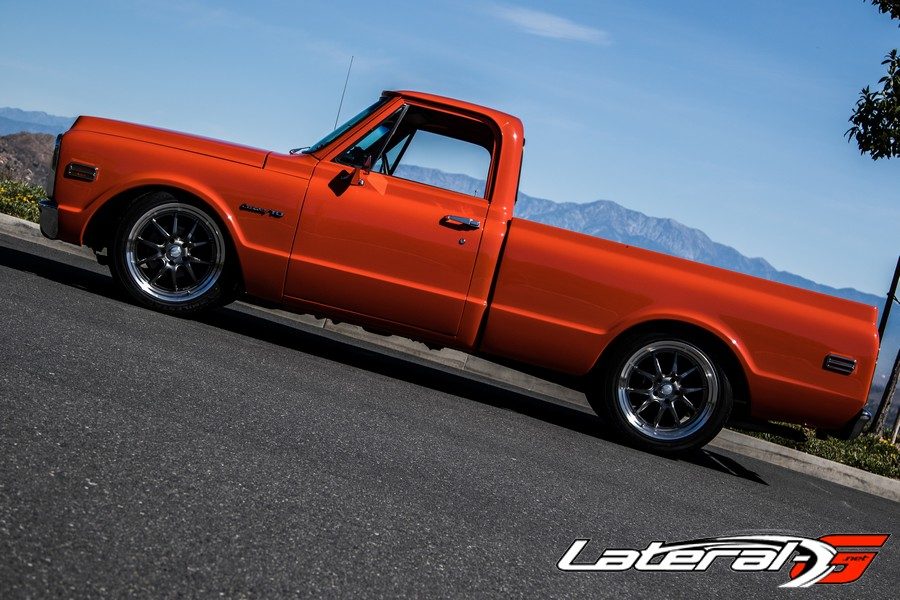 Rolling Along
Jason knew that in order to make this truck truly his, he needed it lowered and some bitchin' wheels to go with it. For that he called up Rocket Racing Wheels and ordered a set of Attack Wheels. He went with a 20×8.5″ in the front and a 20×10″ in the rear. He wrapped the wheels with Milestar MS932 XP Tires – 255/45 in the front and 275/45 in the rear. With the wheels matching his personal touch, he moved onto the suspension.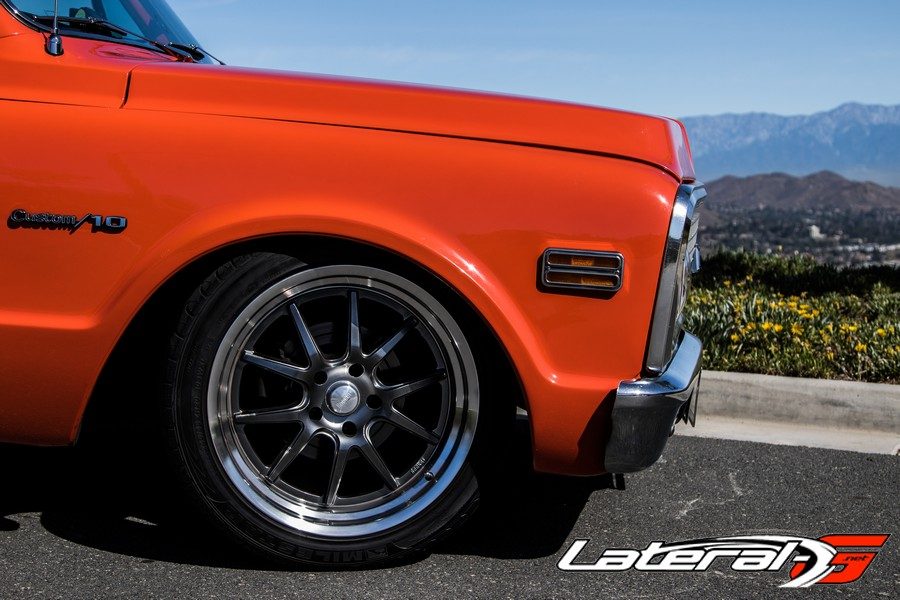 He likes his car low, especially this Dime Piece truck. In order to achieve the stance, Jason installed 3″ lowering springs in the front combined with CPP drop spindles. After notching the frame 3″ in the rear, Jason installed 6″ lowering coils in the rear. A set of Monroe shocks all the way around smooths out the ride for this truck.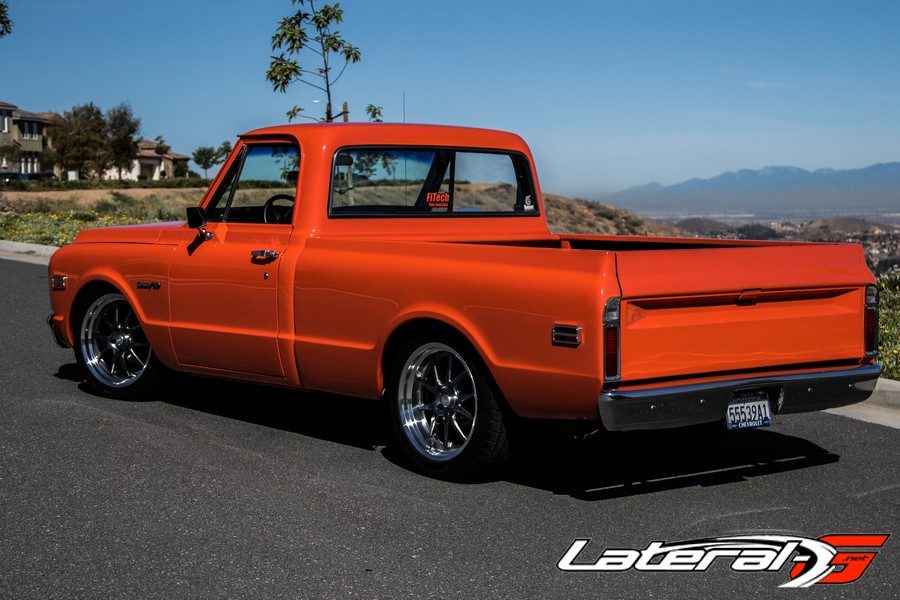 Interior Design
Now that under the hood and the exterior was up to Jason's standards, the interior didn't sit quite well with him. He reached out to TMI Products to add some personality to the boring stock interior.
With TMI he was able to order up a black interior with orange french seams and orange houndstooth to compliment the stock interior. However that's about the end of the similarities to the stock interior. The door panels are a molded one piece with a built in handle instead of the boring stock door panels.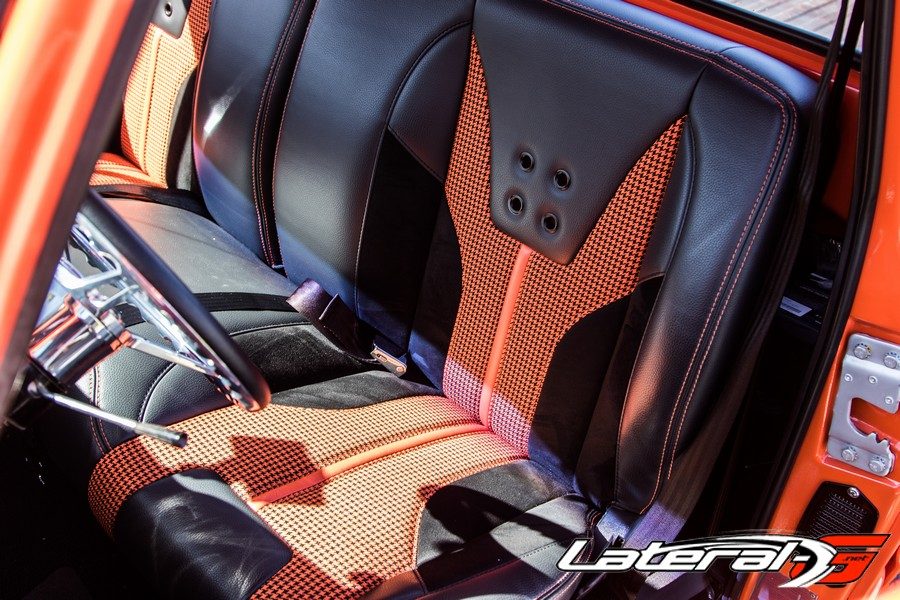 The original seat was completely thrown out in favor TMI's new Sport FXR seat. "What's cool is that it's a completely new seat. I unbolted the old one, slide in the new one in a few minutes. After swapping the door panels the truck had a new interior in just a few hours," exclaimed Jason. This seat also reclines and moves forward and back father than stock. After taking a ride in Jason's truck we could see it was a lot more comfortable than a stock seat as well.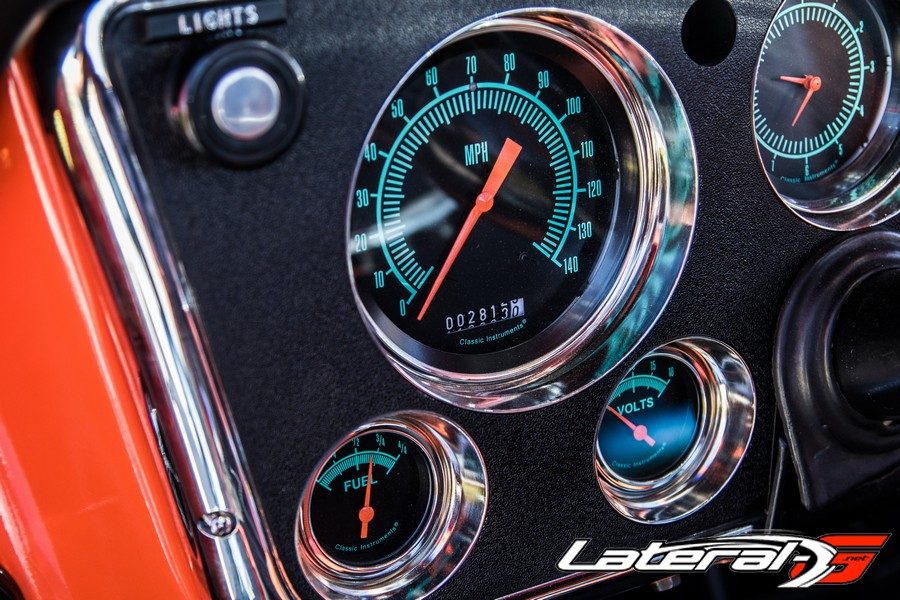 While Jason was working on installing the TMI Products interior, he also installed some new tunes. A Classic Auto Sound Slide Bar head unit was installed. A set of Kicker KSS650 speakers were installed along with a Kicker 10″ CVT shallow mount sub and Kicker PX 300 amplifier.
On the dash a set of Classic Instrument gauges keep tabs on the engine while a Vintage Air unit keeps the cab cool on hot SoCal days. Lastly, an Eddie Motorsports steering wheel was utilized to put the finishing touch on the interior.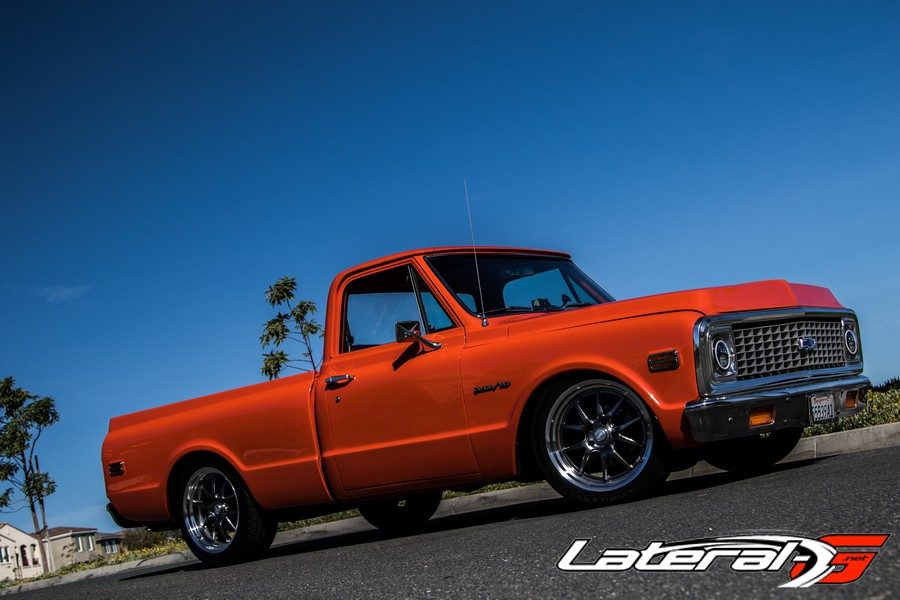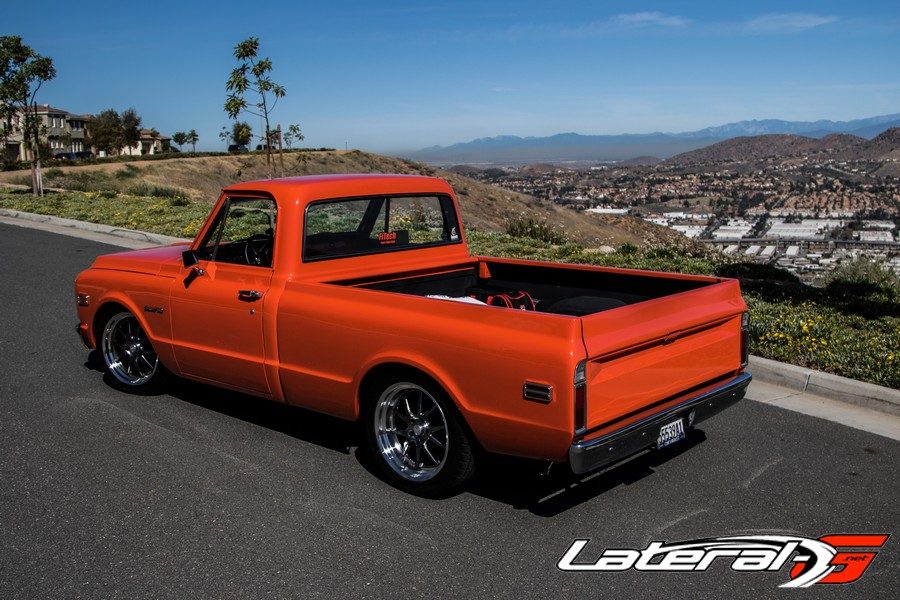 Never Ending Project
Now that the truck had seen Phase 1 of upgrades, Jason already has Phase 2 in the works. Before Power Tour this year, Jason is planning on lowering the C-10 even more and making it stop better. Along with the Currie 9″ on order, Jason has a four wheel disc brake set up from Baer Brakes. In order to get the stance even lower, a complete RideTech system is on order with a AccuAir E-Level system.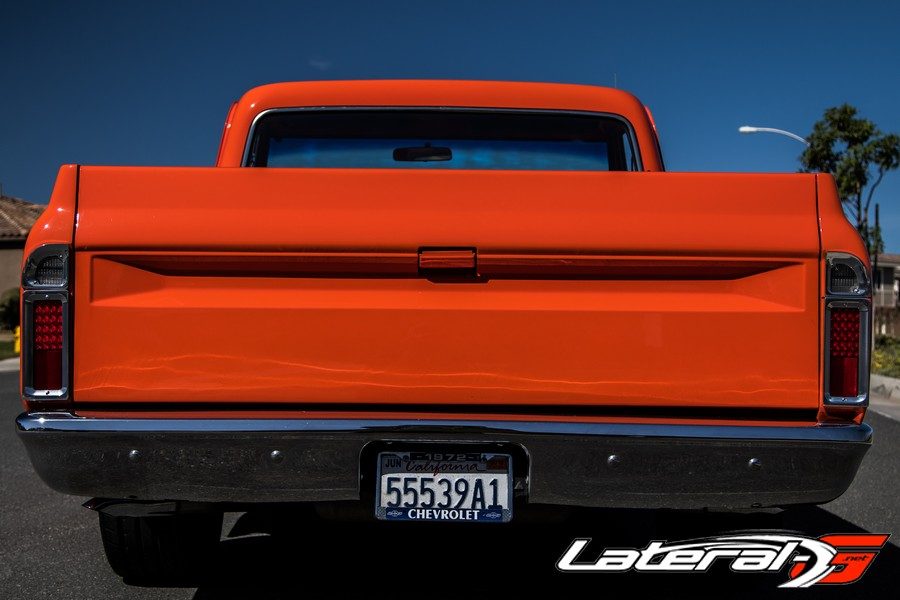 Special Thanks
"For me, this build is different from the others because I have my wife's input and support. This is as much her dream truck as it is mine." Jason also wanted to thank the companies that helped make this truck great such as: FiTech EFI, Currie Enterprises, Rocket Racing Wheels, Eddie Motorsports, Kicker Audio, TMI Products, AZ Pro Performance, Milestar Tires, Baer Brakes, RideTech and Adam's Polishes.