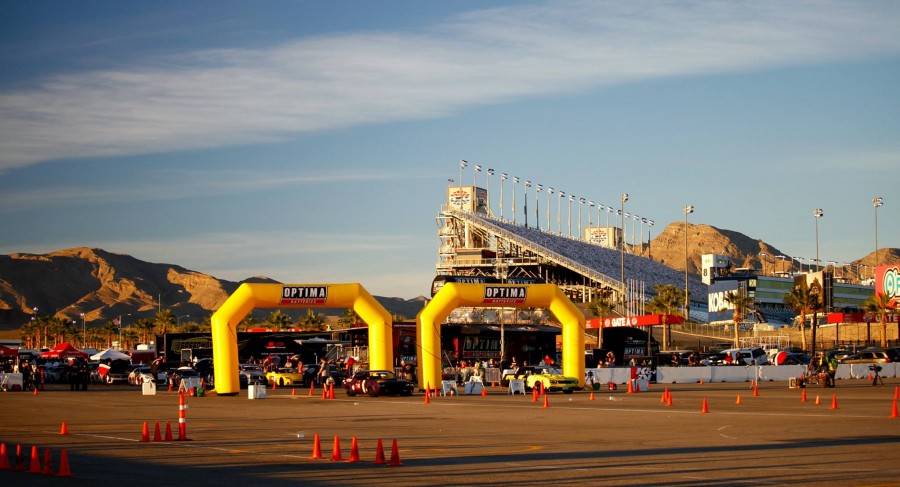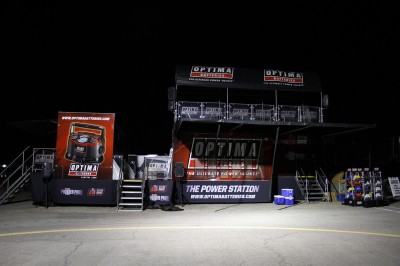 Saturday was the first day of competition at this years USCA Optima Ultimate Street Car Invitational in Las Vegas. This year saw a brand new venue for the event, being held at the Las Vegas Motor Speedway. Preparations had been going on all week and when Saturday arrived the weather was perfect and the activities began.
At daybreak trucks and trailers started filling the parking lot. The competing cars and trucks were unloaded and getting prepped for the start of the day. Around 10:00 am there was a meeting at the Optima booth, and then the fun began.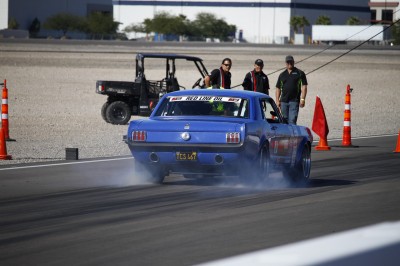 One group of cars headed out to the Wilwood speed stop. The course started with a straightaway, followed by a 90 degree left turn leading into a chicane, and ending in a short straight followed by a small stop box to stop in. Getting through the chicane correctly was key; too slow and it killed your momentum, too fast and you clipped a cone or slid towards the wall. Several guys ended up going through the stop box early on, but seemed to figure it out afterwards.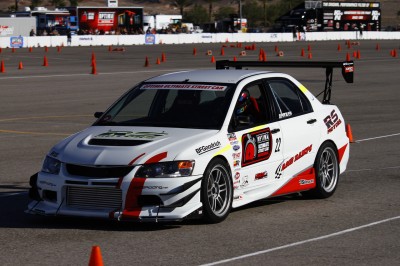 Twenty yards away were the two mirrored autocross tracks. Two cars lined up side by, right lane going counter-clockwise and the left lane going clockwise at the same time. Each driver got five runs in each direction. There were a few spinouts and cone kills, but for the most part the event went very smoothly. Watching the Evo of Brandon Ranvek launch from the standing start was a lot of fun. Regardless of who he lined up against he pulled car lengths on all of them at the start. He ended up in first place on the autocross.
Saturday went very smooth with only a few stoppages for spin outs and breakage. I was very impressed with Jimi Day and the crew at USCA and how they handled this event considering it was a completely new venue and double the amount of participants of previous years. Check out the pics below of the first day speed stop and autocross competition. We've also included a link to 1500+ pictures taken by our event photographer Scott Siegmund.