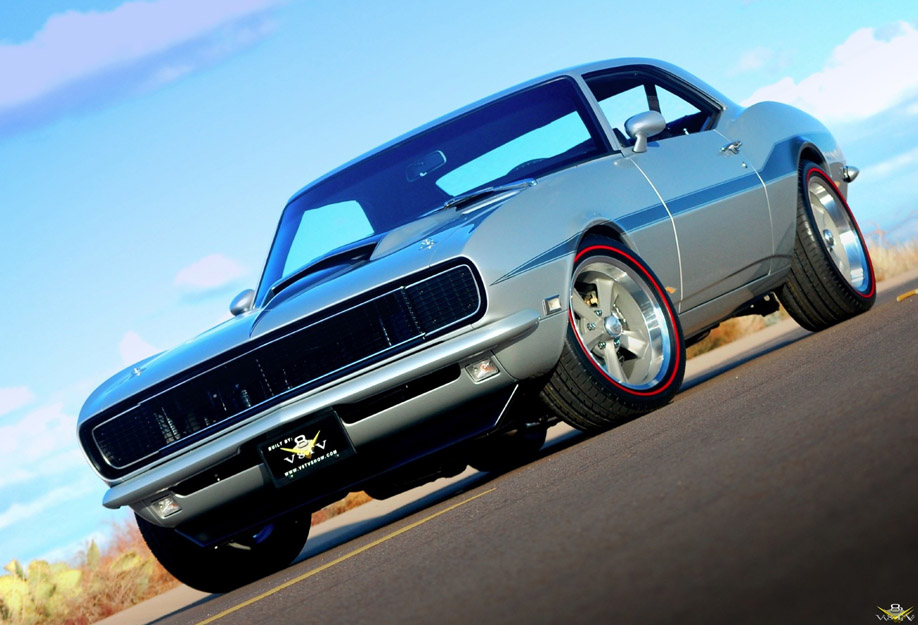 1968 Camaro "RELOADED"
Words by Kevin Oeste, pics by Kevin Oeste & Mark Vironda
Built by V8 Speed & Resto Shop, Red Bud, IL
I was in high school when I met Pete Kurpiewski, a guy a few years older than I who claimed to have a California-bought '68 Camaro SS in his garage. "BS!" I exclaimed, as no punks our age seemed capable of owning such a car. Pete proved me wrong by showing me the half-disassembled body shell on jack stands in his dad's garage. Plans included the full pro-street treatment… hell, it was about 1989, and that was the thing to do. It turns out that Pete never went that route and contacted me over 20 years later to finally finish the car. Would you believe it hand't changed since I first saw it in '89, and was still on the stands in his dad's garage? Seeing the car after all those years kind of validated a bunch of stories I had told about it… they were true after all.
Pete no longer wanted to go the pro-street route, and we were excited to take on the project. The new plan was to integrate some new technology and performance capabilities, but Pete always liked the dealer supercars… the Nickey, Yenko, Motion type Camaros that boasted trick parts and cool styling. And it had to remain a big block. "Give me big block or give me death" Pete says.
We contacted Ben Hermance for some design help. I outlined the colors and the general idea, Ben brought the design elements to life in the rendering, and we handed the pic to the crew. "Build this" I said. Looks like they nailed it.
We fixed the rust, tuned up the body gaps and panel fitment, added a Stinger hood, installed some trick Detroit Speed suspension, dropped in a Fast Times Motorworks 490 inch roller Chevy V8, added a TCI 4L80E overdrive auto, a Currie 9″ rear, and shot the car in Glasurit 55 "Silver Bullet" with "Gunsmoke" stripes. Rocket Racing wheels with redlined Toyo Proxes tires round out the life-size Hot Wheels look. Turn the key and the FAST EZ-EFI fed BBC roars to life through MagnaFlow pipes that mumble around town and shout to the hills at RPM.
Hydroboosted Baer brakes haul it down, and a Classic Industries restored interior with ProCar seats, Vintage Air, New Vintage USA gauges makes for a comfortable drive. The goal was to build a real car that performed well and would look good 20 years from now, and judging by the response of other gear heads and the big smile the car brings Pete, I'd say it's a success.
See Car Specs and More Pictures