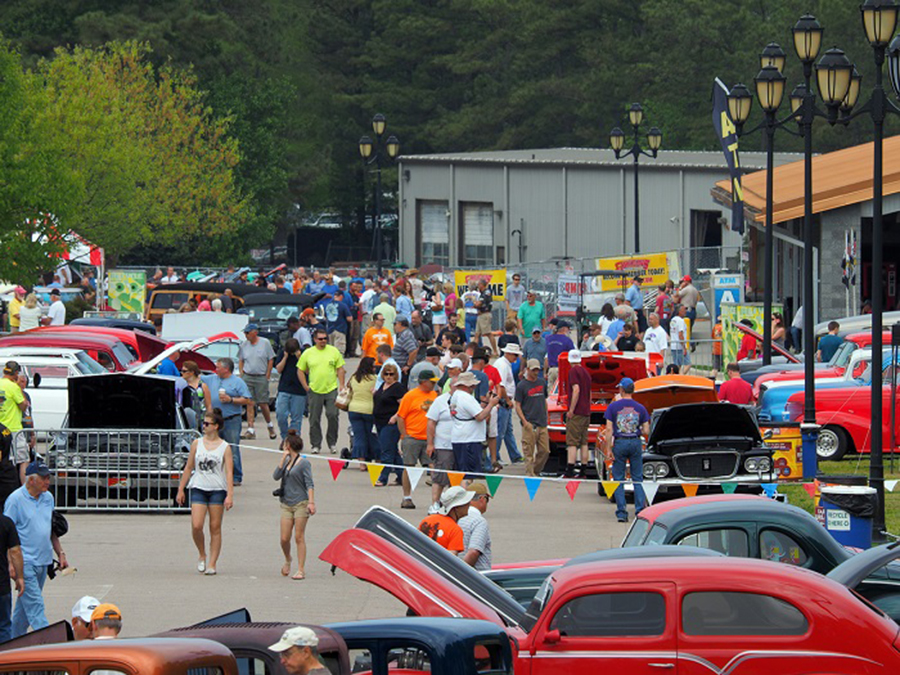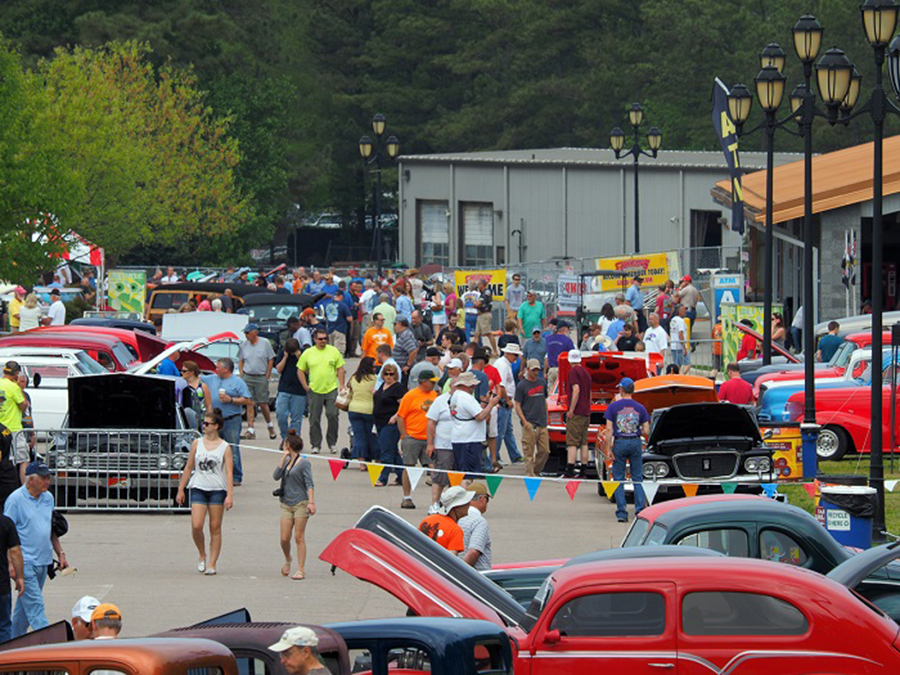 Text and pics courtesy of Goodguys Rod and Custom
The all new Goodguys North Carolina Nationals wrapped up yesterday capping a fun, festive weekend of high spirited hot rodding at the NC State Fairgrounds in Raleigh. New faces, new cars and new beginnings made the weekend a smashing success!  In all, over 1,500 American made & powered show cars along with thousands of fans came through the gates, filling the 344 acre facility with color and horsepower. North Carolina's capital city never looked better!
After a brief Friday morning drizzle, the skies cleared and the cars poured in to get set up and check out the sprawling facility. Two large show paddocks offered premier show car parking while the vendor midway flanked the perimeter of the grounds and cruise lanes offered big fun. It was the perfect set up.
Overlooking the main paddock was the sprawling grandstand and home to the Goodguys Saturday Night Demolition Derby. It was a wet and wild evening of destruction as the capacity crowd seemed to holler louder with each impact!
The new Raleigh event was also the kick off our Goodguys AutoCross for Kids program benefiting the Austin Hatcher Foundation. The Austin Hatcher Foundation teamed with Goodguys earlier this year to raise funds and awareness for the Foundation's mission to erase the effects of pediatric cancer for patients, survivors and their families. True to form, the hot rodding community stepped way up to help! Countless enthusiasts handed over generous donations to take a ride around the Goodguys AutoCross track with a PRO driver of their choice. Thanks to all who participated and helped us raise over $2,000 for the kids! Big AutoCross weekend winners included Kyle Tucker (PRO 39.545), Chris "Smitty" Smith (Shootout Qualifier 40.390), Christopher Haigler (Hot Rod 43.218) and Michael Johnson (Street Machine 39.396).
The stars were out during the weekend including 2013 Goodguys Trendsetters Jonathan Goolsby and Josh Henning of Goolsby Customs. Both personally selected the event's top 10 cars, passing out handsome hand-made Builder's Choice awards during Sunday's closing ceremonies. "This event has a lot of potential. The cars were top notch," said Jonathan Goolsby.
While everyone was having fun, some were working while having their fun – most notably our new friends at the Piedmont Classic Chevy Club – host club for the weekend. With a brand new event, they were invaluable helping us with local logistics and getting the car gates flowing smoothly not to mention all of the other great help they provided in so many different areas. Thanks to each and every one of you!
Throw in a spectacular indoor vintage race car exhibit (inside the spacious Dorton arena), a great swap meet & AutoTrader Classics Cars 4 Sale Corral and some warm Saturday sunshine and you've got the groundwork for a new springtime Goodguys tradition in the Tar Heel state! Put this one on your 2016 calendar! See you then!
Click here for the complete award winner's list.
Click here for our weekend Facebook photos and videos
Click here for our Instagram coverage.
Look for complete event coverage in the August Goodguys Goodtimes Gazette!
-The NC State Fairgrounds (shown here at high noon Saturday) offer a picture perfect venue with lots of room, great cruise lanes, and plenty of grass!
-Christopher Haigler took his '33 Ford roadster a Goodguys AutoCross win in the Hot Rod class.
-The vendor midway was jumpin' all weekend!
-Bill Graves Sr. of Terrell, NC took home the Muscle Machine of the Year finalist award in his convertible '66 Corvette
-Local radio personality Mark Thomas with 99.9FM ESPN Radio made a donation to Austin Hatcher Foundation and took a ride along with PRO class winner Kyle Tucker
-Despite iffy weather Friday morning and Sunday afternoon, hot rods, customs & modern machines of all makes & models poured in during the new event
-2013 Goodguys Trendsetters Jonathan Goolsby and Josh Henning did an outstanding job of selecting the Builder's Choice awards!
-A big thanks to our new friends at Piedmont Classic Chevy Club for doing yeoman's work as the official host club for the Goodguys 1st North Carolina Nationals! See y'all next spring!
-Even the little rodders know "bigs & little's" look best!
Final Autocross Results