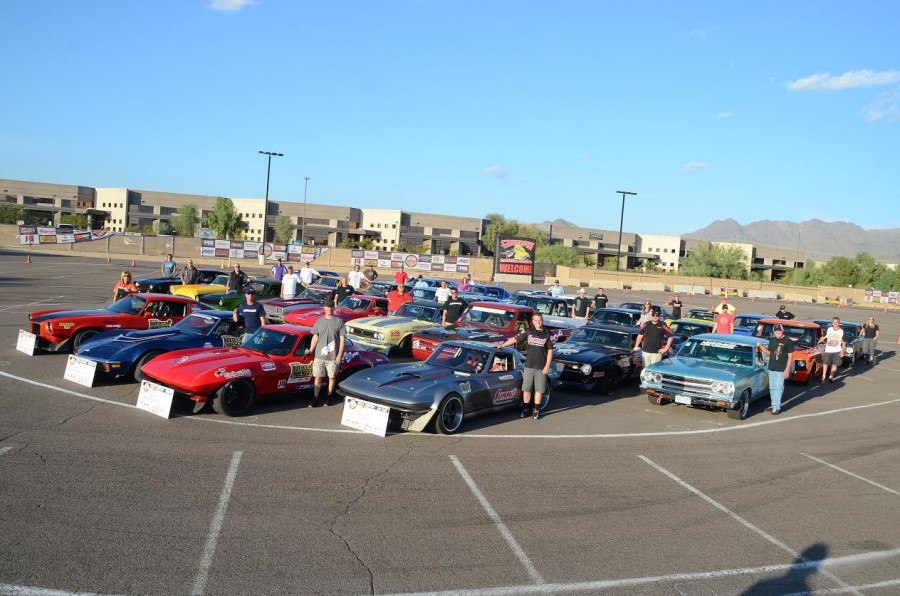 The biggest and most exciting AutoCross event of the year for Goodguys, the Duel in the Desert features a $20,000 purse in cash and prizes! Visit www.good-guys.com for more! Presented by BFGoodrich Tires, Spectre Performance, Trunology and TREMEC. The Goodguys 2015 AutoCross Shootout will be held at the 18th Southwest Nationals in Scottsdale, AZ. November 20 & 21, 2015. Below is information on how you can be part of the AutoCross Finals Shootout. There will be a total of 32 cars with 32 drivers for the Shootout. Four ways to get into the Shootout are:
1. The fastest time of the event from all classes (Street Machine, Truck, Hot Rod and PRO) at the eighteen Goodguys AutoCross Events will automatically be entered into the finals (vehicles must be 72′ or older in appearance). The fastest time will be in the Shootout. The car the driver qualified with must drive in the finals. They must sign the AutoCross Finals Shootout Contract stating that they will take part in the shootout with the car they ran at the event. If the Qualifier declines, the next fastest time will be inserted. If someone has the fastest time at more than one event, the next fastest time will be entered so there are eighteen different entries from the events. Once a car and/or driver are in the Shootout, the car cannot gain any points for any other driver.
2. The top two PRO-Class drivers will be entered into the Shootout to fill the field. The two will need to drive a car they received points with during the season for the Shootout. They can also decline and we will take the next eligible racer to fill the field (vehicles must be 72′ or older in appearance).
3. There will be three finalists from the SCCA events, two from the America Streetcar Promotions and three from the Ultimate Street Car Association (vehicles must be 72′ or older in appearance).
4. There will also be three "Race In" spots for the Shootout, that will be held on Friday, November 20th with the fastest three qualifiers going into the Shootout. All Qualifiers for the Shootout will get a comp entry for the Scottsdale AZ event.
Prizes:
Goodguys will be awarding the top four places of the Shootout –
1st $3,000.00
2nd $1,250.00
3rd $500.00
4th $250.00
BFGoodrich will have gift certificates for a set of tires to the top four racers.
K & N Filters will also be providing gift certificates for product to the top four.
TREMEC will have gift certificates for discounts off a transmission for the top four.
The winner of the Shootout will become the AutoCrosser of the Year as part of Goodguys Top 12 Awards. There will be a feature in the Goodguys Gazette/Yearbook on the winner and a Billet Award presented during the awards on Sunday. The winner will also receive a custom wrapped Snap-On Tool Box (Valued at $7,000.00). The format for the event will be as follows: 1. Friday there will be pit spots for car and drivers already qualified for the Shootout and they will run with anyone trying to race into the finals. 2. Friday we will take the top times not already in. 3. Saturday from 8am to 9am the times from Friday will race to become the 32 car field. 4. Saturday from 9am to 11am we will let the thirty-two cars run two practice laps. 5. At 11am we will have two runs for the 32 car field; one before lunch and one after lunch to get their fastest time for qualifying and set the ladder for the 32 car field. 6. Saturday at 2:00pm we will start the eliminations on a 32 car PRO ladder. By the end of the day, we will have the winner of the Goodguys "Duel in the Desert" AutoCross Shootout presented by BFGoodrich Tires, K & N Filters and TREMEC. Any questions, please contact Ed Capen at [email protected] / 925-218-9139