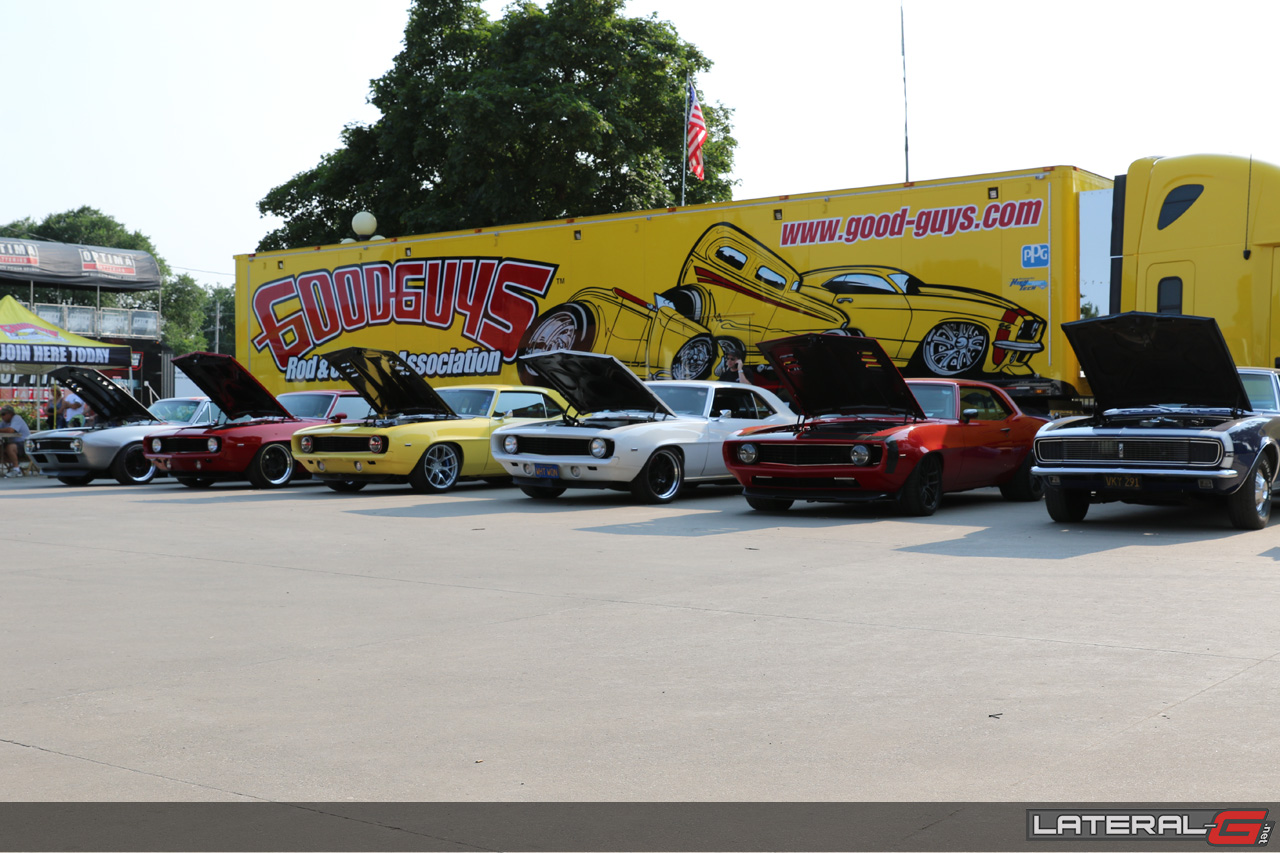 Pictures courtesy of Gordon Rojewski
Text courtesy of Good-Guys.
Booming 4th of July weekend crowds, spectacular weather, fireworks, patriotism and over 4,500 cars (a new event record) highlighted the Goodguys 24th Heartland Nationals last weekend in Des Moines! Amazing as it sounds, the Heartland Nationals keeps growing! Each year here at the Iowa State Fairgrounds we see the car count inch towards 5,000. It's just a matter of time! It's gonna happen!
Nothing says Middle America like the 4th of July weekend and thousands of Hot Rods, Customs, Muscle Cars and Trick Trucks sprawled on Grand Avenue, the main thoroughfare running through the middle of the Iowa State Fairgrounds. It's a sight that stirs the soul!
While Roger Burman of Lakeside Rods & Rides was extra busy selecting the event's top 10 cars for the Builder's Choice awards, Goodguys AutoCross was winding high on the big track. Full fields in all 5 classes provided non-stop engine revs, tire chirps and enthusiastic applause. Mike DuSold, driving his twin turbocharged '67 Camaro, blistered the track with an event-best 38.344 lap in PRO also grabbing the Duel in the Desert transfer spot! Fellow Camaro guy Rich Gregory drove his '69‬ model to a big win in the Street Machine Class with a stout 40.134 while Jeff Schwartz took his '52 Ford custom to a big win in Hot Rod. The most popular vehicle in competition? Judging by crowd response – it was Tyler Gibson's radical (and fast!) '72 International Scout which won the Truck class with a 40.788 – just a few hundredths of a second off Gregory's Street Machine-winning time! Dan Howe in his 1984 Monte Carlo was victorious in the All American Sunday division.
For Pro Touring fans, the "Godfather" of the scene was on hand with 5 of his most popular cars, showcasing the depth and variety of Mark Stielow's talents. Stielow's white '69 Camaro "Tri-Tip" (the car that started it all), "Jack Ass" '69 Camaro, "Mayhem" '67 Camaro, "Red Devil" '69 Camaro and his latest – the "HellFire" '69 Camaro came in from around the country for the reunion. The event was historic in that it marked the first time the 5 iconic Camaros gathered together in the same location.
Another event highlight was the 400-car strong Deuce Doins put on by the Midwest Deuces. For hot rod purists – there's simply no better sight than hundreds of deuce grilles lined up as far as the eye can see! The '40 Fords Forever special parking area was also full of fabulous Forties!
Like last year – the Swap Meet & AutoTrader Classics Cars 4 Sale Corral was SOLD OUT! Treasure hunters had a full weekend of buyin', swappin' & sellin'! Inside the spacious and air conditioned Varied Industries Building – the world's top hot rod manufacturers set up shop creating the ultimate hot rod power mall!
In addition to all of that excitement, Saturday night fireworks, an incredible weekend of music from both Richiue Lee and Misbehavin' along with rockin' hotel parties made it one for the ages.
Thanks a TON Des Moines! Y'all know how to party! Another big thanks to our Host Club – the Iowa Street Rod Association for their 24 consecutive years of great service! We'll see you again next year July 1, 2 & 3 for the 25th edition of the Goodguys Heartland Nationals – again on the holiday weekend! Be there!
24th Heartland Nationals Award Winners
Check out over 300 pictures of the event below.