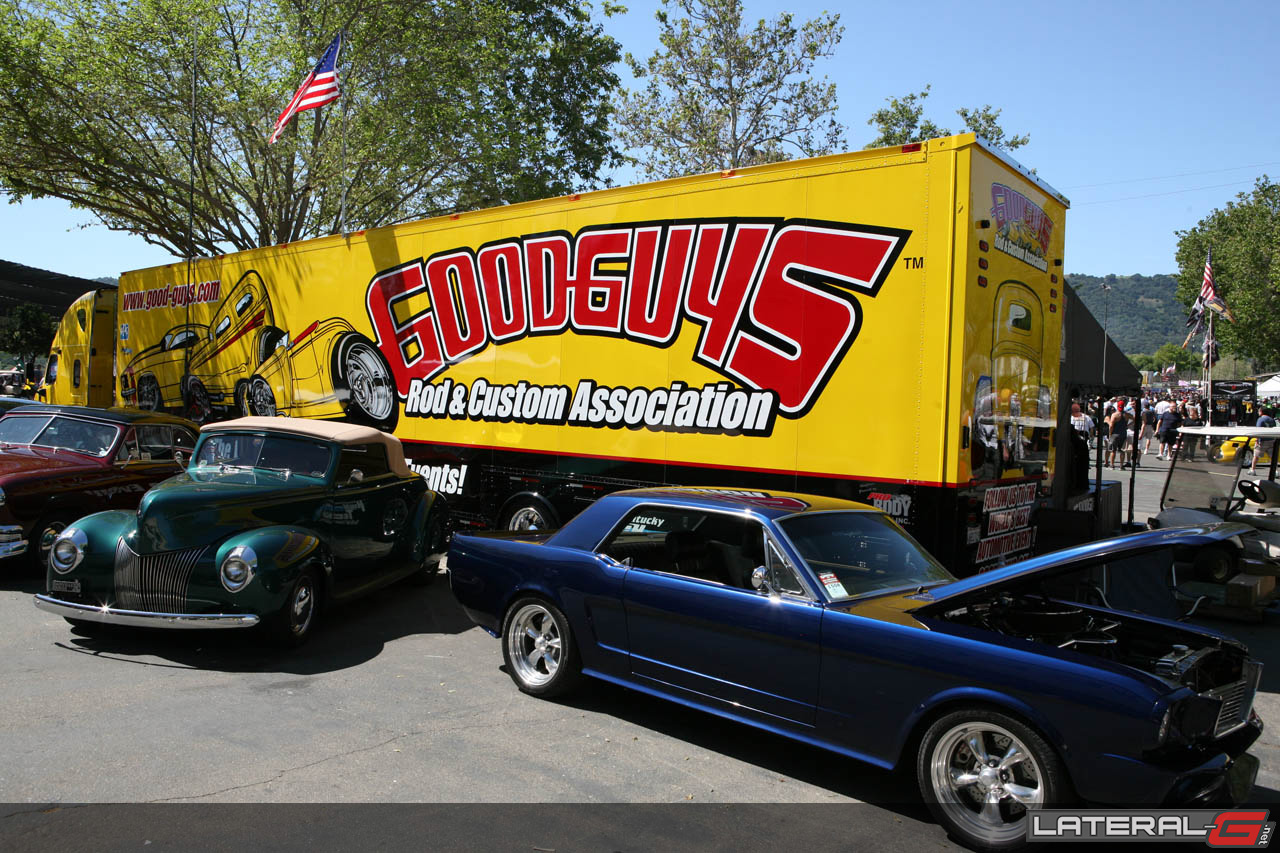 by Tony Huntimer
It was Saturday March 28th at the Goodguys 33rd All American Get-Together held at the Alameda County Fairgrounds in Pleasanton, CA.
I had been hearing commercials on the radio. Somebody also told me that they had seen a Goodguys advertisement on TV. I don't know if this is normal, but something Goodguys did really worked. The turnout at the show was massive on Saturday. There was an unusual amount of traffic coming into the event. When I walked into the event at back gate (Gate 12), there were cars on display parked all the way past the barns and to the where I entered. It reminded me of the Goodguys Columbus SMOTY event, but with California's perfect weather/temperature…not the stiflingly and horrible damp Ohio heat.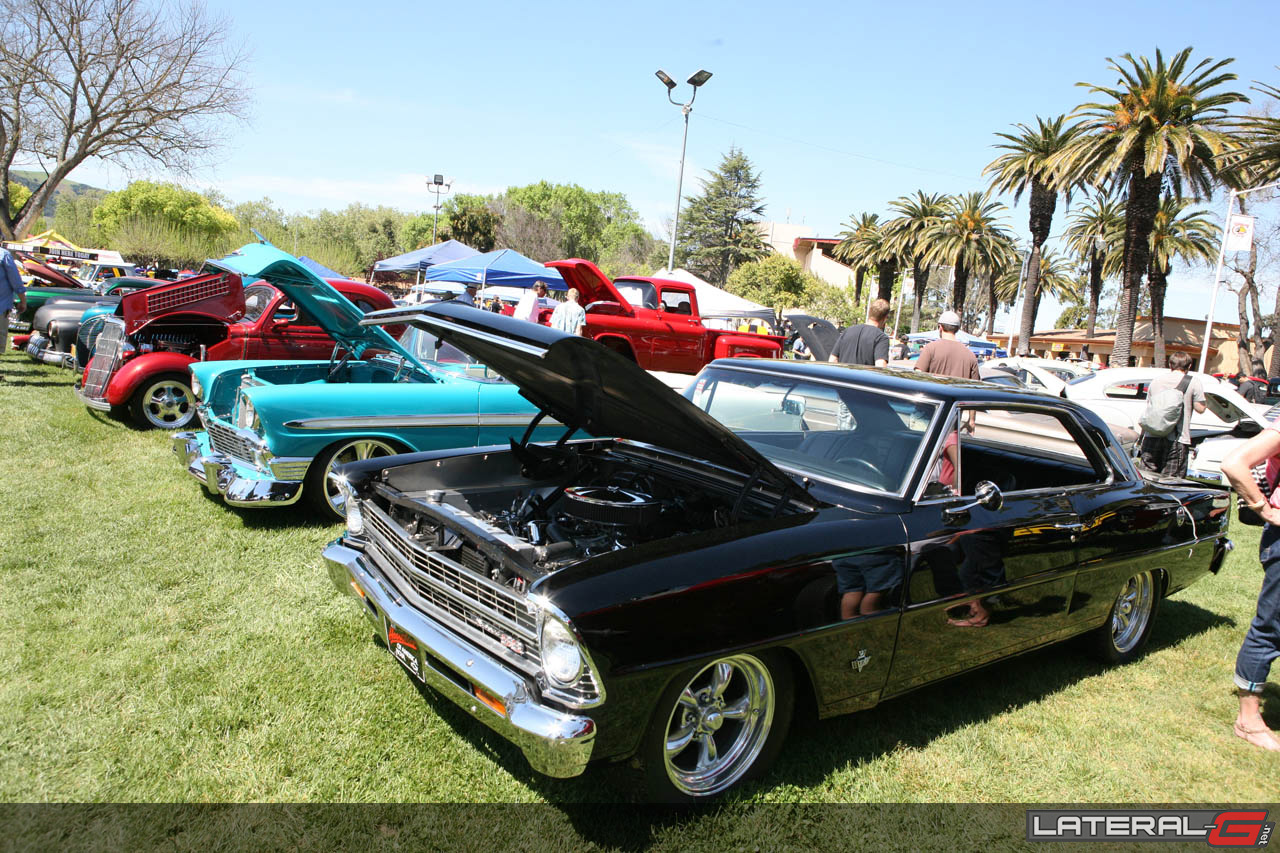 The sun was out. The temperature was in the mid to upper 70s. This brought on the short sleeves and shorts. As I started making my way through the sea of hot rods and musclecars towards the autocross, I could hear the engines roaring. The Goodguys staff have really done well with the autocross at this show. There was a large amount of spectators around the fence with all eyes on the autocross course. There were tons of people hanging out in front of the exhibit hall watching the autocross from afar.
When I reached the autocross competitors area, I saw many of the familiar faces along with some new blood. This course was not the small peanut they have had in the past. This was a good sized course.
Pro Class
When the weekend was over, first place went to Brian Hobaugh in his badass flared 1965 Vette! He laid down a time of 58.192! No, it's not LS-powered. He's running aTPIS-injected 364 CID SBC. Brian has a stable of fast and competitive cars, but his flared Vette is my favorite. He's running JRi Shocks, Wilwood Brakes, and custom 18×12 Aristo Collection wheels wearing 305/30R18 Falken Azenis tires all the way around.
Mike Maier wheeled his killer Ford powered 1966 Mustang around the course with a time of 59.040. Mike wasn't the only one driving the car at this event. His awesome wife, Brianne Maier drove it in the Street Machine class to a 4th place finish of 1:02.383. As usual, Mike had the car up in the air on the jack making small changes off and on. I caught Brianne checking tire pressures between rounds. Not only are they talented drivers, they also have all their Mike Maier Inc. equipment under the car. Their driving was fast, smooth, and controlled. They are currently running an 850 hp Nationwide race engine.
Scott Fraser kicked ass in Bruce Cambern's real 1966 Cobra to a 3rd place finish for the weekend with a run of 59.443. The 15 to 1 compression, all aluminum 498 is pumping out 850 HP backed by a Jerico manual transmission! It sounded awesome going around the cones! By his driving and drifting the Cobra through the cones, Scott obviously knew what he was doing. It makes sense, because he is a six-time SCCA Champion. He says, "We made changes every run to try to gain traction. It helped, but not enough". More about the Cobra…Bruce is the original owner. He still has all the original parts in storage. He redesigned the front suspension geometry using custom brackets that bolt in the stock bolt holes.
The cool Speedway Motors 1965 Nova is running their G-Comp front suspension and a bunch of other parts you can get from them. If you didn't see the Nova, you must have been asleep! It had cool graphics and had the big SPEEDWAY MOTORS letters on the sides. Cousins Robby Unser and Al Unser Jr took turns running the sweet Nova all weekend. Robby Unser (eight-time Pikes Peak hill climb winner and Formula D drifter) took 3rd with a 1:01.018. Two-time Indy winner, Al Unser Jr. was right on Robby's heels with a 4th place best time of 1:01.328. The two were having a great time on the course. Al Unser Jr. was even doing ride-alongs with other drivers to instruct them. That must have been cool for those lucky drivers!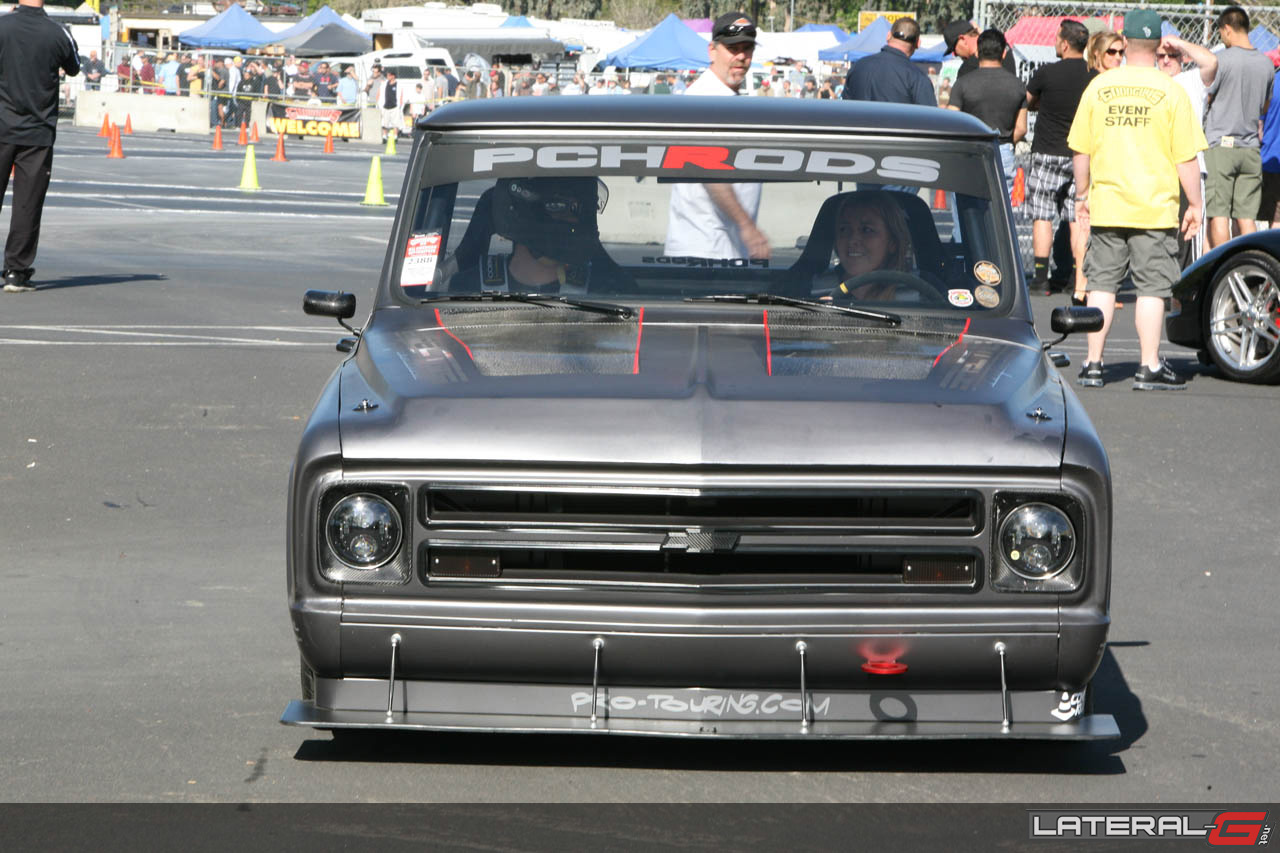 Brandy Phillips wheeled the killer PCH Rods Inc. '72 Chevy C10 truck to a 1:05.149 around the cones. She improved all weekend while getting used to the new truck and giving rides to competitors.
Street Machine Class
Sean Johnson from Custom Works Performance barely beat his boss (Keith Smith, who won second place)! Sean pushed his '70 Camaro 1:01.070!
Monday at Custom Works Performance must have been fun for Keith Smith after taking second place to Sean. 🙂 Keith has put a lot of work and seat time in his sweet '71 Camaro and pulled a great time of 1:01.285.
There were two flared LS-powered Z-Cars running the autocross. Mark Frazier ran Optima Batteries OUSCI last year in his beautiful grey 240Z. Over the weekend at Goodguys, he finished in 3rd place with a 1:02.315. The other ZCar (two-tone blue) was driven by David Carroll. In February, David won the K&N "Spirit of the Event" award at the USCA (Ultimate Street Car Association) event at Thunderhill Raceway. Since he won that award, he has been invited to Optima Batteries OUSCI event later this year. David made some necessary repairs and showed up to start practicing so he will be more prepared for OUSCI. He was able to get down to 29th place with a time of 1:06.315. David's got a lot of plans for upgrades between now and OUSCI to get his time down.
Martin Pond took 4th place in his bitchin' '80 Mercury Zephyr. Lucky for him, the Zephyr is a Fox Body platform, so Mustang suspension parts bolt right on! He just put new wheels and wider tires on and got his time down to 1:02.321.
For more autocross results, follow this link:
https://www.good-guys.com/aagt-ac-15
Two great cone kills!
I'm sure a lot of great moments took place on the autocross course over the weekend, but I could only be at the event on Saturday. I had to be on a plane to Detroit the next morning. These are the two great cone kills that I witnessed with my own eyes and caught them on camera for you all.
Cone Kill #1. Nathan Ried driving his '06 GTO, went way off the course and hit a few cones. One cone got wedged up into the front fenderwell on his first lap. He didn't let that stop him. There was visible smoke coming from his car during his second lap. Before leaving the course after his runs, the Goodguys staff had him stop so they could retrieve what was left of the cone. As he stopped, the hunk of molten cone dropped under the car. He literally killed the cone.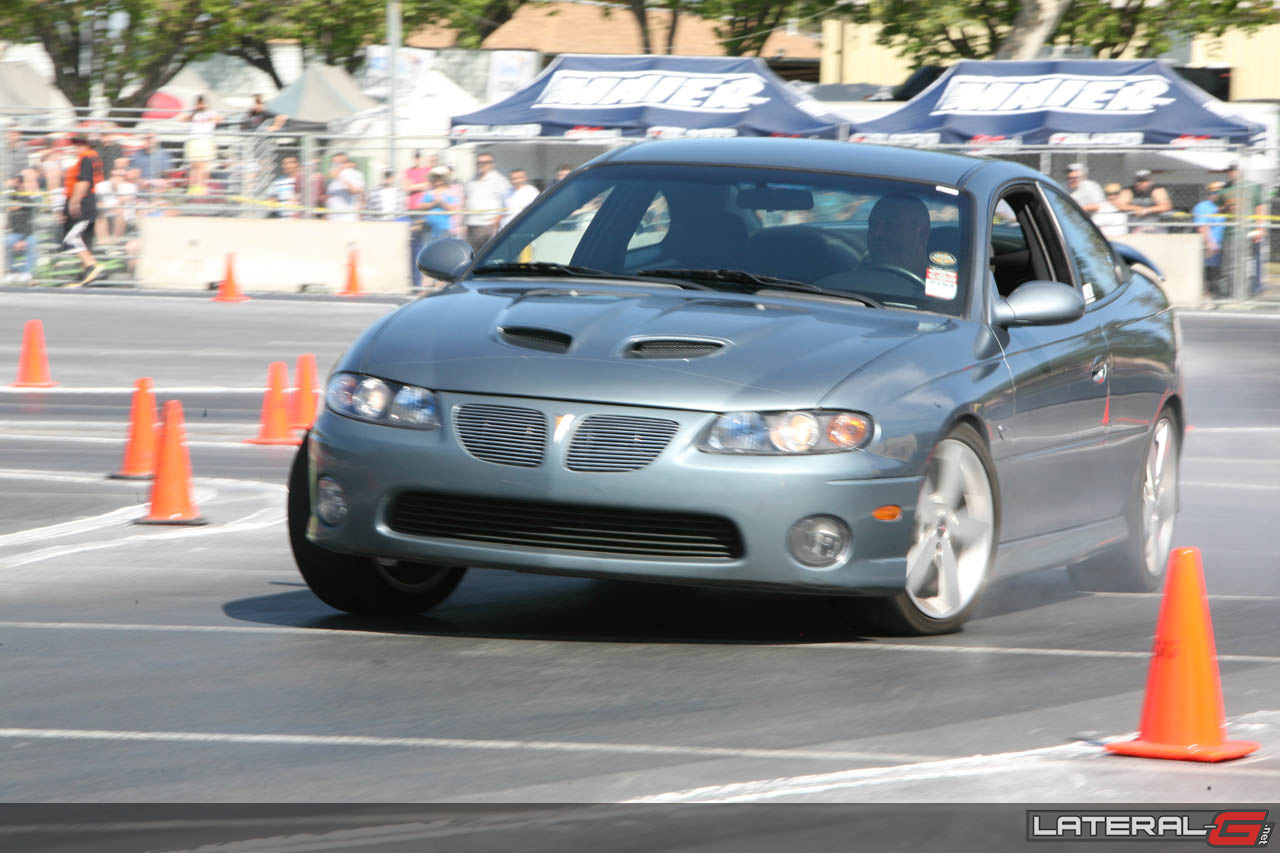 Cone Kill #2. Gabriel Carrasco was running his '97 Camaro around the course with a friend in the passenger seat. The first lap went well. The second lap was a little more eventful. Gabriel went off course a little and started killing cones. The best part is that if you look closely at the pictures I took, you'll see that they are both having a blast! Both were laughing about it and I caught the moment with my camera.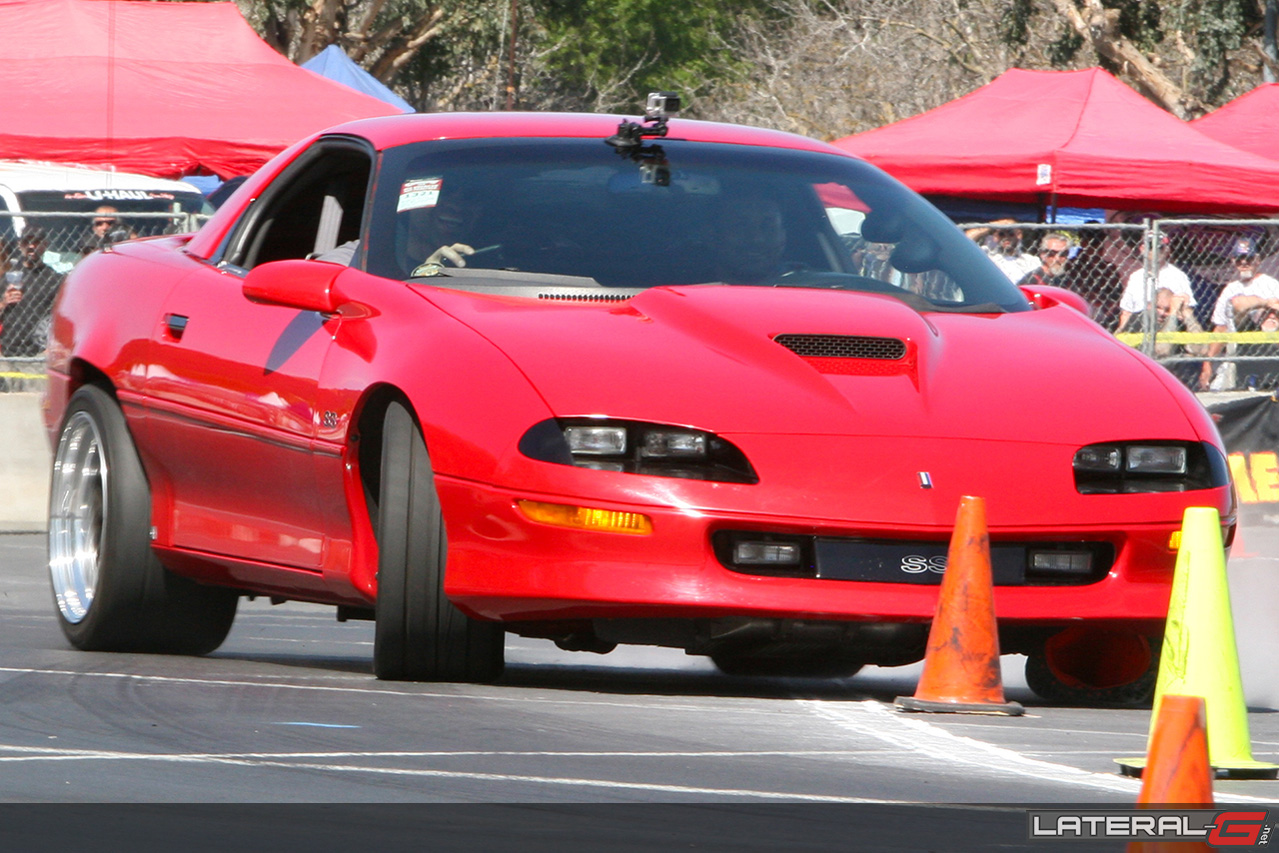 The event wasn't just about the autocross though. I took a long hike through the sea of cars. I didn't even get to see them all. There were too many to see. It would have been a great if I could have gone both days.
My favorite car at the event was Hellfire! Charley Lillard brought the baddest and latest Mark Stielow-built '69 Camaro. It was hard to get good pictures of the car. There were people all around the car almost every second. Jody and his wife Renee pulled up some chairs and hung out with Charley behind Hellfire and fielded thousands of questions about the car. Pictures don't do the car justice. You have to see this car in person. The Anvil carbon fiber front fenders have a slight flare to them and allow the use of 315/30ZR18s up front. The Detroit Speed mini tubs allow the use of even bigger 335/30ZR18s out back. The wheels are Finspeed Monoblock wheels and they are wrapped with BFGoodrich G-Force Rival tires. It's powered by a Lingenfelter / Thomson 427 CID supercharged LS engine belting out 953 hp and 970 ft lbs of torque! It's toned down with some resonators and Borla mufflers. Of course Mark went with the awesome suspension that is made by the company run by college buddy and ex-GM engineers…none other than Kyle and Stacy Tucker…and that company is Detroit Speed.
Hellfire's build:
http://lateral-g.net/mark-stielows-latest-69-camaro-project-hellfire/
Instead of droning on about the rest of the cars at the show, how about letting you see the pictures I took of the festivities?
All in all, it was another awesome Goodguys event! I got to meet up with some great people, soaked up some vitamin D from the sun, and witnessed some extraordinarily badass cars, racing and sitting still.