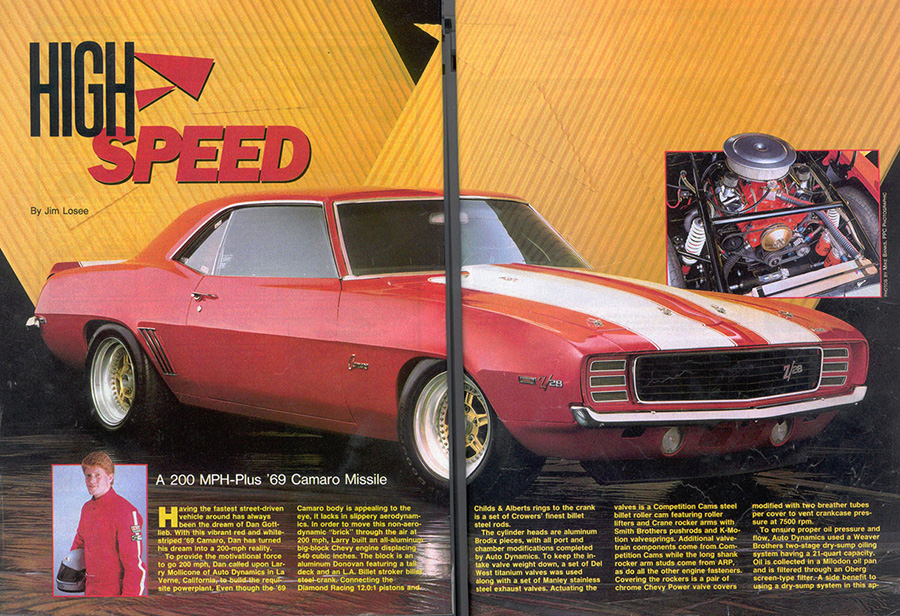 Big Red Press Release Intro
By Tony Huntimer
For those of you who are familiar with the iconic 1969 Camaro named Big Red, when was the first time you saw Big Red?
For me, it was as a teenager in the 1980s. It was the year 1988 to be exact. I watched Magnum PI on TV, blasted Sweet Child O' Mine by Guns N' Roses on a Pioneer cassette tape player, and loved Pro-Street cars.
Late 1988 was when I first opened the October, '88 issue of Car Craft magazine and saw it. I was stunned. It wasn't a Pro-Street car. It wasn't even a drag car. It was a red '69 Camaro with white Z28 stripes, powered by a big block Chevy, and it looked like a street car from the outside. Next to the Camaro, the text read, "A 200 MPH-Plus '69 Camaro Missile." The red-headed guy (RJ Gottlieb) who drove the car was even my age! It opened my eyes to something very unfamiliar. Big Red was a road racing machine. This awesome Camaro was built to handle and drive fast!
After seeing Big Red, it sent me on a completely different trajectory when it came to how I wanted to build my Camaro. I craved to know more about high-speed open road racing and how to build a car that did more than drive around the fairgrounds looking cool. I scoured the magazines for more open road racing. I bought a VHS tape with Big Red running the Silver State Classic Challenge and watched it over and over. I couldn't shake thoughts of building a Camaro for speed and handling.
It took a few years, but I ended up with a big block Chevy powered '68 Camaro that was built with open road racing in mind. I've never forgotten where it all started for me.
If you're at least a little like me, you never had enough Big Red in your life.
Be ready to have those cravings for Big Red to be fed! Read the following press release!
DETAILS:
Eight episodes about The Big Red Camaro, its driver RJ Gottlieb and the team of people dedicated to the car's performance will air on NBCSN beginning Monday, July 27th, 2015 at 9:00PM EST. The show will continue to air for eight consecutive Mondays in the same time slot and will re-air on NBCSN on Wednesdays, starting July 29th at 3:30PM EST, 12:30PM Pacific.
Check out the trailer here: