You know how you're at a car show, and you're walking down the aisles and a car just grabs you? That pretty much describes my first view of Dave's beautiful '67 Chevelle. I had just arrived at Sema last year, and my buddies and I are making our way straight to Hot Rod Alley like we always do. As we wound our way through the cars in front of the buildings a bright red car caught the corner of my eye, sitting right in front of the Car Crazy booth. I immediately changed directions and headed over there. I'm looking it over mumbling "wow" and "cool" like a little kid on Christmas morning. My buddy Brent told me this car belonged to a local friend of his, who also happened to be a member of Lateral-G, Dave Smith. Here's Dave's story of how the car came to be.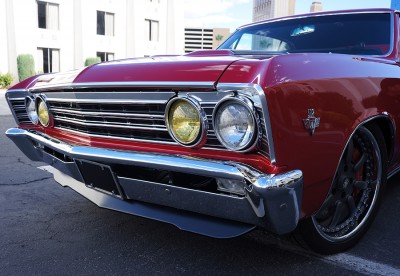 "We bought the car on New Year's day in 2011 with plans for a simple paint and interior resto… more or less a simple street car. The previous owner was the second owner and had driven the car as a daily driver and some dragstrip duty in the early 80's. After breaking the car down we stripped the car, epoxy primed it and headed to the body shop. The car was in outstanding condition and only needed very minor corrosion repair under the rear glass and left floor panel. After 11 months of blocking and priming, I chose a color from House of Kolors called Kosmos Red. This color is so transparent it requires a base to let it glow off of. We chose an older GM white for its brilliance. After a complete white paint job, it was sanded and received an additional seven coats of red. After applying several coats of clear, it was ready to sand again and polish. The car was painted by Scott Dickey at Kniesel's Auto Collision in Citrus Heights, CA.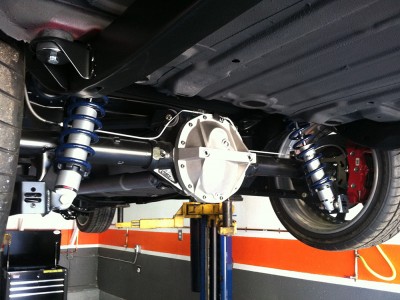 Once painted, the body was lifted from the frame and set aside. The frame was blown apart and powder coated by Allstar Powder coating in Roseville, CA. It was fitted with a stage 2 suspension system from Ridetech. The adjustability and complete package of the Ridetech kit is second to none. After tuning, the car rode with a crisp yet supple ride. It handled like a Vette and was very predictable. The rear end was the stock 12 bolt rebuilt with a Richmond posi traction unit and a 3.31 ring and pinion. The brakes were a C6 Z06 system from Tobin at Kore 3 and a Wilwood master cylinder. This combination yielded a great pedal feel and tons of stopping power. The wheels were from NewGen and measured 18×7 and 19×9.5 with 235 and 275 Nitto tires. The look and stance of the car are spot on. I'm extremely happy with the ride.
We chose a GMPP 502 for the car for its big torque band and deep sound. We blew the engine apart and had Nathan Gerolamy improve the engine's shortcomings. A set of Ross forged pistons brought the compression up to 10.6:1 and mated well with the ZZ502 roller cam. The giant, stock rectangle port heads were outfitted with screw in studs, Manley valves, Comp springs and plates. An Edelbrock Performer RPM intake and MSD Atomic EFI rounded out the package. It makes somewhere in the 525 hp and 550 ft lbs. range and eats tires like it owes them money. A Richmond 5 speed and Centerforce clutch try to harness the power via a long shifter.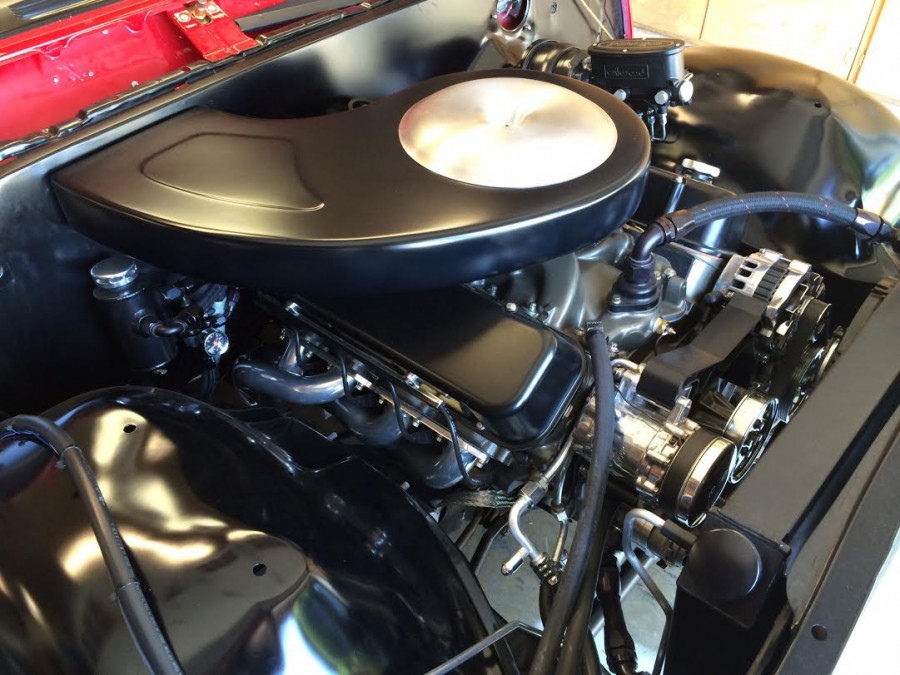 The interior was stitched by Dave Putnam in Orangevale, CA. It is all leather with dark and light gray stitching for accents. The gauges are Classic Instruments in a custom dash built by my brother Ian. The interior accents are from Lokar, Ring Brothers, Ididit, and Budnik. The front seats are Scat low back buckets.
The car was invited to SEMA 2014 by the Car Crazy staff. It was quite an honor as we were also chosen for a Goodguys award finalist pic. To be considered among the likes of Ring Brothers, DSE, and Dave Kindig was quite an honor considering this car was built by a couple of guys in a suburbia garage at night. Cars are more than vehicles. They embody the spirit of their creators and make memories. This car would not have been finished without the support from members of Lateral-G. This is a community of truly great people."