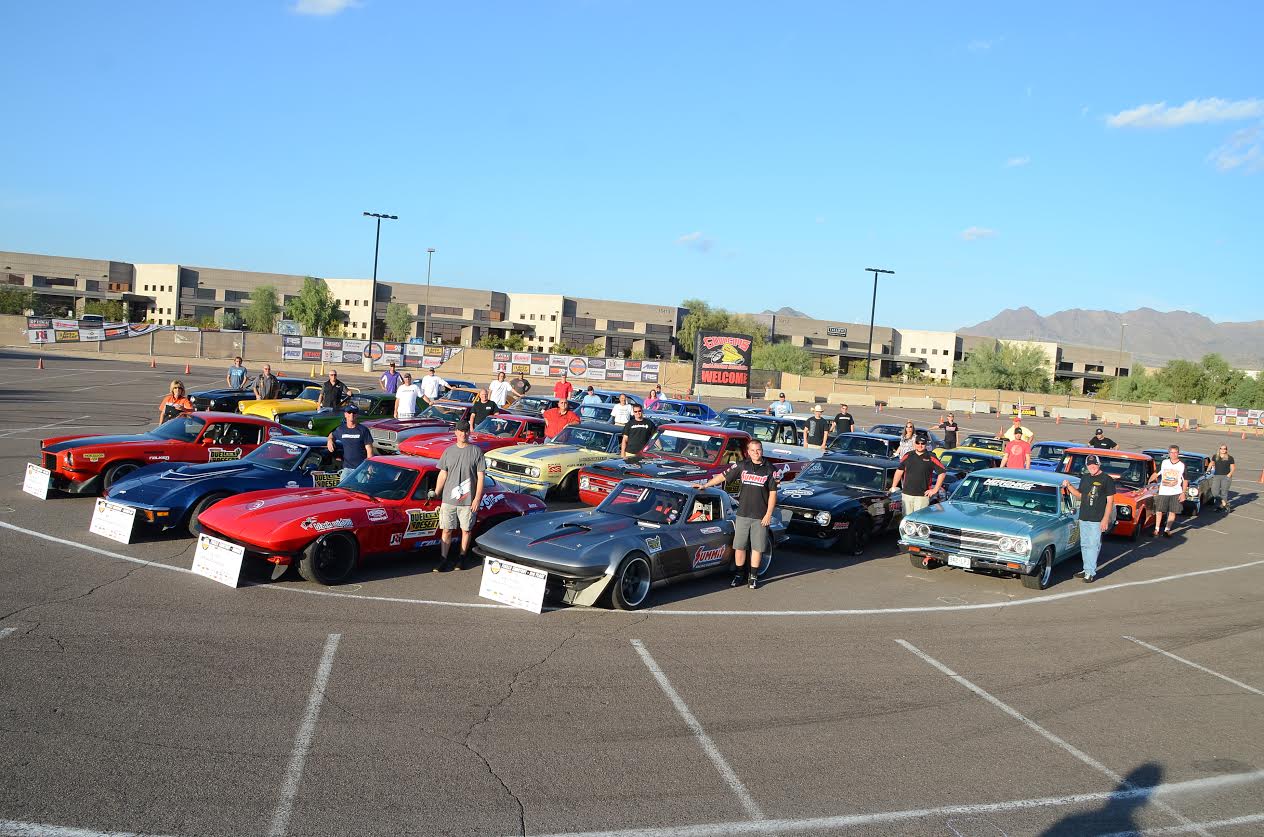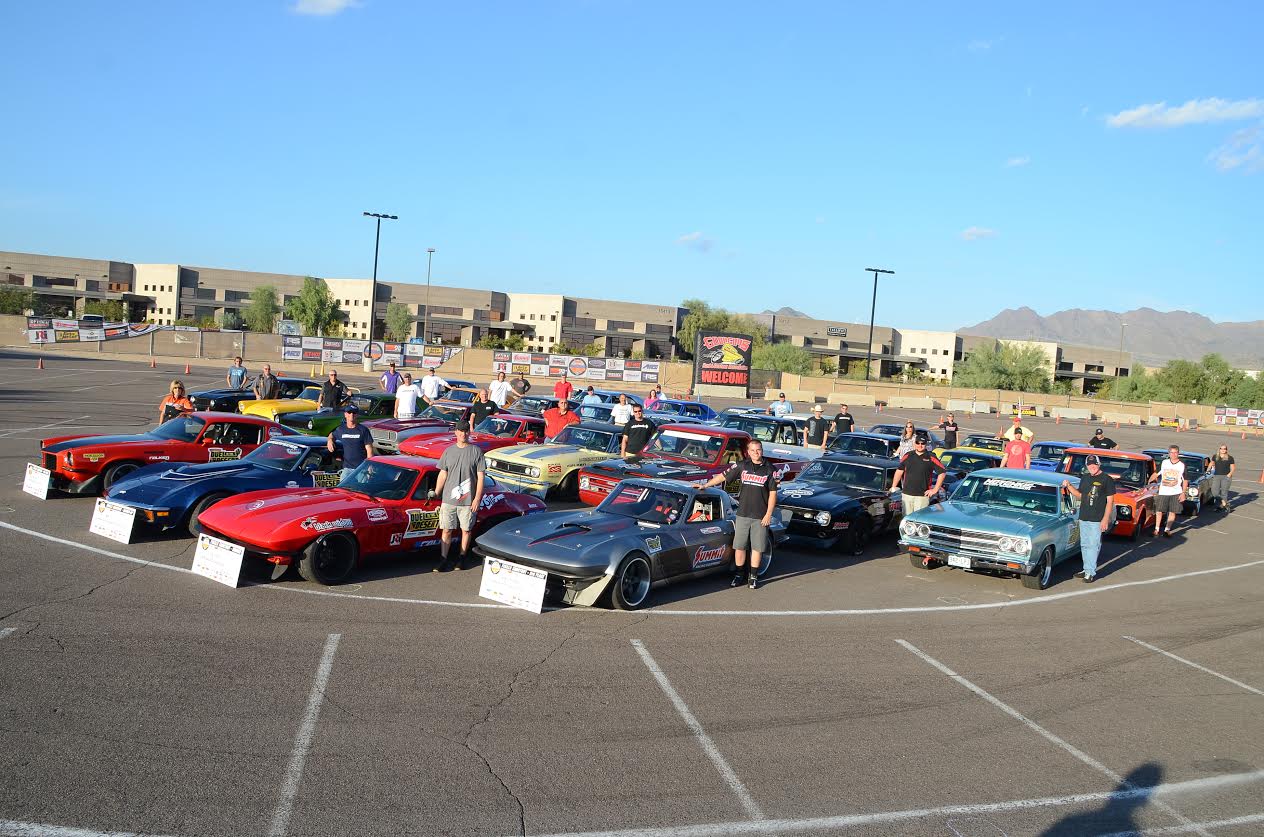 Nicknamed The Duel in the Desert – the Goodguys 2014 AutoCross Finals Shootout presented by BF Goodrich, K & N Filters and Tremec Transmissions featured a bigger field, better racing and a thrilling finish today at Westworld of Scottsdale.
Thirty-two of the country's top AutoCross racers passed the start beams in an attempt to win the 2nd annual 'Shootout and walk away with $3,000 in cash, a custom toolbox from Snap-on Tools and a stack of sponsor gift certificates. More than that, they would be named Goodguys AutoCrosser of the Year – the final berth in the Goodguys Top 12 Cars of the Year.
In a cut throat duel, last year's top two finishers, champion Danny Popp and runner-up Brian Hobaugh reunited again this year for the trophy round even though the field was expanded by 8 cars. The cream indeed rose to the top.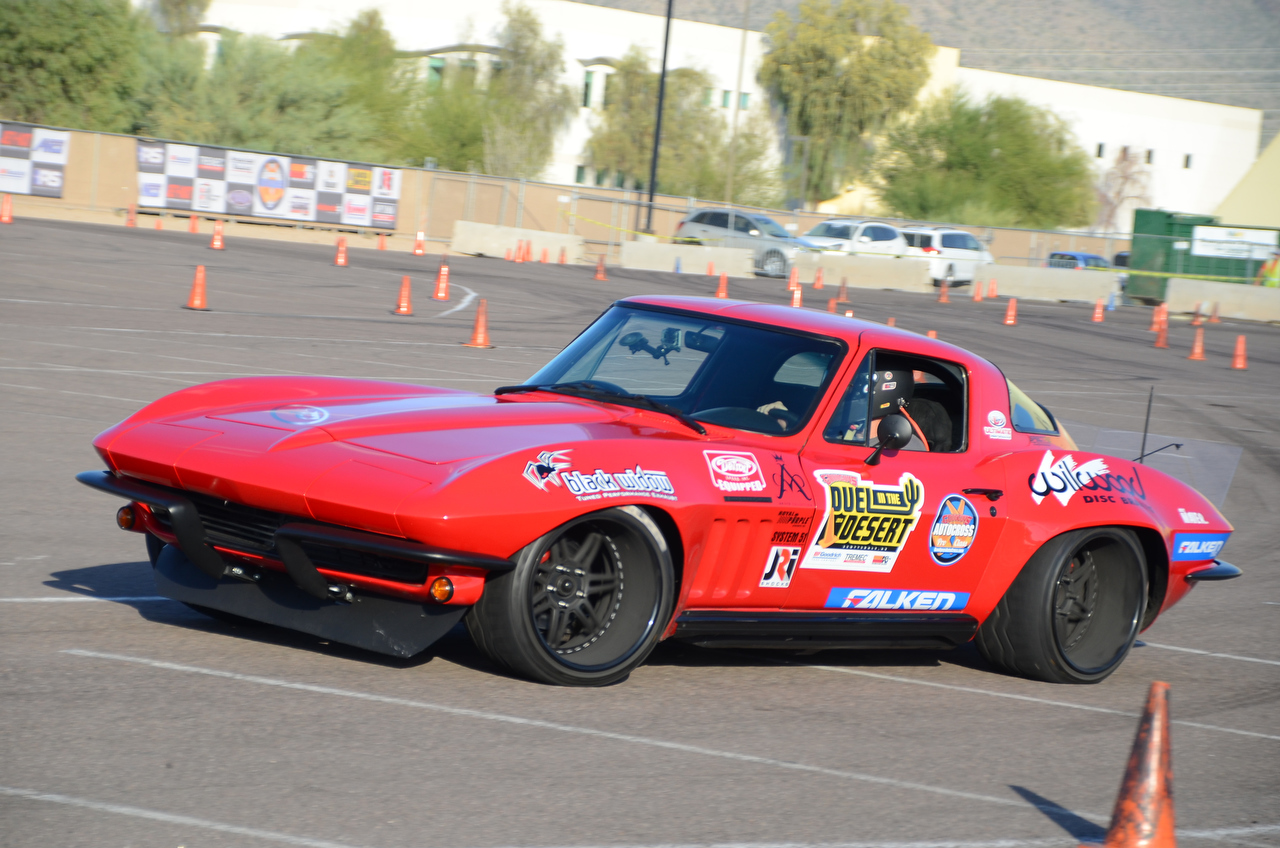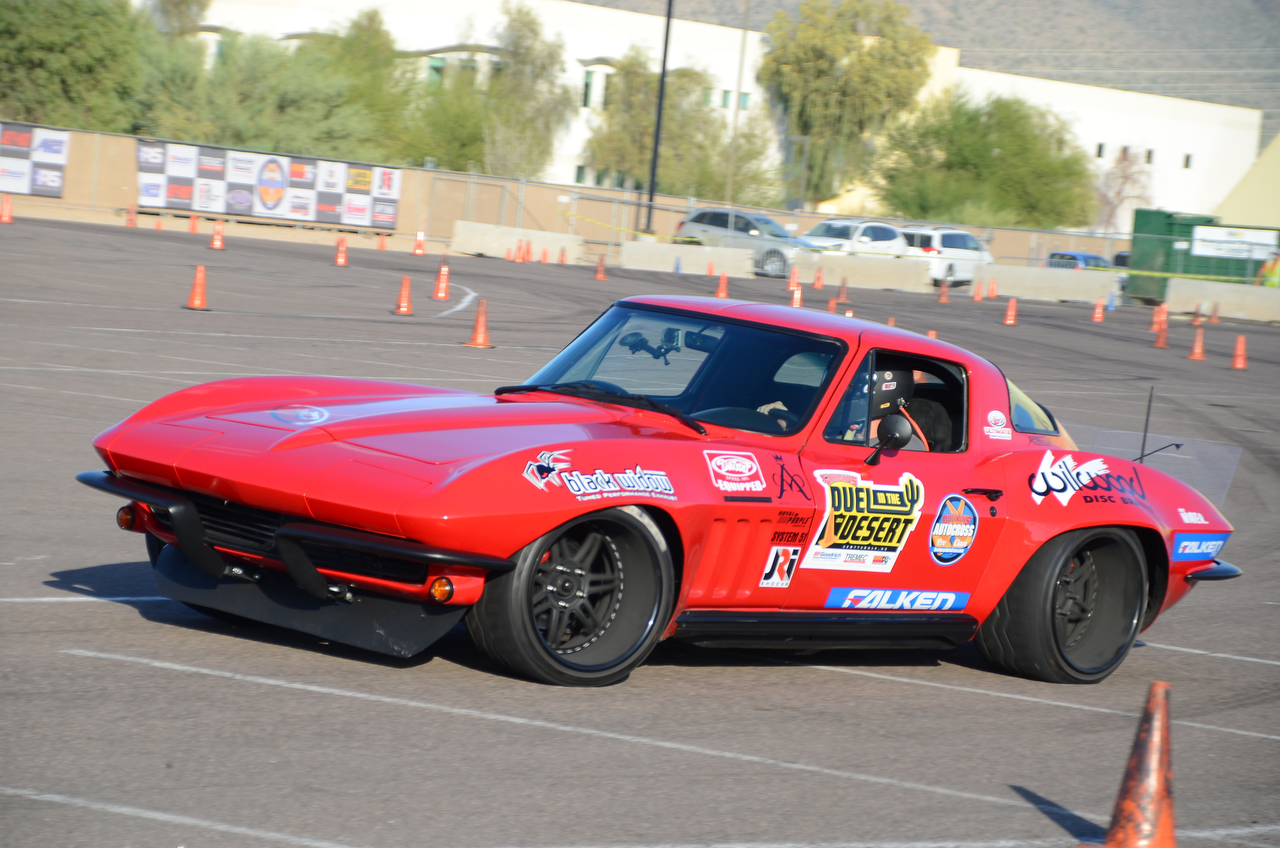 This time it was Brian Hobaugh, a second generation AutoCross racer driving his dad's wicked '65 Corvette out of San Ramon, California that got to hoist the trophy and $3,000 winner's check. But it almost didn't happen. "I broke a half shaft in qualifying," he said from the winner's circle. "I couldn't have made it to eliminations if all my friends and fellow competitors didn't jump in and help like they did. We had it fixed in 10 minutes."
Hobaugh was brilliant all day through each of the five elimination rounds. His slowest run of the day was a 71.067, his quickest a 69.843 which also stood for quickest run of the entire race. "The track was going away late which made it really difficult but all of us were in the same boat" he said. In the end it worked out. "I'd like to thank my father Steve. This is his car. Without him I couldn't be here."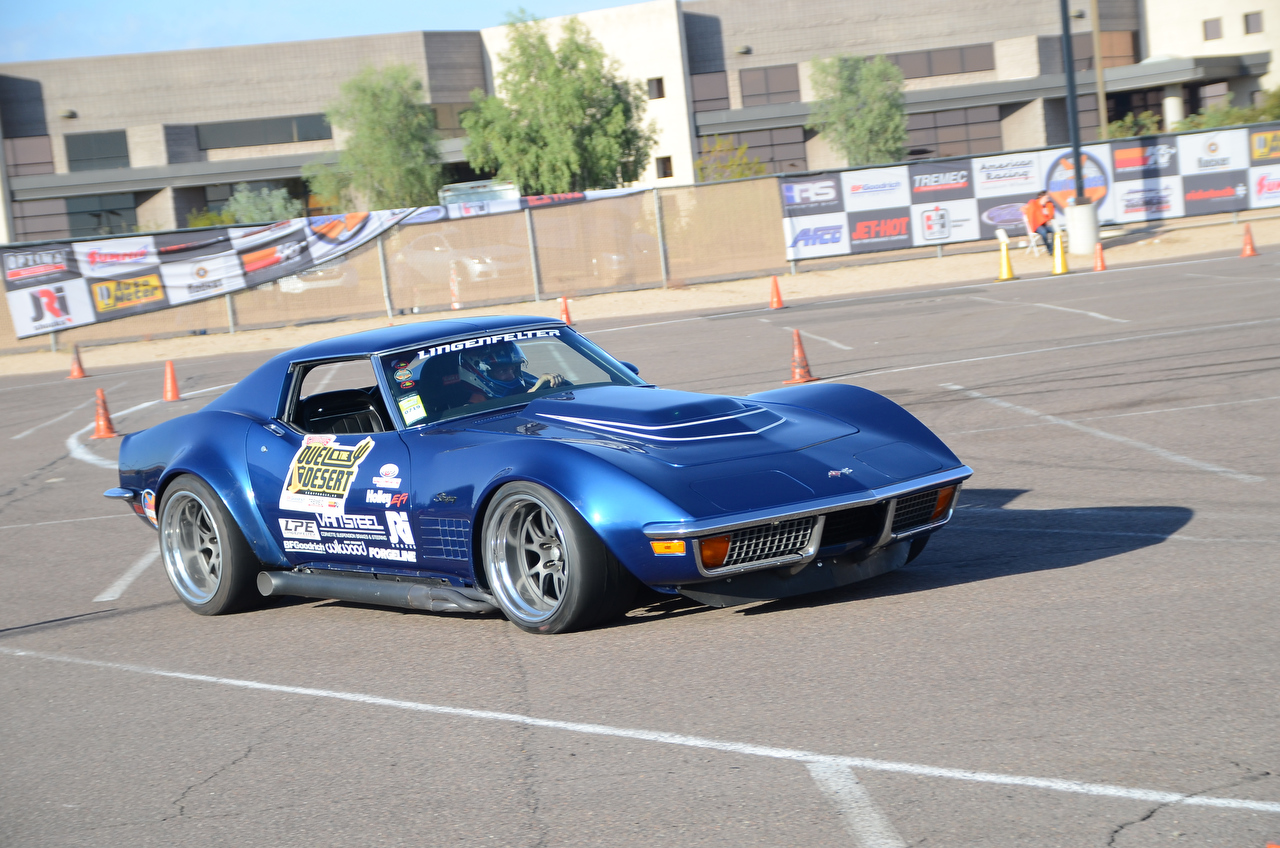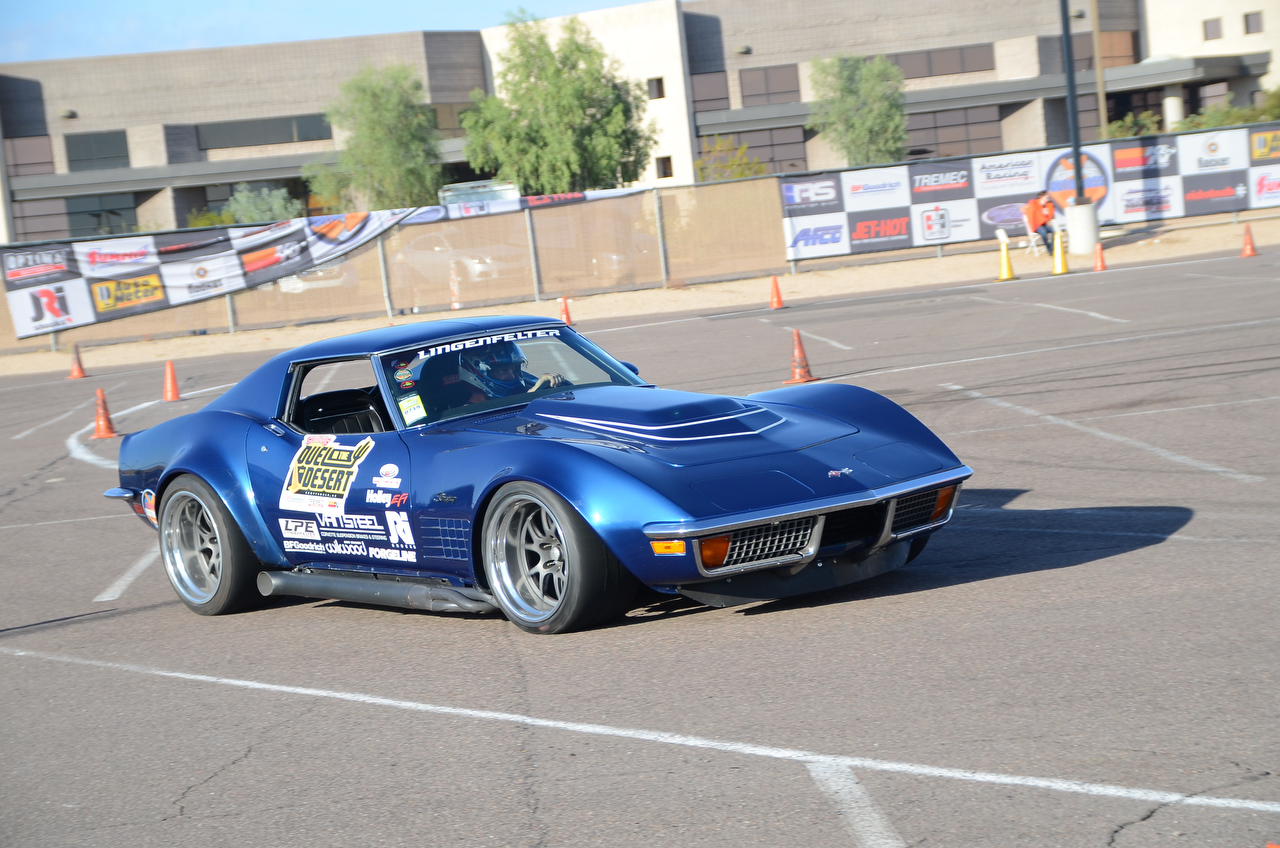 As it turns out, Popp and Hobaugh have been facing off for years in events like today's Duel in the Desert. Back in 1970s and 80s SCCA and NCCC AutoCross competition, the families of Ohio's Herb Popp and California's Steve Hobaugh lived thousands of miles apart but traveled similar paths. Both ran vintage Corvette's, both were fast and both were always at the top of the field in Solo competition. Between them, they won a bunch of division and regional titles. Always at their sides were their young sons Brian (Hobaugh) and Danny (Popp).
The cars (Hobaugh's red '65 'Vette and Popp's blue '72) were eventually mothballed as both families pursued newer AutoCross machinery and other interests. As the decades went by, those two young boys who grew up spending their weekends in cone-strewn parking lots honed their fathers' bygone craft becoming AutoCross titans in their own right. As interest in vintage Muscle Cars and Pro-Touring machines heightened in the new millennium along with the emergence of the Goodguys AutoCross program, both Popp and Hobaugh remade their father's machines into modern day menaces.
Today, team Hobaugh shined brightest in the decades old rivalry, earning Brian the title of Goodguys AutoCrosser of the Year.
Here are the top 4 in-the-money finishers and their winning times:
-Winner – Brian Hobaugh 70.376
-Runner Up – Danny Popp 70.699
-3rd place – Josh Leisinger – 70.076
-4th place – Mary Pozzi – 70.543