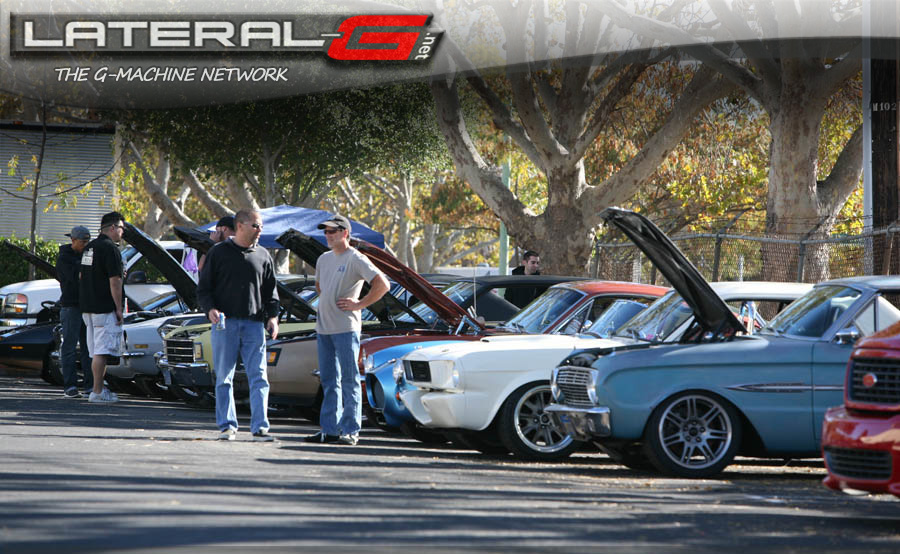 I don't usually start an article with a point of contention, but I'm going to do it this time.
When I go to the Goodguys show and autocross, I want to see a bunch of eye candy and form over function Pro Class ingenuity on the autocross, my Lateral-G (and Pro-Touring) brothers and sisters, awesome vendor hardware, and a good corndog! Maybe not all in that order, either. And yes, I know I just got all of that at SEMA, except for the corndog…but still!
For the last two years, the Goodguys 25th Autumn Get-Together has fallen the Saturday and Sunday following the last day of SEMA (the largest aftermarket parts manufacturers' trade show of the year). It's possible this has been going on a long time, but I've always been at SEMA and also been attending a huge Optima Batteries event the day after SEMA…which I'll get to shortly.
Unfortunately the Goodguys event schedule conflicts with SEMA and adversely affects all manufacturers who could bring their wares to Pleasanton, if the Autumn Get-Together could be held on a different weekend. Packing up their booth starting Friday evening at 5PM does not give them time to get from Las Vegas, Nevada to Pleasanton, California to open at 8 AM Saturday. Even the manufacturers who don't have displays at SEMA, still go to SEMA for networking.
Goodguys has been successfully promoting and gaining popularity with their autocross series, so much that the competitors are running multiple events, throughout the year. In some cases, competitors are even travelling to Goodguys events in other states to build up their points.
Now to get back to this huge event that Optima Batteries is holding their Optima Ultimate Street Car Invitational (OUSCI) event after SEMA since 2008. This event takes the best of the best street cars from their Ultimate Street Car Association event series and "Golden Ticket" winners at SEMA and running them in a huge competition, which includes a road rally, judged car show, auto cross, speed-stop challenge, and timed road course laps. This event is truly the biggest street-car competition of the year and attracts some of the best autocross competitors. The trouble here is that some of the competitors at OUSCI are also trying to build their points in the Goodguys autocross series. Compared to the problems one can have in life, this is not a huge problem…but for competitors, this clash of events could mean the difference in winning of losing a large year-long series (on either or both fronts). Some serious contemplation has to be made if competitors are close in the points race in the Goodguys autocross series.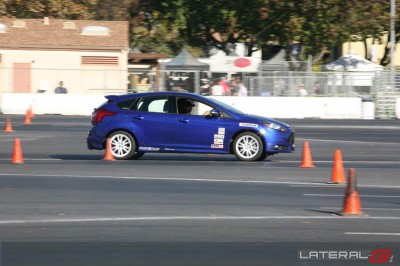 Now back to the event at hand! The Goodguys autocross was filled with a lot of cool cars. Even though there were some usual faces missing, there were still a lot of cars that showed up ready to smash or dash cones. When I was looking at the leader board early in the day on Sunday, the Street Machine class leader was Mark Scroggs of San Ramon in his 2013 Ford Focus with a 2.0L and a 6-speed. It proves you don't need a killer hot rod to dominate at the autocross. It does help that Mark is an SCCA GS Class Champion. He kept the lead and won the SM class with a best time of 59.248. Kyle Newman in his LT1-powere '57 Chevy Wagon with C4 Corvette running gear connected via the sweet Newman Car Creations chassis, trailed behind Mark's Ford with a 60.785. Nathan Reid followed in his '06 Pontiac GTO with a 60.828.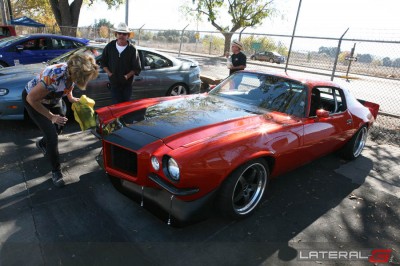 It was no contest for Mary Pozzi. She was the only Pro class entry (due to the timing of SEMA and OUSCI) at the event, so she took first place! She didn't treat running solo in her class as if she was running a "bye." When it comes to autocrossing, she only has one mode and that's "ON!" She was driving her awesome '72 Camaro  with lightweight carbon fiber panels from Anvil and powered by a badass Lingenfelter LS7 engine. Besides her incredible driving skill, we know her new Art Morrison Enterprises front subframe and incredible new IRS rear made some serious contributions to her best time of 57.386 on the course. She really likes the new AME IRS because it handles awesome and is extremely smooth and quiet on the street. Compared to a live-axle, it's very forgiving and very tunable.
For the entire list of autocross results, go to: https://www.good-guys.com/events/goodguys-autocross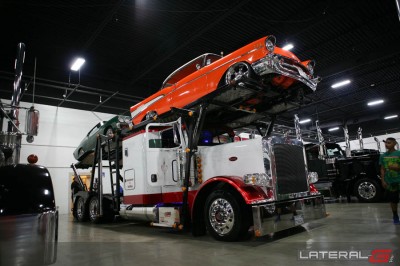 For lunch I got my usual huge tasty corn dog and I was set for the rest of the afternoon. Inside one of the buildings that's typically filled with manufacturers, they had some badass custom big rigs owned and operated by Bay Area enthusiasts. It turned out to be a little family reunion for me. Nobody else knows this about me until now, but I grew up in a truck-driving family. My cousin Erick Witham happened to be showing off his awesome Peterbilt  auto transport with his '57 Chevy on the "head rack" and a Chevelle behind it. His dad and my dad always customized their 18-wheelers, so it obviously rubbed off on Erick. Twenty seconds after meeting up with Erick, my long-lost brother Jim walked up and hung out with us for a bit. It's funny how we all converged on the same spot after not seeing each other for a LONG time…and it was at a car show. Go figure!
The attendance at the show was good. I heard Saturday was much busier than Sunday. The swap meet was packed and the fairgrounds were bustling with cars, trucks, and vans (yes a few vans) of all years makes and models. A few stood out for us.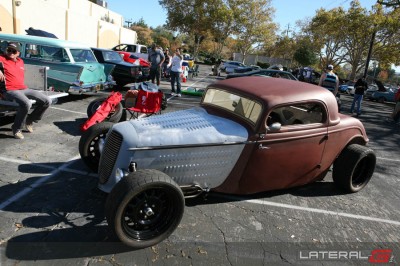 One standout was Craig Watts' '34 Ford 3-window coupe  dubbed, "The Sewer Pickle". This thing is bad to the bone! Craig wasn't around to answer any questions I had about the car, but the sticker on the window said that it has a 6L80E transmission, so there's a good chance that it's got Chevy power under the custom hood. The front is controlled by an independent faux straight-axle with cantilever shocks. Out back it's got coil-overs and Speedway Engineering Super Max quick change rear axle with a differential fluid cooling pump. This is a way-cool hot rod and Craig was tearing up the autocross all day with it.
Mary Pozzi's '72 Camaro really stood out in the crowd. It was another favorite of mine. You can tell by all the photos I took of the car.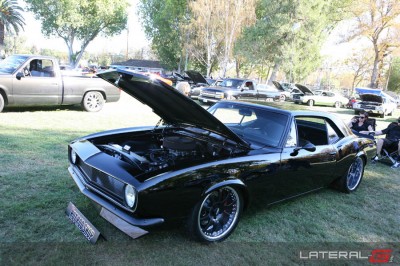 Another standout was Bret Ervin's low slung '67 Camaro  from Orangevale, Ca. Derek Carlson of the Hot Rod Shop in Ranch Cordova did all the nice work and brought the car out to the event to show off all the hard work. The deep black paint was amazing and highlighted with some nice semi-gloss stripes, trim, and tail panel. It was powered by a good old fashioned small block Chevy. Wait! Is running an engine older than an LS, old fashioned? What has this hobby turned into? Well, it's refreshing to see that it's running a Chevy small block and an automatic transmission. It's low enough that it's obviously on air bags. It's mini-tubbed, wearing some great looking Rushforth wheels, and using Wilwood brakes throughout for stopping power. It definitely stopped me in my tracks.
That's it for this year at Goodguys. You'll see more from me next month, but it won't be a Goodguys article. I've agreed to contribute to Lateral-G on a regular basis, since I don't have a monthly outlet at Camaro Performers magazine any longer. So when I'm not working on my website TestCarDatabase.com getting more sponsors to dig through my member database to find cars, trucks, and vans to use for R&D and/or sponsorship of aftermarket parts, I'll be writing some cool stuff for you all! I look forward to more events next year.