Author and Photographer: Tony Huntimer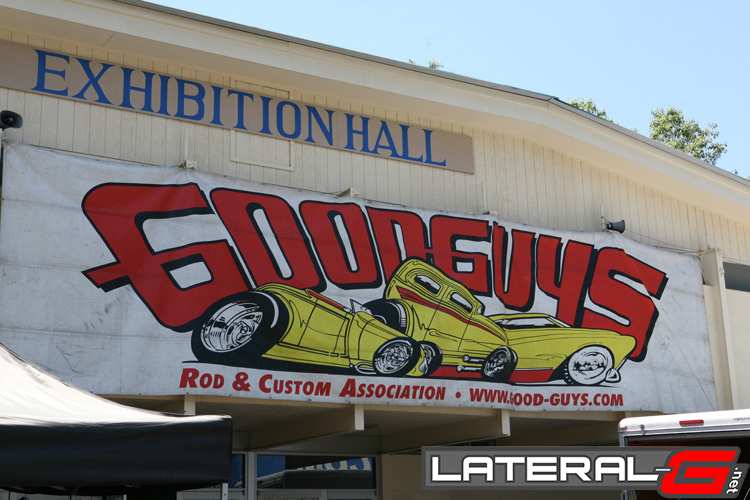 It's that time of year again. Out here in sunny California, there's plenty of days out of the year to enjoy your hot rod, street machine, and/or Pro-Touring vehicle. But you have to count down the days on your calendar for the great Goodguys shows to come around. Lateral-G contacted me and asked if I would cover the Goodguys 21st Summer Get-Together for them. I was all-in for the opportunity.
I toured the Alameda County Fairgrounds and saw some really nice vehicles. There were plenty of cool cars and trucks of every make, model, and year to ogle over. But knowing the members at Lateral-G, the coverage of the Autocross will be the more up your alley, so that's where I focused most of my attention. I spent a lot of time at the autocross and the pit area soaking up a lot of sun, shooting cars, and talking with folks about their vehicles.
Autocross
The Goodguys autocross at Pleasanton is typically a small course in the shape of a peanut, but this time they set it up in place of the large vendor section and in comparison, it was huge! It had a bunch of left and right turns, as well as some cross-course action and it was a lot more technical. There was plenty of sliding and cone carnage to go around!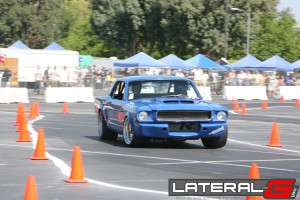 Mike Maier ran a 58.707 in his Maier Racing '65 Mustang in the auto cross for the Pro Class win! That's more than a full second faster than the Pro Class runner up, Greg Thurmond.
Just a few days before the event, the Maier Racing Mustang was in a million pieces. The shock towers were cut out, the front frame was cut up, and the engine and transmission were sitting off to the side. Mike installed an all-new-design concept that's made up of new control arms and mounting assemblies, coil overs, and completely new shock towers that are designed to accept the Coyote engine. The new system was a collaborative effort by Craig Johnson (owner of the Falcon seen in the accompanying photos) and Mike Maier. Mike said, "It's super tunable. Way more than what's out there on the market for these cars right now." They finished the whole thing on Friday night, only to drive it around the parking lot of the shop before loading it on a trailer to come to the event. The upper shock tower brace was fabricated on Friday night and was still raw steel, because they didn't even have time to paint it.
Mike Maier wasn't getting enough seat time, so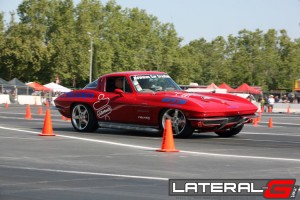 he jumped in Mike Streets' '72 Ford Pinto and showed the crowd that a tiny little car with a 4-banger could pull down some quick times. Maier pulled a 60.5 on his first time out with only one cone knocked down on his second lap. Mike Streets' Pinto is definitely setup for racing and it happens to be for sale for $5,000! Not a bad price for a car already setup and capable of Pro Class results. If you bought this, you'd practically be cheating!
Second place in the Pro Class was nabbed by Greg Thurmond of GTS Customs in his little red '64 Corvette, with a 59.956. It's not any ordinary '64 Vette. It's set up with a complete Newman Car Creations chassis with C4 suspension and an LS engine.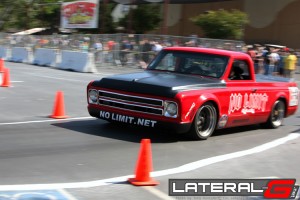 Like usual, there was a little bit of wrenching going on in the pits. Some tuning and a little bit of repairs. Usually the tuning is performed by the most competitive folks. I did spy Rob McGregor working on his truck and Mike Maier had his car up in the air for a few minutes to tune his fresh new suspension between rounds. Rob McGregor pulled a 60.546 in his LS-powered No Limit Engineering C10 Truck. That was good enough for a 3rd place finish and would have been a first place finish for the Street Machine class.
The Street Machine class was won by Nathan Reid in a 2006 Pontiac GTO with a time of 61.597.
Another regular at the Goodguys autocross, great guy Martin Pond ran a 62.648 for a second place win in the Street Machine class with his fast '80 Ford Fairmont. This is a nice feather in his cap after earning the Spirit of the Event award at the USCA event at Laguna Seca for a slot at Optima Batteries OUSCI 2014. This Ford Fox-body Fairmont was originally purchased for $250 and was equipped with a six-cylinder engine. Now it's really going places fast with a carbureted 357 small block Ford engine. He just installed a complete front and rear suspension system from Maximum Motorsports suspension earlier in the week. He had just finished the installation the night before. It apparently made a big difference and performed great!
Third place in the Street Machine class was won Gregg Biddingmeier by another Ford…in fact, four out of the top five spots in the SM class were won by Fords. Gregg's '88 Ford Mustang stopped the clock with a 62.947.
I got a decent sun burn while hanging out with Keith Smith of Custom Works Performance, talking Camaros. His '71 Camaro with four-wheel disc brakes, floater rear end, fuel injected small block Chevy engine, and more was a big topic of conversation. This car is really nice and he obviously has a well-tuned eye for detail and his suspension is apparently well-tuned too. His Camaro pulled down a 64.334 on the course.
Ray Lloyd is a regular out at the Goodguys events lately with his sweet '69 Firebird. Wow! This is a fine example of a Pro-Touring first-gen Firebird. All the other Firebirds at the show were very jealous. He and his Firebird knocked down a 65.782 with a suspension combination of SC&C StreetComp AFX package, SPC control arms, Hotchkis springs (drops of 1.5" rear and 2" up front), and more.
It was a great event and I look forward to the next autocross at Pleasanton. I could write more about this great event and all the badass cars, but who's going to read it all? How about just looking at all the pictures I snapped at the event. If you frequent Lateral-G.net and/or Goodguys at Pleasanton, you'll see plenty of photos of familiar cars and people. If you want more details in the future, give some feedback as to what you think about the new event coverage on Lateral-G. Is the article too small, too big, or just right?
The Lateral-G team will see you out at more events this year!
For more autocross details and times, click the following link and click on the May 30/June 1 event details:
https://www.good-guys.com/events/goodguys-autocross
https://www.good-guys.com/sgt-ac-14
RESULTS