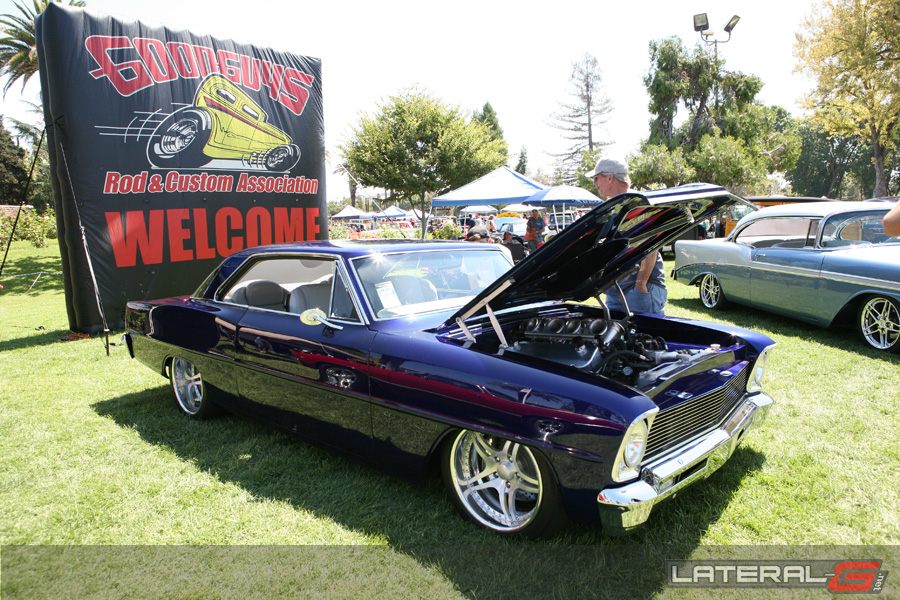 Goodguys West Coast Nationals 2014
By: Tony Huntimer
Historically (many years ago), if I remember correctly, the West Coast Nationals had been reserved for vehicles manufactured prior to some year around the early 60s.
But now it's the 28th Goodguys West Coast Nationals (presented by Flowmaster) in Pleasanton, CA. Now the cutoff year for this event has jumped all the way up to 1972. Surprisingly, I talked to a few people during the weeks leading up to the West Coast Nationals who didn't know the cutoff year had changed and the show was going to have plenty of their favorite years of musclecars! I guess these old school hot rodders don't listen to the radio or get online very often. Heck, these people probably still use a rotary phone, watch Betamax movies, and have never owned a car with fuel injection. Come on people! Get it together! It's 2014!
Beautiful cars and trucks were out in big numbers. The badass ratty and raw rides were in attendance too. I heard that Friday was busy and Saturday was filled to the gills. The Alameda County Fairgrounds was filled almost bumper to bumper and hardly a space left to park in the large grassy areas. When I was there on Sunday, it was a little less busy than Saturday, but still a great turnout…as you'll see in the pictures.
It seemed like there were a few less rat rods (or traditional hot rods) than there were the last few years. Maybe they just weren't there on Sunday, or there's a new trend of less patina and more paint. Either way, there will always be a place in my heart for bare bones raw rides.
The level of detail in the complete cars gets better every year. The winners at this year's West Coast Nationals were well deserved. Some of them were high-tech big budget cars and some were simply clean sanitary vehicles assembled with far less green…but a lot more blood sweat and tears! I'm always amazed at how great a well-prepped and painted car looks without a bunch of high-tech hardware. You can feel the busted knuckles and see the countless hours of sanded off fingerprints from color-sanding just by walking around the winner's circle at this show.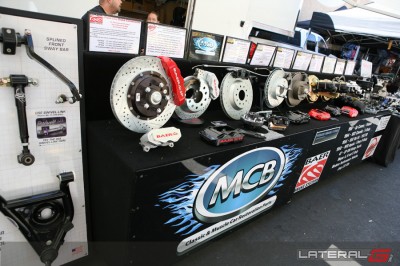 The manufacturer's midway was busy with plenty of cool parts. Art Morrison Enterprises was showing off their latest chassis with their sweet IRS. I've heard nothing but great things about this setup from multiple people, including Mary and David Pozzi. I can't wait to get a chance to experience the setup firsthand. I stopped by the Eddie Motorsports (EMS) booth and talked with good guy, Joe Rode for a while. He showed me around their booth and all of their cool products. The custom finished Bad Penny (of Steven Rupp fame) Optima Batteries battery bracket caught my eye. They have some great billet accessories. Ride Tech was in their usual spot showing off their suspension products to all the enthusiasts walking under the well-shaded thoroughfare near the event buildings. This same area was also home to some cool products and custom cars hanging around the Griot's Garage and Brizio Street Rods booths. It was pure class in this area. We got a good glimpse of some nice looking Flowmaster headers as well as some great parts from B&M and Hurst!
Out at the Wilwood booth, I caught up with Mike Maier showing off his famous autocross-scorching blue Mustang. He had some big news! Mike and Brianne Maier are creating their own new company in Livermore, California. I'm sure he's going to shine with all his talent, great attitude, and racing expertise.
Campbell Auto Restoration also brought out some sweet iron. One of their projects is a badass injected HEMI Cuda project. Another customer vehicle was George and Elizabeth Fallon's 1946 Chevy truck that I nominated last year for my own personal Top 5 vehicles of the show. This year it was in the Winner's Circle for Goodguys Chevy Truck Pick. Way to go Campbell Auto crew!
My top 4 picks of the West Coast Nationals:
Top Chevy pick of this year's WCN was Steve Schalk's chopped and dropped '66 Chevy II from Oregon. This car really showed well out on the grass. Great stance and an awesome mixture of parts! The ride and handling comes from an Art Morrison chassis with all its welds smoothed and edges radiused. Steve had us take note that the low stance is set with coil-overs, not with air ride suspension. The PPG Midnight Sapphire Blue is set off by big 17 and 18-inch Rushforth Livewire wheels. The cherry on top was the killer fuel injection system topping its big 588 Merlin Pro Block monster engine. It even had a front-drive distributor that looked right at home, not all crammed in the back of the engine compartment.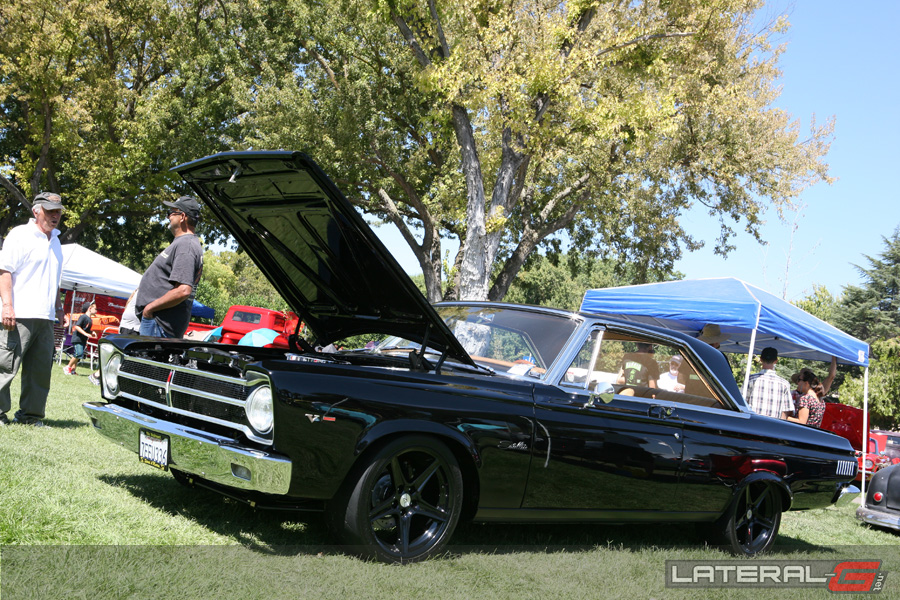 Top Mopar pick went to Chris Canadian's badass '65 Plymouth Satellite from Livermore. I have a soft spot for 60s Mopar B-Bodies. I saw this one from across the grass and was drawn to it. I love the deep black paint job and looked sinister with black big-inch ZR wheels wrapped in some tires that looked moderately worn, like they've been flogged on and enjoyed. The interior had a clean factory look. The look was carried over into the engine compartment too. The 440 looked somewhat stock, but I bet it's not on the inside.
Top Ford pick was a no-brainer for the WCN. It went to Takehito Yamahito's '32 Ford 3-window coupe! He also took home the Classic Instruments sponsored Classic Trophy Dash finalist award. We didn't get a chance to look under the hood, but it's powered by a 383 SBC backed by a TH350 automatic transmission. It rides on a single-leaf sprung straight axle and a single-leaf sprung Speedway Engineering quick change rear axle. The interior was simple and sanitary with a small array of aircraft-style gauges and simple unpadded aluminum aircraft-style seats. The black wheels and selected accents are a great contrast to the great looking olive-colored paint with a red rising sun graphic on top of the severely chopped roofline!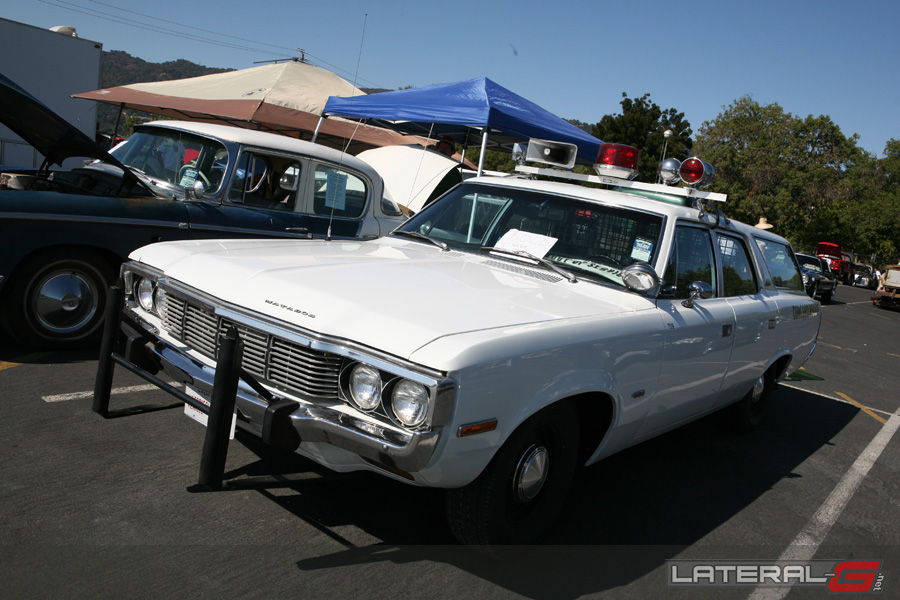 Top AMC pick goes to the '73 AMC Matador police K-9 cruiser was brought out to be sold by Pat Fawson of Concord. By the time I saw it, an enthusiast from Germany had purchased it. This sweet AMC cop wagon will be shipped to Germany and put into a car collection. It's a real retired Concord, CA police car with a 401 CID topped with a four barrel carb. It had tons of original police gear and hardware. This one is one cool cop ride! No more donuts for this one. It's time to switch to strudel.
Hope to see you all out to the West Coast Nationals next year. Don't forget, the cutoff year is up to 1972!
---