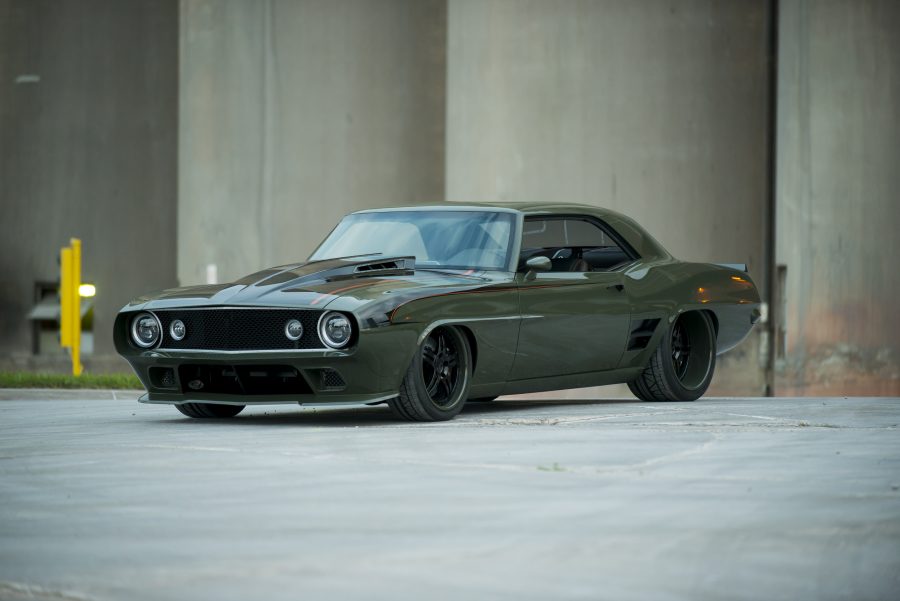 Ever since their inception 31 years ago, Dakota Digital has been designing, crafting and manufacturing some of the automotive industry's most sought after and top-of-the-line gauge systems on the market. But do you know what all goes into that process? We were curious too so we reached out to the industry powerhouse and got all of the details right here!
A Bit of Background
Dakota Digital has become a major player in the automotive world, providing the industry with some of the most unique and technologically advanced instrumentation systems available for all genres of vehicles for decades, and that's certainly not by mistake.
"Dakota Digital was started in a basement back in 1986," Dakota Digital's Greg Karpe recently told us. "The company is still owned by the founder, who is on site running machines, inspecting parts and generally busting his hump every day. His dedication and ability to see the big picture allows Dakota Digital to offer the best in aftermarket instrumentation and back them with a lifetime warranty. Our products are designed and built in the same facility in Sioux Falls, SD, from machining to laser cutting and printing to circuit board propagation."
Where It Begins
From a basement setup to a 40,000 sq-ft manufacturing facility, Dakota Digital continues to crank out exactly what the consumers want! So how does the company decide exactly what the industry is looking for? Simple– it's all about customer demand.
"When it comes to creating a new vehicle application, customer demand is our compass," Karpe explained. "Looking at past sales, phone and email requests plus getting out to shows and events to hear what people want and see what they are driving. We have a custom shop which can build an instrument system into nearly any stock bezel, and we look at trends there, too."
Once customer demand has been studied and reviewed, the design process starts and gets carried out in five distinct phases.
The Phases
"Coming up with a new product line can take years; it's much more than deciding what color to print the faces this time around," Karpe expressed. "Compiling a list of features, functions and style is a collaborative process; a new product line, such as the HDX series, comes to light when we feel our existing lineup leaves something to be desired."
"When we have a wish list of features and functions, the engineering teams get together to hash out what is attainable and how to make it happen," he continued. "They figure out what the systems should look like, what new design standards will be implemented and what existing can carry over."
During phase one, Dakota Digital's staff of electrical and mechanical engineers pour their time into many aspects, like designing control boxes and studying CAD files for fitment, all in an effort to make the company's wish list a reality. When it comes to a gauge system's look, it's all solidified in phase one.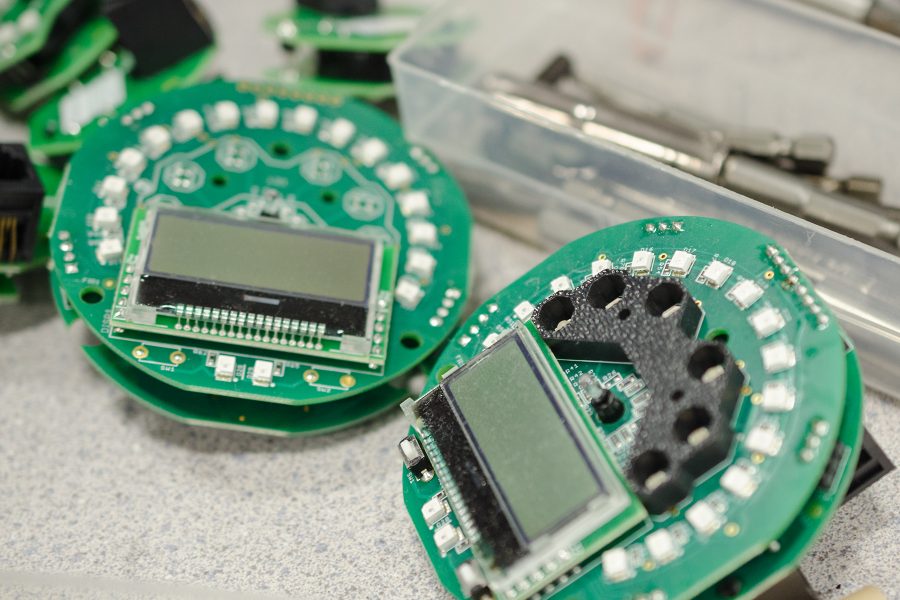 Using a 3D printer, Dakota Digital's engineers start mocking up component designs in phase two. During this phase, component clearances are scrutinized and ultimately, a 3D prototype is created and fit in a vehicle. In phase three, components are machined, the gauge face is printed and prototype circuit boards are created, according to Karpe. It is at this point that the entire package can be evaluated, tweaked and ultimately perfected before the system is finalized.
Phase four brings about the culmination of all of Dakota Digital's hard work. It's during phase four that metal finishing, powdercoating, chrome work and finalizing the circuit boards are done. 3D modeling and the compilation of components lists are also done during phase four, getting the finished product ready for manufacturing.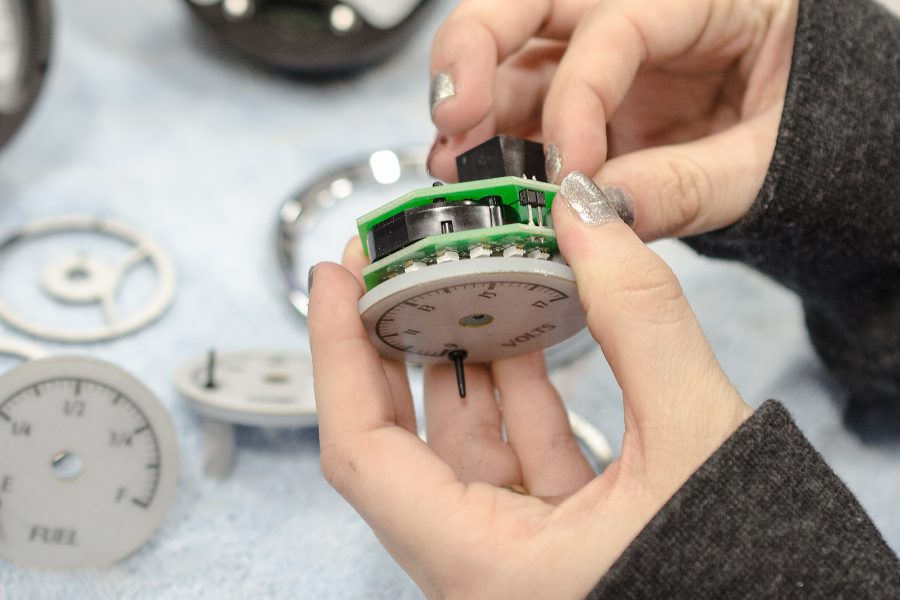 In the final phase, the company focuses on product packaging, catalog shoots and all of the other marketing aspects for the new gauge set.
"This is often when the public gets their first peek at a new product," Karpe explained.
While this is going on, production is working on the first batch of products. Once they pass final inspection, the manufacturing process is ramped up to high-gear and a new gauge set is finally introduced to the market!
What Sets Them Apart
With over 125 direct fit and universal applications in their catalog, as well as three different product lines, totaling over 280 gauge kits, it's easy to see why Dakota Digital is the automotive powerhouse it is. But it's not just the number of gauge offerings they have that sets them apart.
"Dakota Digital strives to set itself apart in a few key areas: direct, drop-in fitment, modern technology inside and out, and finally, simple installation," Karpe told us. "From the very beginning, we saw the value in going the extra mile to offer direct-fit instrument systems. Loose, round gauges are fine for race applications, but the majority of car builders aren't interested in cutting up their dash. Bringing direct-fit products to market is the only way to fly."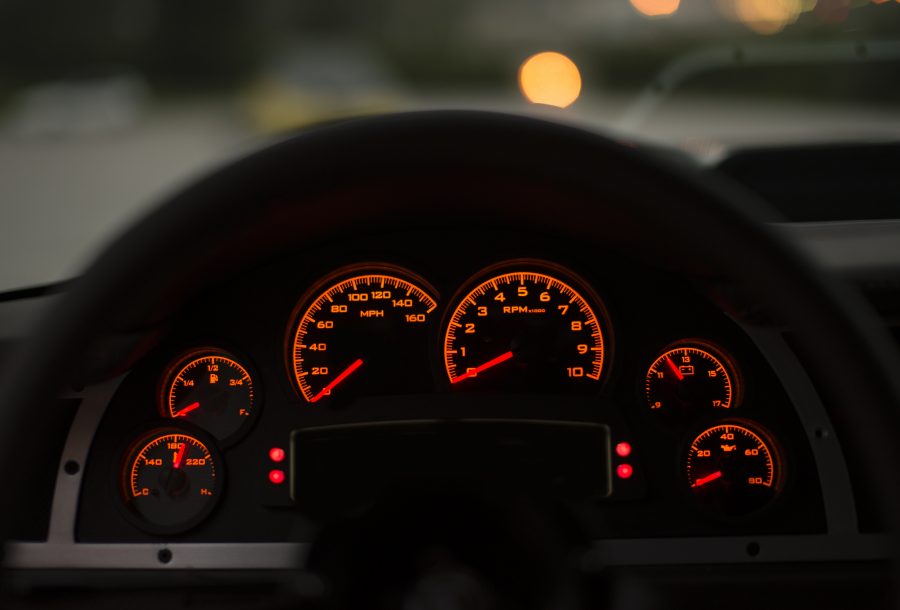 From their unique control boxes, to the comprehensive message centers built into each system, Dakota Digital offers more technology, ease of use, streamlined installation, information and design opportunities with each gauge set they sell. For the pro-touring crowd, that means a whole lot of options when it comes the look and feel of everyone's individual rides while getting all the readings and information you're after in one compact system.
For more information on Dakota Digital's most popular gauge sets for the pro-touring community, like the VHX and HDX series gauges, or any of their other hundreds of offerings, be sure to visit their website at DakotaDigital.com.