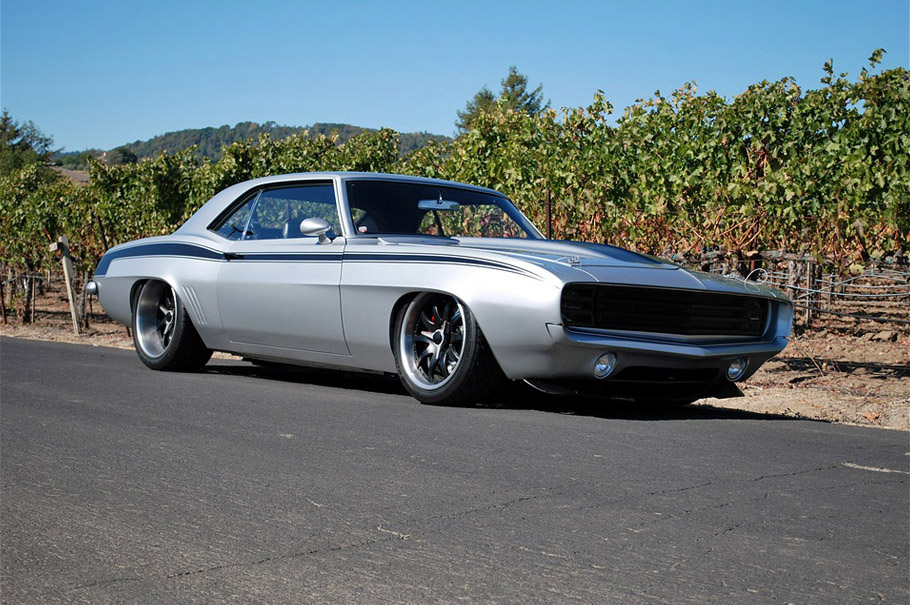 My story starts out like so many others. I had a good solid car that I'd bought a few years earlier which was a great five footer but had a few issues. The 15 year old lacquer paint was checking and there were rust bubbles surfacing in typical areas so I decided it was time to correct the problems. After talking with several shops I decided to have West Coast Auto Craft freshen her up. Well, as we all know, one thing leads to another and, well, here we are today.
Having been a member of Lateral-g for a few years I had seen many incredible builds. Chris, the owner of WCAC, has great vision and is very creative. With his racing background, our common interest in old Trans Am series cars and my love of cars like Big Red we had a pretty good idea of the direction to go. Chris had so many good ideas, one of which was the grille. After a year of being persuaded I finally gave in to the idea but needed to see it first. He and his graphic designer tweaked a rendering at least a dozen times before they got it right. Once he showed me, I was in. Everything to me was perfect.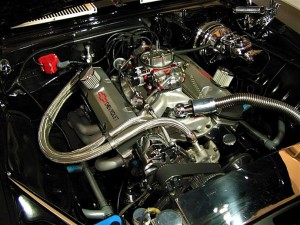 The Concept: Our goal was to create an aggressive in your face Trans Am style street car with a focus on pro-touring performance and subtle modifications. I didn't want to go over the top on anything, rather, take the less is more approach. It wasn't going to be an aftermarket bolt on parts car and Chris wouldn't build one anyway. He's a craftsman who wanted to build a hand crafted piece of art that would remain timeless.
The Project: Since we needed new quarters and trunk pan we decided to take it a little further. Chris widened the rear of the car by stretching the quarter panels out about 3.5″ and the front fenders about 2″. Rather than flaring the panels he stretched them with a combination of power hammering and the use of a wooden fixture he built for the porta-power to use from the inside. This also meant that he had to move the doors out a bit and make wider rocker panels so the body lines would maintain symmetry.
Next was the front end. Chris made a custom grille out of perforated sheet metal. The cross bars were formed in special tooling he made for his Pullmax machine. Extruding those bars through the machine without them twisting was near impossible. He ended up making almost 40 bars to get 5 good ones. Every row of holes had to line up perfectly. The grille was then sunk into the front end 2 inches deeper than stock requiring substantial modification to the radiator core support. Once combined with a hand made grille surround and front bumper then married with the new valance and spoiler it really gave us the look we were after.
In the rear they hand made a new spoiler which is longer and shorter than the original and tucked the rear bumper tighter to the body. There are so many other small modifications to the body that most people wont notice such as squared off body lines above the drip rails on the roof, squared off rocker panels, and all of the body lines were finished extremely sharp and straight. The paint is a custom mix Spies Hecker silver with Rally Matte black stripes over the clear.
The firewall and inner fenders were smoothed and the subframe was tig welded and also smoothed. An aluminum close out panel was made to cover the radiator and radiator support which also contributes to directional cooling. The headers were modified to clear the steering components. The front and rear suspension has all been upgraded. The rear 4 link was modified to allow the car to sit lower without compromising pinion angle and allowing for greater adjustability. The wheels are 18's front and 19's rear. The WCAC guys blacked out the centers and backs with Rally Matte black, hand brushed the hoops and installed a one off set of vintage looking knock offs.
Keeping with the vintage theme I stayed with the naturally aspirated 383 500/500 small block and stock appearing interior but with subtle enhancements to improve comfort and safety.
It is amazing to see something go from a concept to a rendering to fruition. Since getting the car back we have ran it down the quarter mile and to a recent Good Guys auto cross event. I look forward to more events and continuing to dial her in.
See the complete feature and slideshow
See all 100+ Lateral-G Feature Cars