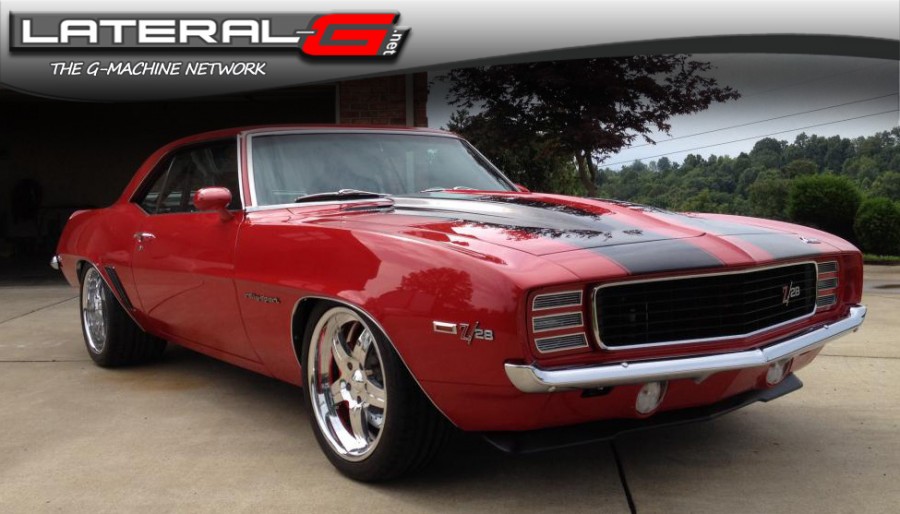 Story by Jeff Carpenter
This project came along fairly quickly with the unplanned sale of my 69 Camaro that I was just finishing up. I needed a new project so my best friend had this car that he and I had just started replacing every piece of sheetmetal on. It was a complete rust bucket. He had lost interest in it so I just bought it from him. Luckily I have a great wife who also loves cars and decided that since I had a pretty good amount of money to start with from my previous sale that I could now build the car that I always wanted.
My last build was a super nice car that I sold to a friend but I wanted more. I had a plan in my head of the car that I wanted so I made a list and went on a shopping spree. Luckily for me I am very fortunate to be able to do almost everything myself in my home garage. I was a painter for several years so I had that part covered. I have to give Lateral-G a lot of credit for this build. I have learned so much from the pros and new builders on here. I knew that I wanted a nice car to go to local cruise-ins and also hit some car shows. I really enjoy all of the people you get to meet at car shows. I wanted this car to maintain a fairly stock appearance but with all of the good DSE suspension.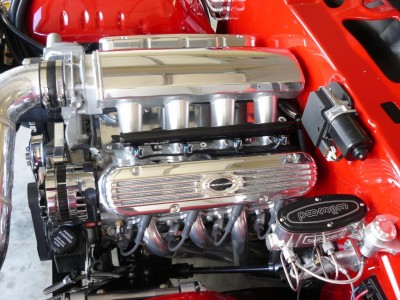 So as far as the car goes I started off with calling Shaun Carter @ SMC Performance in Michigan and had an engine package put together that would be fun to drive with very usable power. He built an LS3 with a great cam, valve work, and a few other tricks that puts out about 550hp. I ordered up a complete TKO 600 kit from Keisler Engineering and went with a Moser Engineering 12 bolt rear with 3:73 gears. I finally got the wheels that I had wanted with the Boze Speedsters and Michelin PS2 tires along with Wilwood brakes at all four corners. When it came to suspension I had my head set on the DSE subframe and Quadralink rear suspension.
When I started on the body I really was not satisfied even though we had just replaced every piece on this one. I knew this car was for me and to get it right I decided to replace the quarters and fenders again with N.O.S. parts to get the great fit and gaps that I wanted. I spent many hours in the garage cutting, grinding, and welding to assure great fitment in the body lines. I am very satisfied with the outcome. When it came to the paint I did all the prep work at home and used my brothers paint booth for all the spraying.
The interior is very stock appearing other than the DSE rollbar. I went with a set of Recaro Specialist's in black leather. Will and Homer Hudson at Hudsons Hot Rods are doing the rear seat to match the fronts. Clint at The Shop LLC wrapped my package tray that I fit around the rollbar and made the kick panels. The door panels, carpet, and headliner are all stock parts. I also added the Covans Thunder Road dash with Autometer gauges. I purchased a set of Clayton Machine Works pedals and few parts from Lokar such as the shifter, e-brake, and trim rings.
CAR SPECS:
SMC Performance built LS3
Comp Cams camshaft
Patriot Gold valve springs
Custom sheetmetal intake
Hooker Super Comp ceramic headers
Vintage Air Polished Frontrunner
Billet Specialties valve covers
Tremec TKO 600
Keisler Engineering Hydraulic clutch and crossmember
Entropy Corporation Radiator
Moser 12 bolt rear with 30 spline tru-trac
DSE subframe
DSE Quadralink w/sway bar
DSE fuel injected stainless tank
DSE rollbar
DSE RS electric headlights
DSE wiper motor
Braking System is all Wilwood
Front 13″ 6 piston
Rear 12″ 4 piston
Polished 1.25″ master cylinder
Proportioning valve
Wheels are Boze Speedsters in full polished
Rears 18×12 w/335-30-18 Michelin PS2
Fronts 18×8 w/245-40-18 Michelin PS2
Paint and Body done by me
Paint is Tornado Red in Global basecoat from PPG
Clear is BASF Glasurit
All new sheetmetal
NOS quarter panels
NOS fenders
Interior is all new
Recaro Specialist S seats in Black Leather
Rear Seat being done by Hudsons Hot Rods
Factory custom deluxe door panels
Trim Parts one piece carpet
The Shop LLC custom package tray and kick panels
Clayton billet pedals
Tilt column by Jim at GM TILT
Pilkington Glass