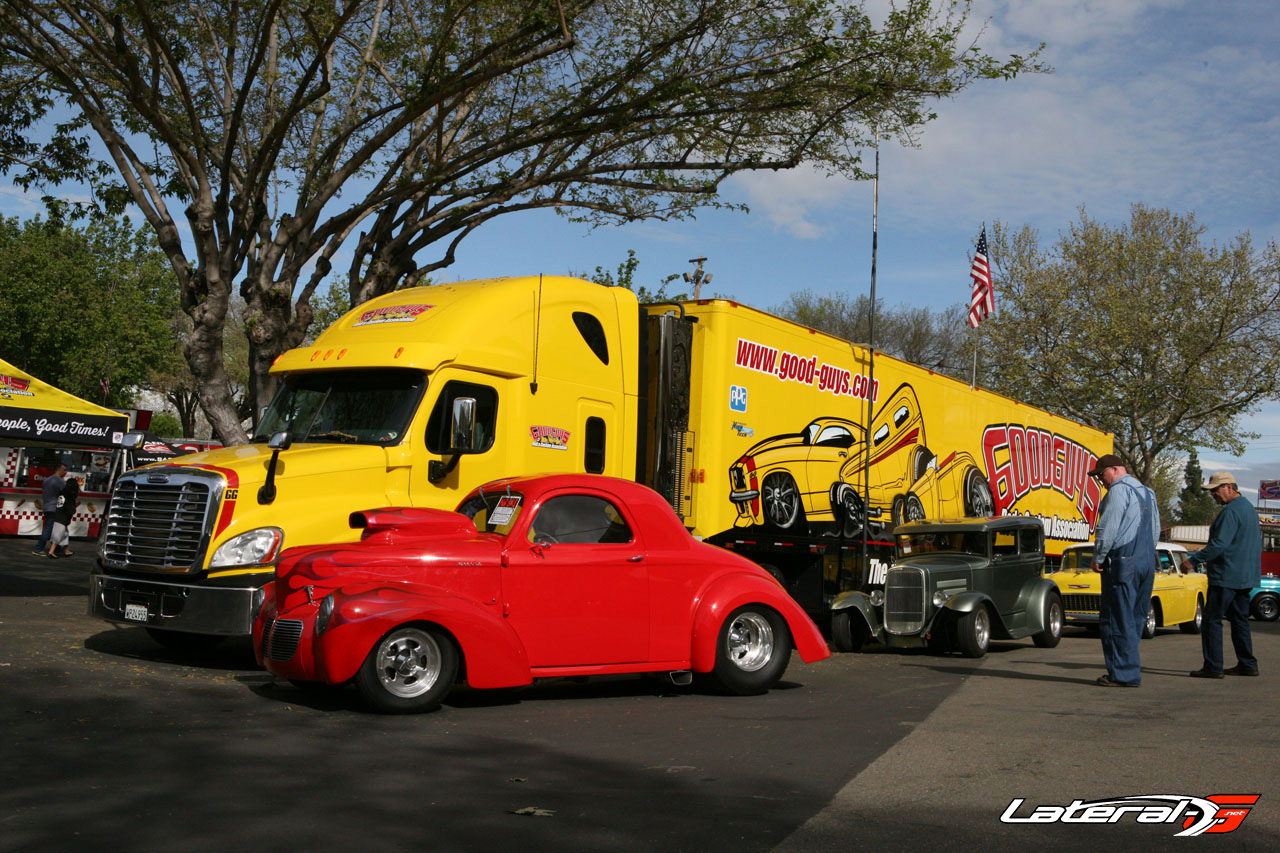 By Tony Huntimer 3-25-16
Fun! Rain or Shine!
Unlike the Goodguys Street Machine Nationals in Columbus, Sunday is always a good turnout in Pleasanton, CA…unless there's rain in the forecast. I've been attending this event since the 1990s. It seems like the All American Get Together has been rained on more times than not. I know, all of you from the Midwest are laughing at the thought that Californians are complaining about a little rain. Well, we're not used to getting so much of it, we've been in a drought for a while.
I don't have a garage right now, so when it's raining outside, not much has gotten done on my car project this last Winter. I've been trying to get a good window of weather to get the Camaro running. The plan was to get the Camaro running and make the maiden voyage to Goodguys on Saturday. I got on a roll, then things needed more mods to fit. DOH! This meant the maiden voyage got pushed to Sunday. Then the forecast changed to rain on Sunday. I took a chance and worked on the car Saturday, hoping the rain would hold out on Sunday. There's nothing like watching the weather every couple of hours to plan out your weekend!
In the end I didn't get the Camaro running, but I couldn't miss the whole weekend of Goodguys. By Saturday, the forecast of rain cleared for Sunday. The show was on! But then, somehow rain crept back into the forecast by dawn. A little threat wasn't going to stop me. It didn't stop a lot of people.
When I arrived on the scene in Pleastanton, I could hear angry engines revving in the distance. That familiar sound was coming from the autocross, so I made a mad dash to that side of the fairgrounds. Let's face it, I cover this event for all of you on Lateral-G.net, so you'd probably rather see more pictures of cars tearing up asphalt and killing cones than sitting motionless with fresh coats of Carnuba wax. If this is true, you're in luck!
Some familiar faces were present at the autocross, along with some new ones. There were a lot of cars waiting for their "turn" on the course. This was surprising, considering that there was a threat of that wet stuff we've gotten all-too familiar with this year.
Corvettes were out in force. It seems that the word has gotten out…if you want to be competitive in the higher ranks, there's a Vette advantage. Brian Hobaugh has known that for years. I also saw Greg Thurmond's  C2 and Jane Thurmond's C2 too! What a great pair! There was an early red C3 out there proudly flying Mike Maier decals too.
It seemed like everyone was a little adhesion-challenged on Sunday. There was a visible rubber wear pattern on the course from the Saturday autocross. Brian Hobaugh got a little loose in the middle of the course and decided to keep his foot planted on the loud pedal. You can see the sequence of cone-carnage photos and tire smoke!
David Carroll brought out his LS-powered Datsun Zcar. He made some serious upgrades to his car over the last year. His Z's status elevated from tough to badass! He upgraded to an Optima Battery, DJ Safety seatbelts and safety gear, Autometer gauges, Hurst shifter, Driven steering wheel, Falken Azenis 315s all the way around, Wilwood brakes (thanks to some mods performed by Mike Maier Inc), Jongbloed Racing wheels, Tilden Motorsports engine upgrades, Comp Cams, K&N filter, Centerforce Clutch, Southbay Driveline HD axles, Flowmaster Mufflers, and more. Some of those upgrades were made possible, thanks to being a member of my personal website: www.TestCarDatabase.com.
David Carroll also made great strides on the autocross thanks to the help of friendly competitors in our great community and over at the American Auto-X Series (found at www.americanautox.com).
He wasn't able to make it out Saturday, so he had a lot of work to do on Sunday. His first run of the morning was a fast 61.255! That was all it took to get it him on the top of the board and that's where he stayed all day! The track conditions seemed to keep him and everyone else from getting a better time. It only takes one good run to put you on the top and in the Winner's Circle.
The autocross was going strong up until about 1:00 when the rain drops started falling, then it was all over and the competitors started dispersing quickly. Since the autocross was going to be over at 3 PM, there was no use in trying to wait out the rain. This was bad news for all the competitors in the Street Machine class, who had been trying to knock David Carroll down a few slots on the leaderboard.
In the end, the top results of each Autocross class were:
Shootout Winner: Mary Pozzi – In her awesome Lingenfelter and Art Morrison Engineering-equipped '72 Camaro!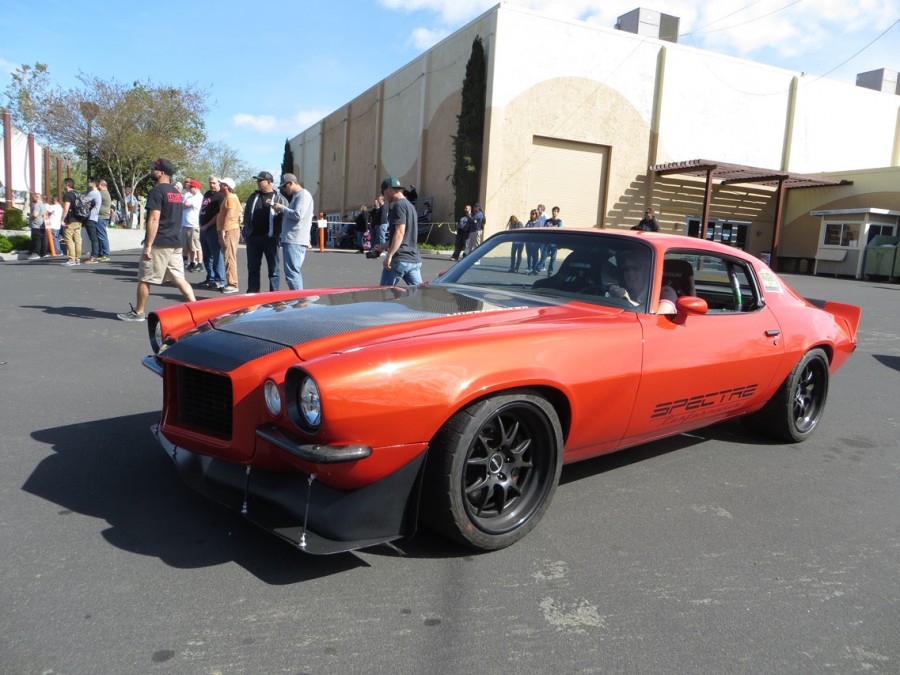 Street Machine Winner: David Carroll – In his little LS3-powered 280 Z!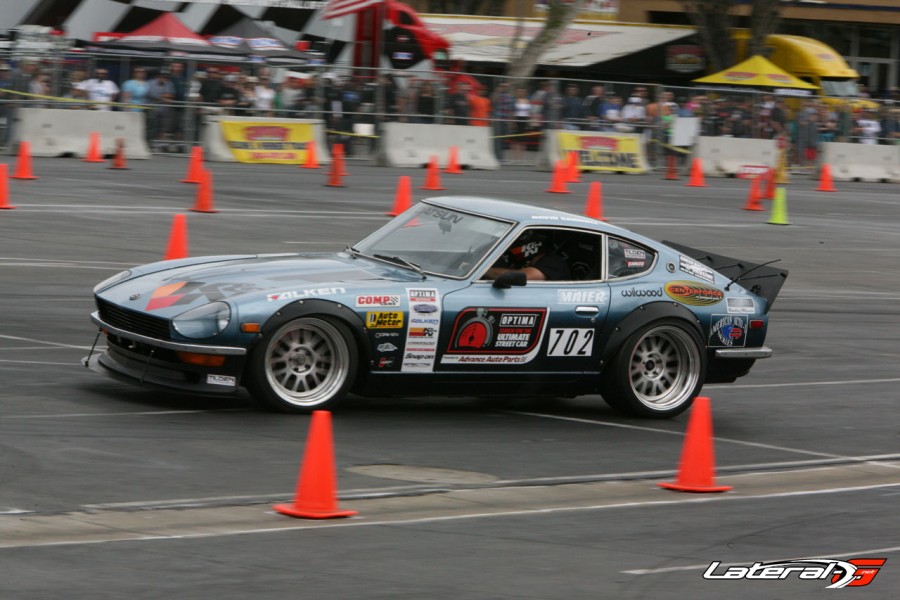 Truck Winner: Daniel Rojas – In his '72 El Camino!
For more results, check the www.good-guys.com website
While dodging the rain on my way back to my car, I saw a badass black and grey '56 Chevy out in the vendor area. I had to stop and check it out! It was slammed down with (brand) wheels, Baer brakes, and an Art Morrison Engineering chassis. Under the hood, the car was just as spectacular with a well-dressed LS topped with an awesome sheetmetal intake. Chris Holstrom  and Mark of Chris Holstrom Concepts came down from Puyallup, Wa. to attend their first Pleasanton Goodguys event as a vendor. They were pleasantly surprised at the turnout and the amount of interest at their booth. It was nice to get out of the rain and to talk cars with two great gearheads.
Mike Maier still had his booth on display and his badass Mustang grazing in the grass. It's not often that I get to see Mike's Mustang off the autocross course and without a herd of people blocking my shots. It was raining, but it was worth getting a little wet to stop and snap a few extra shots.
Mike Maier introduced me to a young guy named Marcos Mora, who was at the show interviewing hot rodders for a high-school presentation project. Mike did an interview and so did I. Afterwards, I asked Marcos if he'd had a ride-along in one of the autocross cars. He hadn't, so Mike set him up as a passenger in the Maier Corvette. When Marcos got back from his ride, he was completely out of breath and couldn't stop smiling. I think he had a good time.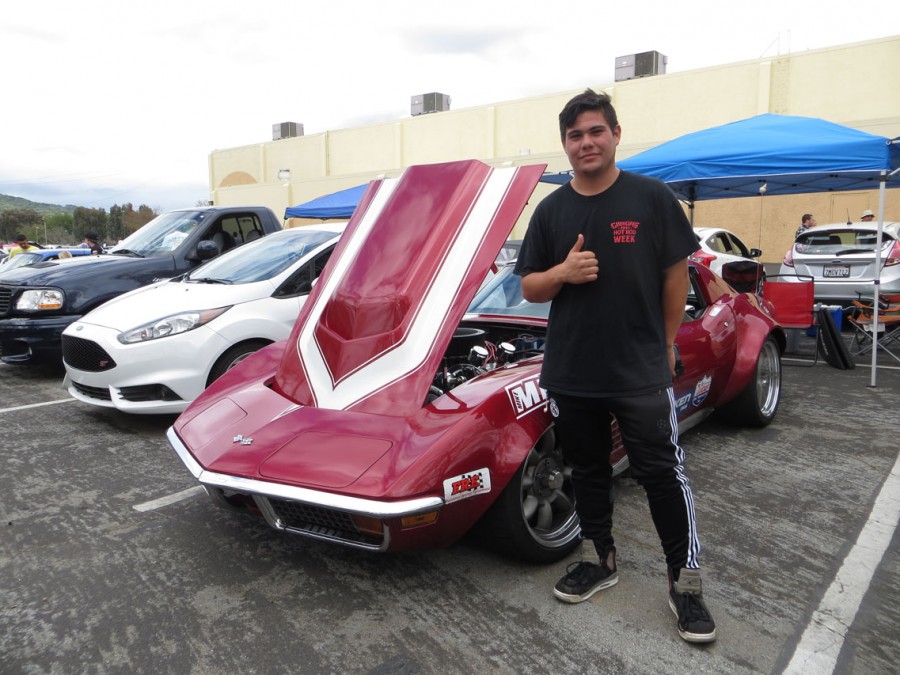 One of my favorite trucks at the event was Matt Mielczarek's slammed Chevy C10. He was out at the autocross too! His building efforts won him the Style and Engineering Award!
The show was great as always. A great bunch of guys and gals having a good time with their cars and trucks. One thing is for sure, if Californians want to end the drought, the Goodguys should schedule more Springtime car shows.