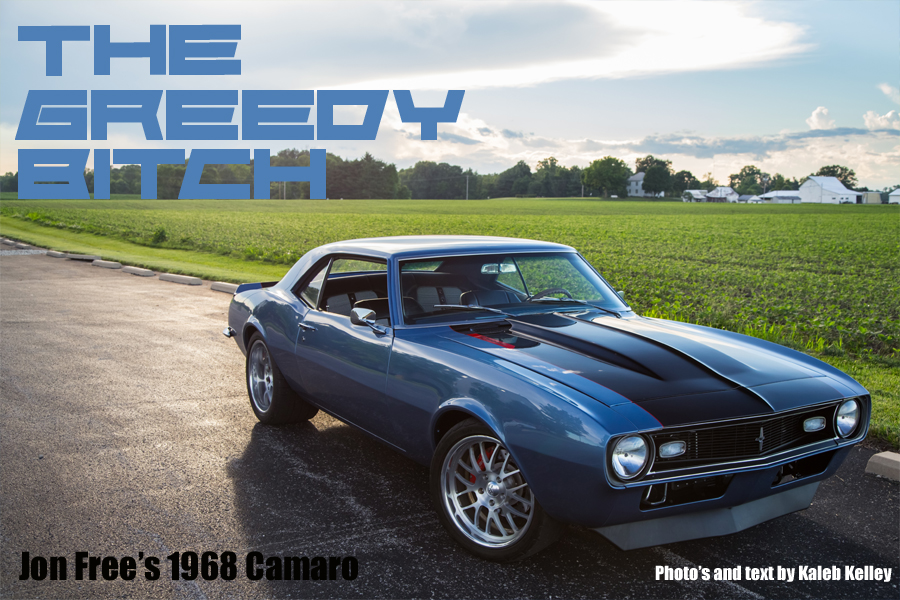 Special thanks to Classics Daily for the text and photo's!
During the Hot Rod Power Tour 2015, I stumbled upon a first-gen Camaro outside of my hotel in St. Louis. A Camaro on the Power Tour is a common thing. However, Jonathan Free's '68 stood out from the crowd, which is hard to do with such a common car. I was drawn in by the interesting paint color, killer wheels and a license plate that obviously had a story behind it. Shortly after I picked up my jaw, Jon walked outside and we began chatting incessantly about his awesome car.
Like most every man on the planet, Jon had an unconscious draw towards the first generation Camaro's curves and nice proportions. The first generation of the legendary pony car has an IT factor that evokes an animalistic desire in almost every car guy. I prefer the '67 and '68 over any other year. The body lines on both are very clean, but a few small details separate the two. The '67 model has wing windows in the front, which can be a pain to keep sealed. The '68 has a one-piece front window, but ugly side marker lights were added that year for the safety's sake. Jon has the best of both worlds with his '68. Ken's Paint & Body smoothed the side marker lamps to give it the same clean element as the '67.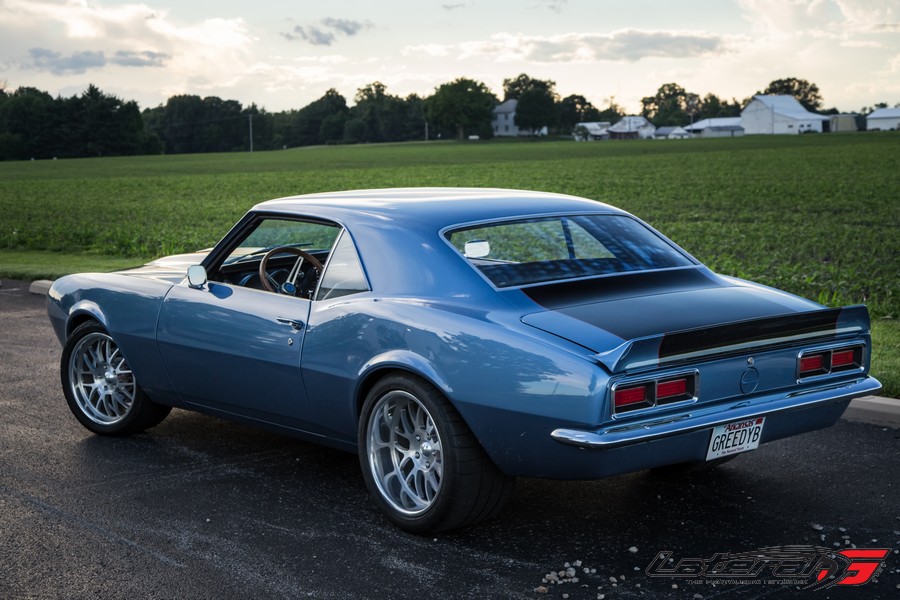 Most Camaro's are typically Torch Red or Tuxedo Black. Jon dared to be different with his paint and decided on Chevrolet Light Blue. However, he said that the solid paint was too plain for his taste so he decided to implement some creative striping. He had the body shop use a single black stripe down the center with a red pinstripe along the edge, instead of the common dual SS stripes. The red pinstripe widens to the center as you get closer to the windshield. Chevrolet is scrolled in the wider section in black along with a classic Chevy bowtie. With so many first gens still on the road, it is hard to give the car your own flair without being accused of copying somebody else.
Power Plant
Some cars just look the part, but this ride can perform as well. Under the hood is a Chevrolet Performance LS3 with the .525"/.525" LS Hot Cam to produce 480 horsepower and 475 lb-ft of torque. He may have been able to buy a junkyard LS and build it to make similar numbers, but the crate motor comes with a handy warranty for 2 years or 50,000 miles. Not only does this ride have serious power, but it has air conditioning via a Vintage Air unit. On a trip like the Power Tour you start to become jealous of all the folks with their windows rolled up enjoying the nice cool air as you sweat profusely. He was one of the few people on the Power Tour who could roll his window up on a 100-degree day without cooking from the inside out. While people like Jon sat cool in comfort, people like me were left sweating like Mike Tyson at a spelling bee.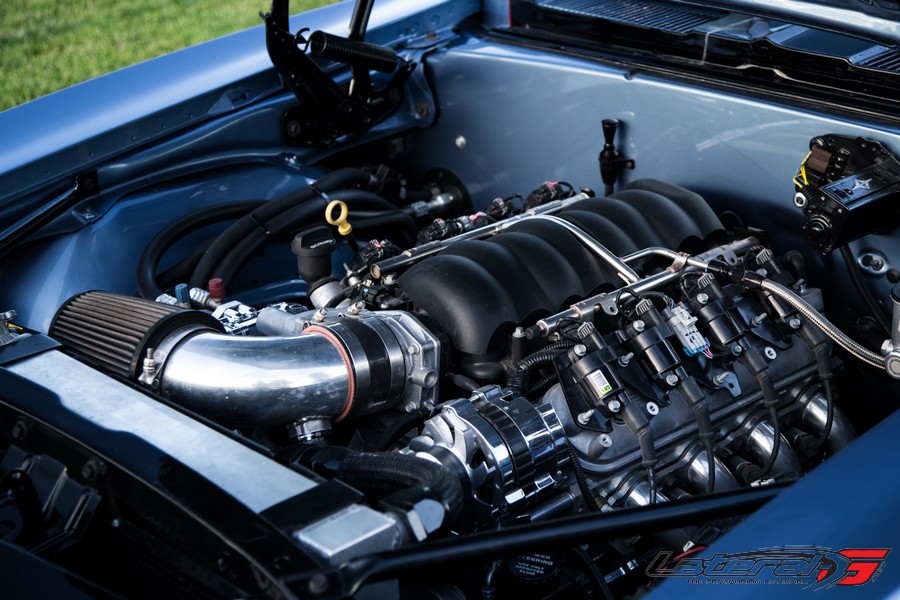 All of that power is sent through a 4L70E automatic transmission also sourced from Chevrolet Performance. Their 4L65E is rated at 424 lb-ft of torque, so he had to upgrade to the 4L70E which has a 495 lb-ft capacity. The transmission may spin the driveshaft efficiently, but without a proper differential, you aren't moving. Many of his friends told Jon that he needed to get a Ford 9-inch to handle the power, but he refused. This ride was going to remain Chevrolet from bumper to bumper. He purchased a Moser 12-bolt with 3.73 gears and a Detroit True Trac limited slip. The 3.73's coupled with the 4L70E's 0.7:1 overdrive takes the final drive down to 2.61:1 which is very nice for highway cruising.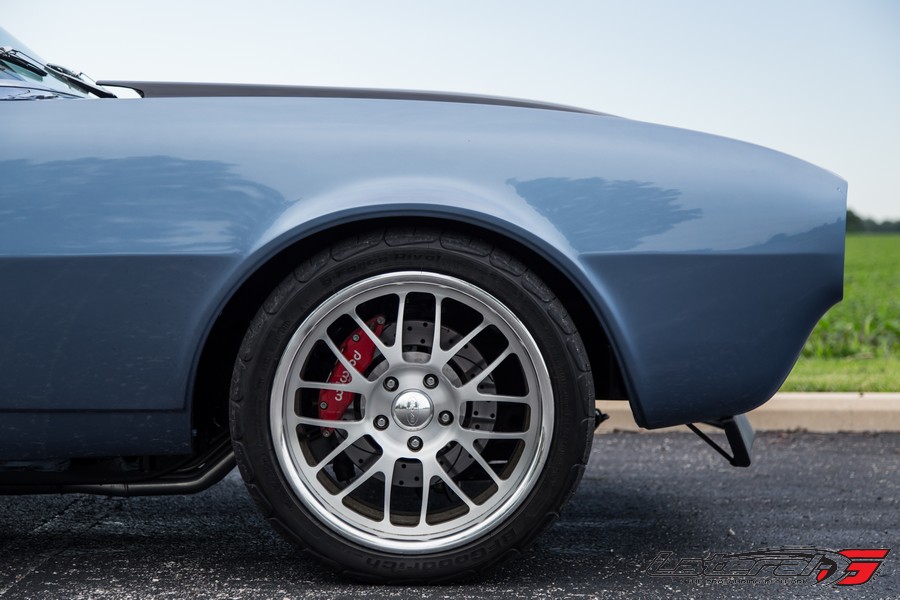 Suspension, Brake and Wheels 
Throwing a new fuel-injected powertrain in your classic is a great idea if you want a cruiser. If you want to turn your ride into a true driver's car, you must delve into performance suspension upgrades. Jon decided to go with RideTech's complete coilover system to accomplish this. The system includes their StrongArm control arms, bolt-in 4-link and adjustable HQ-series coilovers. RideTech has figured out how to package a complete system, as long as you have a popular car like the Camaro. Why piece together parts that may not work well together when you can order this system which was engineered to do so?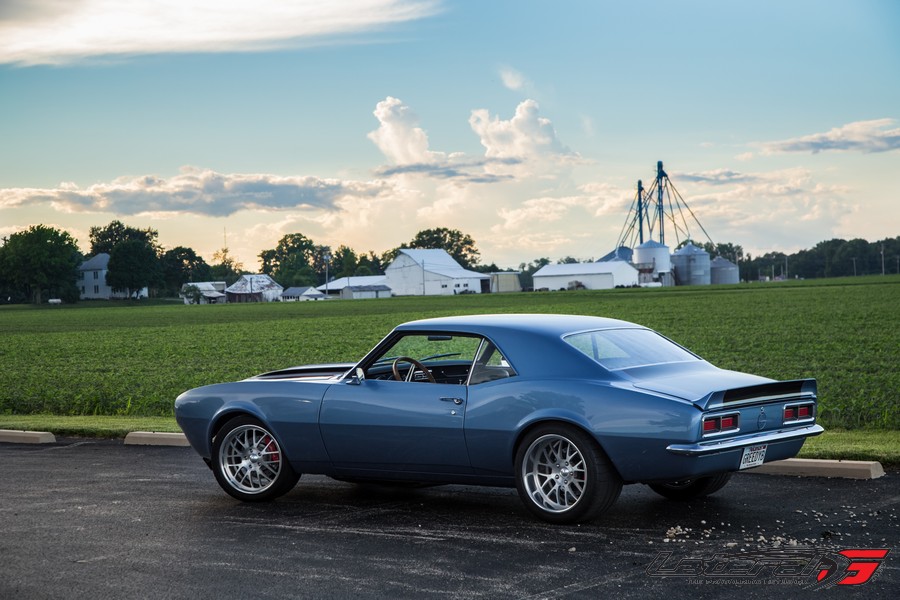 The body of the car looks great, but good paint can only take you so far. The Camaro's stance and wheels give it the pop it needs and brings everything together in a nice package. Boze Forged provided the 3-piece rollers with their mesh-style design named ProTouring. The centers are finished in a brushed satin finish and the polished lips are standard issue. They measure 18" tall and 9" wide in the front. He wanted to give it a more aggressive stance with wide rear tires, so he had them cut 3″ wider in the back. The wheels are wrapped in BF Goodrich G-Force Rivals and he plans to upgrade to the Rival II's on his next tire change. The rear wheels are wrapped in a fat 335/30R18 tire which translates in 'Murican terms to approximately 13.2" of contact with the pavement.
Behind the stunning wheels are big Wilwood disc brakes.  Most people run 6-piston calipers in the front and 4-pistons in the rear, but Jon decided he might as well go all the way.  The rotors measure 12.19" in the front and the rear with Wilwood's DynoPro 6-piston calipers all around. No shortcuts on this mean ride!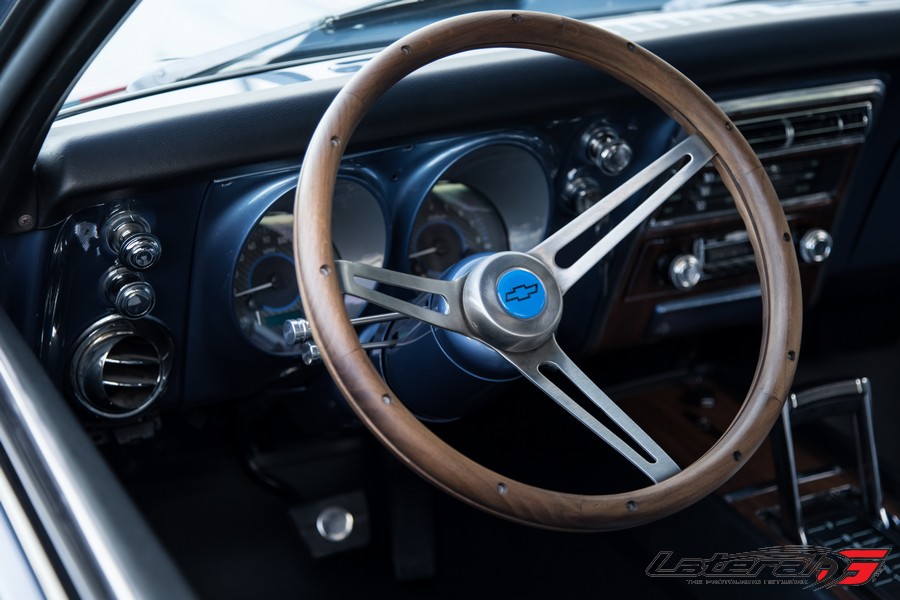 One Cool Interior
The interior is just as cool as the rest. It has TMI Products Sport XR bucket seats with contrasting white stitching and black grommets in the center. He gave them a little twist with Houndstooth inserts. This creates a classic vibe and ties in well with the white stitching. Jon incorporated cup holders into his center console to give his Big Gulp a home of its own. It may seem unfair to have cup holders in a classic, but wouldn't you want them on the Power Tour? Rounding out the dash is a set of Dakota Digital VHX gauges.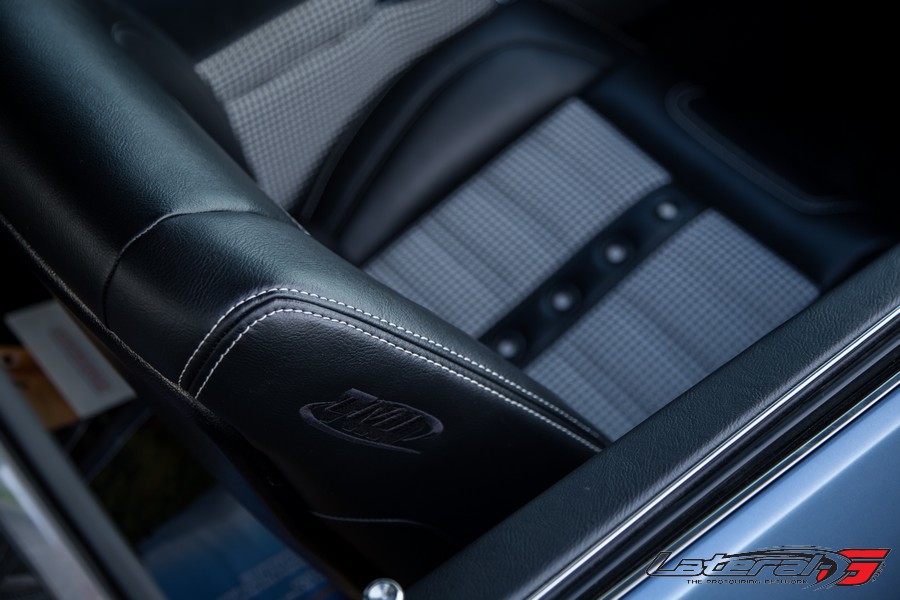 Jon built the car himself and invested countless late nights in the shop building his beloved Camaro. He gave everything he had when building this car; every minute off of work and every penny he could find. Jon's wife, like the wives of many car guys, didn't appreciate the time or money spent on the Camaro. One night, in a fit of frustration, she accidentally named the '68.  Jon walked in after 2:00 AM and she said, "I'm sick of that greedy B!%$#! She's getting all of your time and money!" As you can imagine it quickly became a joke between them. She loves the car and is proud of the name she gave it. The blend of modern performance and classic looks seem to have made up for the Camaro's greedy tendencies.