TMI Product's 1972 Nova
When the time came for TMI Products to unveil a new line of seats at SEMA, they wanted to go above and beyond. "We had our traditional outlets, but we really wanted to wow the crowd and show people what we can do and how they look," stated Marketing Director Larry Ashley.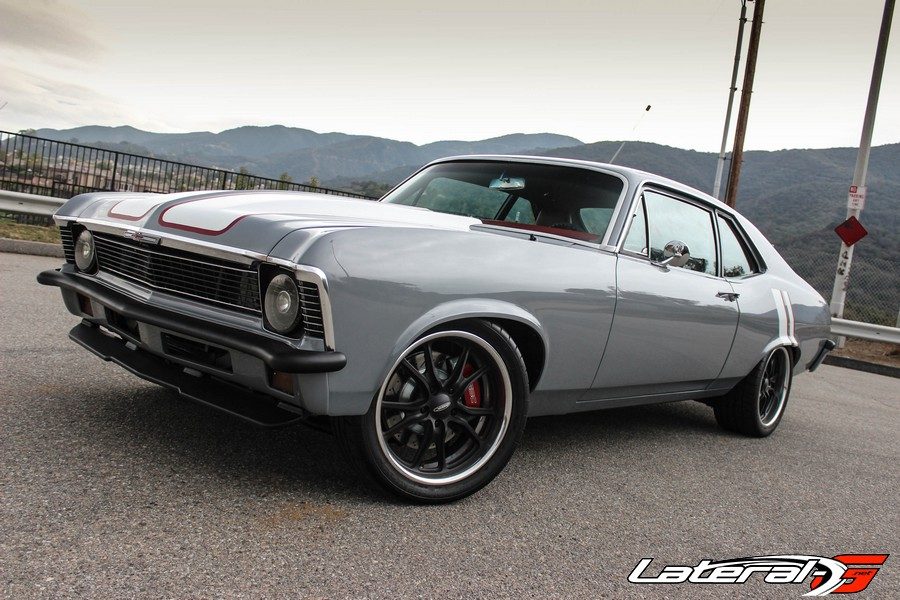 For TMI Products, they have done it all. After being in business for over 35 years they know the ins and outs of upholstery and how to build an amazing seat. But they weren't satisfied with having the correct amount of stitches in a door panel. With Larry's vision, they started to make completely custom-looking upholstery but at a great price. In order to help launch these new seats, door panels and other upholstery items, they decided to have a car to showcase it in.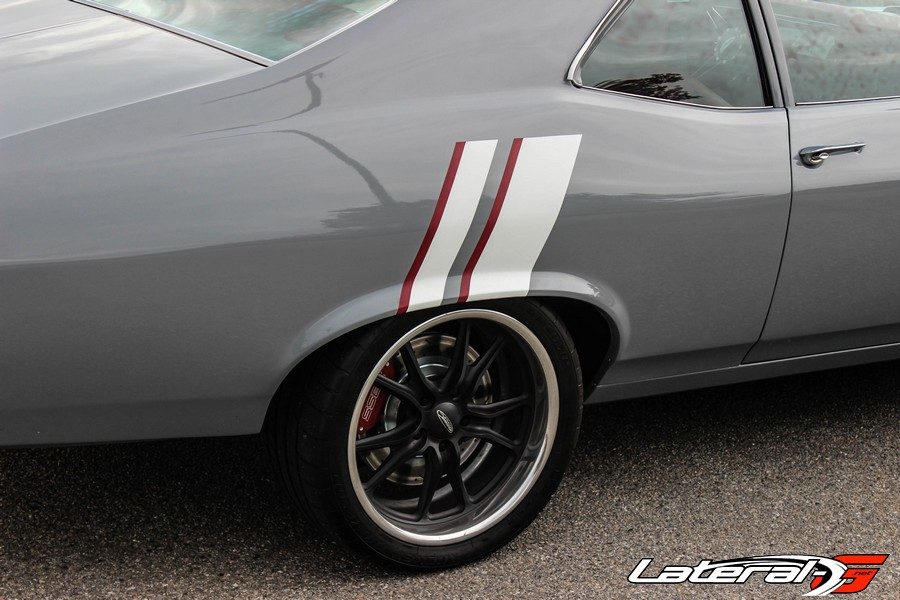 The car they chose was a 1972 Nova. "The car needed a ton of work, it was a complete basket case. We restored the entire car in a little over six months before the SEMA show," explained Larry. Since the seats were going to be pretty radical, they wanted a car that could match it. Larry decided that the Pro Touring look was what he was going for with the Nova. "I sketched the entire car up on the computer to really nail the look of the car before ever turning a wrench," continued Larry.
Paint and Body
Starting off with the paint and body, they sent the car off to Johnny's Auto Body that has painted a few SEMA cars for them in the past. They started by bolting on a new 2″ cowl hood from Dynacorn, then painting the entire car with PPG Scion Cement Gray. To tie in the interior and add some flare TMI added some graphics courtesy of Gatorwraps. Once back from paint, the car was sent off to JH Restoration for assembly and finishing.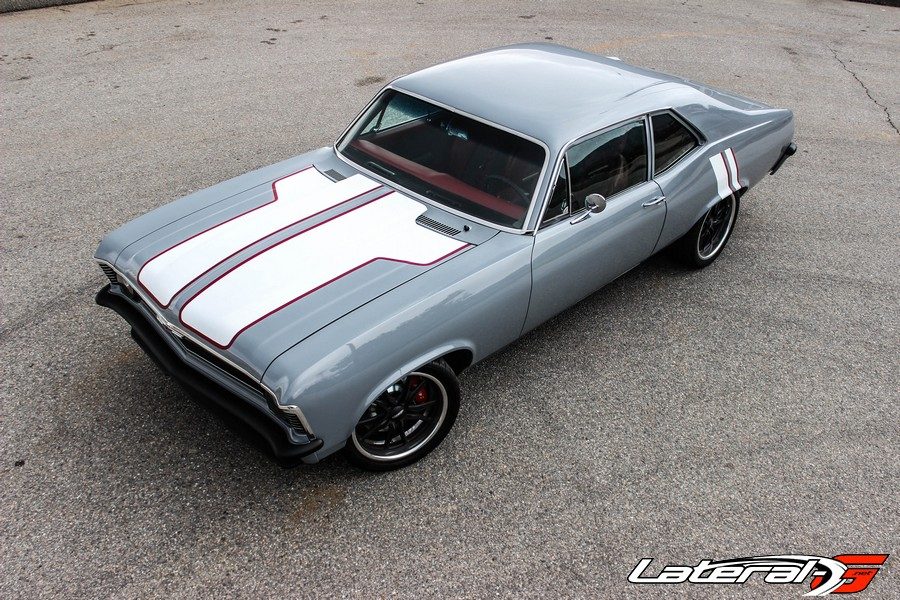 The front bumper is a custom fiberglass three-piece bumper they made in house along with a two piece bumper they made as well. In order to clean up the lines a bit they also had the trunk and door locks shaved off. The sinister looking headlights are Spyder projector headlights with an LED ring. They then called Ground Up restorations to get all new chrome and window glass for the car.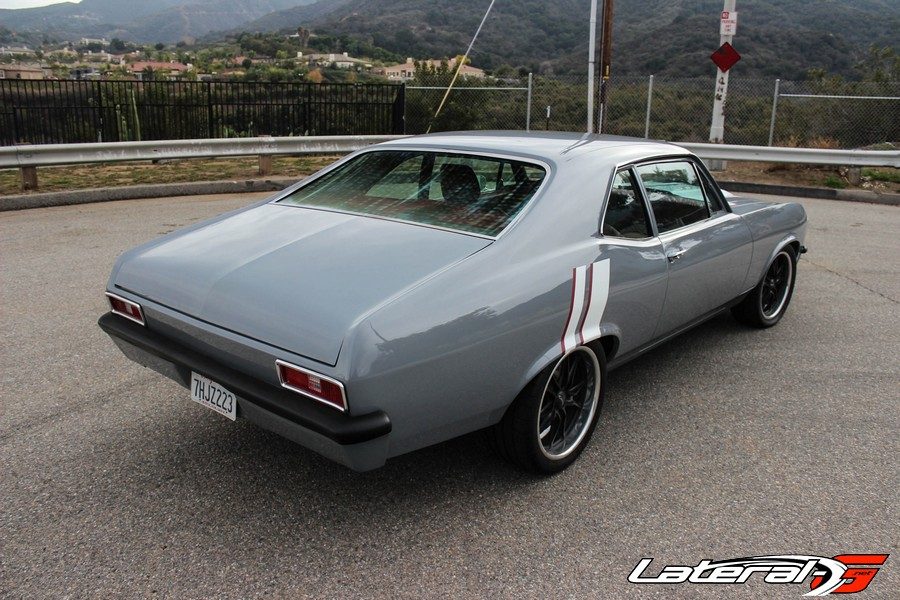 Suspension, Brakes, and Wheels
Under the car they knew the little Nova needed a lot of help. They wanted the car to be able to handle but be easy for anybody to hop in and drive at the same time. They started by sending the stock 10-bolt off to DiffWorks to be rebuilt and good as new. Installed on the new rear and in the front is a complete disc brake kit from SSBC to make sure the Nova stops in plenty of time.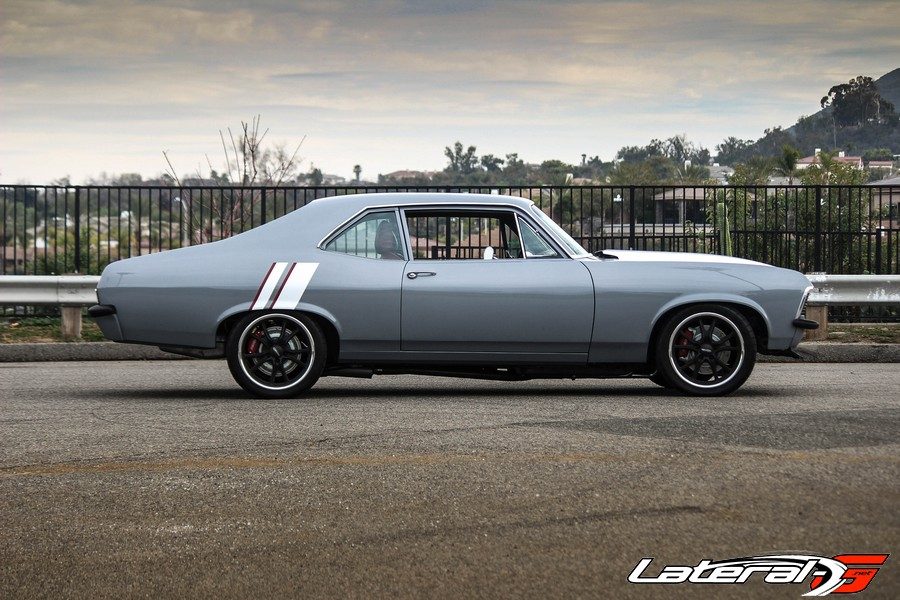 For suspension they went with a complete Church Boys Racing front end, which has all new control arms. The rear leafs were tossed in favor of a complete Church Boys Racing set up as well. At all four corners Viking Performance dual adjustable coil-overs were utilized to keep the ride dialed in perfectly. The front wheels turn effortlessly from all new Pro-Forged parts tied together with an Ididit column.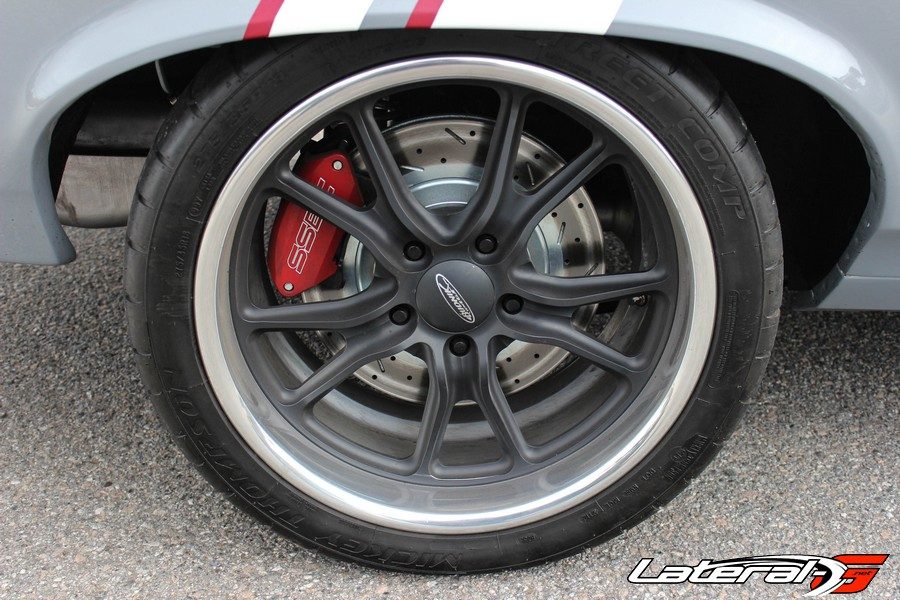 Connecting all the suspension to the ground is a set of Budnik G10 wheels. They are 18×7″ in the front and 18×9″ in the rear, wrapped in Mickey Thompson rubber that's 245/40 in the front and 265/35 in the rear respectively.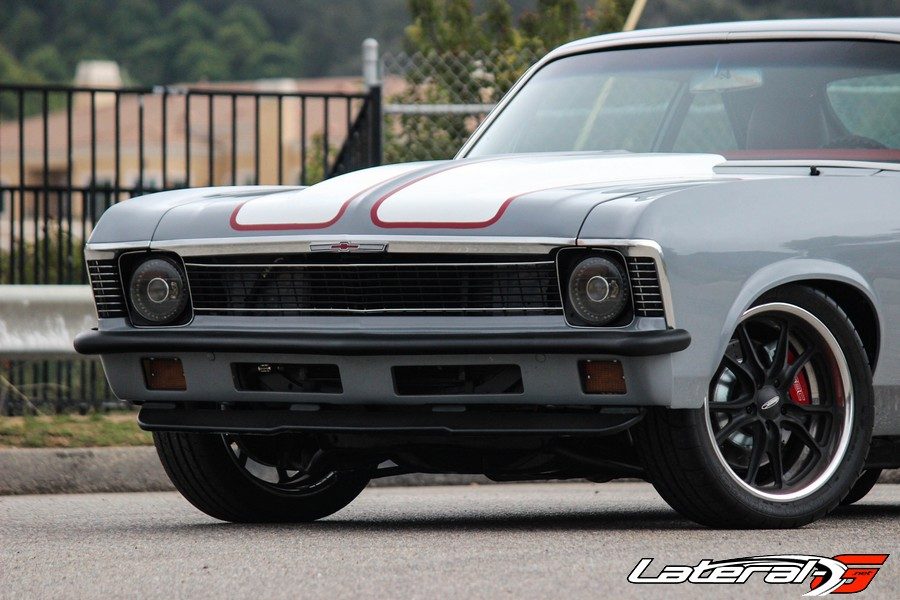 Under The Hood
Instead of ditching the SBC and going with an LS, they decided to keep things old school. TMI bought a brand new GM crate 350 to use. "We wanted something tried and true that would make good power, sound good and be easy for any salesman of ours to hop in and drive," explained Larry.
Topping off the stout small block is a Holley 650 carb with an AFE Power air cleaner. Ignition is handled by Petronix and exhaust exits through a set of Dougs Headers that are mated to Flowmaster mufflers. Eddie Motorsports' polished serpentine kit keeps the engine running while a Champion Radiator keeps the motor running cool. Bolted to the motor is a Bowtie Overdrive 700R4 with an 1800 stall converter. Shifting the trans is a B&M Stealth Pro Ratchet shifter.
Stitching Up The Threads
The interior is where TMI really put their touches on this Nova. They started by installing a set of Dakota Digital VHX gauges and wrapping the stock dash pad. Custom Autosound provides the tunes and Budnik provides the steering wheel. Classic Auto Air keeps drivers cool and Quiet Ride Solutions keeps the inside nice and quiet.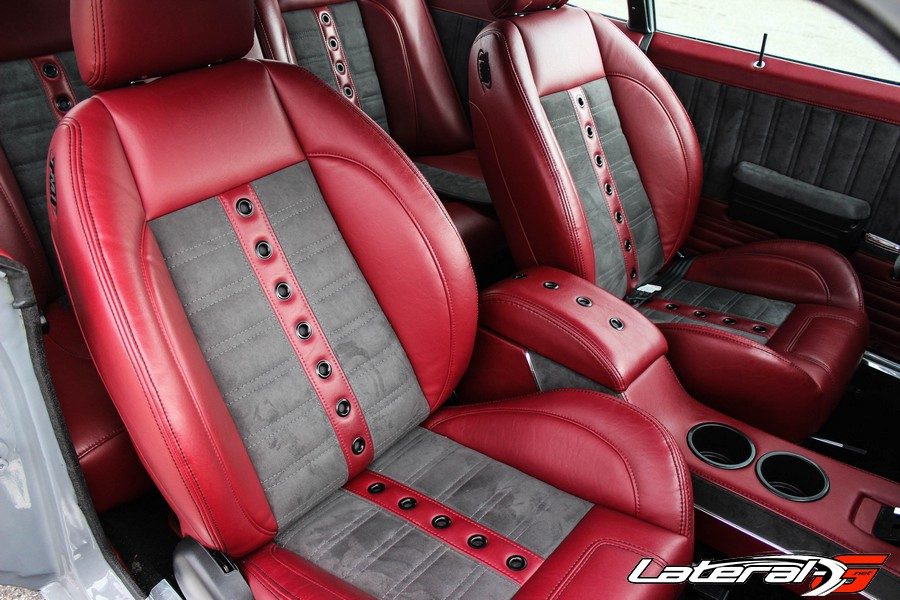 The seats are 100% made by TMI and debuted at SEMA. Dubbed the Pro-Series, these are TMI's own design and manufacturing for the frames, foam and upholstery – you don't reuse your factory frames like in their previous series. They have a full line of Pro-Series seats from low backs like these ones to high backs and even different variations to suite your tastes. To match the seats they installed a Sport XR console and door panels to complete the ensemble of Merlot and charcoal inside the Nova.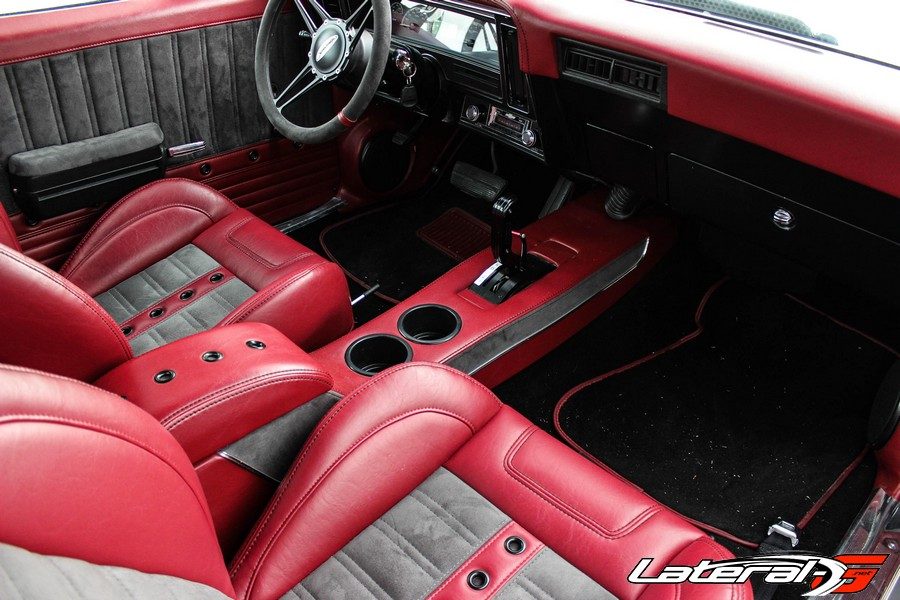 TMI has taken this car to shows all over Southern California to promote their interiors. "We love the car but now we want to start racing it. The plans are for a new powerplant to make the car a little faster!" exclaimed Larry. For the complete TMI Products line, hop on their site or give them a call at (888) 460-0640 to discuss your project!