1970 Trans-Am Nova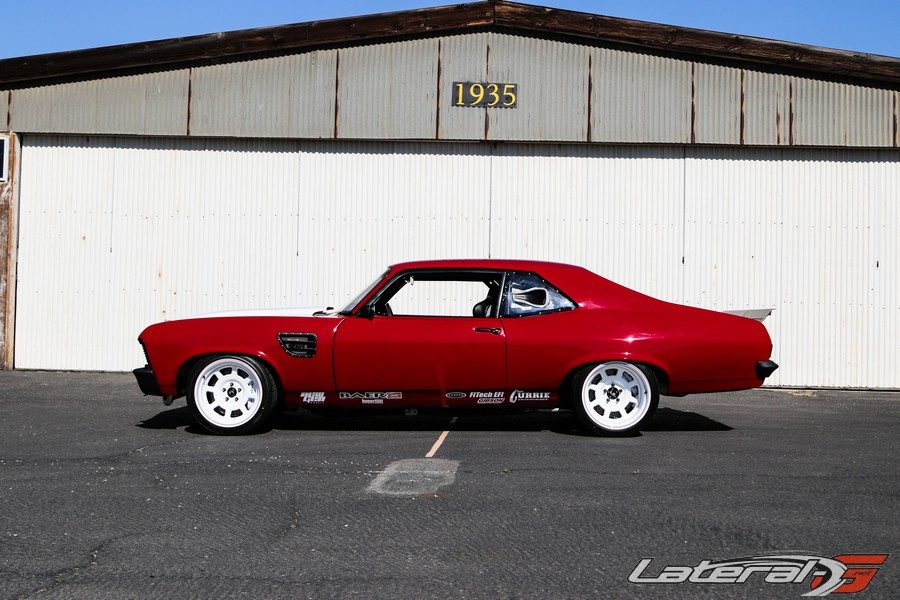 The Nova platform is a tried and true winner. Whether you want a cruiser, drag strip bruiser, or auto cross King, the Nova can be formatted into just about any configuration. Inspired by the Trans-Am series, Jon Henson knew just how he wanted to build his Nova. Part street car, part autocross car, part do-it-all. With his vision set, he went to action on this Nova.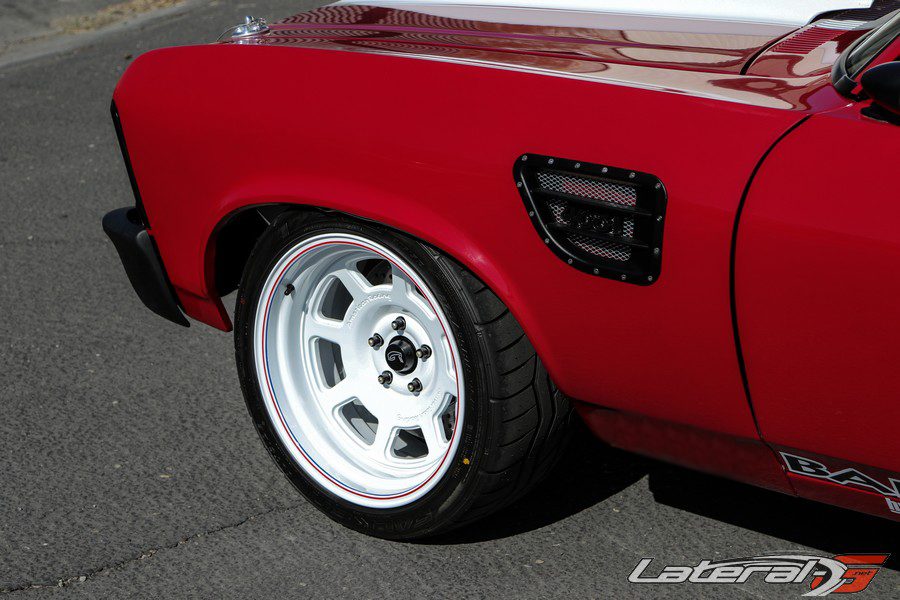 "I wanted a road race, vintage Trans-Am inspired car," stated Jon. He started with a 1970 Nova. Before doing anything, he knew that in order to get the wheels and stance just right, the fenders had to be stretched. After media blasting the car and stripping it down to the frame, all four fenders are stretched two-inches to allow for up to a 10″ wheel up front and 14″ wheel in the back if he so desires. In addition to stretching the fenders, a set of Detroit Speed minitubs allowed for extra breathing room.
The Base: Suspension
We all know that the factory suspension wouldn't be up to par with Jon's plans. Ditching all that, Jon slipped a complete Chris Alston Chassisworks front end under the car. In the rear a modified G-Bar 4-link was installed with Currie Enterprises billet arms, Johnny Joints and a full floater Currie rearend. In order to stiffen up the chassis and increase saftey, a 12-point roll cage was installed. Dampening is handled at all four corners with Fox triple adjustable PODIUM shocks.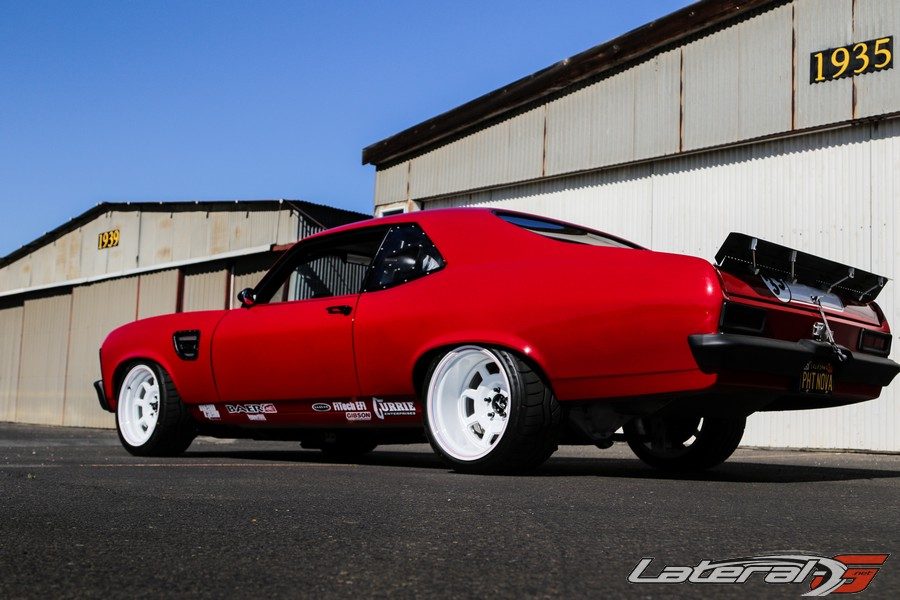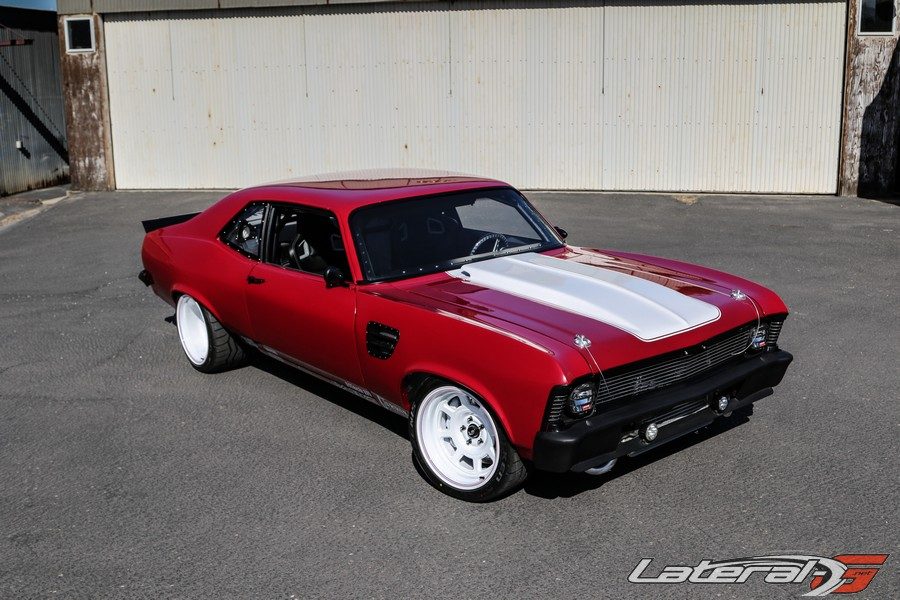 In order to get the car stopping, a massive set of Baer 6P brakes were installed at all corners with 14″ rotors. Wrapping the brakes is a set of American Racing VF503 wheels, with a traditional pinstripe to set them off. The fronts are 18×9 with Falken 615K 275/35 series tires and the rears are 18×11 with a 315/30 series tire.
"I get the idea to build a car a certain way in my head. Once that certain theme gets in my head, I have to execute it. If I get an idea in my head to build a certain car, with a certain style, I become obsessed and I have to do it," explained Jon. We can see how this car oozes Trans-Am with a modern street twist to it.
Exterior And Interior Attention
The Dupont VW Chili Pepper Red grabs attention on this Nova a mile away. Finished with the Toyota White stripes, everybody is stopping to look at this ride. A few custom touches were done on the body as well such as a '69 Firebird rear bumper, Anvil Auto carbon fiber hood and a custom front bumper.
A custom rear spoiler completes the Trans-Am look of this Nova while the shaved door locks and cowl panel clean up the lines of the car. If you pay attention closely, you'll notice a set of custom 3D printed fender vents too. Fesler Built supplied the cool door handles, hood hinges, trunk hinges and tail lights. Another cool piece was Jon utilized Warn off-road lights for his headlights.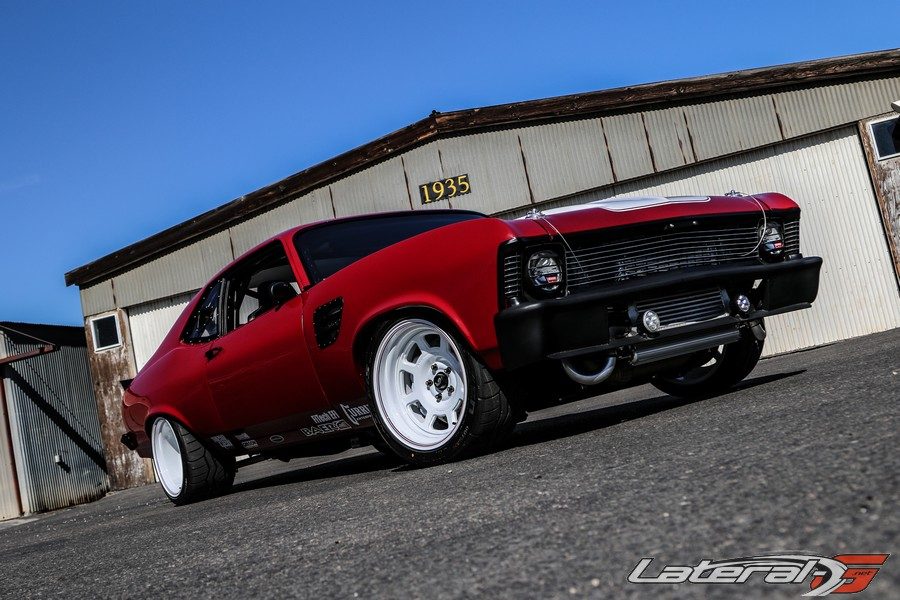 On the interior, the theme is carried through out. A custom sheet metal dash adorns a full cluster of Auto Meter gauges. Clayton Machine Works was utilized for door handles and the pedal set up while the Ididit column features a Budnik wheel and Twist Machine paddle shifters.
To keep Jon comfy and in place a set of Cipher Auto seats were installed. The rest of the interior consists of sheet metal door panels, LineX floors with Dynamat and a TMI Products one piece headliner. The interior is clean but all business – the only creature comfort is a Vintage Air heater for those cold morning commutes.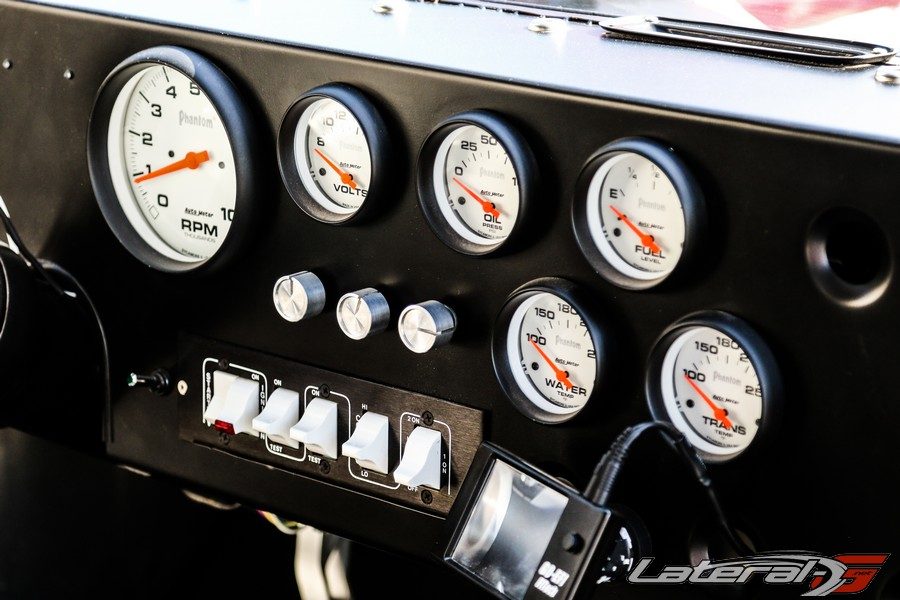 The Heartbeat
The heart of the Nova surprisingly isn't an LS engine. Keeping true to his inspiration, just went BBC. However an ordinary BBC wouldn't do. Starting with a 454, Jon bored and stroked the engine out to 468 cubic-inches utilizing a GM billet crank and H-Beam rods and a Comp Cams hydraulic roller camshaft. A set of Edelbrock Performer heads and Edelbrock Victor Jr. intake keeps the air flowing in this engine.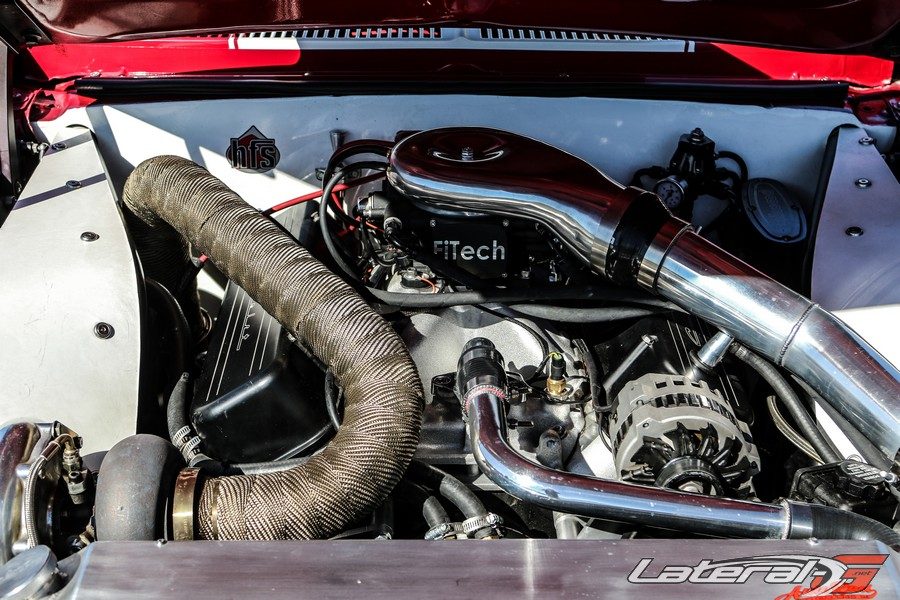 Going a step further out of the ordinary, Jon installed a single CX Racing T4 78mm turbo set up on this BBC to make sure that he will put the hurting on a few LS powered cars. A complete FiTech unit keeps the fuel properly mixed for the engine, which a complete HyperFuel system does the job of supplying fuel to the FiTech unit. Exhaust is expelled through a set of Gibson mufflers after going through a custom set of headers that have been ceramic coated. Cooling for the turbo is a CX Racing intercooler and an AutoRad radiator set up keeps the BBC cool at all times.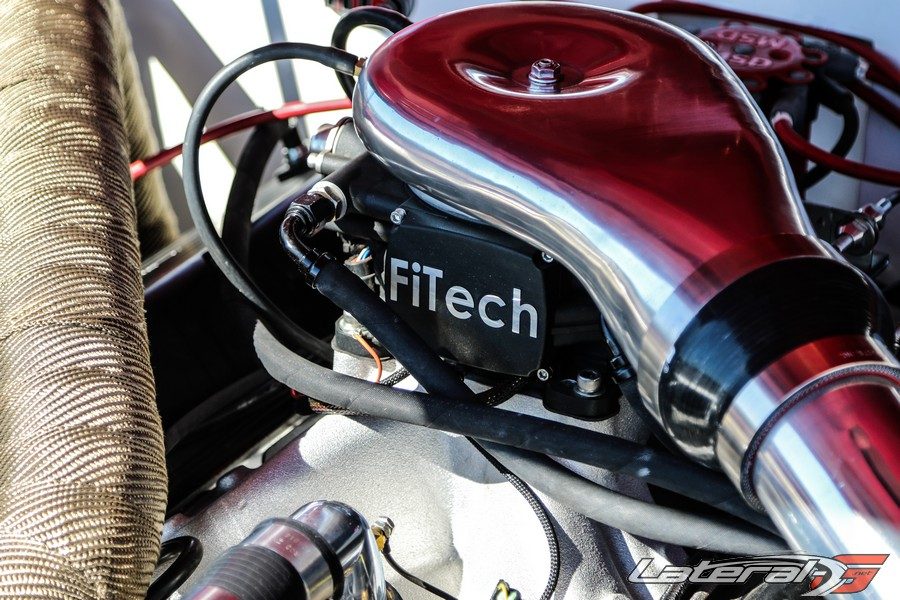 Behind the powerful BBC is a built 4L80E transmission. This transmission is mated the the Currie rearend with an Inland Empire Driveline driveshaft.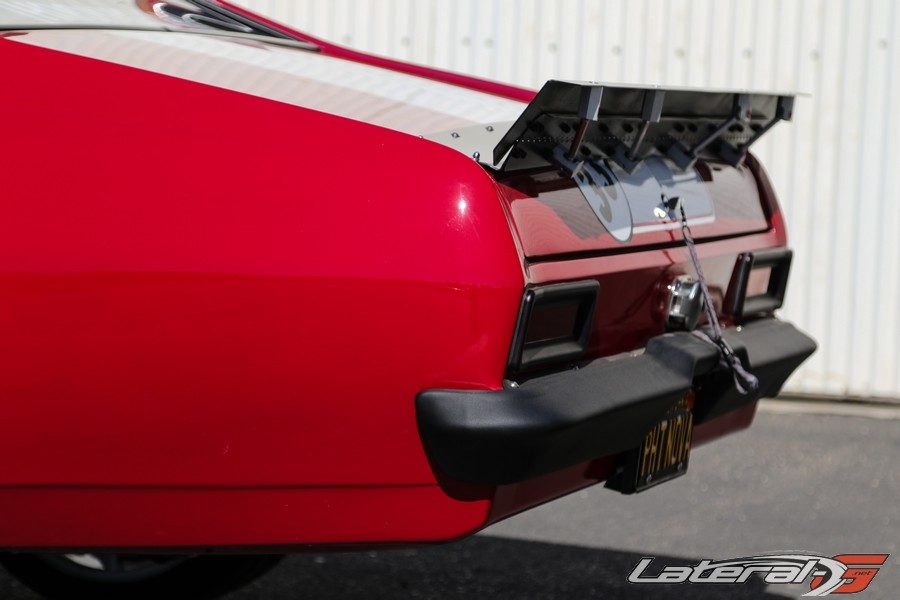 "I wanted to build this car to put a smile on my face. Go out, do a burnout on command, drive it hard, make noise and have fun," exclaimed Jon. We say that he has certainly reached his goal! "Thanks to my wife for all her patience and grace. I love you Chelsea." We're all too familiar with the fact that many bad ass cars like this Nova happen because of understand wives!