1988-1998 Chevrolet C1500 OBS Trucks – The Next Big Thing?
One of the questions we frequently get asked is "What's the next hot platform?" Seeing as we go to a lot of shows and talk to a lot of manufactures, we have our finger on the pulse in the automotive world.
One platform that seems to be making a resurgence is the Chevrolet OBS Trucks. These trucks were made from 1988-1998 and were insanely popular in their time. They were easy to lift to the sky, easy to slam on the ground and just a really great truck bulletproof truck. It's no secret that the classic truck market has exploded over the last few years. The '67-'72 C-10 are fetching unheard of numbers now and can be seen all over the halls of the SEMA show. Even their younger brothers, the Square Body trucks have gained a ton of popularity over the last few years.
For a lot of people in their 30's and 40's these are the trucks they had in high school and there is a lot of nostalgia associated with them. For example my brother had one in high school and sold it when he moved for college. About six months ago he found another, bought it, and fixed it up. Since then it's been non-stop people asking if it's for sale and telling him about their OBS trucks. Another friend designed parts for these trucks over 20 years ago and just recently saw one on the road with one of those parts! Even for me when I was growing up my Dad had an OBS truck. I remember many Sunday mornings in it cruising to the hardware store.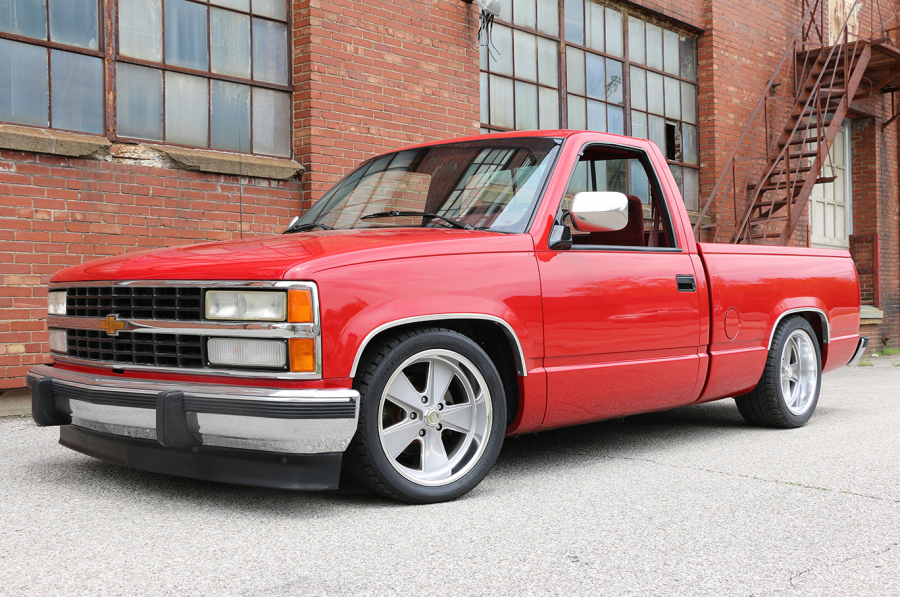 Aftermarket Support
Then we started to notice the trend in these over the last few months with manufactures who have started to make parts for them.
RideTech
has released a StreetGrip kit for these OBS trucks to compliment their line of suspension for them.
Dakota Digital
also started to manufacture VHX gauges for these applications to update the likely broken factory gauges. In order to drop a 5 or 6 speed transmission in them,
American Powertrain
has been finishing up a conversion kit for them as well. Naturally
Baer
brakes has a complete line of big ass brakes to help get them stopped on a dime.
As the aftermarket support for these trucks continues to grow – we have to wonder, are these the next big thing? We know they will swallow a modern LS. After adding suspension and brakes they can be a serious contender on the autocross course. Think the Chevy SS 454 but done to today's standards. Hopping on Craigslist list you can get these trucks cheap too. In our area they are anywhere from $1,000 for a fixer-upper to $4000 for something really nice. That's a heck of a lot cheaper than a '67 C-10.
Time will tell if we are right though! Until then, we are back on Craiglist looking for the right deal.