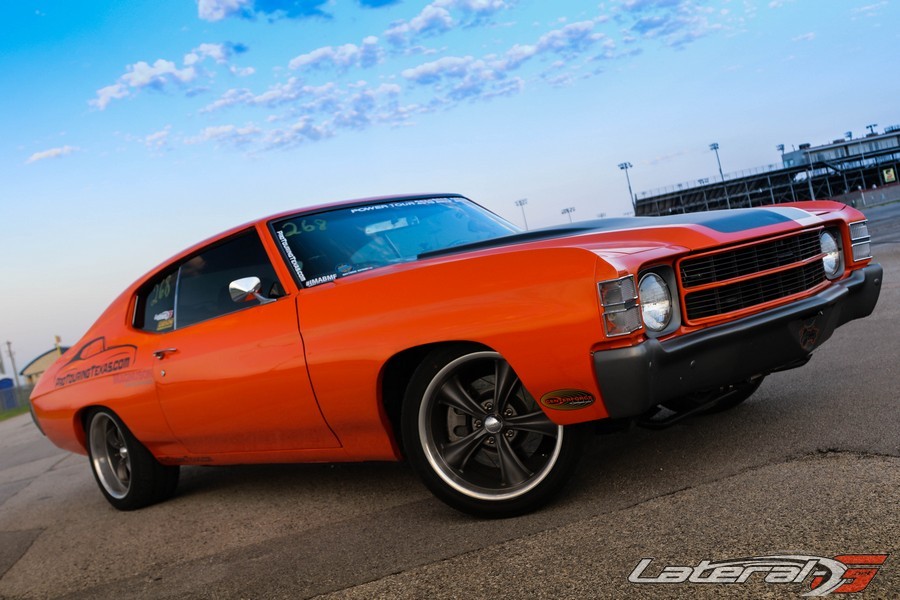 While on the Hot Rod Power Tour this year, we saw thousands upon thousands of beautiful cars and trucks on the road. One ride that caught our attention was this bright orange 1971 Chevelle. After tracking down the owner Eric Pierce and giving the car a closer look, we were in love. There's much more than the bright orange paint job on this '71 Chevelle.
Eric got bit by the horsepower bug at a young 11-years old. "I pulled my first all nighter when I was 11 years old. My best friend Justin Boyd and I fixed my go-kart so we could drive it to a girls house in the morning," laughing as he told us. Moving forward, he now owns and operates Pro Touring Texas – a shop for modern performance for classic cars and upgrades for everything LS and LT. His Chevelle here is a perfect example of the kind of work he does.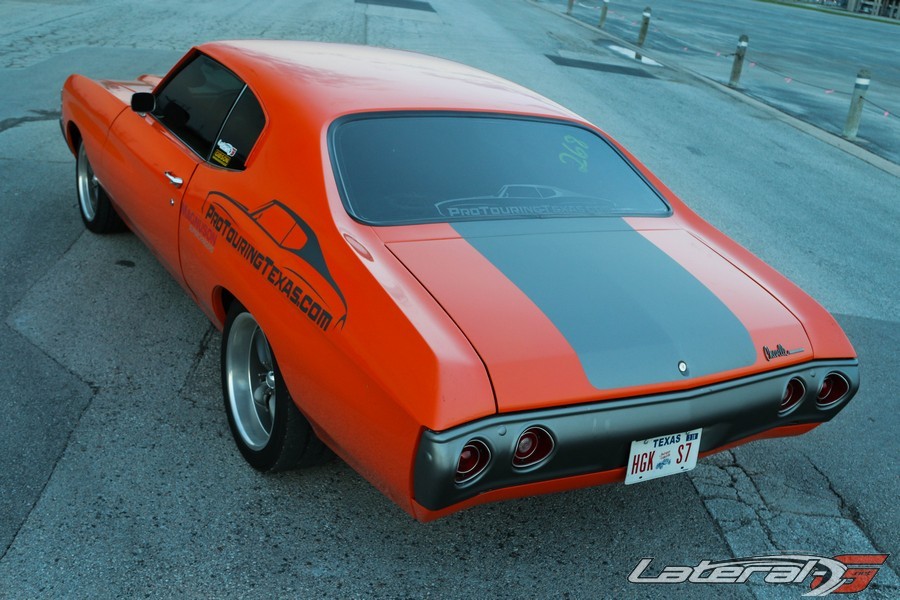 After fixing his golf cart 24 years ago, Eric built a few other rides in-between. In high school he had a '78 long-bed C10 Custom Deluxe which didn't last long before moving onto a '77 K5 Blazer. On the K5 he dropped it, added wheels and cleaned up the body a bit. He also built a '99 GMC Sonoma when the mini-trucking scene was hot. But the one he misses the most is a '78 K5 that he bagged, body dropped and LS swapped with a set of 22's on it. He sold that Blazer as well, and eventually landed on his '71 Chevelle, affectionately named #BigBootyJudy.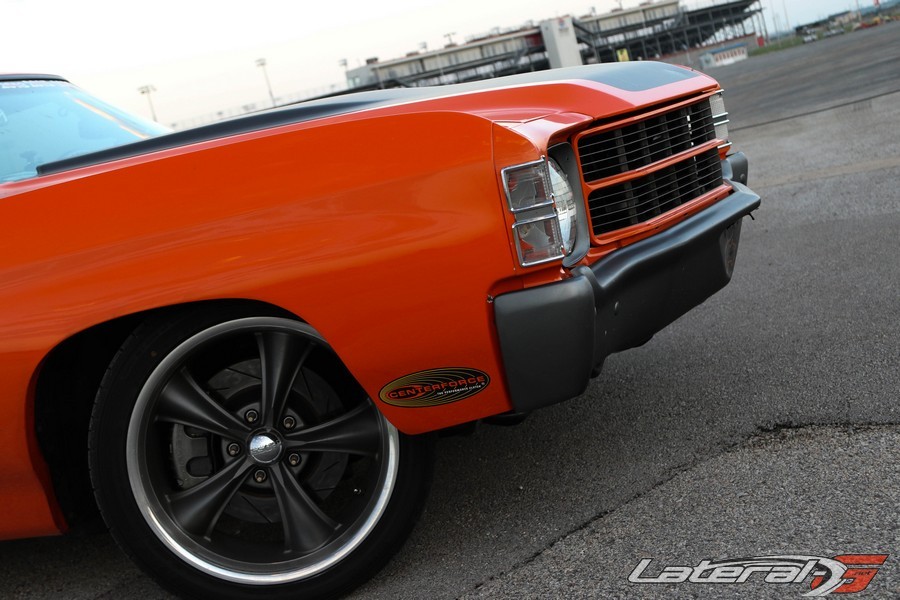 The mindset on Big Booty Judy was "all about road trips, serviceability, and shenanigans. An all-purpose tire slaying fun mobile," Eric exclaimed. After owning half a dozen Chevelle's, he knew how he wanted to build this one; modern, be able to boil the tires and be a daily driver – a true Pro Touring machine. He started by building up the chassis with a set of Viking Performance coil overs and Hellwig sway bars. These were complimented with a set of Global West control arms in the front and Spohn tubular control arms in the rear. A set of C5 brakes was utilized in the front to stop this Chevelle in short time.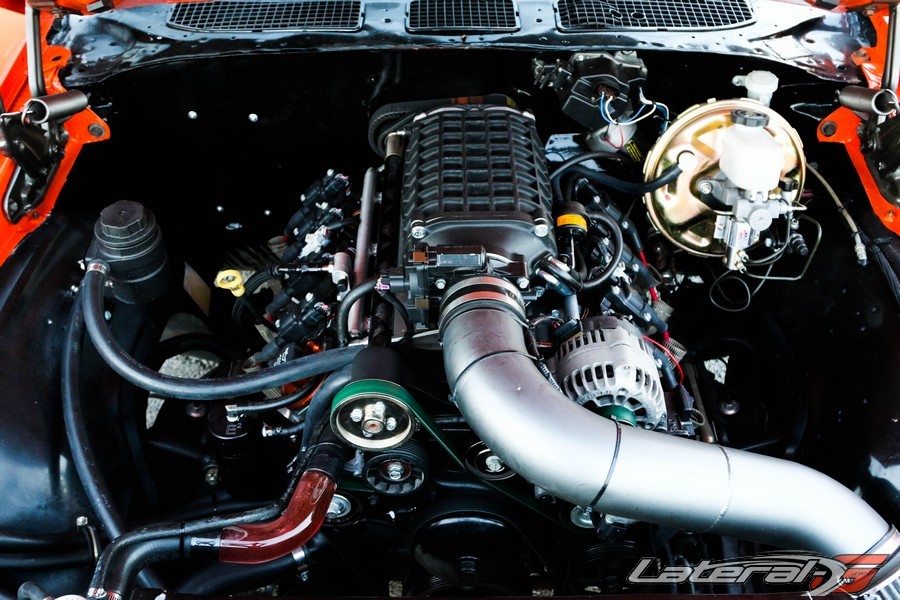 Then he slapped in a 6.0L LS engine that was built with his own custom Pro Touring Texas camshaft, spring, and pushrod package. Topped off with an LS3 intake, the combo made 436 horsepower at the wheels. He then took the car on Power Tour 2013, while still sporting a satin black paint job. After returning home, Eric and his crew tore apart the car to repaint it the Sikkens Orange you see here. You'll notice this Chevelle sports no chrome either, all the trim work was painted gunmetal gray. During this process he missed Power Tour 2014. The same buddy he pulled his first all nighter with, Justin Boyd is the man responsible for keeping the paint in perfect shape at his shop, Detailin Garage.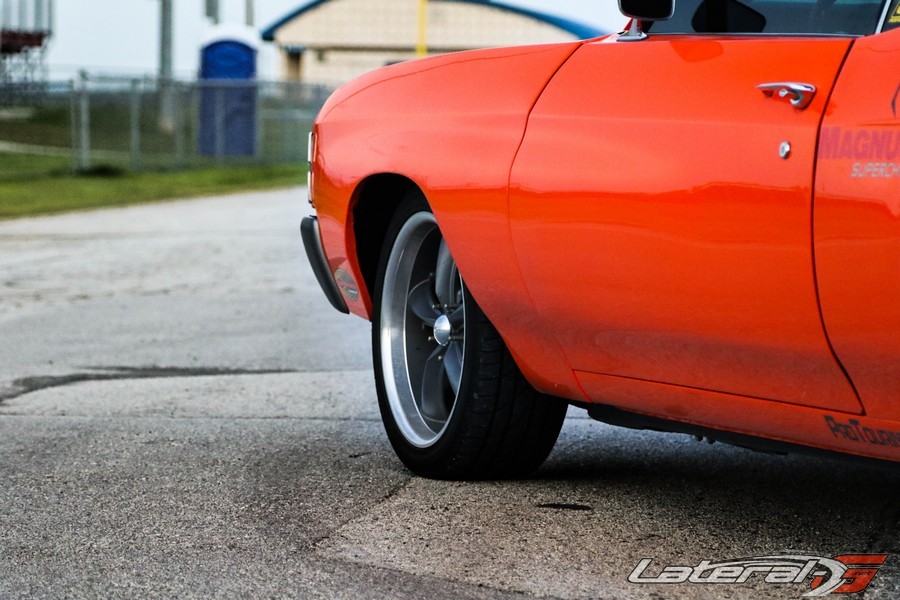 After getting the car back on the road, the power just wasn't up to Eric's standards. Again the motor went under the knife, where the 6.0L received a huge boost of horsepower courtesy of a Magnuson Supercharger. In order to compliment the boost, a new cam was installed,  along with a trunion upgrade, and a set of LS9 heads. This combination gave Judy an additional 216 horsepower, putting the total at 652 very street-able horsepower. Exhaust exits the car through Super Comp long tube headers complete with all 3″ mandrel bent tubing connected to a set of Gibson MWA series mufflers.
Backing the powerhouse engine is a T-56 that Eric claims is a gift from  the gods. "The car goes well over 160 MPH, but then I can roll down the highway at 80 MPH at only 1,900 RPM's," stated Eric. A Centerforce DYAD clutch was utilized to effectively transfer the power from the engine to the transmission. The rear end is a 12-bolt with gun drilled axles, 1/2″ ARP studs and an Eaton posi unit with 3.73 gears.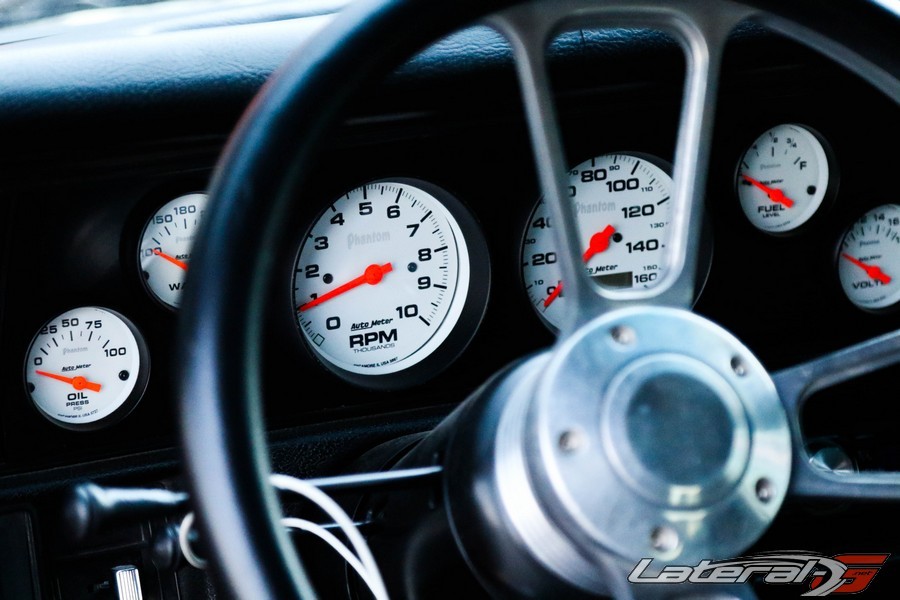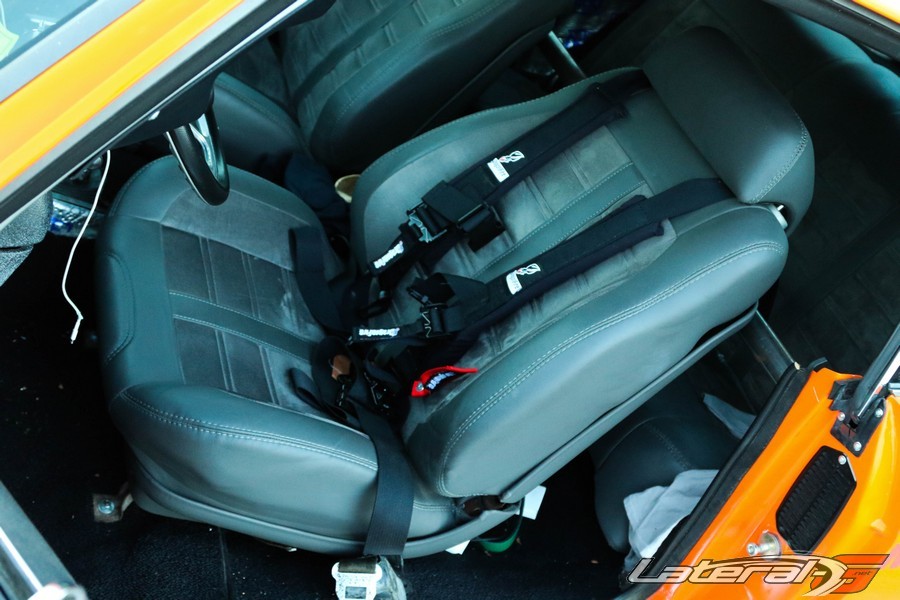 The inside of the car received the Pro Touring Texas treatment as well with one of their gauge holders. Then it was filled with Auto Meter Phatom gauges to keep tabs on everything under the hood. The seats are factory but have been outfitted with new foam and custom stitched vinyl and suede by PG Auto Upholstery. There's also a removable harness bar installed for autocross and certain racing events. Finishing off the interior is a Kenwood head unit, Focal speakers, and Xtant 10″ subwoofer with iPod connections.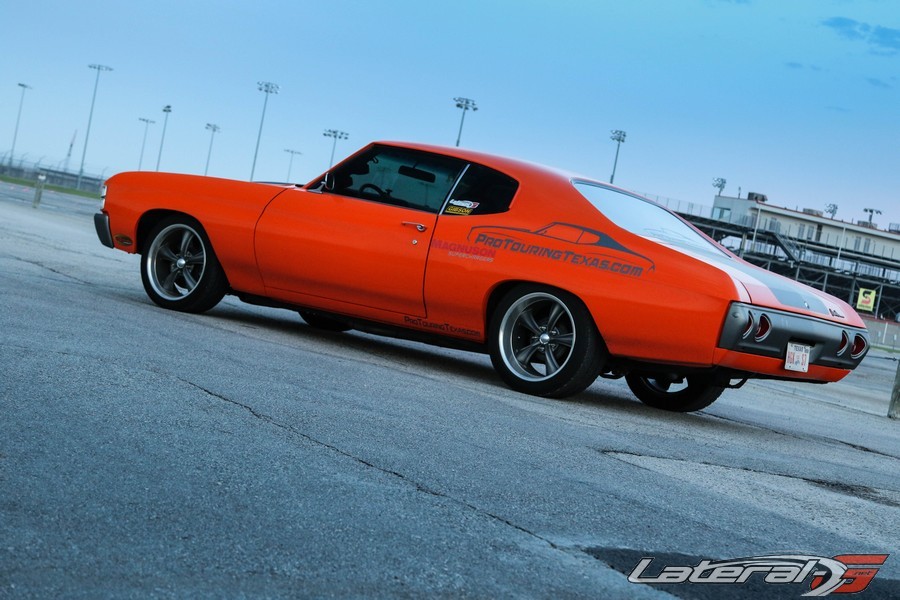 It's safe to say that Eric has more than accomplished his goals. The car handles, stops, and definitely has a whole lot of go. We saw him all over Power Tour, from on the Autocross, to the drag strip, to boiling the tires in small towns across Texas. We can't wait to see what he comes up with next!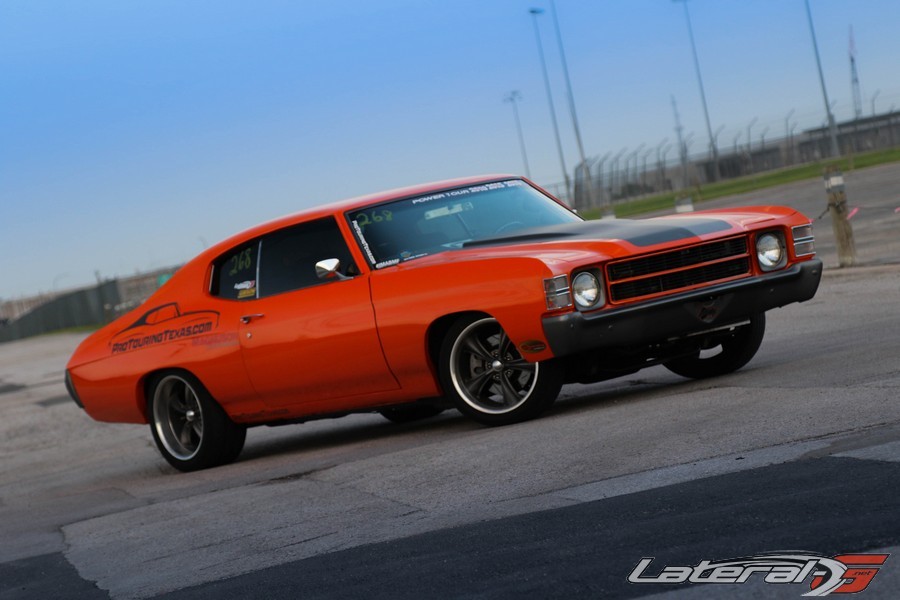 Eric wanted to give special thanks to: First thanks to my wife Cynthia for all the help and support. Special thanks to Robin Moody, Justin Boyd, Brent Coleman, Justin Godown, Robby Miller, Brian Hodges. Shout out to some of the great people in the industry that helped make it happen: Will Baty, Will Rowe, Erin Helm, Shawn Gibson, and Rory Connell.