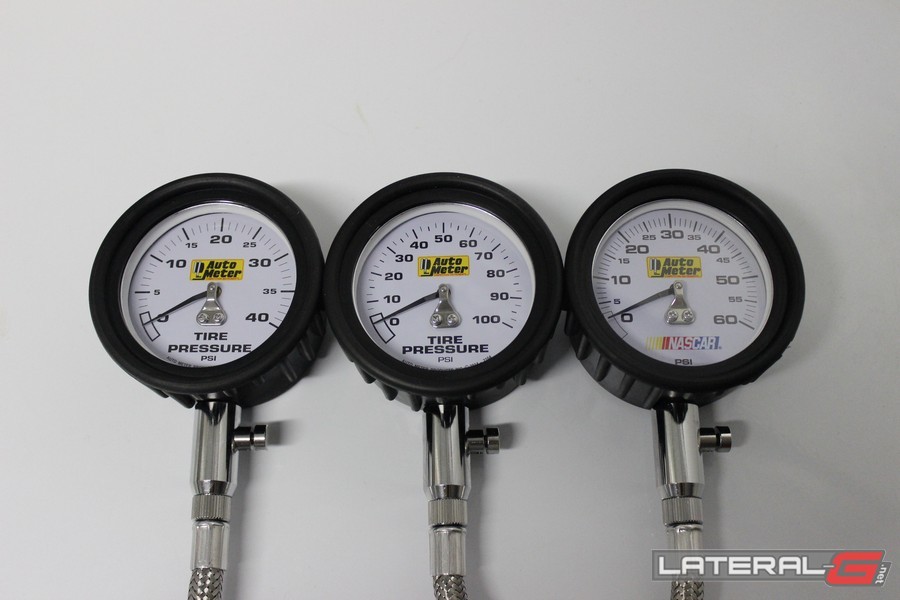 Tire pressure is a critical component when racing. The difference between winning and losing a race could be a mere half pound of pressure in your tires. This is true in all forms of racing, from drag racing, to motocross even to your local autocross. Adjusting your tire pressure is an easy way to make quick changes to the handling of your car, and all you need is a simple tire pressure gauge. Even in your daily driver tire pressure is critical to maintain your miles per gallon and the longevity of the tires.
With tires and air pressure being such a critical component to your ride, you need to make sure you have a quality gauge. For most of us, we have a cheap gauge that gets thrown around in the tool box with wrenches and everything else. Now is the time to step up to a gauge that's much nicer, and highly accurate.
Auto Meter is a name that most are familiar with. They've been around forever, and have proven the performance and accuracy of their gauges in everything from daily drivers, classic cars, all the way up to NASCAR levels and beyond. Naturally, after making every kind of gauge under the sun, it made sense for them to start manufacturing a line of tire pressure gauges as well.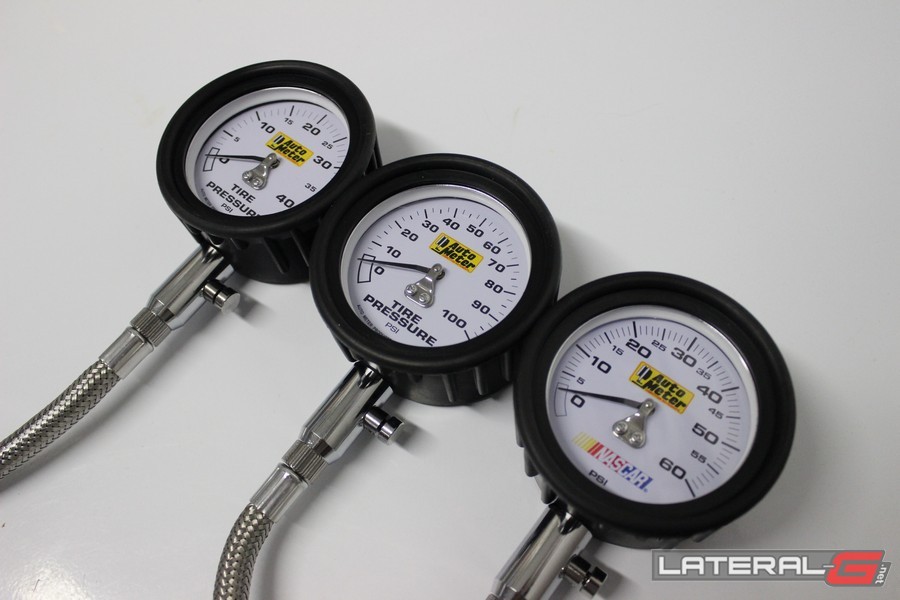 We grabbed three different gauges from Auto Meter, to show you what they have to offer. First off, all three gauges are the same quality that we've come to expect from Auto Meter. They come in their own box to keep from getting beat up by any other tools. The gauges themselves have a large face for easy reading, with rubber encapsulating the housing to prevent against breaking. The hose is also braided, and the chuck is all metal, ensuring a lifetime of duty. The differences in gauges was purely the range of pressure to be displayed.
The lowest one we had only went to forty pounds of pressure. Too low for something such as motorhome tires, but this would be the ideal gauge for autocross, where you really need to see each pound, or half pound. The other two had larger ranges, good for everyday use or higher PSI applications.
We wanted to know a little bit more about these gauges, so we called up Joseph Mills of Auto Meter. "Few things affect the performance of your vehicle more than your tires, and keeping your pressures at the optimum level can make a huge difference in how your car launches, stops and carries speed around a turn (not to mention fuel economy). Leveraging nearly 60 years of experiencing building professional grade instrumentation, we set out to build a highly accurate, bomb proof tire pressure gauge at a price point the everyday enthusiast could easily afford."
Continuing on, "with a nice assortment of different pressure levels, we're able to cover just about every type of performance vehicle, from drag racers to auto crossers to rock crawlers. It's unlikely you'll find a better bang for the buck gauge anywhere on the market. This is a really exciting addition to our product line, and something that's been a long time coming" stated Mills.
Using the gauge is as simple as using a tire pressure gauge. Simply push the hose end onto the valve stem, and your pressure displays. You can let off and it will hold that pressure as well, for easy recording or reviewing. A small button releases the pressure and resets the gauge back to zero.
Next time you're at the track, make sure to have one of these handy gauges in your tool box! Hop on over to Auto Meter's website to see the full line now!