Goodguys Ford Galaxie Giveaway Car
There is a new Goodguys Giveaway Car on the scene. It's a low, lean and mean Muscle Machine and it is coming to a Goodguys national event near you! Designed by Eric Brockmeyer and hand-crafted by Legens Hot Rod Shop in Martin, Tennessee – the Goodguys 1963 ½ Ford Galaxie Giveaway Car has mega power, tight gaps, and a sinister stance. It has been four years since we have given away a Muscle Car and this one is going to make someone very, very happy. Thanks to George Poteet supplying the donor cars (it took two to build this one) the project made its debut Saturday, July 9th at the Goodguys PPG Nationals in Columbus.
The PPG Tan Galaxie features clean lines, muted bronze bumpers, and trim by Advanced Plating as well as other goodies from Dennis Carpenter. It can hold its own at the drag strip or on the AutoCross! Growling inside the smoothed engine bay is a potent Ford Racing Performance 5.0 Coyote V8 mated to a Tremec transmission resting inside a high-performance chassis from the Roadster Shop. Baer brakes fit snugly inside one-off color-matched Greening Auto Company wheels designed and cut by Jesse Greening himself. Greening also made the custom side trim.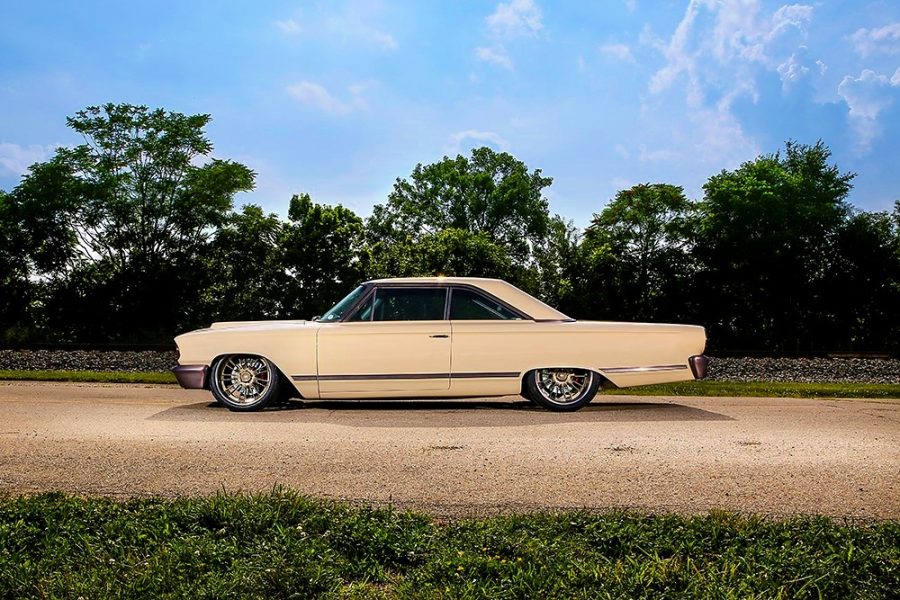 The sporty brown leather interior, featuring Dakota Digital instruments, climate control by Vintage Air, a sporty Hurst shifter and a Kicker audio system was designed and stitched in-house at Legens.
The car will be on the road with the Goodguys big rig for the remainder of the 2016 season as well as the first half of the 2017 event season before being given away at the 20th PPG Nationals in Columbus, Ohio July 7-9, 2017. Registered Goodguys participants have a shot at qualifying as a finalist to win the car through the Sunday Lucky Ticket program. Online entry will also be available soon. One current Goodguys member will also be pulled next summer to participate as an official finalist.