Hottest New Products of SEMA 2016
One thing we all love about the SEMA show is all the new cars. SEMA is that one special time of year where everybody in the industry gets together and shows off their latest builds. This goes from lifted trucks, slammed imports, or bad ass Pro Touring rides. We all want to see last years work come from literally the best shops in the world.
The main reason for SEMA is to debut new products though. These are products that manufactures have developed and fine tuned all year long in anticipation of releasing to their distributors and the public. While walking around, we scoped out some of the hottest new products from the 2016 SEMA show and wanted to bring them to you.
Restomod Air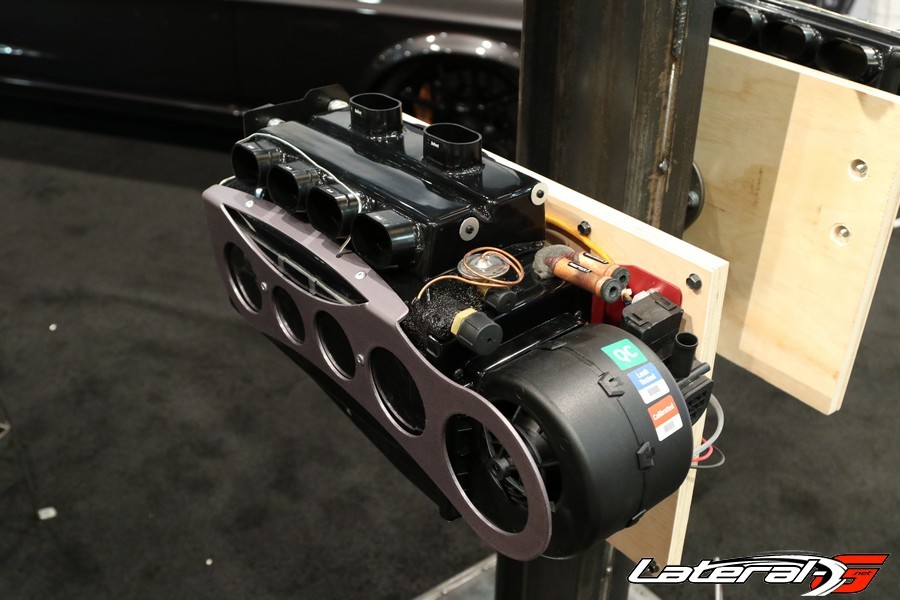 Arguably the coolest air conditioning company on the market, Restomod Air brought plenty of awesome new product. "We are launching our Vapir III system, which now has dedicated defrosting port that comes off the top instead of off the back. We also reworked the floor vents, so the overall result is less hose you have to route under the dash," explained Mike Rejkowski. Among the new unit, they also debuted a new line of vents and a customizable line of AC controls that allows the user to swap out the rings and match it to the rest of the interior. The knobs are also back-lit, providing a very high end touch for any car they are installed in. If all that wasn't enough, they also released their bluetooth app for smart watches, allowing you to control their units from your watch! Now that's damn cool.
Forgeline
Coming out of the Forgeline wheelhouse was Carbon Forged series. "These wheels have the typical forged center that's available with any color or offset, but uses titanium bolts to a real carbon fiber barrel," stated Forgeline President David Schardt. What that means the barrel is 40% lighter than it's aluminum counterpart. For instance a typical 20×9 wheel would be roughly six-pounds lighter than it's aluminum version. "The carbon fiber is incredibly strong and very stiff. If you hit one hard enough to crack it, you have bigger problems than your wheel," continued Schardt.
FiTech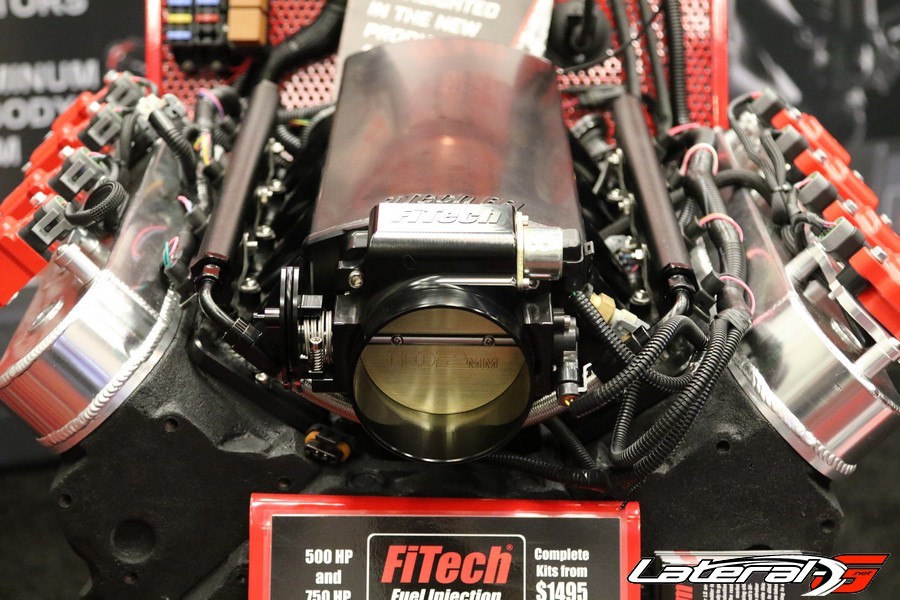 The guys at FiTech came out swinging this year. They are known for their incredibly priced throttle body fuel injection units, but this year they hit the LS market hard. "Our new Ultimate LS Induction Systems start at $1495. We offer them in a 500HP and 750HP versions, with and without transmission control," stated FiTech's President Ken Farrell. Included in the kits is everything you need: intake, throttle body, fuel injectors and rails, all the wiring, computer, O2 sensors, along with the other required sensors.
Auto Meter
Always pushing the redline, Auto Meter had some new goodies on display. "This year we are proud to present our latest gauge line, the Chrono. This line features three dimensional dials, and had inspiration from a Rolex style watch with a 320 degree sweep," explained Auto Meter's Brandon Deam. Along with the new series, Auto Meter was showing off the Dash Link system. This uses a dongle that plugs into your OBDII port, then displays that information on a tablet, phone, or any other device. What this means is you can see some of the information the computer is seeing that might not be shown on your gauges. "With this you can also check and clear check engine codes. In addition we also loaded Auto Meter gauges on there for the user to choose how they the gauges to look," continued Brandon.
Viking Performance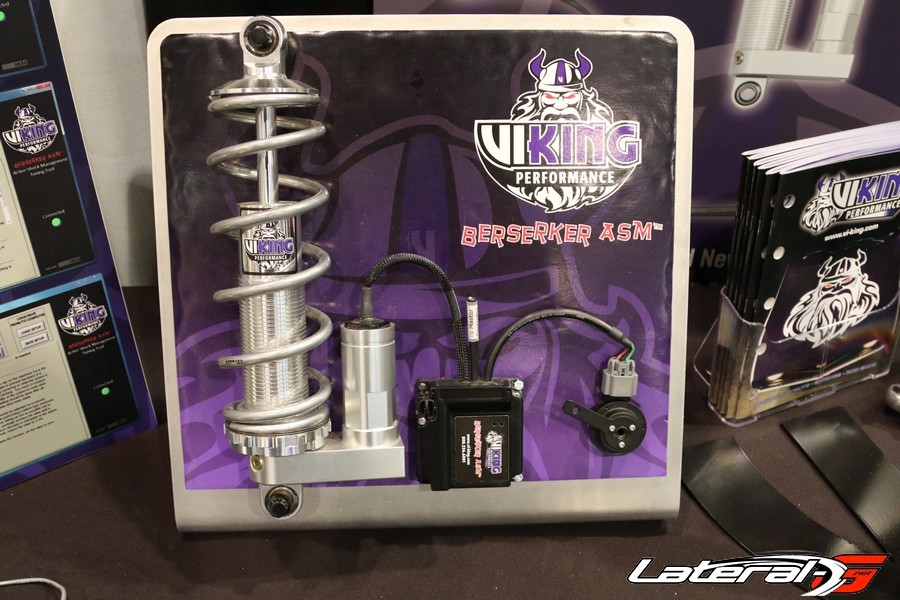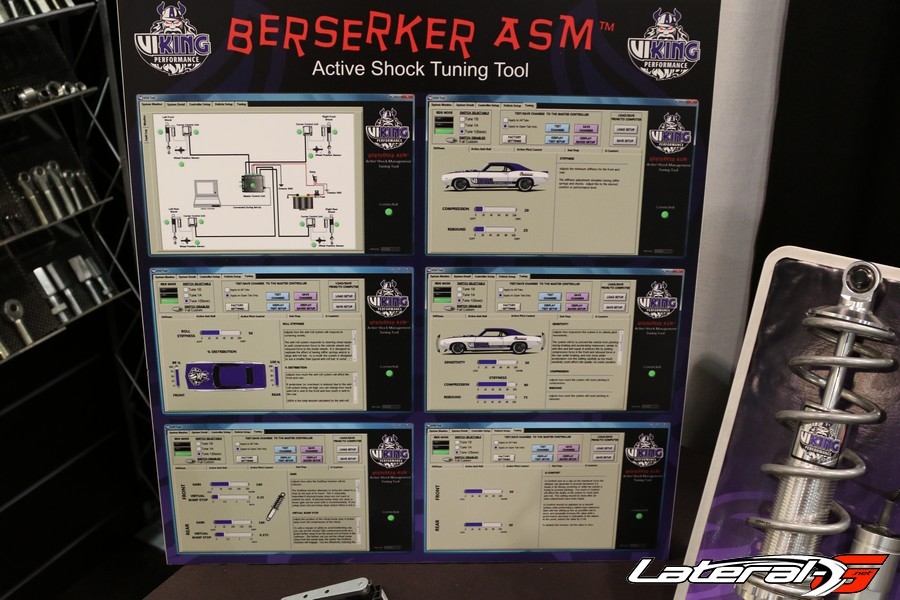 The crew at Viking Performance had some shocking new products as well. In previous years they released their Berserker shock system which automatically adjusts the shock over a thousand times per second. "This year we are releasing the tuning program that combines with the Berserker system. Before we sent out the system with a factory tune. This new program allows you to go in and fine tune how you want the shocks to react," explained Viking President Chris King. What this means is you can dial in your shocks and fine tune them for one track, save the tune, then load a different tune for the next track. With a laptop you can also adjust the system as well in-between runs, without having to get out of the car and crawl under it.
American Powertrain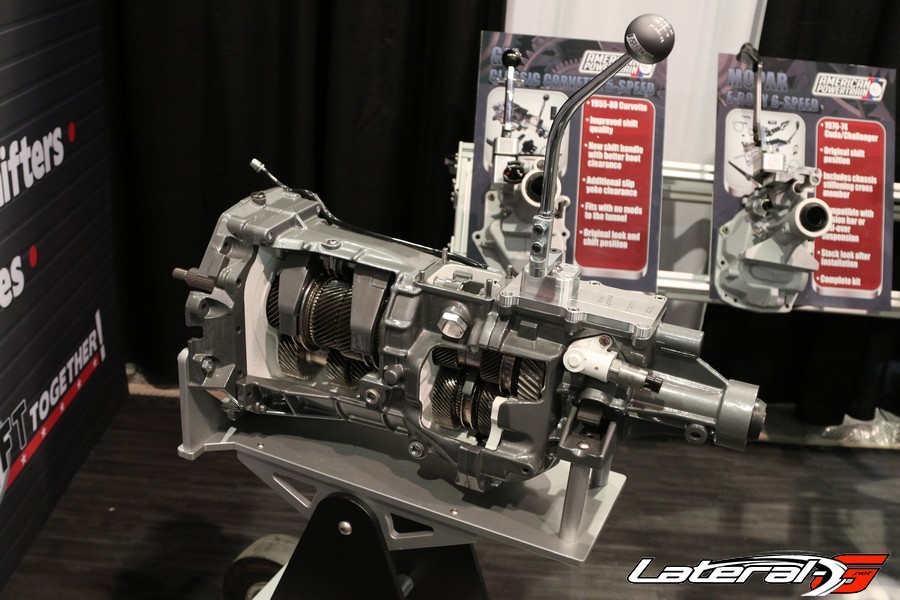 Putting a five or six-speed transmission into an old car that wasn't designed for it is no easy task. The guys at American Powertrain specialize in just that, making a daunting task take only a few hours by taking all the guesswork out of it. "We just released our new kits for the Corvettes with a new shifter that won't tear up the stock boot. Along with those we released a kit for the E-Body Mopars and F100 trucks," explained Matt Graves. They also had some cool accessories on display, such as some new shift balls, and the new X-Factor cross member for early Nova's.
Chris Alston Chassisworks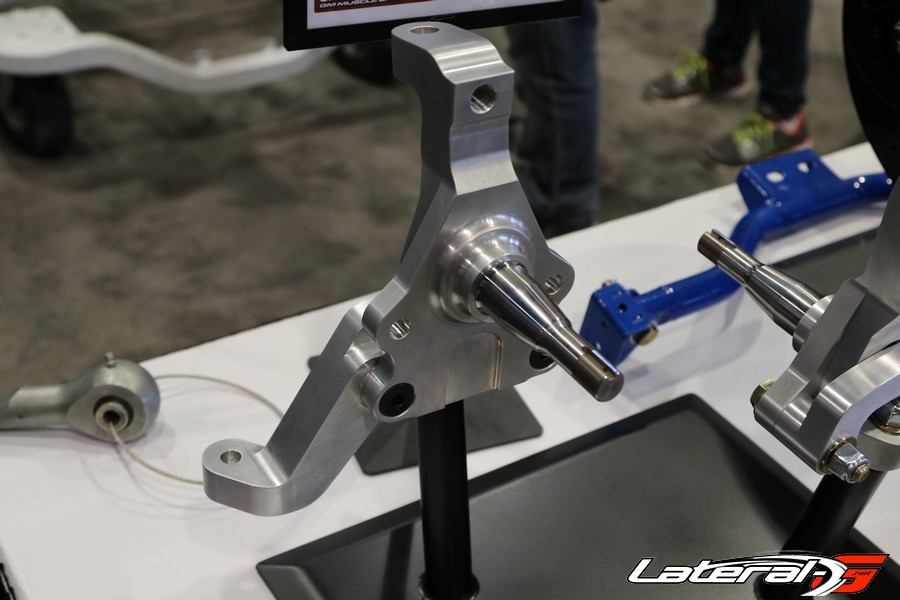 If you know Chris Alston Chassisworks, you know that they are constantly coming out with new products and applications. "We are excited to announce our billet aluminum A-Body AFX style spindle. It's available in both stock or two-inch drop configurations. The bolt-on steering arms correct bump steer in the A-bodies and we also have a quick ratio Z28 F-Body steering arm as well. The uppers have been lengthened 1.5″ to correct geometry issues as well," explained Lino Chestang. Along with the new spindles, Chris Alston Chassisworks also released a ton of new truck suspension. On display was a few different versions of their C10 suspension. As usual it can be had in a bunch of different configurations.
Baer Brakes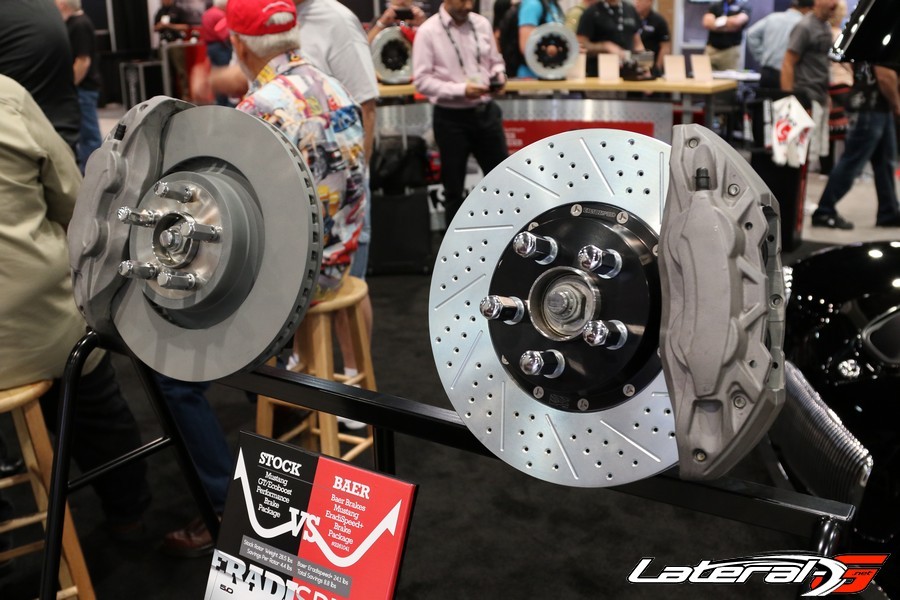 We made sure to stop by the Baer brakes booth to see what they have been up to as well. Catching up with Rick Elam he told us about their new EradiSpeed line. "The EradiSpeed line is for those late model cars that have really good brakes from the factory. It's hard to take off a four or six piston caliper and put on something different so we came out with this performance rotor. We made these so they are now left and right specific with directionally curved vanes to really help cool the brakes, along with the slotted and drilled parts," explained Rick. On top of the increased performance of the rotors, it takes almost five pounds of weight off from a factory rotor as well. In addition to the EradiSpeed line, they released a few cool new parts such as line kits for their Remaster master cylinders along with two different proportioning valves that have redesigned ports to make routing lines cleaner and easier.
TMI Products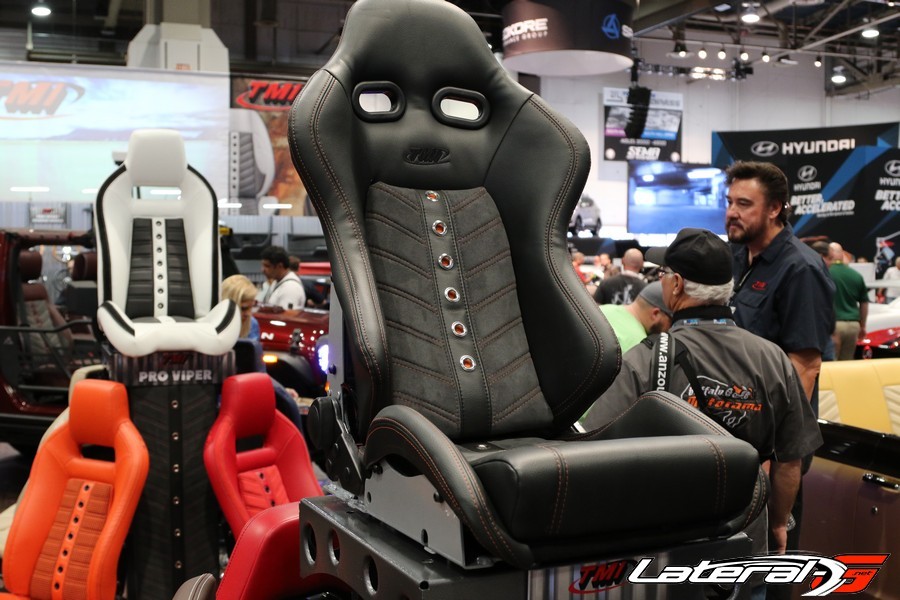 One company that seems to release a ton of new products every year is TMI Products. This year they basically had an entire new booth full of product to display, and Larry Ashley was on hand giving us the low down. "These new Pro-Viper and Pro-Viper Jr. seats are really a race inspired seat. We make the fiberglass or carbon fiber backs, foam, and everything in house. They are available in all colors and options to match your existing interior, along with being able to accept four-point harnesses. The difference between the two is purely size, where a Camaro takes a smaller seat than say a Chevelle," explained Larry. They also had some new Pro-Series seats, which again they make 100% in house and can make them to match your interior or a custom one off look.
Lokar Performance Products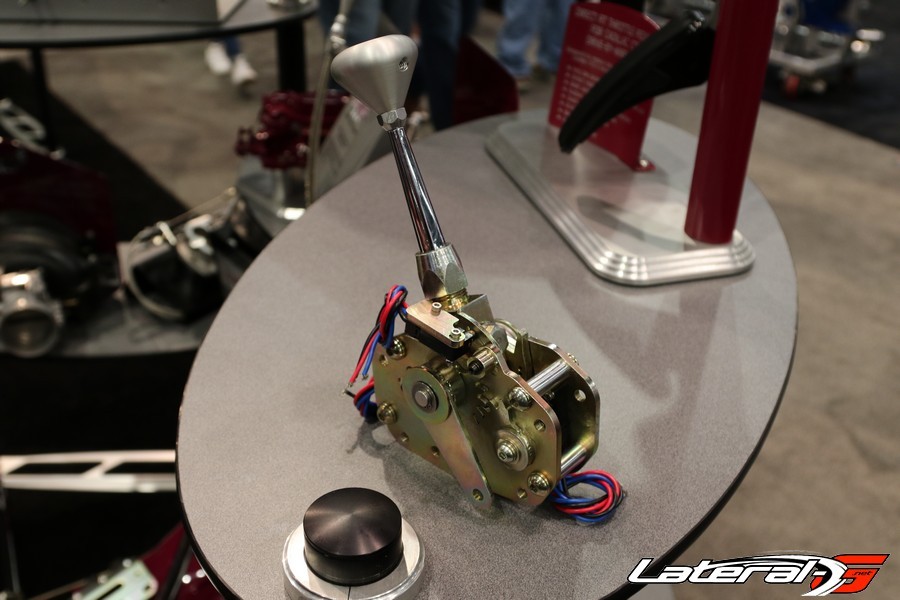 Lokar had some cool new products on display this year as well. Catching up with Mike Waldo, he told us about them. "For SEMA we have some cool new products for the Pro Touring guys. That includes these new Goolsby Customs designed exhaust tips. We also have these new billet aluminum machined hood vents along with door pulls that have different insert options to customize to match your interior. On top of that we have a new line of Goolsby Customs designed pedal and pedal covers that have a really neat look," explained Mike. In addition to these products, there are some cool new shifters they had on display. The one was a completely new shifter that was a classic looking ratchet shifter that will work for the 4L80E, 6L80's, etc. Lots of cool new products in the Lokar booth this year.
Ron Sutton Race Technology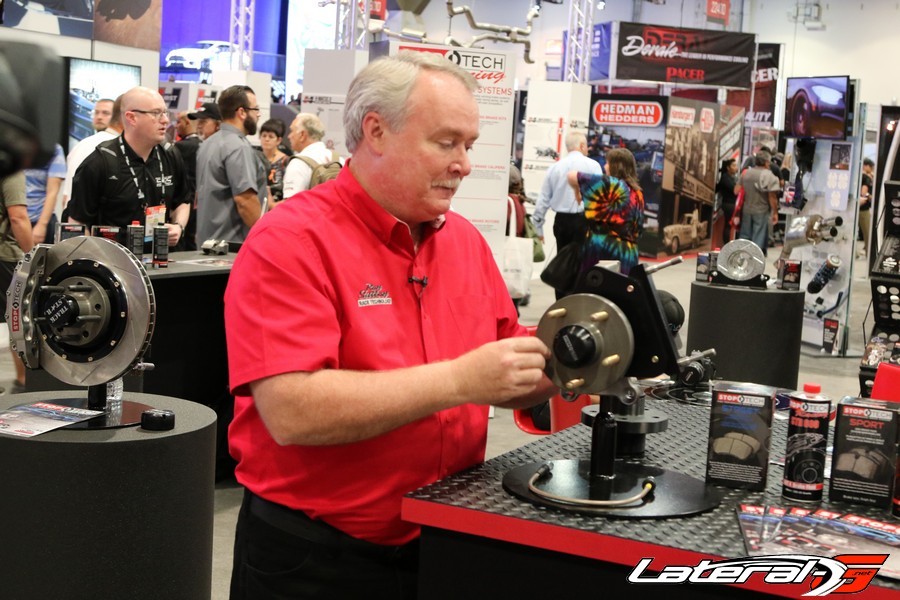 While Ron Sutton was in town for one of his seminars, he also launched a new line of brakes for his own product line. "Besides working with clients, I'm in the process of launching a complete product line for cars, including 32 different engine packages," explained Ron. The brakes on display were apart of his new product line offering and are produced by StopTech brakes but are designed up to Ron's standards for performance. If you've ever talked with Ron, you know that he gives very complex responses in a down to earth format. The response he gave us as to why these brakes are better than anything else on the market was a long one. For simplicity's sake, they work amazing and he can prove that to you. If you need more information on why this is, give him a ring and he will gladly educate you on brake technology and why he choose to partner up with StopTech. Besides the brakes though, look for a bumper-to-bumper catalog coming from him with everything needed to make an insane track car or street machine.
Eddie Motorsports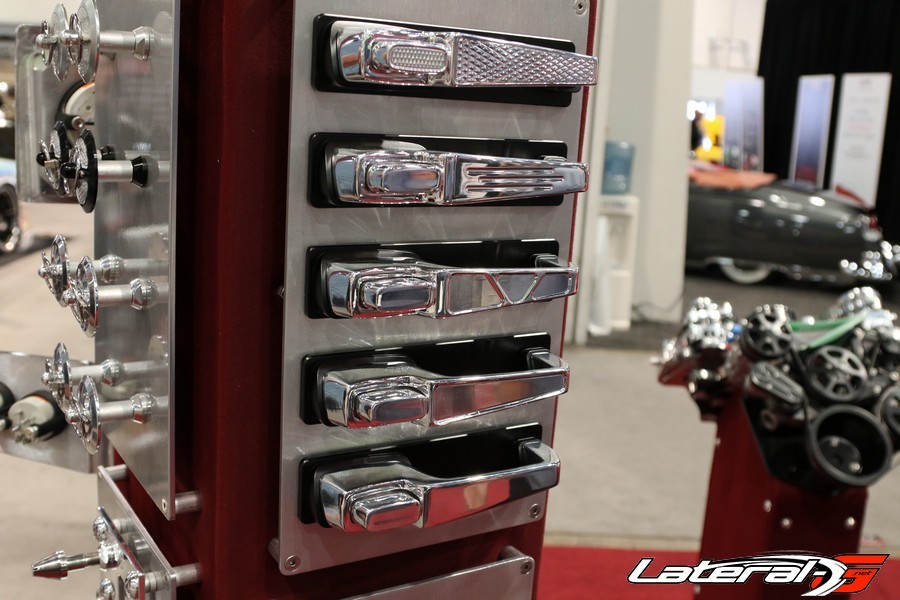 In the billet aluminum world, Eddie Motorsports had some hot new products on display. They had a new line of hood hinges for trucks, shifters, gauge panels and door handles to give your ride that high end touch. Two of the coolest new products were explained by Joe Rode. "We just launched our line of LS valve covers that will come with or without coil bosses, along with our coil cover covers that simply bolt on top of the factory coils," explained Joe. These will be available in a raw, polished or powder coated finish. A really nice, easy touch to any LS engine.
Holley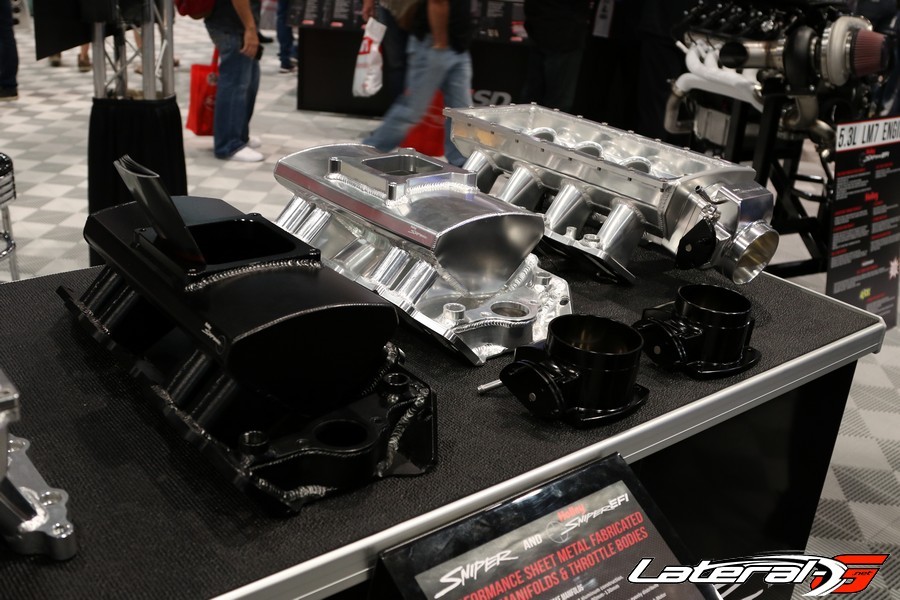 The amount of products that Holley along with all their brands puts out is flat out impressive. We got the nickel tour of everything were still there for over half an hour chatting with Blane Burnett about everything. "For the Holley product line, we just released our Sniper race intakes for LS with Coyote following shortly, along with our Sniper throttle bodies. Sniper is our more budget friendly line of products," explained Blane. For the Frostbite brand they released some new direct-fit applications along with LS swap specific radiators. Holley also released a new line of nostalgia valve covers and air cleaners that can give your ride a classic look. From their Earl's product line they released complete fuel system plumbing with a budget friendly mindset. One trick tool they released was an adjustable crescent wrench for AN fittings – no more trying to find the right wrench for the job! On the fuel side of things they released new pumps, regulators, and filters as well. If we were to guess, there was easily 50 or more new products on display in their booth.
Wilwood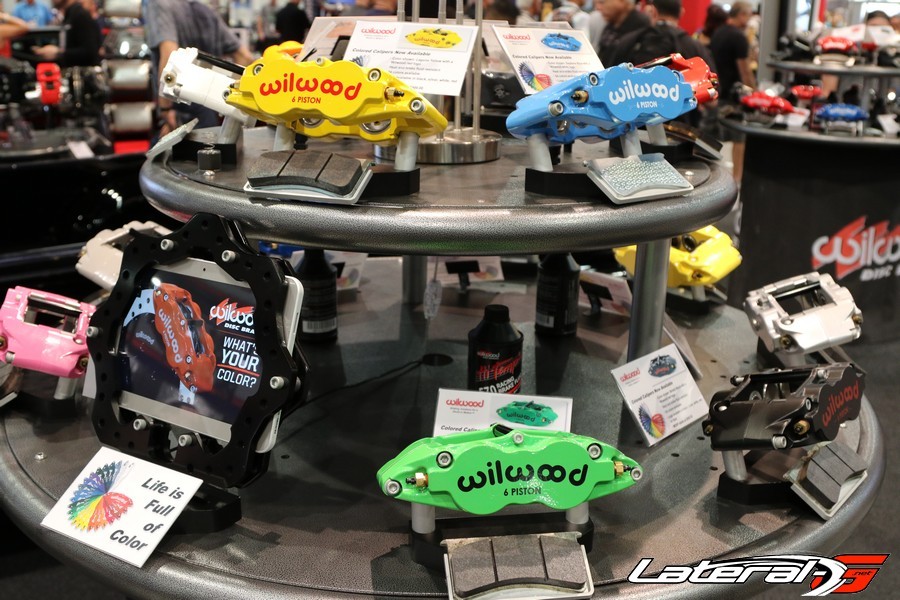 Wilwood brakes made us stop in our tracks and take a look. We noticed a literal rainbow of color coming from their booth! They now offer any of their calipers in just about any color you can imagine which allows you to customize them to match the theme of your ride. A really awesome touch since we all want that one-off appearance on our rides. In addition to the colored calipers, they also released a new compact remote reservoir master cylinder. This is one tiny master cylinder where you can remotely mount the reservoirs, similar to a clutch master cylinder. This allows you to stuff this master in really tight places and have the reservoirs easily accessible. They are available in different finishes and have a few different options, including a proportioning valve.
Dakota Digital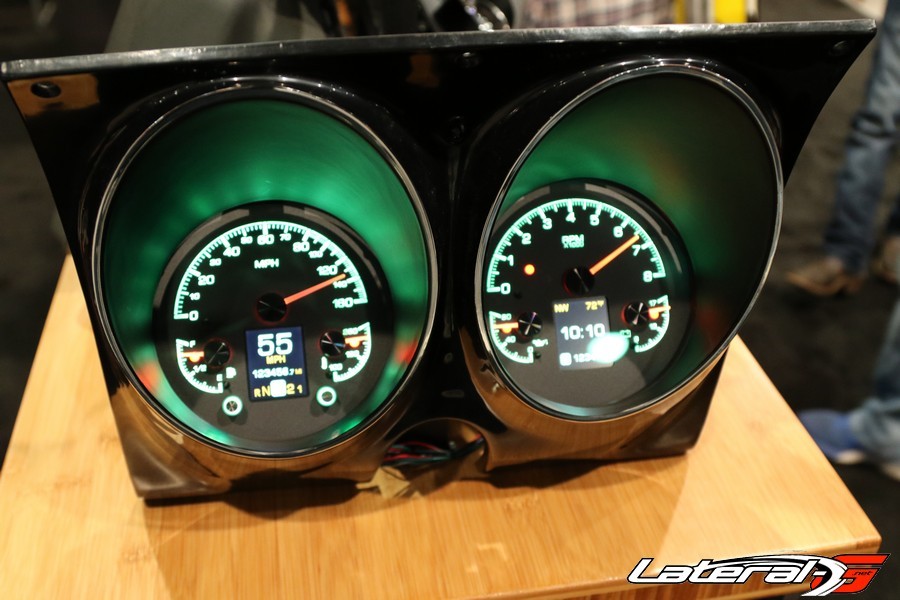 Our friends at Dakota Digital continued their launch of the new HDX series. We brought you the very first review and install of these gauges a month ago, but now they are expanding the line. Catching up with Scott Johnson he also let us know about the bluetooth app. "With this app you can go in and change everything on the gauges. No more pushing buttons, this app makes it super easy to change the colors of the HDX series gauges, along with any of the parameters of the gauges such as warning indicators or what information the display center displays," explained Scott. We had fun flipping through all the color options with the HDX series – not only are they incredibly cool gauges, now the color choices are almost endless with over 3,000 color combinations available.
RideTech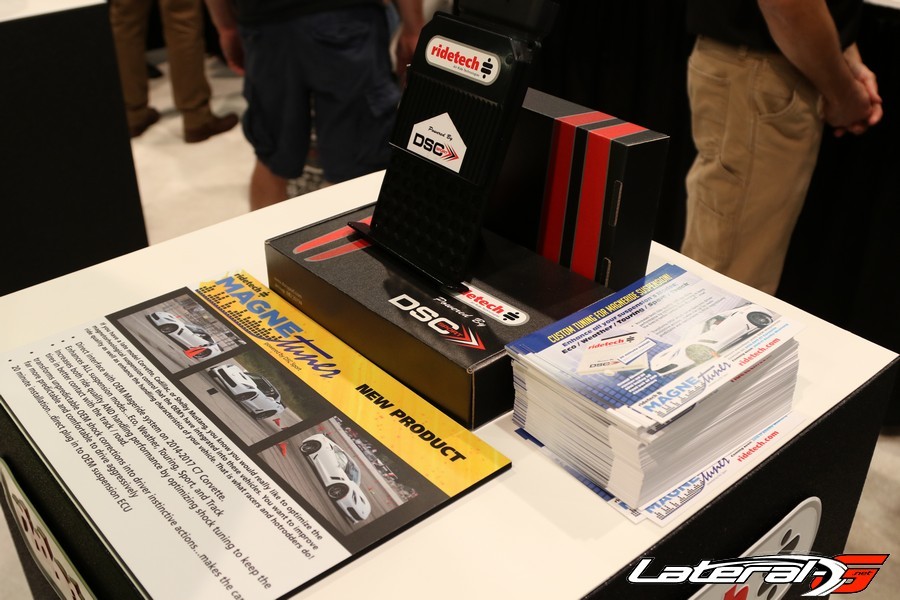 The boys at RideTech had a few new products up their sleeves as well. For the guys that like their rides on air, they released the new AirPod, which was a slick new product that had the air tank, compressor and valves all built into one incredibly slick new unit. But probably more exciting for us Pro Touring folk is their new Instinct line. Catching up with Bret Voelkel he talked a little bit about the Instinct system. "Traditionally a shock absorber is only reacting to the road or track. With the Instinct system, it now anticipates these irregularities and can instantly change the shock dampening forces to minimize them," explained Bret. What this means is that as you're driving on the course, these shocks are constantly self tuning for the conditions ahead based off the sensors that are installed. If your car already has a similar system from the factory, such as a C7 Corvette, they have the MagneTuner which allows you to go in and fine tune those systems.
Simoniz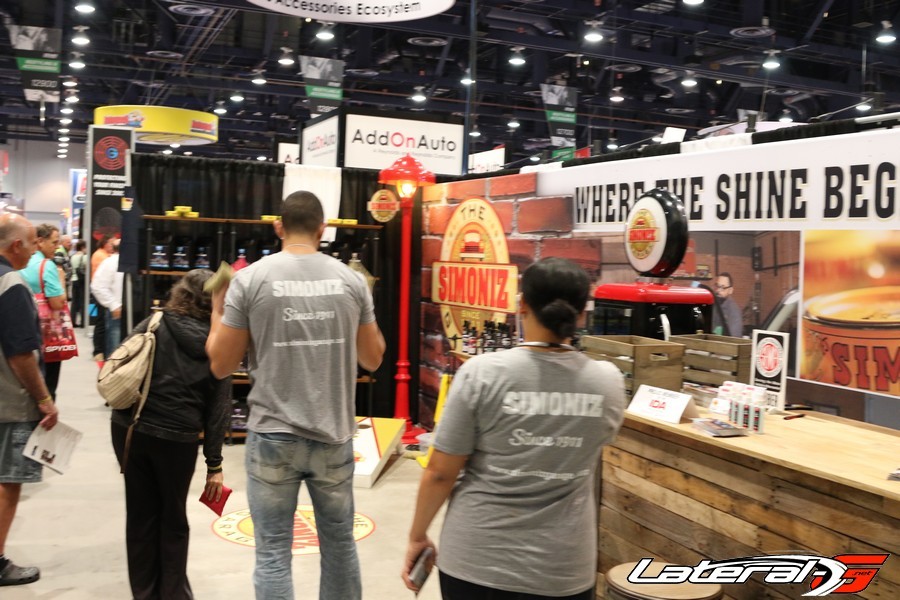 While roaming the North Hall, we stumbled across the guys at Simoniz. They hooked us in with their corn hole tournament taunting us to play to win. After a few tosses, we won a small bottle of quick detail wax to try out. Catching up with their Retail Marketing Manager Paul Wolfer, he filled us in a little bit on what they were up to. "Simoniz is actually the worlds oldest car wax company, we literally invented car wax over 100 years ago. In more recent years we've focused the majority of our attention on manufacturing professional products but we are now coming back to our retail roots by making those formulas directly available to enthusiasts. We just launched a brand new website called The Simoniz Garage where you can acquire a full line of products that are tried and true from all of our years using them on the commercial side." We really dug the retro vibe of the booth and we grabbed a few samples. We're eager to try them on some of our own rides.
Comp Cams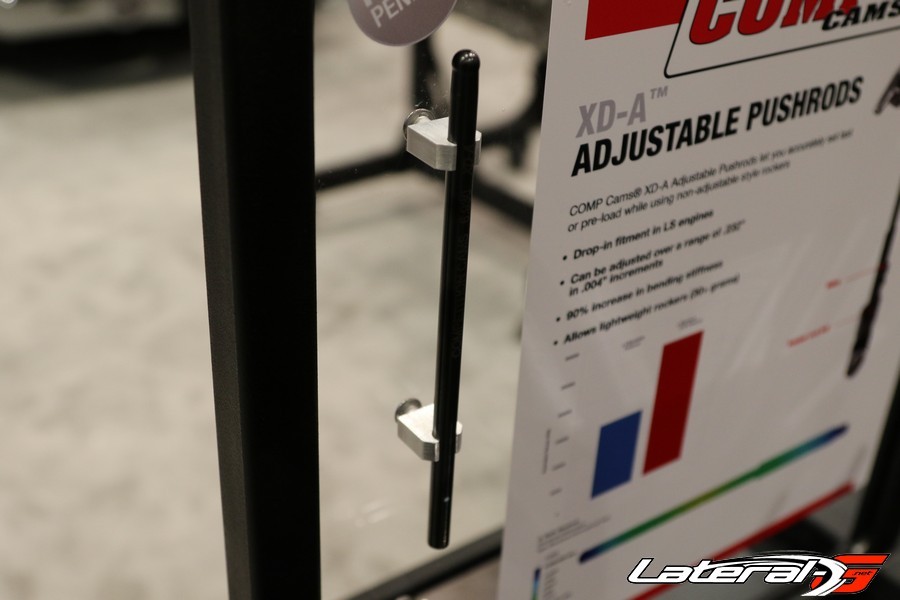 Another industry giant, Comp Cams came to SEMA swinging, with some really cool new products to show off. We talked with Trent Goodwin who filled us in on their latest and greatest. "First off this year marks our 40th anniversary and with that we took home best new product in performance and race. One of those awards was for our new two-piece push rod. This allows the user to place shims in the push rod, where they can fine tune the length. With this design it's actually 90% stronger than a traditional push rod as well," explained Trent. Continuing on they released a new line of LS rockers. "The stock rockers are pretty great, but they do have their weak points. Even if you do our trunion kit on a stock rocker, these new ones are much better design," continued Trent. Comp Cams basically re-invented the LS rocker by starting from scratch. With these they are 30% stronger and by design they progressive ratio and with their radius tip, it keeps the rocker on the center of the valve at all times. For those who are pushing big numbers in the LS world, these are some of those must have products for your motor.
Hedman Hedders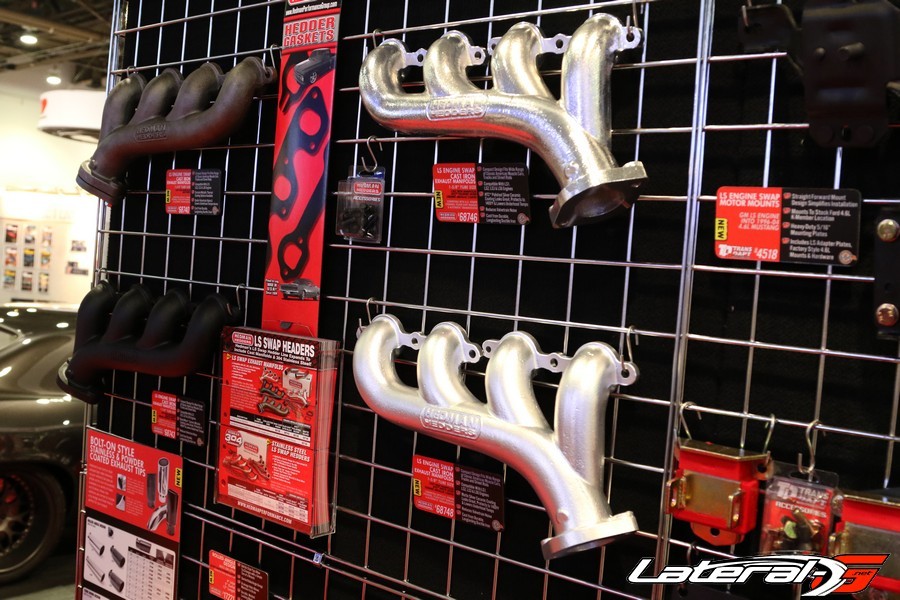 The folks at Hedman Hedders were hard at work this past year as well. "We looked into the future of swap products and saw that there will be a need for a new LT line of products. This kits will allow you to put an LT motor into basically any small-block equipped car," stated Marc Lewis. They also expanded their LS Swap-In-A-Box kits to the C10 trucks, but they are available individually as well. In addition to those products, they now have LS cast-iron manifolds that are almost like a block hugger style and available with four different finishes. Along with those, they expanded their LS swap header line for the first-gen Camaro and Nova lines. They also developed a new mid-length header for 64-67 Chevelles with big-blocks under the hood, all of which are available with different coatings. Besides their header offerings, they had a bunch of new cooling products for remote mounting oil filters.
Ididit


Once you've upgraded to a tilt steering column with modern components, there's not much else to do right? The folks at Ididit proved that wrong with their Pro-Lite series that's specifically designed for the Pro Touring or racing crowd. What it boils down to is that this column shaves about 2/3rds the weight off from a stock column and the entire column only weighs a little over five pounds. They still retain turn signals so you're still street-legal, but can have a column that saves you weight and seconds on the track. A very trick piece from Ididit, we can't wait to get one in a car and give it a try.
Royal Purple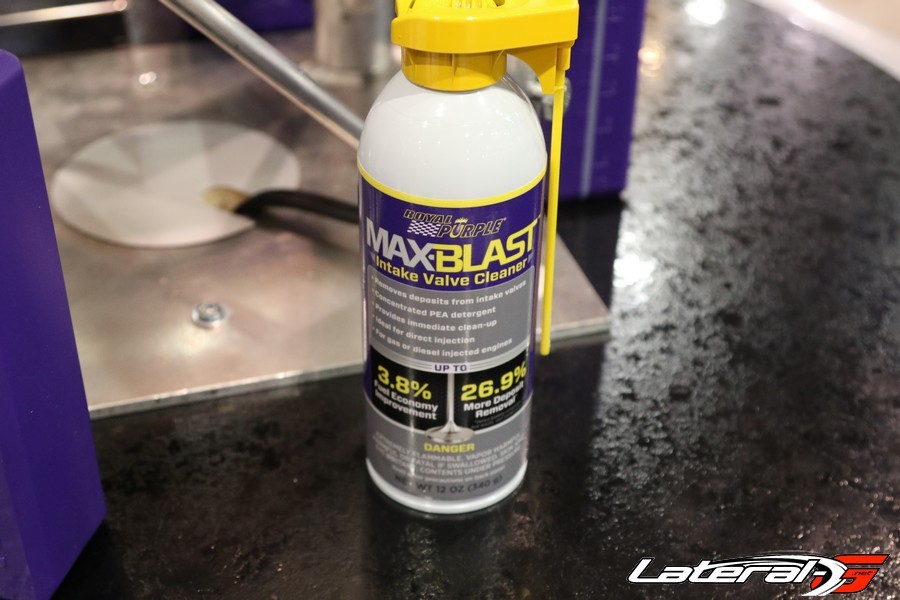 With the new engines out there going to direct injection, there comes about new problems. Enter Royal Purple and their Max-Blast intake valve cleaner. Since the injectors aren't spraying and helping keeping the valves clean, they can become gummed up easier than a traditional motor. Here the designed a spray that you spray down the intake to help keep those valves sparking clean and operating in top condition. A quick and cheap job to do to ensure a lasting motor – what more could you ask for? For those with direct injection such as an LT, grab a can and give it a try!