Upgrading Your 1968-1986 C10 Steering Box
As the C10 market has blown up, the Square Body market has been blowing up behind it. People are falling in love with these trucks again and picking them up. They are a great looking truck, easy to work on, and relatively cheap right now. What's not to love?
The aftermarket has noticed and the parts keep coming out for them. Borgeson is one of those companies. "We saw how the stock box worked great, but it didn't have a modern feel and it was 16:1 ratio. Yes it turned nice and easy but it wasn't great with any sort of performance upgrades to the trucks like we were seeing," stated Jeff Gratmeyer, Sales Manager for Borgeson. With a stock ratio of 16:1, these trucks you could turn with your pinkie finger. That was nice for Grandma but anybody that wants to have a much more crisp and responsive steering knows that isn't going to work.
"What we developed was a whole new box, not a re-manufactured box. This box is a direct bolt in replacement for the Delphi 800 series boxes that were on these trucks from 1968 to 1986," Jeff continued. The best part of these boxes is that they are 12.7:1 ratio, a drastic change from the original ratio. This new ratio will get these trucks a tight, modern feel that they desperately need.
Installation
Another one of the companies that's making improvements for these trucks is UMI Performance. On their 1984 Square Body they are developing a full suspension kit for it. "The suspension we designed for the truck works amazing. We took the truck on Power Tour this year and it drove like a new truck – minus the sloppy original box," explained UMI Engineer Nate Peterman. "After that we decided in order to compliment our suspension we needed an upgraded box to go with it," continued Nate.
Since this box is a direct replacement for the stock box, installation is incredibly easy. We started by removing the pitman arm, then popping the rag joint off the box. With the slip shaft, we were able to slide it up out of the way.
We then removed the bolt holding the power steering lines from the frame and then popped the lines out. One quick trick we learned in order to avoid spilling power steering fluid all over is to grab a set of foam earplugs. Roll them up like you would to put in your ears and shove them in the lines. Once the expand they do a great job of holding back the fluid from making a mess everywhere. The last step was to unbolt the box from the frame and get it out of the way.
Laying the old box and the new box side by side, the new box is actually a little bit smaller that the original but has more reinforcements built in for a stronger box. After bolting it into the frame we simply reversed our steps till we had everything reinstalled. The total time to install this box was roughly an hour as we took our time and snapped pictures.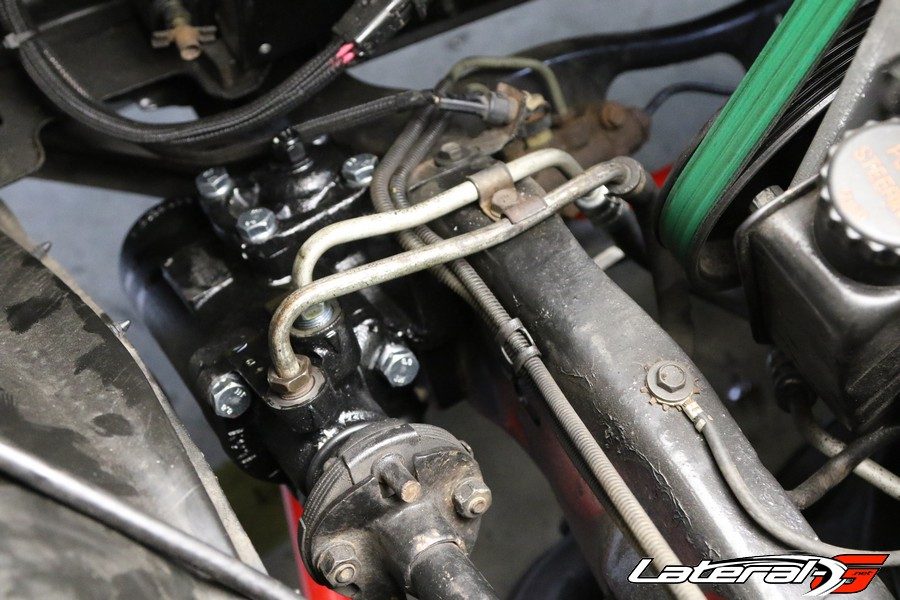 The End Result
"After doing some corner carving in this truck with the new box, I have to say I love it. The truck is responsive now and way more confident. Even little things like turning into a parking spot are so much easier than before," exclaimed Nate. An easy upgrade for less than $500.
For more information hop on the Borgeson site or give them a call at (860) 482-8283