The Best Of Both Worlds: Big Block Chevy Looks With LS Power
One of the coolest things about LS engines besides the great power and reliability is the massive amount of parts companies make for them such as Lokar Performance. No matter how you want your LS to look you can accomplish that from traditional to ultra-modern.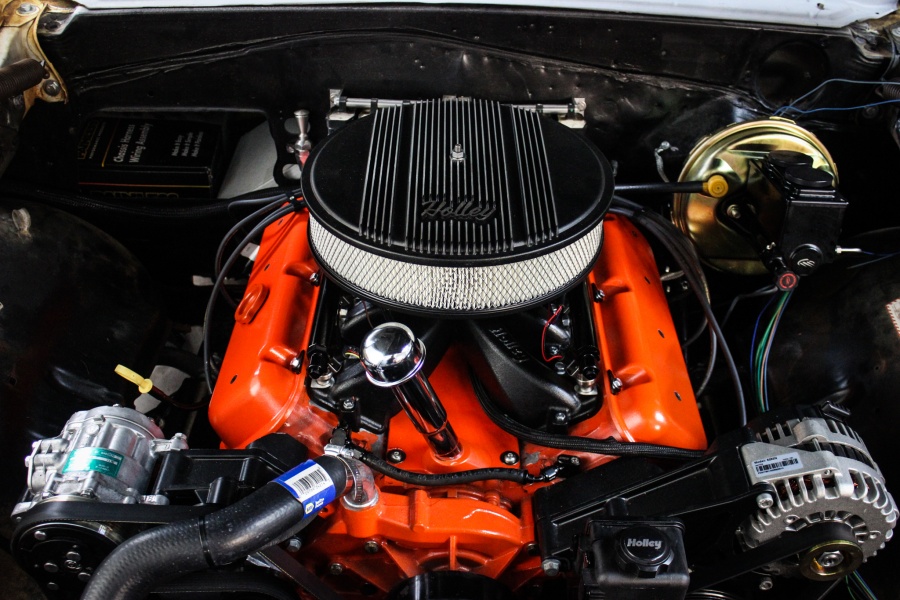 On our Project Way-Gone 1966 Chevelle Wagon we've been going for a little more classic and basic look but nice upgrades. Under the hood we decided to give the engine a little bit of a classic big block vibe to it. We aren't trying to hide the fact it's an LS engine, but we wanted a BBC vibe to give it a classic engine feel.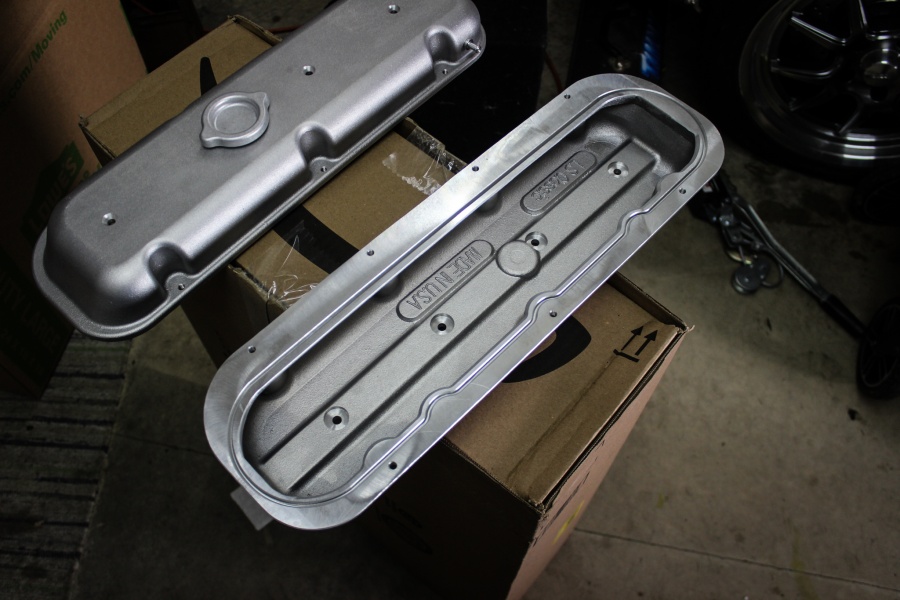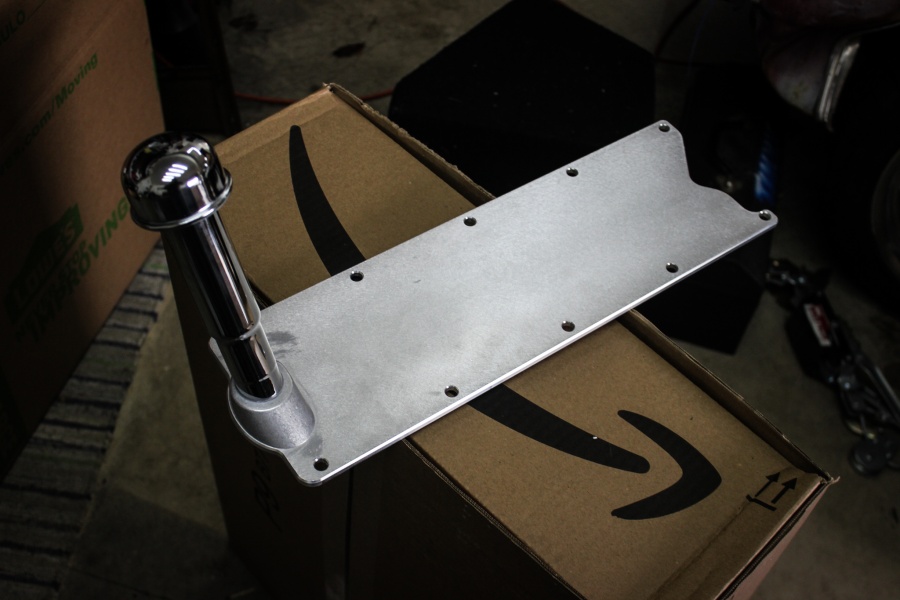 LS to BBC Transformation
For starters we painted the entire engine the iconic Chevy orange. Then we used a Holley carb style intake and throttle body so we could run a traditional air cleaner. When we first did this we used a set of SBC valve covers and they looked great but we just couldn't get past that it's a SBC look. We used to run BBC's and wanted it to look more like a BBC.
Luckily at SEMA when we were in the Lokar Performance booth and heard that they recently acquired LS Classic, a line of products that make these LS engines look like classic SBC or BBC engines. We fell in love with the BBC valve covers and had to swap over our LS engine.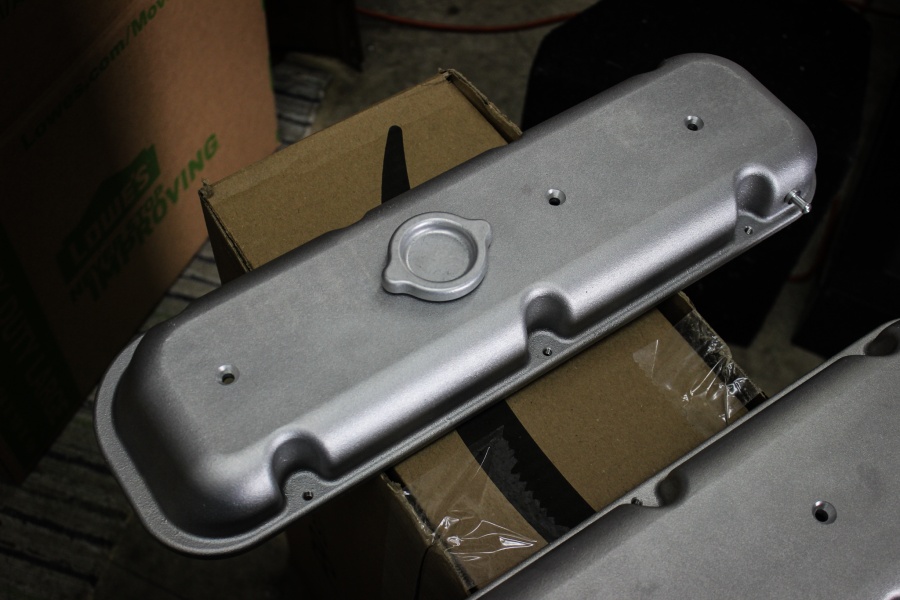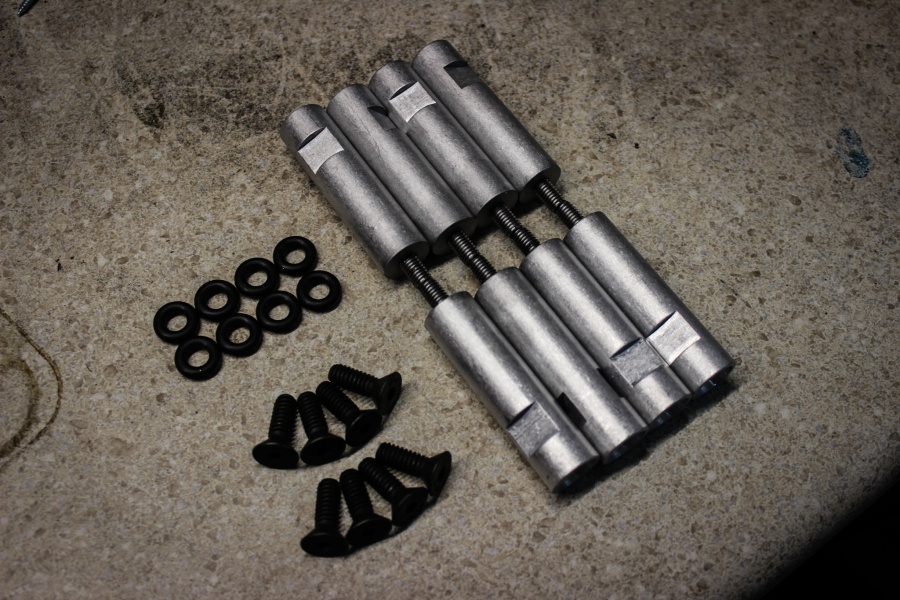 They offer a few different LS valve covers. For starters they offer a cast BBC valve cover or a chrome version. They offer a cast or chrome 409 valve covers and they offer a finned version. We opted for the cast BBC because we wanted to paint them orange to match the rest of the engine.
One other trick piece we picked up while we were at it is a new valley plate that has a fill tube machined into it. Not only will this help make oil changes easier, but the oil fill tube includes a functional breather cap has a classic small-block look that will help complete the look for us. If the fill tube isn't your thing, Lokar also offers the valley plates without the oil fill but with a high efficiency integrated breather assembly.
Lokar offers even fake distributors and remote coil mounts to go even further with the classic look, but we decided to skip on that for now as our coils were already installed. The Lokar distributor kit comes with high quality spark plug wires that are extra long (9 foot!) for remote mounting your coils.
Installing The Goods
To start the installation, we took the valley plate and valve covers out of the package then primed and painted them orange to match the rest of the engine. Lokar does offer them in orange, but we weren't sure what color we wanted to do when we ordered these up. Everything is included to make the swap happen minus the gaskets.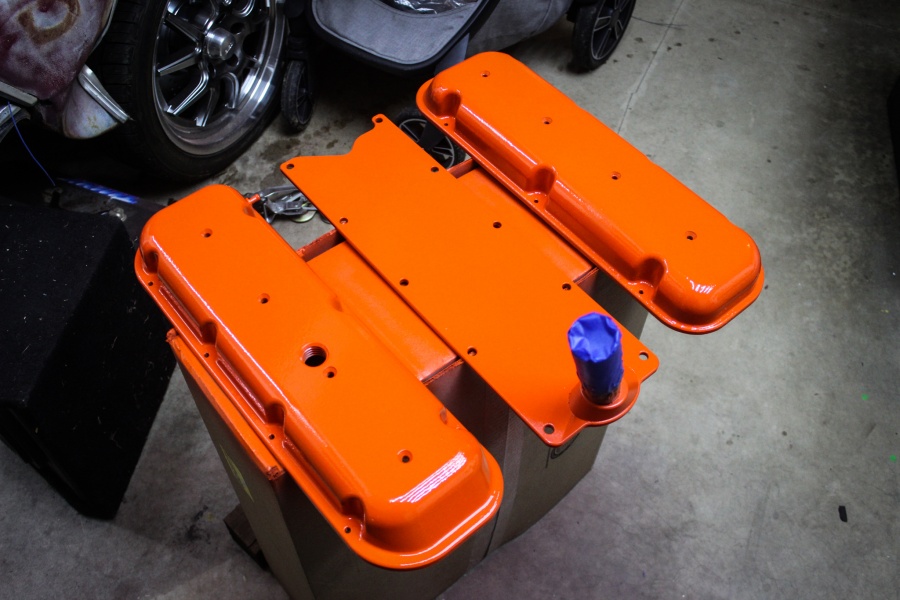 While we were doing that, we removed the air cleaner and then popped the fuel rails out of the way before unbolting the intake from the engine and setting it aside.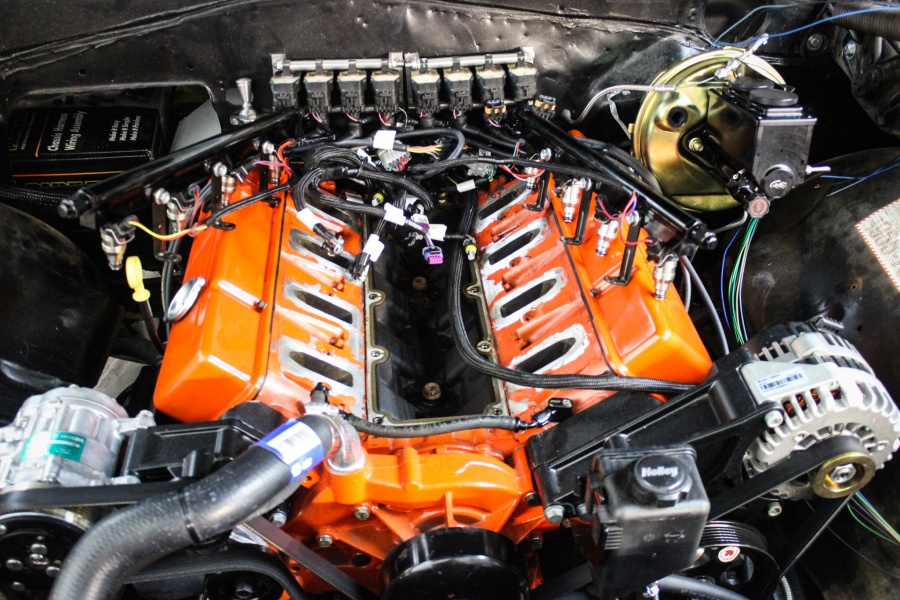 With everything aside we unbolted the factory valley plate and set the plate and bolts off to the side. Then we slid the new valley plate into place and used the supplied allen head bolts to tighten it down. Then we reinstalled the intake, fuel rails and wiring.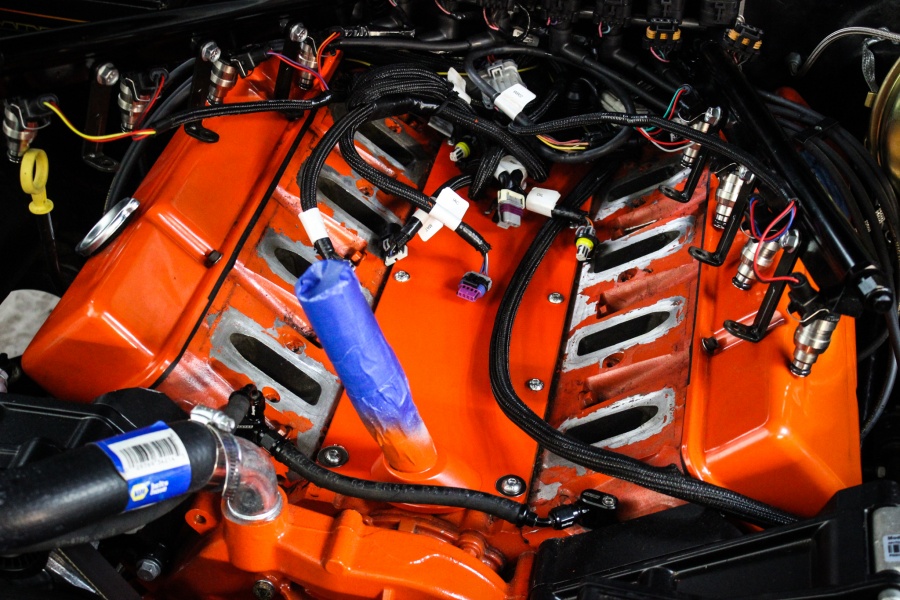 Changing The Valve Covers
On the valve covers we popped off the SBC covers and adapters out of the way. The new Lokar BBC valve covers are unique in that they bolt directly to the LS heads and they do not need an extra adapter that would add to the height (the Lokar covers are only 2" tall) and could leak. The covers use a factory LS gasket, so we picked up a brand new set from NAPA on our way home the other day. The new gaskets simply push into the valve covers like a factory set of LS valve covers. Before going further we installed the faux outer mounting bolts and load spreaders just like a real BBC valve cover would use.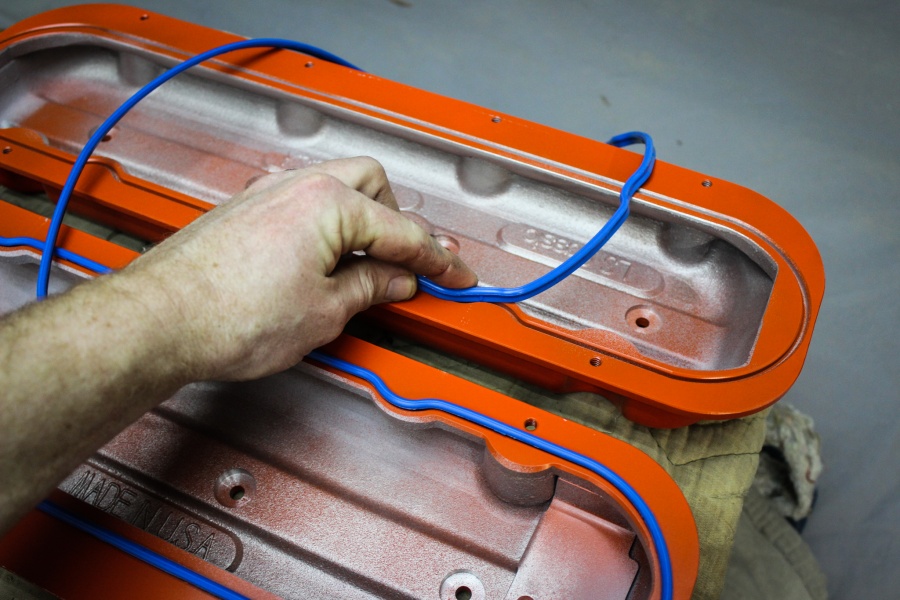 In order to install these new valve covers we have to install a set of spacers. These spacers are supplied by Lokar and pretty trick pieces. On one side they have a stud sticking out, then on the other side they are threaded. A supplied O-Ring pops into the threaded side in order to seal up the mounting bolts.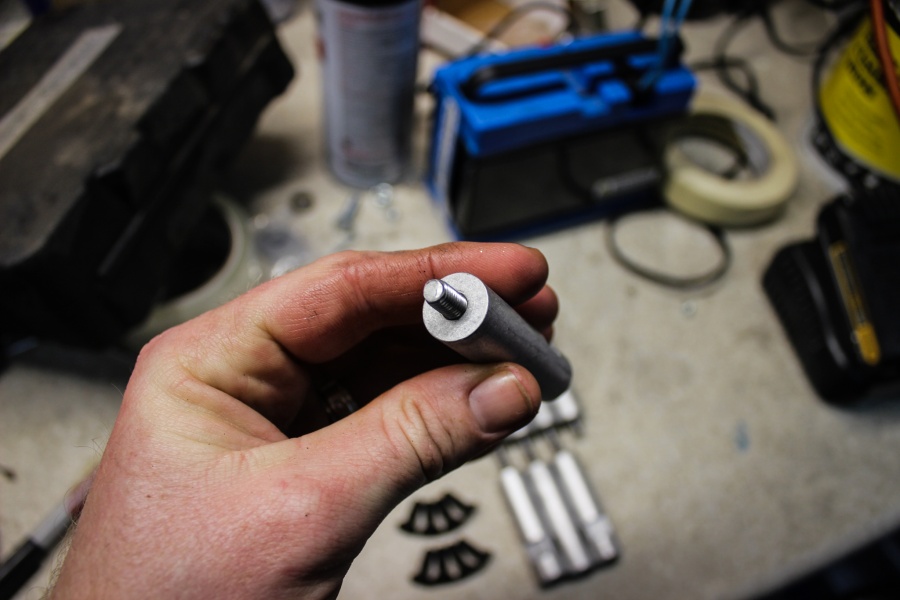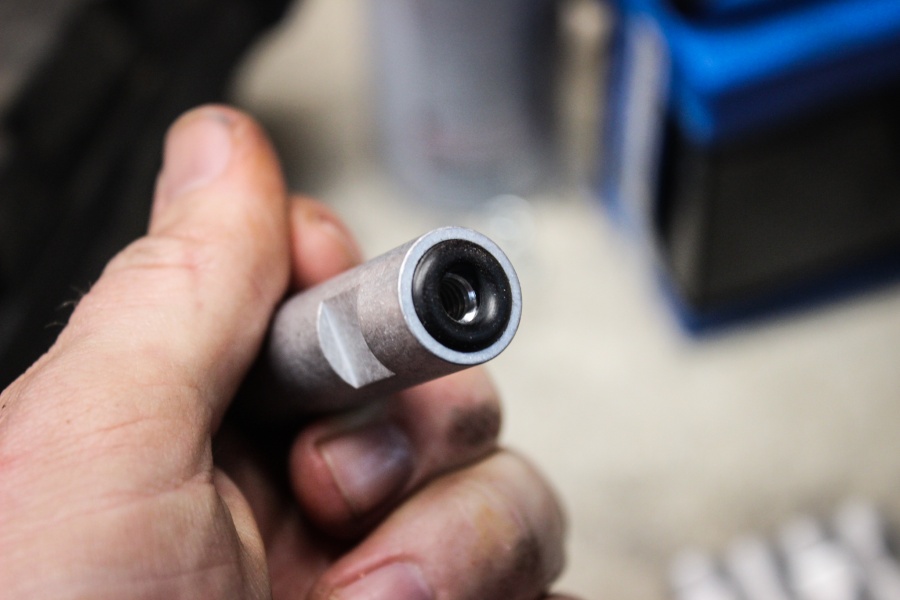 We took these spacers and screwed them into the heads where the factory valve cover bolts would normally thread. These spacers are machined to accept a wrench so snugging them down is easy.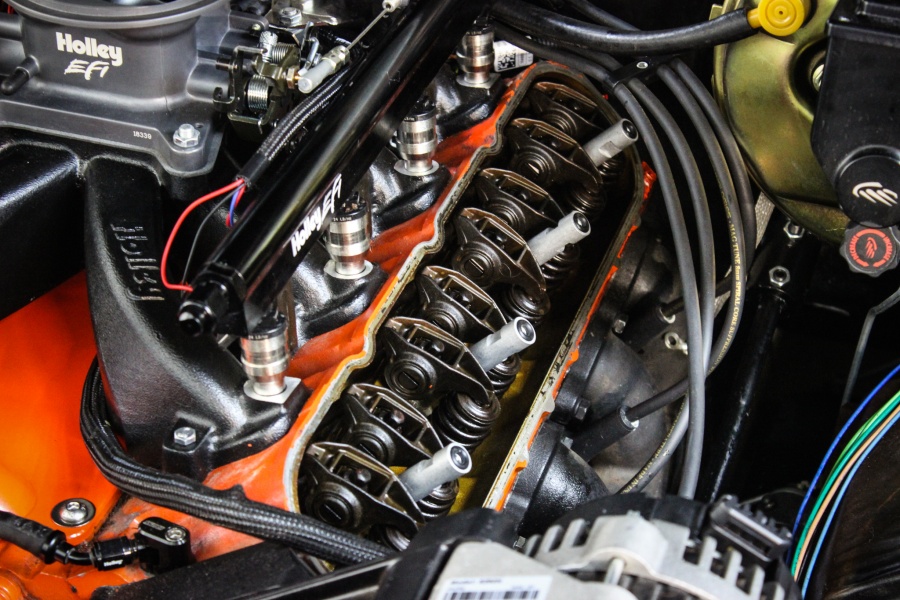 Our last step was to take the new valve covers and slide them onto the heads and use the supplied counter-sink allen bolts to fasten the new valve covers into place.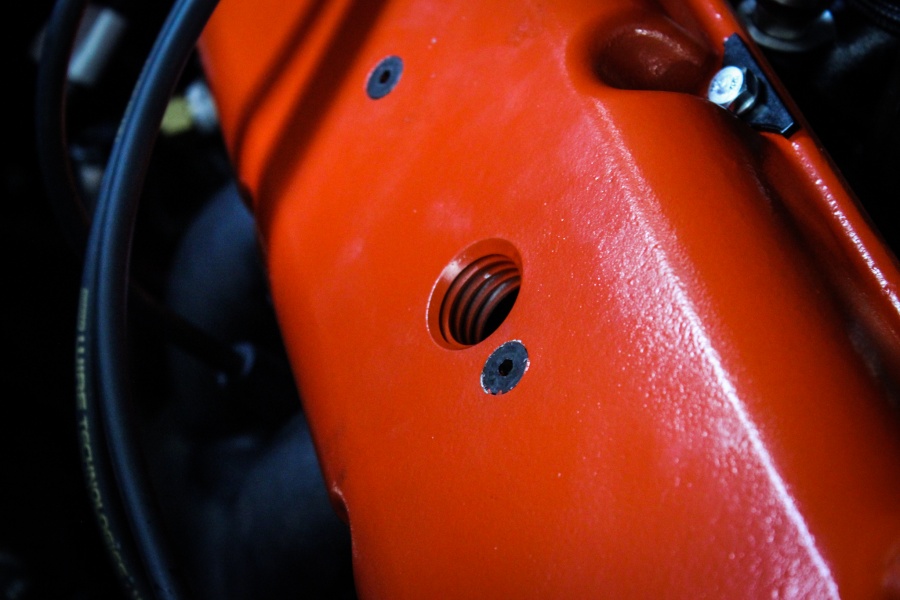 A few hours worth of work and this engine made a huge improvement! We love how the engine now has a big-block vibe with the new valve covers and with the fill tube it will help to throw people off and get them thinking this isn't an LS engine.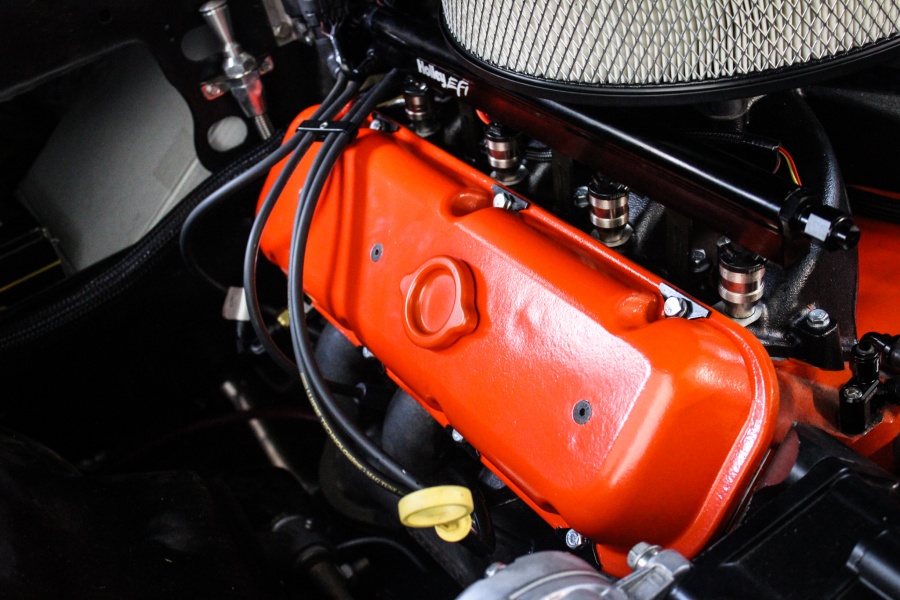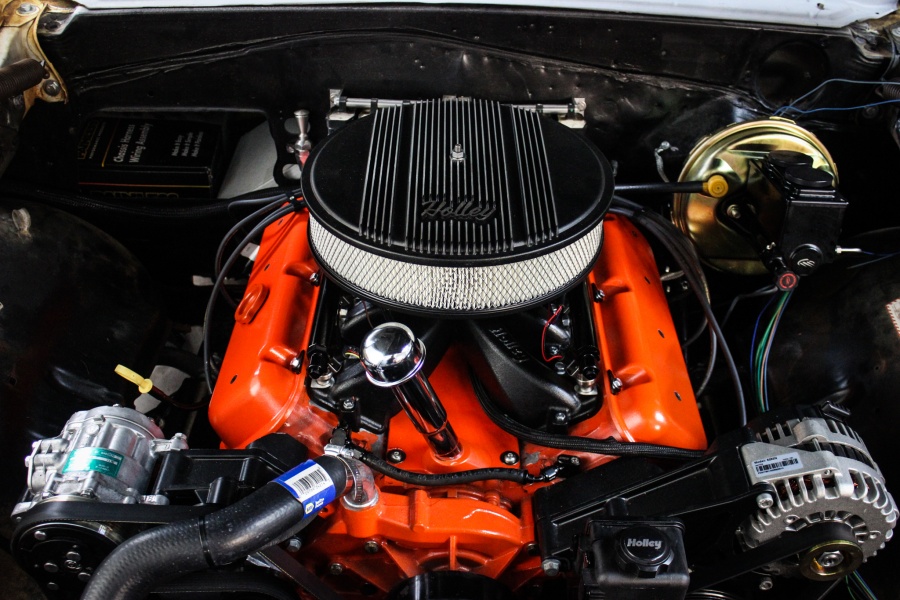 For more information and to see the whole product line, hop on the LS Classic website or give Lokar a call at (865) 824-9767