Miller Mulitmatic 220 AC/DC Welder – The Ultimate Welder
A few years back we picked up a Miller Multimatic 215 welder. This welder has served us well over the years – we have used it from replacing floor pans to building a new heavy duty gate for the yard. This welder has truly been an invaluable tool for the garage and one that was so versatile.
The Multimatic 215 is a welder that can MIG, TIG and Stick weld. The one caveat to this welder is it couldn't TIG weld aluminum since it was a DC TIG and not AC TIG. The welder is incredible, but we found ourselves needing that capability a few times.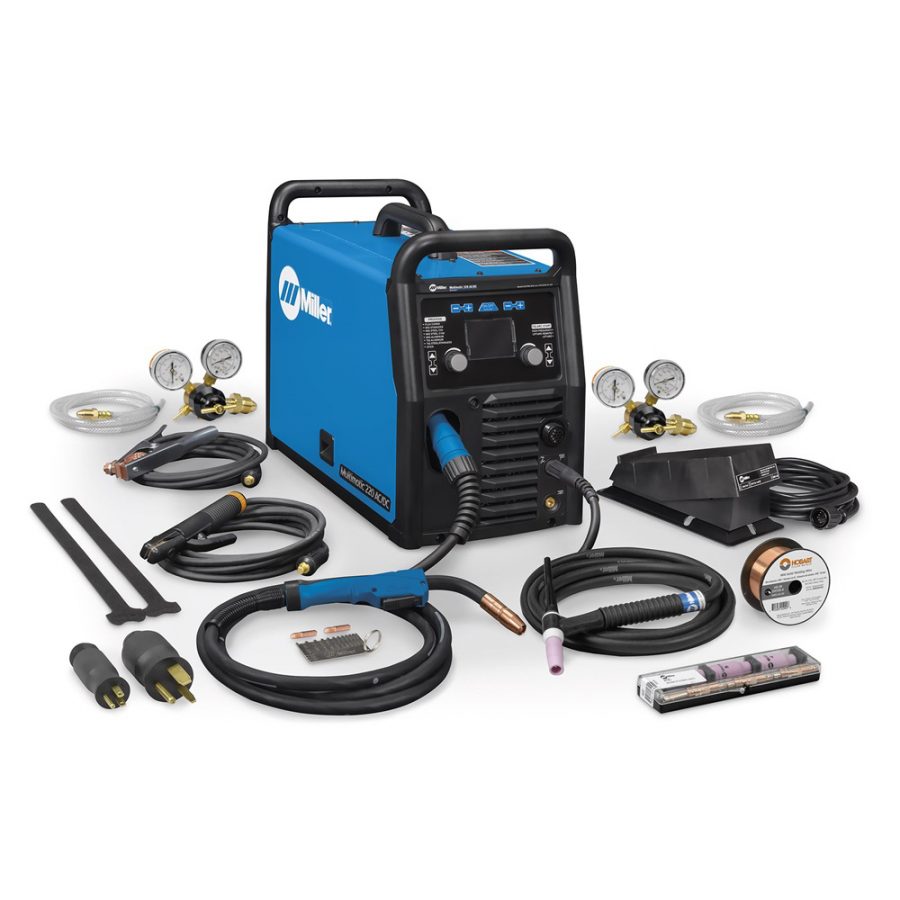 Miller could see that coming and developed the new Multimatic 220 multi-process welder. The welder was debuted last SEMA and when we spotted it we had a ton of questions for them. This welder was a home run and we had to get our hands on one. While we were at it we saved up for the welding cart as well along with the upgrade to hold two bottles at once.
What makes the Miller Multimatic 220 so special? For starters lets take a look at our older Multimatic 215. This welder didn't have the capability to weld aluminum as we mentioned before since welding aluminum requires alternating current. MIG requires a constant voltage supply and Stick welding requires a constant current. As you can see TIG welding was the outlier that presented quite the problem. The other issue was that the 215 when TIG DC welding required you to touch the electrode to start the arc while this 220 now has the capability of high frequency starts.
To start though this machine is still compact for ease of use and extreme portability. This welder weighs only 56LBS so it's easy to get in the back of a truck to a job site or just move around the shop. Everything is included with this welder too – two sets of gauges, hoses, spool of wire, even a TIG kit. Basically supply the gas and you're ready to weld!
One of the best features is the Auto-Set Elite feature. This makes MIG and TIG welding almost fool proof! You set the welding technique, wire/rod thickness and thickness of metal and it does the perfect calculation for volts and wire feed speed. There's a handy chart on the inside of the machine as well, but the Auto-Set Elite works incredibly well. For those of us who don't weld all day long and need a little bit of help, this was a really handy feature.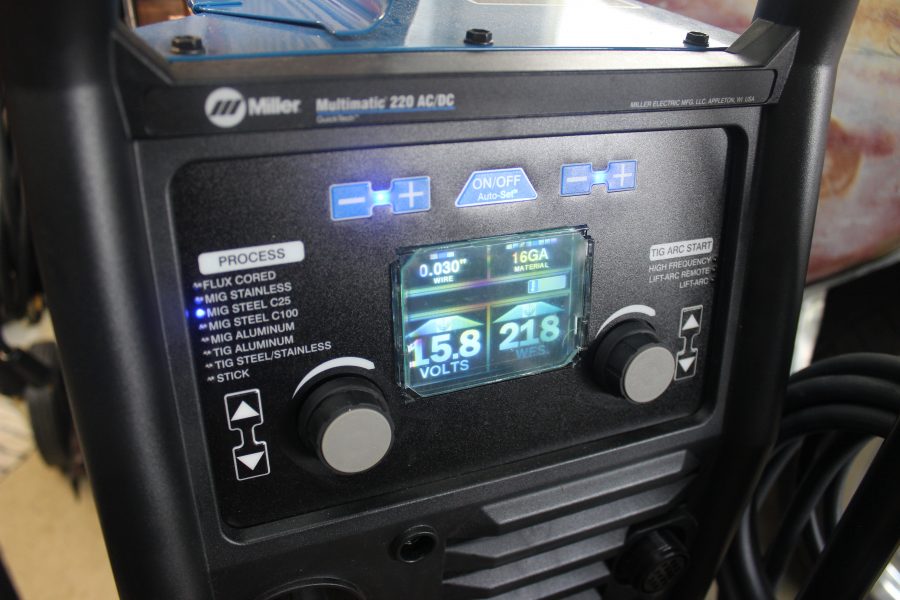 Along with the Auto-Set Elite feature, the front of the machine features buttons to change the welding process and two knobs to adjust volts and wire feed speed. There's also a large color LCD screen on the front that gives information along with shows you how to set up the machine if you change the style of welding.
Another really great feature of this welder is QuickTech. What this feature does is allow you to be in the middle of a MIG weld, stop and pick up the TIG torch and start welding right away without touching the actual machine – the machine can sense and adjust itself automatically for the change in processes. This can save a lot of time in the shop if you're welding something that requires two different processes.
One little feature that we really come to love is the cooling fan on this machine. Almost every other machine we've ever used had a loud cooling fan that ran whenever the machine was on. With this Multimatic 220, it only kicks on when needed. When turning the machine on it will kick on for a few seconds and then off. As soon as you start the arc the fan runs. Once you've stopped the arc and the machine has cooled down those fans will kick back off. It's a minor detail but one that we really like as our shop is loud enough.
This Miller Multimatic 220 really is the cat's meow of welders. It can do it all! For those who want an extremely versatile welder, we couldn't recommend it more. We've already used it on our 1966 Chevelle Wagon project by modifying the gas tank filler neck and a few other odds and ends. We can't wait to dive into the body work and be able to really use this!
For more information or to order yours, hop on the Miller website or your favorite retailer.