This weekend, Optima's Search for the Ultimate Street Car finally made it to the east coast. As everybody was heading out to the event, the weather forecast kept getting worse and worse. At times, it looked like it would be pouring the entire time. Thankfully, it cleared up and everybody got plenty of clean runs.
On Saturday, the weather started out cloudy and chilly, but no rain. They decided to run the autocross alone since it looked like Saturday would be more clear. Everybody got about two clean runs before the rain hit, but that didn't stop anyone from putting plenty of runs in. The rain stopped nobody from running. Some of the guys trying to get the fastest times quit, but everybody else decided to have fun and try their cars out in the rain.
The nice part about autocrossing your car in the rain is that you don't get much grip, so things don't break. I heard many people say that they enjoyed getting to learn how to handle their car in sketchy situations. The weather may have been cold and wet, but it was a blast watching the cars sending water flying in the air as they flew through the cones.
That night, they departed on the Lucas Oil Road Rally to the boardwalk at Wildwood so get a glimpse of the Atlantic. The rain held off, so they just had a little bit of wet roads to deal with for the 45-mile trip. Ken Thwaits decided to bring two cars to the event and race both, so he had to haul it to get there with one, then come back and take the second one.
Sunday morning revealed a much nicer weather forecast for a day of racing. Cloudy with a slight breeze, the participants wasted no time getting on the road course. In between runs, the Powerstop Brakes Speed Stop was open for running. The weather may not have been much of a delay, but a few cars broke and went off track to delay the running. Jimmy Matthews got a little unlucky in his killer '72 Nova when it blew the intake gasket right at the beginning of one of his Speed Stop runs. Unfortunately, this left fluid all over the track and the cleanup time took a bit.
Jimmy felt terrible about ruining everybody's fun, but there were no hard feelings with this lax crew. After the cleanup, everybody quickly got back on track and laid down some of the fastest times of the day. Steve Kepler ran the fastest time of the day was a 10.138 in his mean GT-R. The GTV class, similar to the autocross, was taken by Bill Hudson his '79 Camaro with a '70 front end.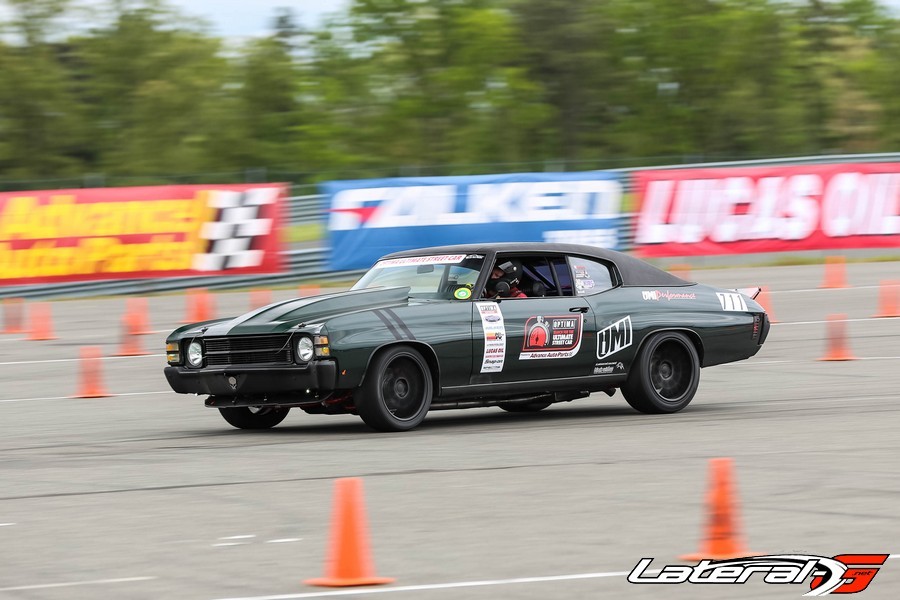 Our social media guru, Lane Coyle, was out there with his dad, Brian, in their dark green '71 Chevelle running UMI Performance suspension and a hot small block. Brian was surprised to see how well he kept up with the competition and how many people liked his car. He went out on the road course for the first time and was a little nervous. He's raced the Chevelle many times at autocross events, so he was comfortable in autocross and speed stop, but this was a whole different beast. Lane and his dad truly encompass what this whole genre is about. The racing may have been fun, but every time I saw Brian, he was laughing it up with a fellow competitor and asking if he could help. This is an attitude present among all competitors at this event. That's why I love them.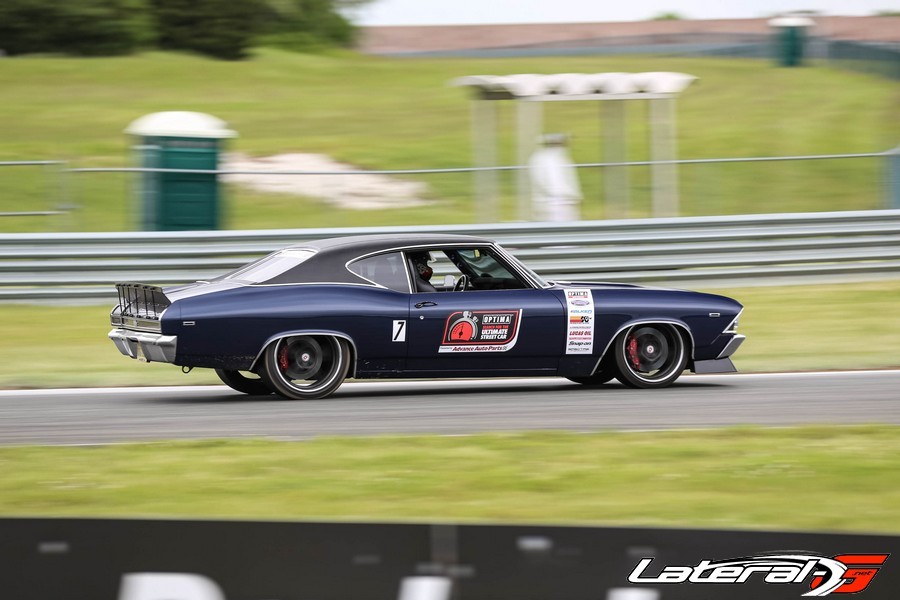 The rainy autocross proved that not all of those guys are out there to prove that they're the fastest, but to have fun in their cars and meet other car lovers. In competitions like this, that mentality is often lost. Thankfully Optima's event still has the heart of grassroots motorsports running strong.