Day two is in the books! We are now 2/3rds of the way through the time of this build. Today started just as early as yesterday, with everybody feeling a little tired but not too bad. But the show must go on! Promptly at 8:00AM again the cameras turned on and the crew went back to work, coffee and Monster Energy drinks in hand.
Today a ton of progress was made, with lots of detail pieces you don't notice at a glance. One of the biggest jumps in progress was that the engine and transmission assembly were slid into the engine bay shortly after lunch.
In the morning the guys started the vinyl wrap of the car. They tackled the doors, hood and roof pieces that were off to the side. Watching these guys work is a piece of art. You know when you have a big strip of duct tape, roll it into a ball, then need to unroll it? It doesn't happen. Or if you're applying a sticker and get a bubble or crease, it's there forever? Not with this stuff. At one point they were wrapping around the rear window area and the vinyl looked like it had been crushed into a ball then reused. They just kept heating it with a propane torch, stretching it, and magically it laid down smooth as glass. I just couldn't stop watching the process.
The oil tank was finally installed, which allowed the Vintage Air kit to be installed as well. With this oil tank mounted, the engine and transmission were slid into place, just like sliding on your favorite pair of tennis shoes. Speaking of shoes, shortly after lunch Forgeline showed up with the new wheels for this car, personally delivered by Forgeline in their ZO6 'Vette. These wheels are a real work of art, and will be the perfect cherry on top of this cake.
The remainder of the day was spent on tons of the nitty-gritty, time consuming things like all the wiring, plumbing and linkages. Wiring was being handled by the folks from American Auto Wire and Classic Instruments. RacePak also showed up and was beginning to install a full data-logging system. We caught up with them and they let us know that this system will keep tabs on the roll, pitch, lateral-g's, lap times, shock travel along with engine, oil and rear end temperature. Basically, you'll end up with live data logging and be able to know exactly what the car is doing on the track, down to what it's doing in a particular corner, allowing you to tweak the car as needed and monitor progress.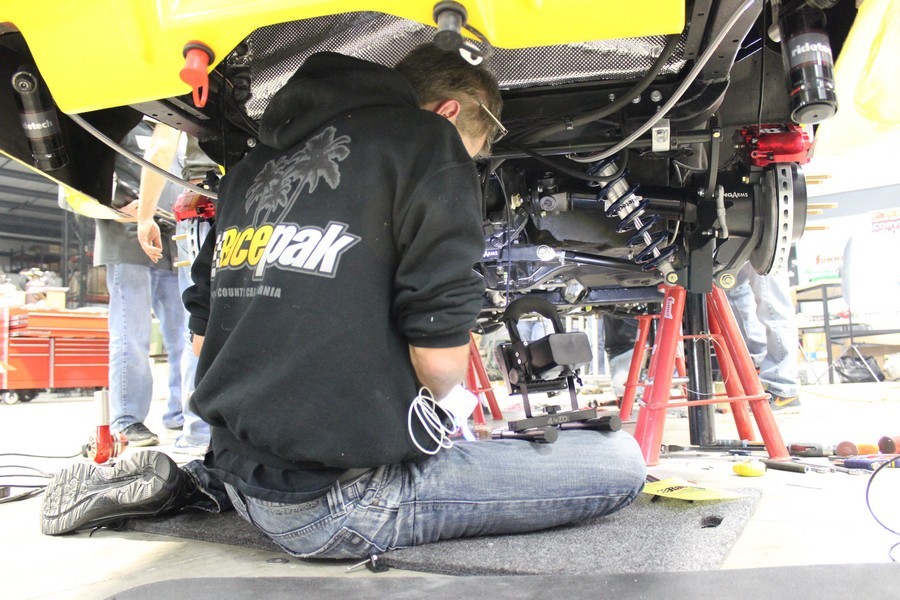 The Vintage Air was being installed, and the front Baer brake set up was put on the spindles as well. Through-out the day each manufacturer was sitting down and answering chat room questions, which was a neat benefit for a lot of folks that took advantage of it. The chat room itself was busy all day long as well, with people hanging out and asking questions.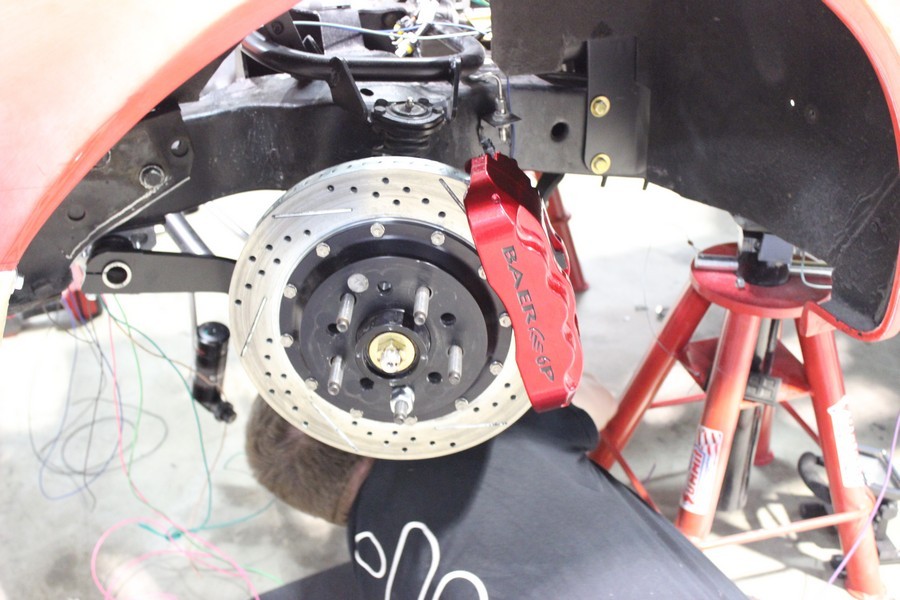 One thing I'd like to say is a huge thank you to Bret and the folks at RideTech. They made sure everybody was welcome and had everything they needed. They even provided lunch and dinner for anybody that showed up. I'm not talking cheap burgers and hot dogs either. Today's lunch was home made pulled pork sandwichs with potato salad and a bunch of other goodness. Bret made sure everybody was well fed and fueled up for the journey. Bret himself is no joke either-one minute he's talking about details of the build, and the next minute he's under the car with a wrench turning bolts. He's dedicated to this build and ensuring it goes smoothly, while putting in work himself.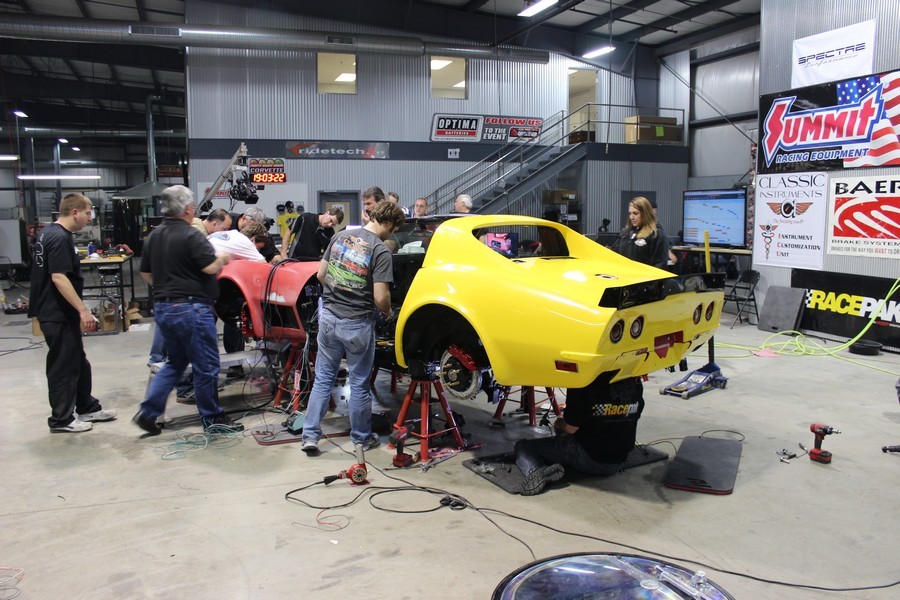 By the end of the day the two guys working on the vinyl wrap had transformed almost all of the red machine into a yellow beast. The LS7 engine and T-56 transmission were cozy in their new home. In front of the motor the Vintage Air front runner system was finished off, including mounting the condenser in front of the ultra-slick C&R Racing radiator. The front suspension was finished and a massive set of Baer brakes was installed. A ton of wiring was also completed, but that aspect wasn't 100% finished. The Forgeline wheels were wrapped in Falken tires, patiently waiting to be installed on the car. Even some of the cosmetic pieces were installed, such as the rear tail lights, side marker lamps, along with the rear spoiler.
Another months worth of work was finished up today. Tomorrow is the big day! We will get to hear the motor roar to life and see it move under it's own power before being taken straight to the track. Check out the massive gallery of pictures below.