Waylon Krumrie's 1967 C10 "Able"
For over 15 years, Waylon Kain Krumrie, Sales Manager at TMI Products has been surrounded by some of the baddest cars and trucks in the automotive world. He's worked with the biggest builders  in our industry and helped come up with some of the coolest interiors out there. All while doing this though, he didn't have a ride of his own to tinker with as life had gotten in the way.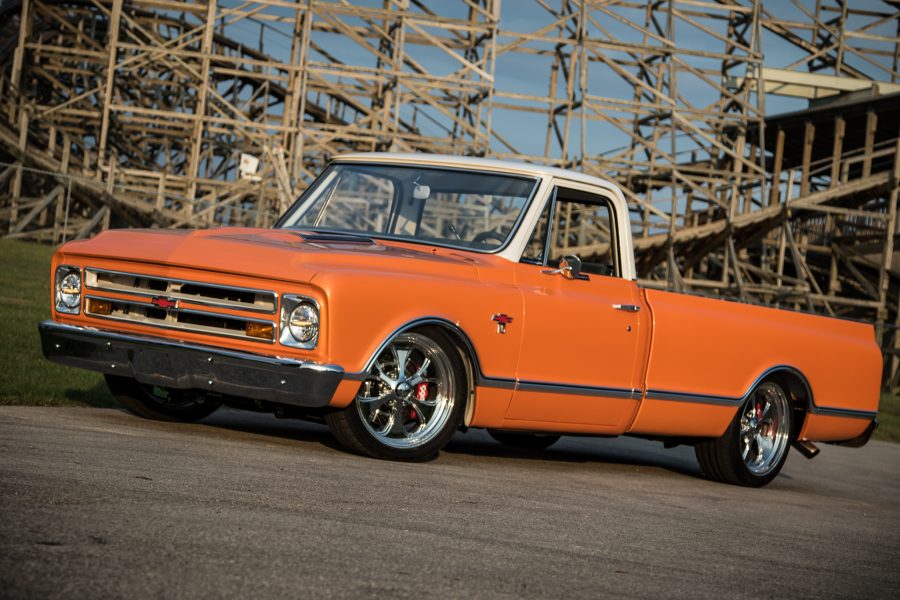 A few years ago that changed when Waylon picked up this 1967 C10 you see here. With the debut of TMI's new truck interior product line, TMI needed a vehicle to show it off. Waylon offered up his C10 but knew that his daily driver, complete with a bottle opener on the tailgate wasn't quite up to par with SEMA standards….yet.
From A Different Cloth
With a name like Waylon Kain, you gotta imagine he's cut from a different cloth than the rest. You see Waylon didn't want a basic short bed C10. He knew that he had to have something just a little bit different than everybody else. At first glance you'll notice this is a long bed. He kept it that way – on purpose! Cutting these down into short beds is so easy and done so much, Waylon decided to keep the factory long bed just as the great Chevy gods had designed it.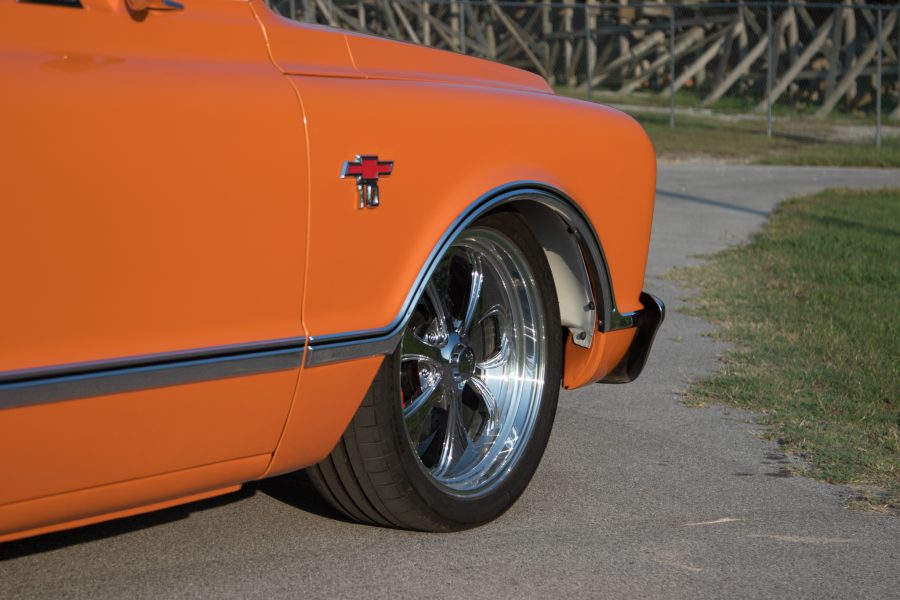 Another thing you'll notice right off the bat is those US Mags wheels aren't 5-lug, they are 6-lug, staying true to the trucks original character.
How you see this truck here is hardly how it looked a few years ago. When Waylon picked up this truck it was green and hiding a lot of rust that had been hidden very well. "I literally drove this truck everyday for the first few years. When the time came to make it a SEMA worthy ride, Waylon sent the truck out to Kiwi Classics and Customs in Franklin, TN to blast and paint the body.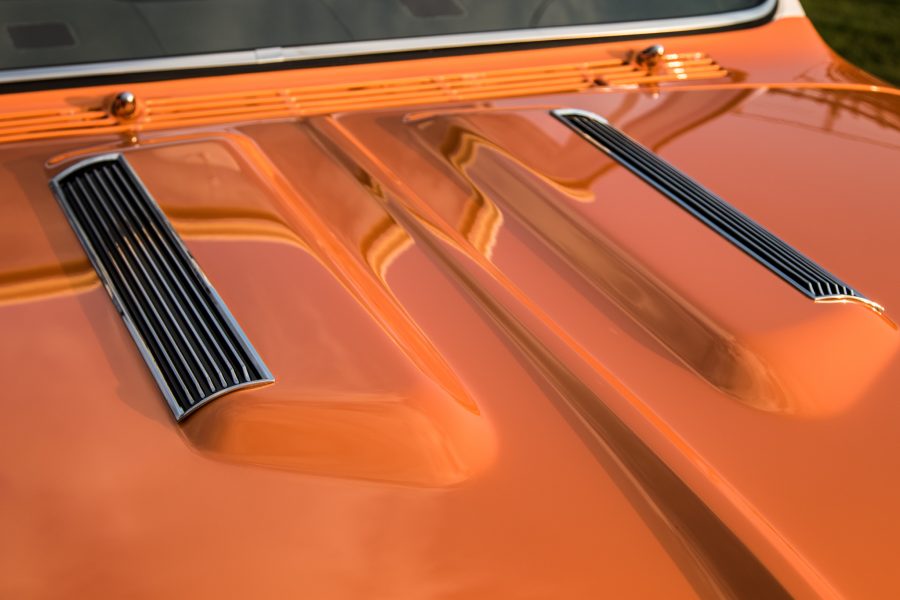 "The bad news was that it was hiding a lot of rust. To the point I almost had to buy a completely new truck. Luckily I reached out to Classic Industries who had every piece of sheet metal I needed to bring this truck back to it's former glory," continued Waylon. The crew at Kiwi Classics and Customs went to work and after a few long months, this is the result you see. The color is Matrix Automotive version of Lamborghini California Orange and it pops! You'll notice right off the bat there are some subtle and some major cosmetic metal changes done to the truck, including that SS inspired hood! When Waylon expressed to the crew over at Kiwi Classics and Customs that he wanted to ride the fine line of Custom and stock, they came back with the idea of grafting in the hood louvers out of a 1967 Chevelle SS and the idea was a home run hit. Waylon explained it this way, "They didn't make an SS C10 back then, but if they had – I'd like to think it would've come with this hood."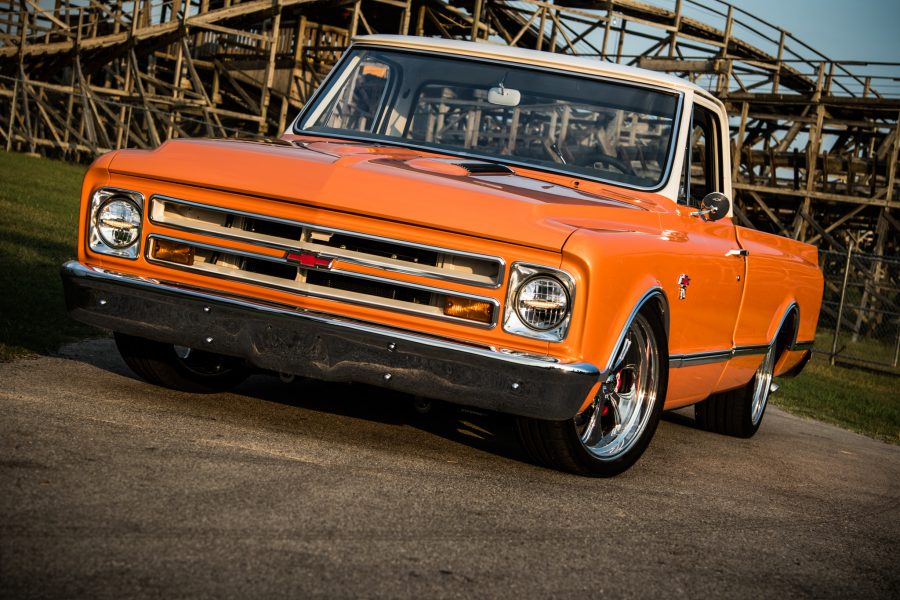 Assembly Begins
When he got the truck back from paint and body, there was only a few weeks before SEMA 2018 to complete it. Luckily Waylon has a lot of car friends after working in the industry and they came out and worked tirelessly on the truck alongside of him to get this ride up to where you see it today.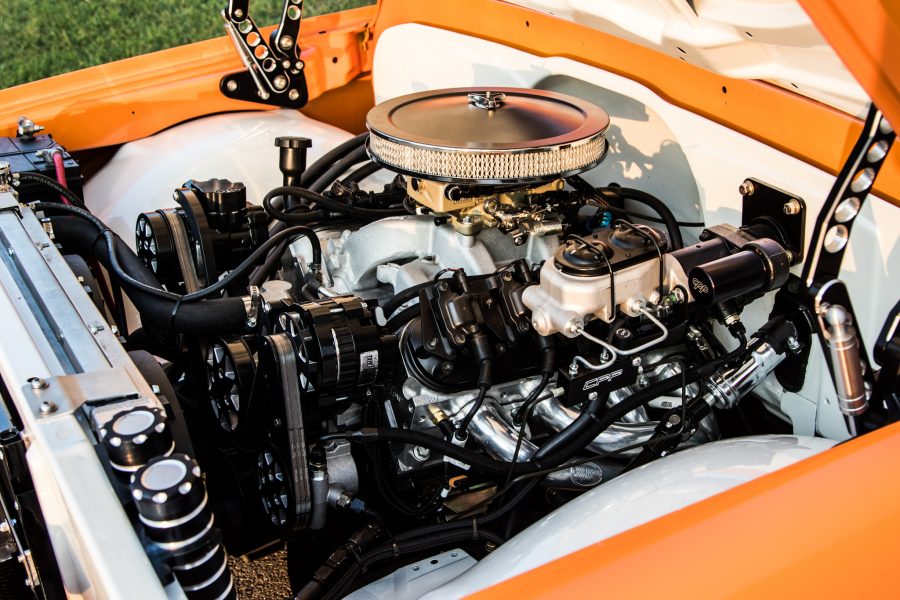 Under the hood is a modern 5.3L LS but with a complete Trick Flow top end kit. In order to get the engine looking a little more classic Waylon opted for a FiTech retroLS injection set up on top of an Edelbrock cathedral port intake. On the other end exhaust is expelled through a set of Doug Thorley mid-length headers and a complete Flowmaster exhaust. All American Billet built the serpentine kit really dress up the front of that LS and their hydraulic hinges keep that custom hood shutting nice and smoothly.
Behind the LS powerplant is a B&M 4L80E transmission that spins a custom aluminum driveshaft. At the axles there is a complete six-piston 14" CPP disc brake set up to get this truck slowed down in a hurry. The 20×8 and 20×10 US Mag wheels are wrapped in Continental ExtremeContact Sport tires.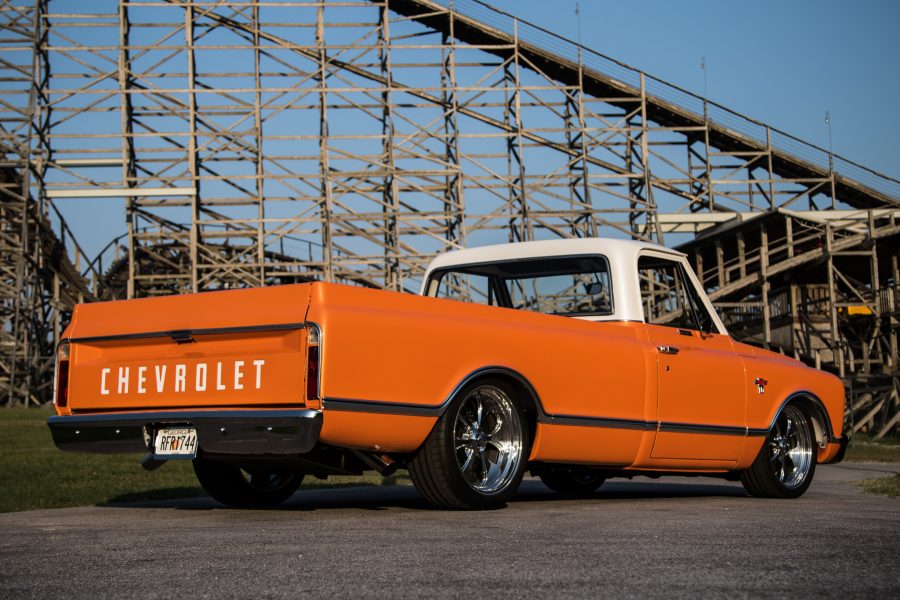 One quick glance at the truck and you know that it's sitting nice and low. That was accomplished using a complete RideTech HQ Series coil over set up. These are combined with StrongArms in the front along with a MuscleBar sway bar. In the rear Waylon ditched the leaf springs in favor of a complete RideTech four-link set up with matching HQ Series coil overs and the result sits this long bed perfectly at an aggressive ride height.
Interior Of Dreams
If you sell interiors for a living, then your interior has to really stand out. Instead of going with a boring black or typical brown color, Waylon decided to go a bit more custom and went with an amazing distressed green vinyl and accenting plaid. TMI Products made the complete bench seat that's inside, along with the molded door panels, molded dash pad, steering wheel, sun visors, center console and 7 piece carpet kit!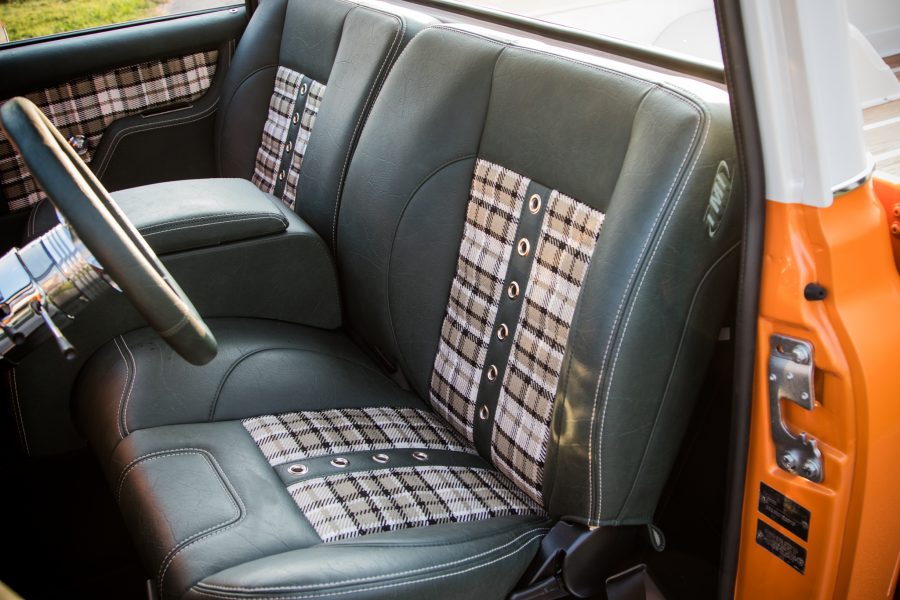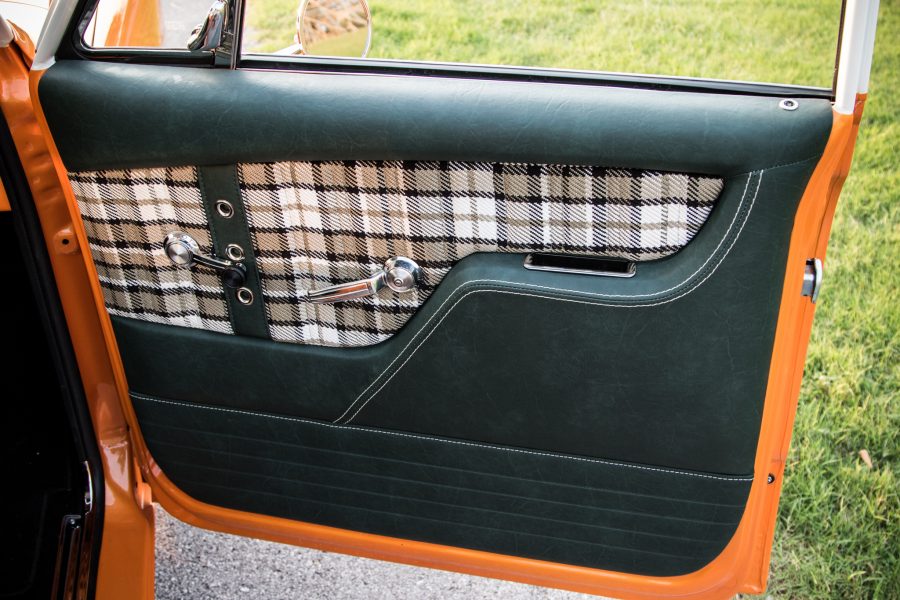 To compliment the interior, Waylon installed a complete Dakota Digital gauge set up to keep tabs on everything while cruising down the road. At first glance you might think this truck doesn't have A/C, but you'd be fooled by the ultra-slick Restomod Air A/C set up. On this new InVent system from RestoMod, the center dials in the middle of the vents work as the controllers – making for a nice clean install!
The entire truck was wired by Jeremy Rice of Tre5 Customs using Painless Performance to ensure a trouble free electrical system. Other touches to push this truck over the top include the Clayton Machine Works pedals, United Pacific mirrors and headlights, a CPP tilt column, and Mar-K side trim and wood bed to name a few.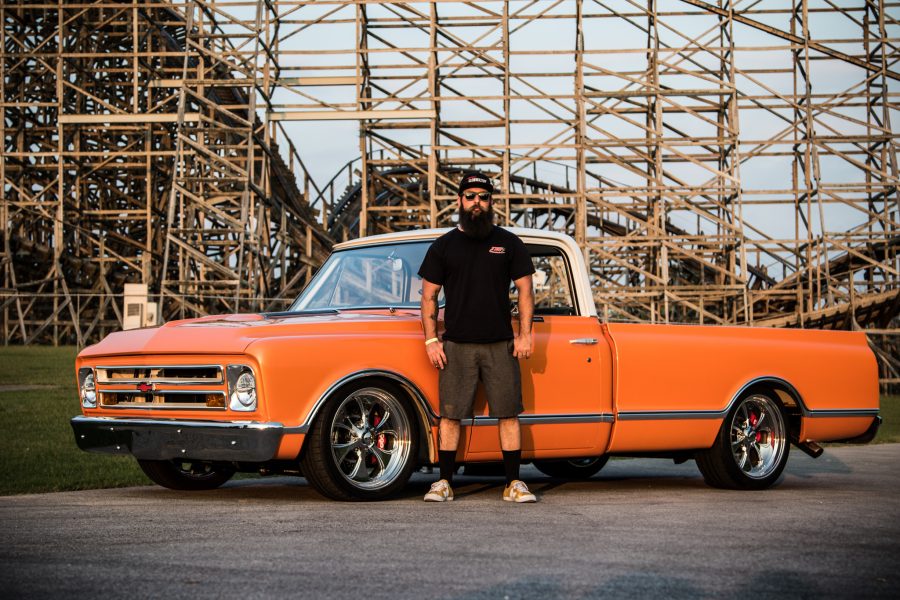 Playing off his middle name "Kain" – Waylon nicknamed the truck "Able" – as in, "am I able to pull this off?"
We say you did that and then some…