Jeff King's 1967 Nova
The age old saying "labor of love" couldn't be more true with Jeff King and his 1967 Nova. You see, Jeff will turn 35 years old this year, meaning he's had this car for 20 years and still hasn't driven it much. After hearing the story, we needed to see it and shoot it.
"The car was supposed to be my daily driver in high school," explained Jeff. When he picked it up, it was a very worn out car but was technically a driver. Instead of fixing it up here and there, Jeff along with his Dad and brother tackled the car head on, stripping it down to a bare shell in no time.
Paint jail got the best of Jeff and his Nova. He had to steal his car back from one paint shop, and threaten another just to get the paint finished up. After that major set back, he finished up the interior and rest of the car and made it to his high school graduation in the car.
The last detail was to pull the extremely worn out 283 C.I. and matching Powerglide. That's when things started to unravel and the car had one major set back after another. The plan was to install a fuel-injected TPI motor and 700R4 transmission from a 1990 Camaro. However, the aftermarket support at the time was slim to none, meaning there were major issues that took too much time to solve.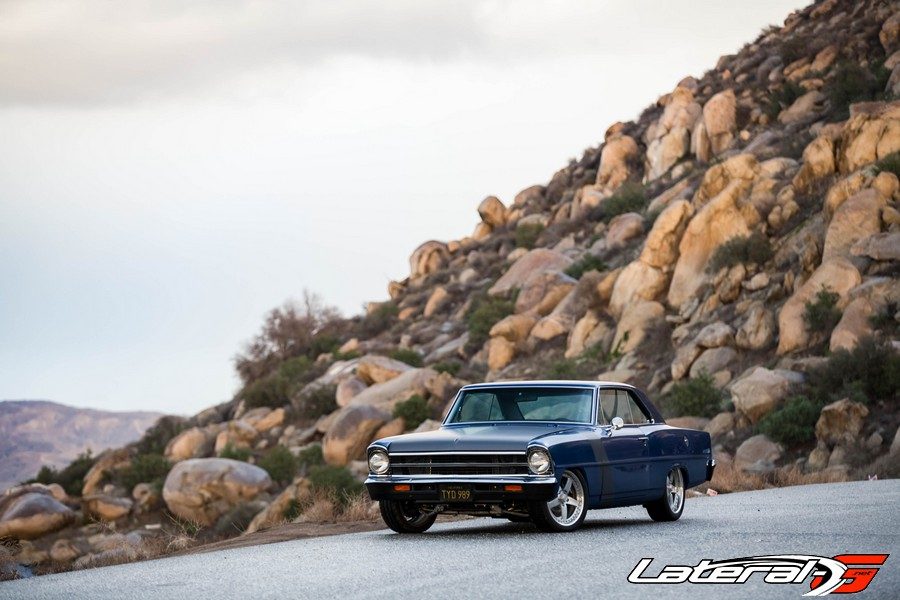 Life Happens
Life stepped in and Jeff went off to college, got married, had kids, bought a house and all but forgot about his blue shoebox Nova sitting in the garage. However his brother loved the car and wanted to see it get on the road. He was able to get it running and driving for his wedding. But there were issues with the car that prevented Jeff from driving it more than a few miles. "Every time we got one issue fixed on the car and started to enjoy it, another would pop up.
I'd be lying if I said I didn't get extremely frustrated with the car and thought of selling it," explained Jeff. Luckily, his brother's love for the car kept pushing it towards completion and slowly worked out the bugs on the car.
Reworking II
As the parts available for these cars has become exponentially bigger over the last 20 years, Jeff took advantage of it. In fact, since restoring the car the first time it not only needed the bugs worked out, it needed to be brought into the 21st century as well.
He started by swapping the outdated 15″ Cragar Street Stars with a set of 18″ Forged Union 'Independent' wheels. "I wanted something classic yet modern, so I went with a forged three piece wheel but retained a classic five-spoke design," Jeff told us. A set of Continental Extreme Contact tires wrap the wheels. The disc brakes on the front were basic and the drums in the rear just weren't up to par. He installed a huge set of Right Stuff Detailing brakes to finally get the Nova stopping like it should.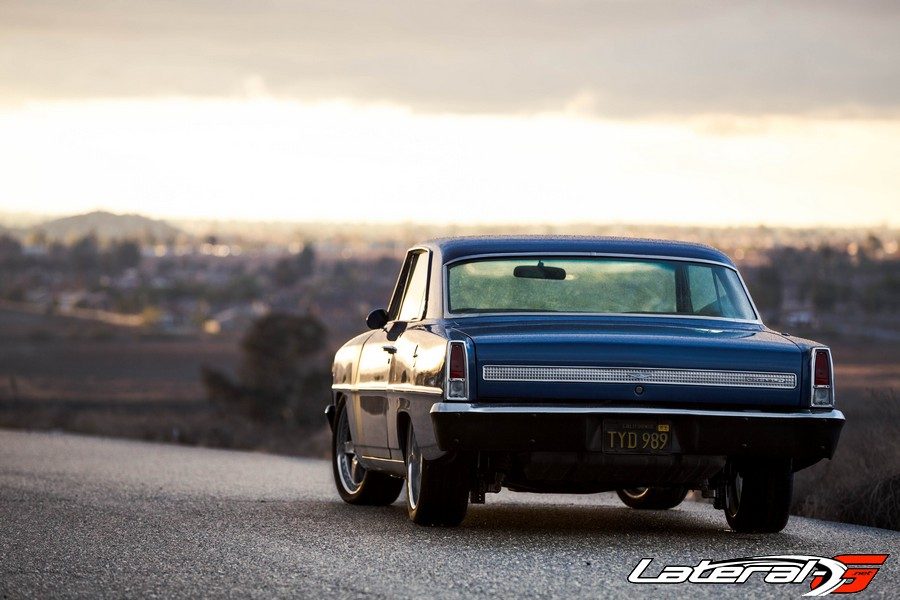 For suspension, originally it had 2″ drop spindles and 2″ drop leafs but was otherwise stock. "The car always rode funny going down the road and wasn't very confidence inspiring. Plus the slave cylinder power steering never seemed to work worth a damn," laughed Jeff. Since he had already spent so much time getting the TPI motor dialed in, he didn't feel like ripping off the entire front end of the car for an aftermarket clip. Enter Church Boys Racing and their bolt-in tubular suspension kit. This kit utilizes the stock front sub-frame, but replaces it with tubular control arms, a complete rack and pinion steering and topped off with a set of Viking Performance dual adjustable shocks.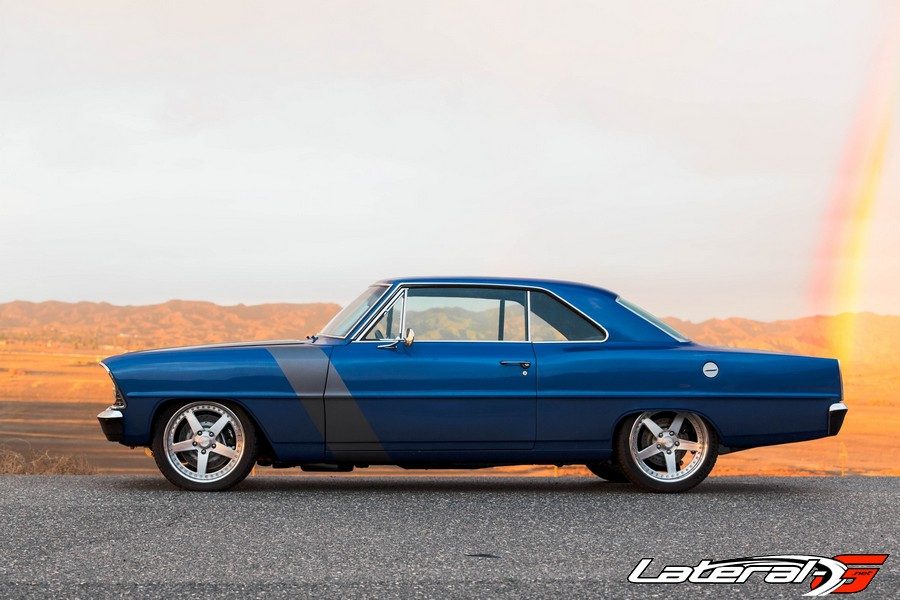 "The front end of the car was amazing. Going around corners the front end was planted and begged for more while the leafs in the rear were giving way," explained Jeff. In order to compliment the front suspension, he called up Chris Alston Chassisworks and ordered up a complete g-Bar rear suspension kits that ditches the two leafs and upgrades to a four link set up with a sway bar and coil overs. In addition to that, he grabbed one of their subframe connectors to stiffen up the entire car. "It's an absolute night and day difference driving the car now from 20 years ago. I can't believe it's even the same car!" exclaimed Jeff.
Under The Hood
While the TPI 350 SBC has been installed, there were some issues with it. For one, every time you went around a corner the motor would cut out. He called up Tanks Inc and ordered up one of their fuel-injection tanks that not only had the built-in fuel pump, but baffling as well. Jeff stated that "this fixed my problem instantly. I can fling the car around corners now and it has zero fuel issues. Another issue off the list!"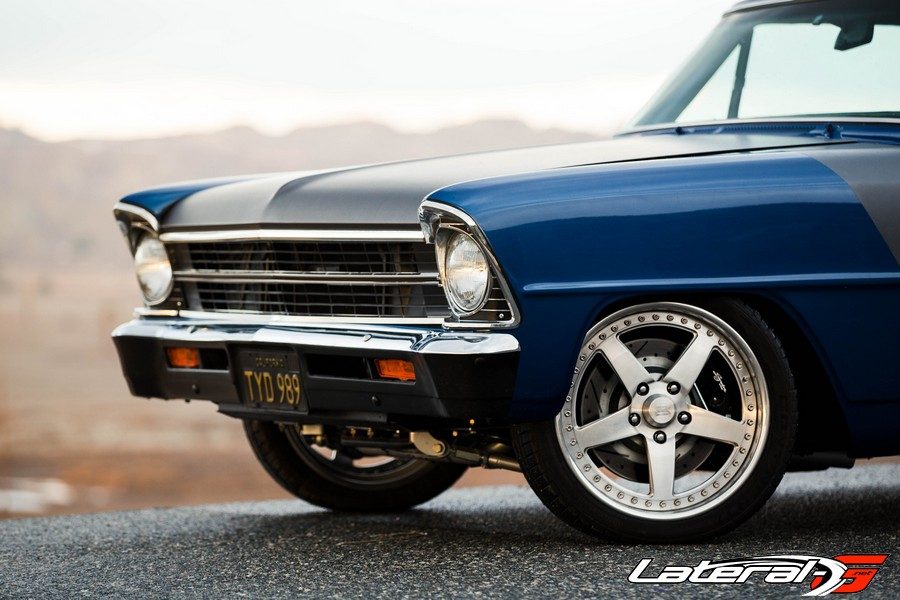 In order to help the motor breath a little bit better, a K&N air filter was installed along with a set of Doug Thorley headers attached to a set of Flowmaster mufflers. This gives the motor a little extra pep and sounds amazing doing it. Finishing off the engine compartment is a set of Eddie Motorsports billet hood hinges, ensuring the hood opens with the touch of a finger.
Creature Comforts
The interior on Jeff's ride still sports the stock sport bench, but had a completely custom interior installed. It's grey with black inserts which compliments the blue paint perfectly.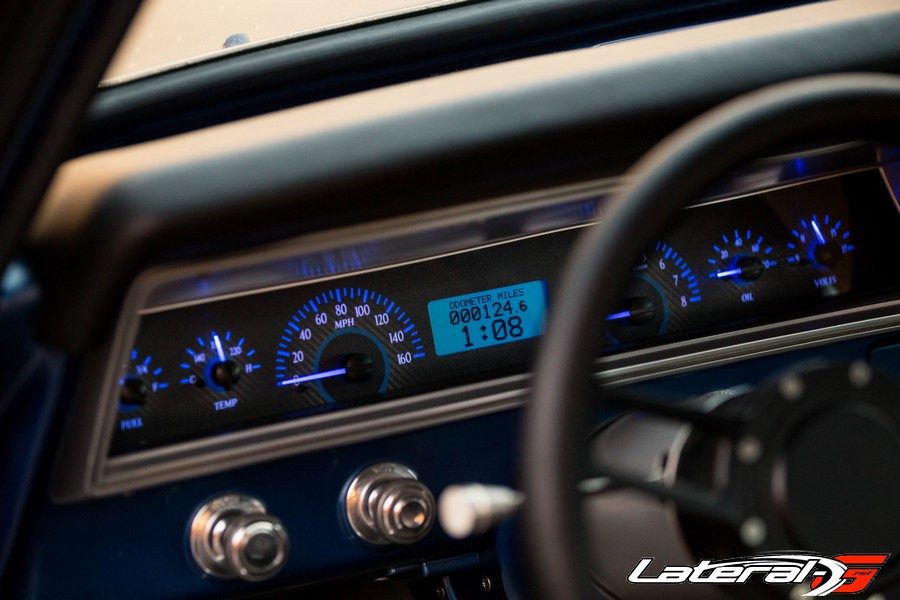 In the dash a set of Dakota Digital VHX gauges was installed to keep tabs on everything under the hood. While installing the new gauges, the entire car was rewired via Painless Performance to resolve all the electrical gremlins. A B&M ratchet shifter was utilized to keep the car in gear. Finishing off the interior a Eddie Motorsports steering wheel was attached to the Ididit tilt steering column and a set of Lokar Performance pedals were used as well. Hidden in the interior is a full stereo as well, keeping the tunes rocking while cruising down the road.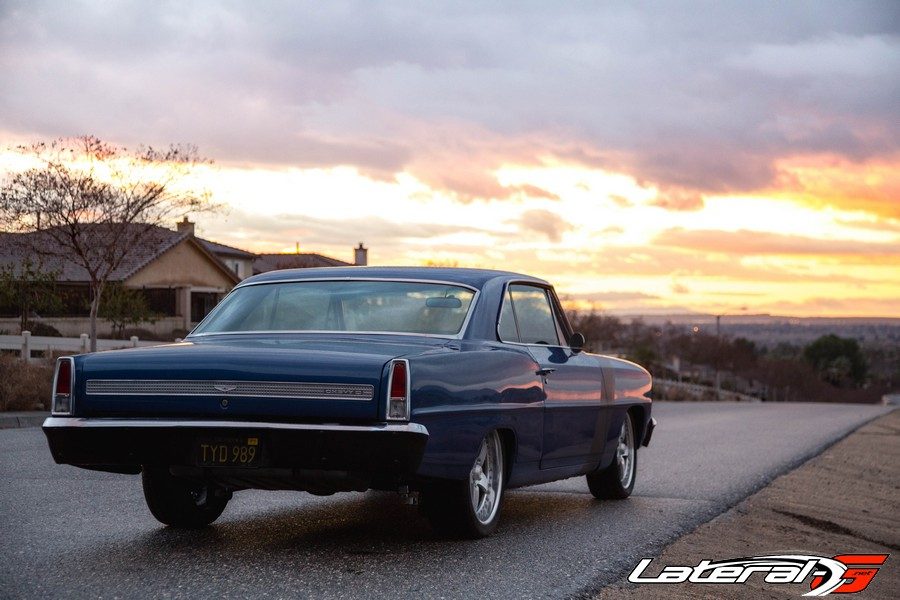 For now, there are no plans for the Nova other than to enjoy it and finish working out any other kinks with it. After 20 years, Jeff is ready to put some serious miles on the car!