Getting Blown with TorqStorm
Editors Note: When I wrote this I totally messed up – actual percentage change is 79% increase in power, not 43% as I originally had. 
In our previous stories, we showed you how we grabbed an junkyard LY6 6.0L and built it up to handle boost. That boost is coming from a TorqStorm supercharger! Now we could have used the factory brackets and bolted up the TorqStorm to that, but we decided to get the complete kit with all the accessory for the easiest and cleanest installation into our '66 Chevelle.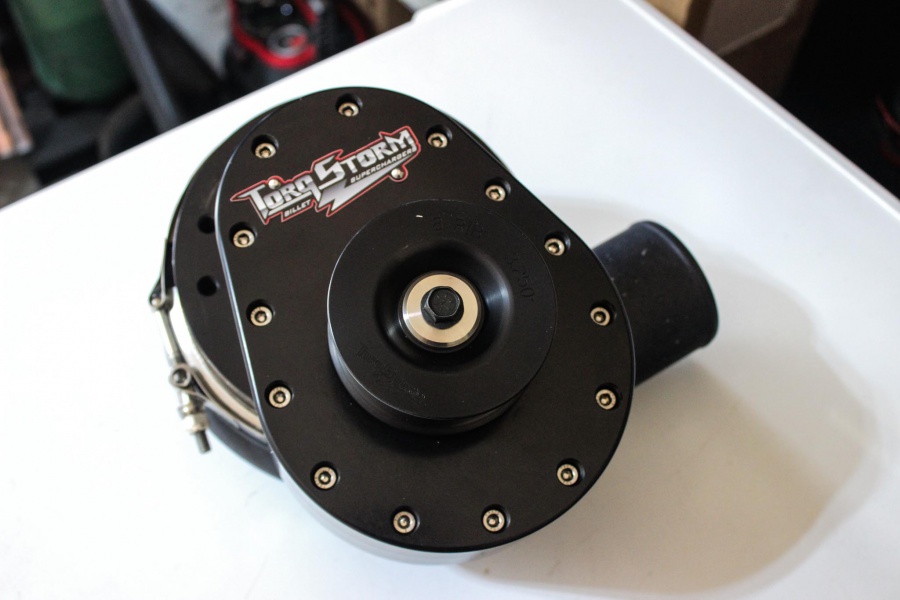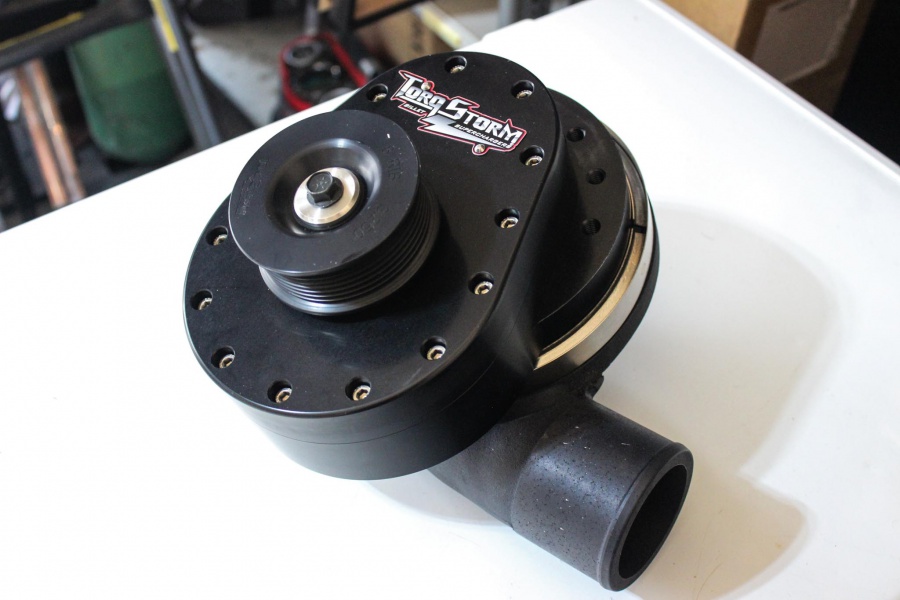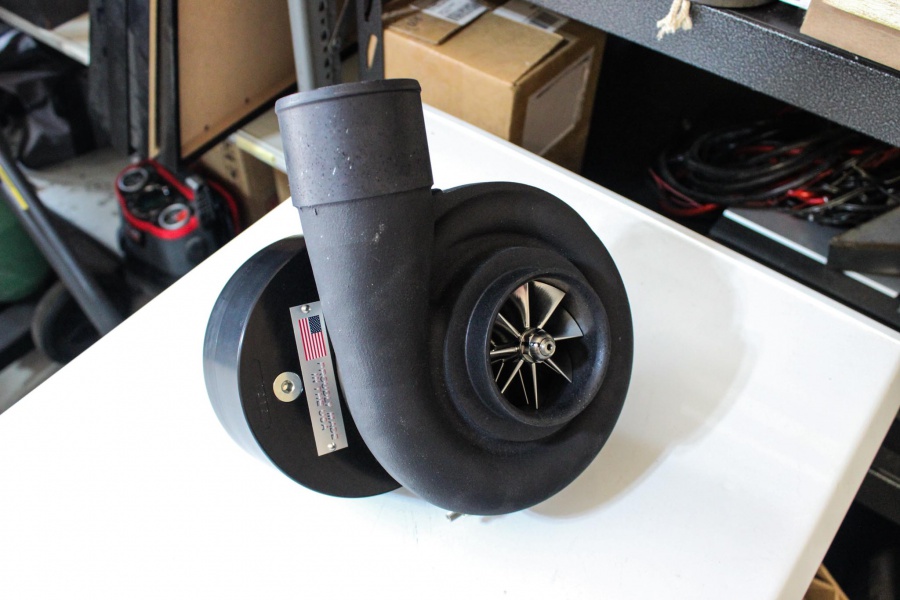 "We are machinists and car guys that started a supercharger company," stated Chris Brooker of TorqStorm. It's not unsual to see these guys on Power Tour, hitting the drag strip, autocross course or any other number of events. They are car enthusiasts and it shows in their passion for their products. We had heard a ton about them, seen them on a bunch of cars, but never actually installed one of their blowers ourselves. These superchargers are capable of flowing 1250cfm and can support over 700HP with a single blower or 1200HP with a dual kit.
We really just wanted a car with a ton of power and a blast to drive, a single TorqStorm Supercharger was enough for us. They offer them in either a natural billet or a black anodized version. We opted for the black anodized version that will match the dark appearance of the rest of the engine and car. They have applications for LS engines, SBC's, BBC's, Fords, Mopars, Oldsmobiles, and Pontiacs. You name it, they can supercharge it.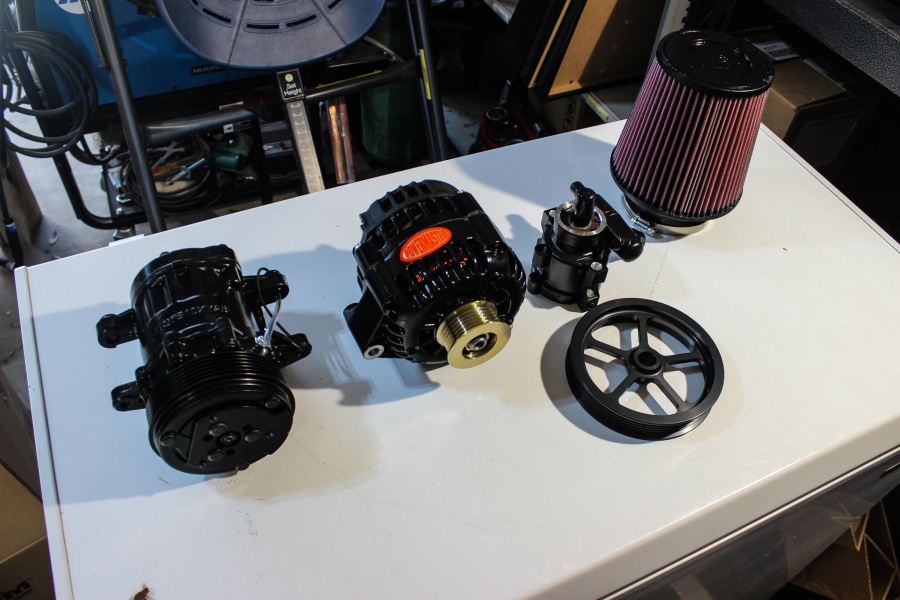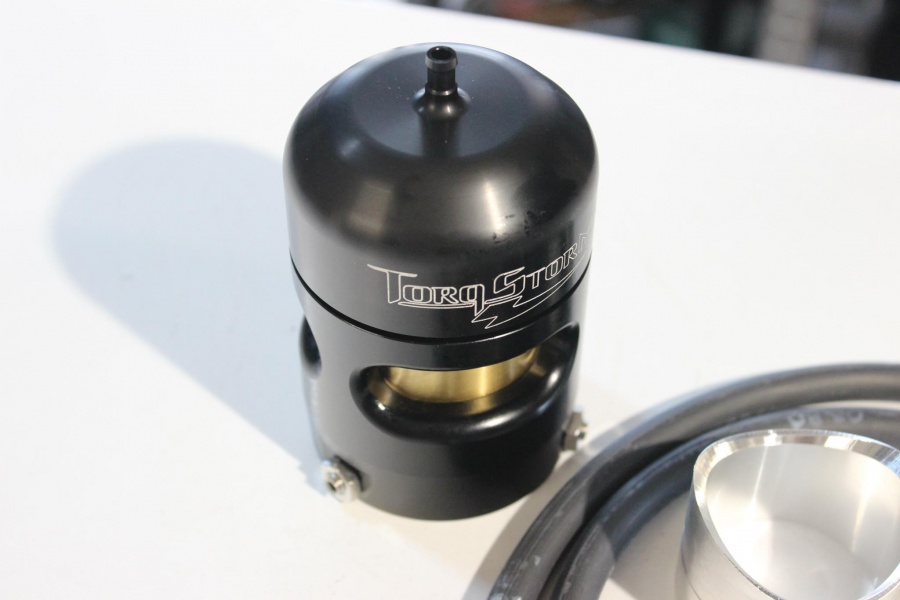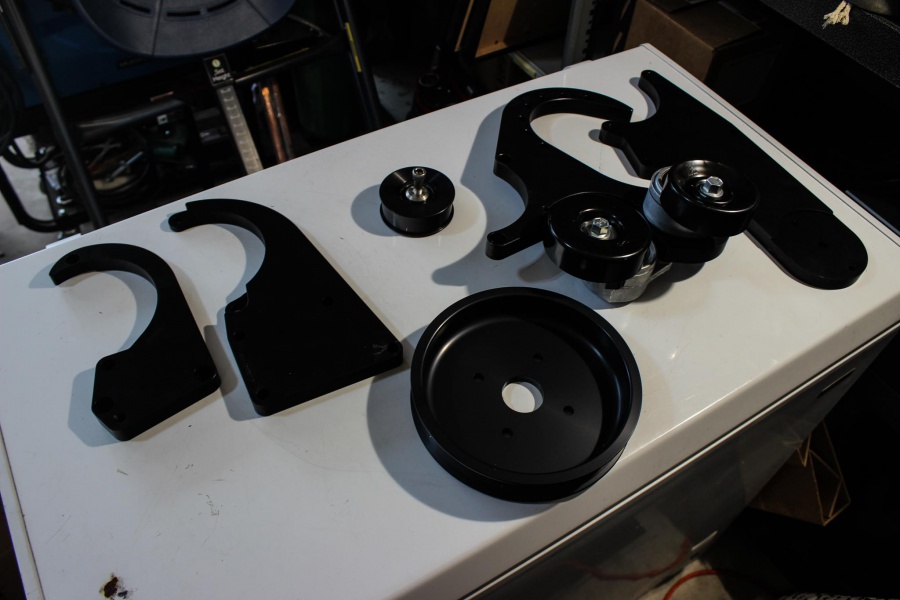 We took a few minutes and made a video unboxing everything that comes in the Plus kit, which is just about everything you need. The only things that didn't come was some of the piping, which obviously is specific to every vehicle and this was a universal kit.
Starting with the instructions, we read them through a few times to make sure we understood the process before diving in. In reality, it's a very simple installation where everything bolts together. The only semi-tricky part is you have to drill the crank and crank pulley to install a key to keep the crank pulley from spinning. Our first step was we needed a LS1 water pump which we picked up off RockAuto, along with an LS1 crank pulley, which we picked up from Summit Racing. First step was to get these installed.
Pin It To Win It
Before we started installing all the brackets we wanted to get this pinning of the crank out of the way. Luckily TorqStorm provides great instructions, a jig, and even the drill bit needed. The process was really easy where you installed a bolt with the jig, then taped the drill bit to mark it's depth, then drilled two holes. After removing everything and cleaning it out, we tapped in the two pins before torquing down the supplied crank bolt with the pulley adapter. In this kit there's a stand-off adapter that bolts to the crank that holds the pulley for the supercharger belt.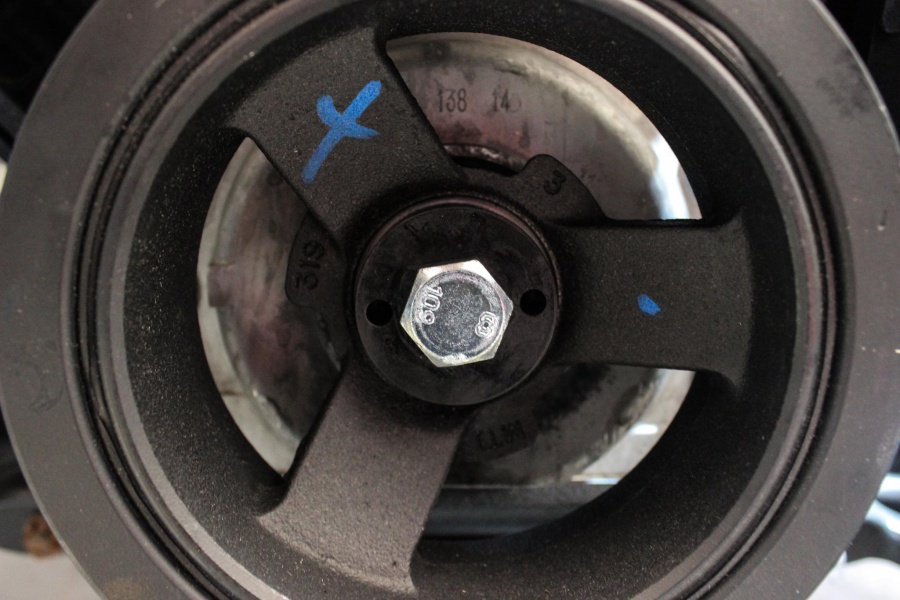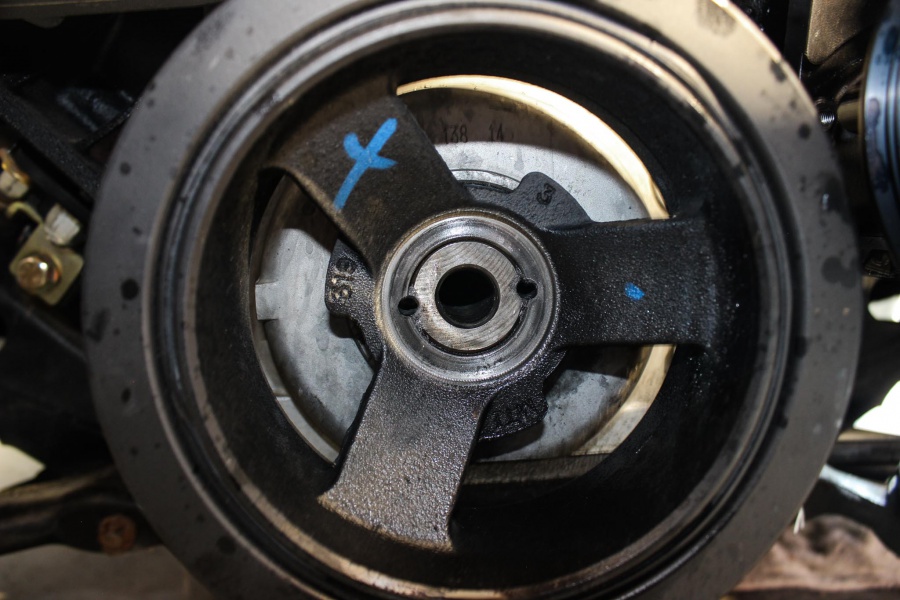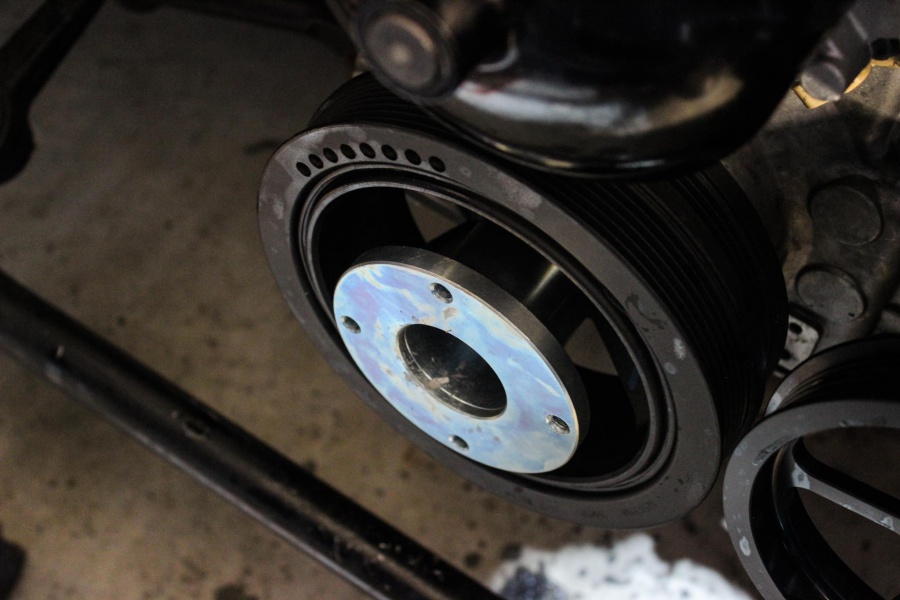 Moving onto the accessory set up, we started by installing the Air Conditioning compressor brackets and the compressor itself. There's two brackets and a few adapters that make this all work, but it's straight forward. The only tip we have here is to keep everything loose, then once everything is installed tighten it all up.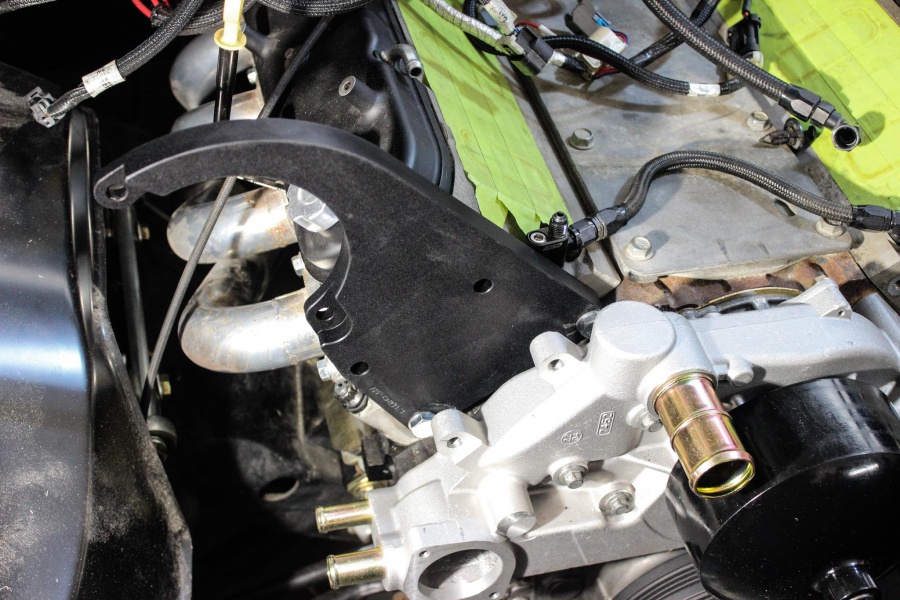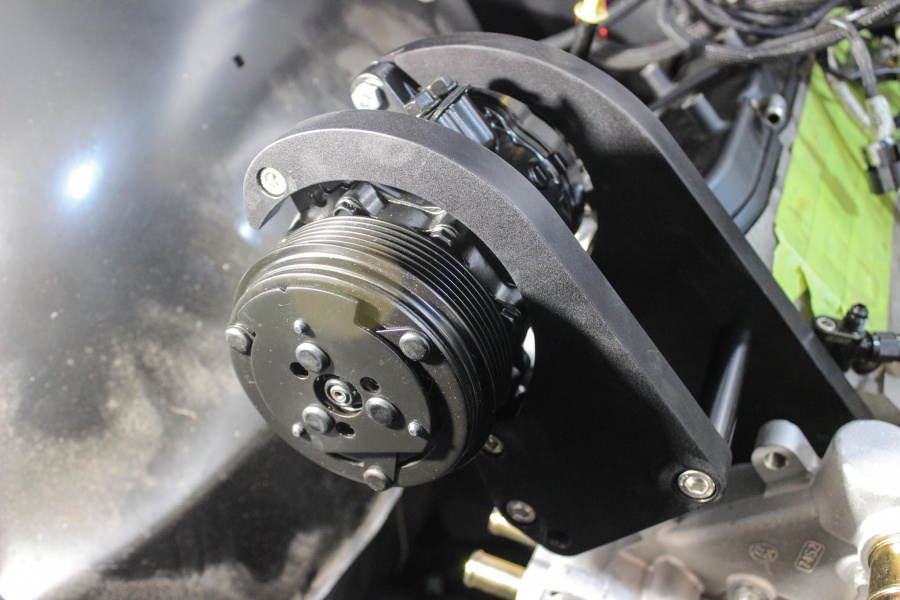 On the drivers side there's two brackets that hold the alternator, power steering pump and the TorqStorm Supercharger. Included in this kit is a brand new black Powermaster alternator, Type II Power Steering pump and the supercharger. The outlet on the supercharger can be rotated around to fit best on your application. The entire accessory drive is ran off one belt with it's own tensioner, while the supercharger runs off a separate belt in front with it's own tensioner. Even with the extra pulleys and a big supercharger, the kit is really compact which worked out well for us.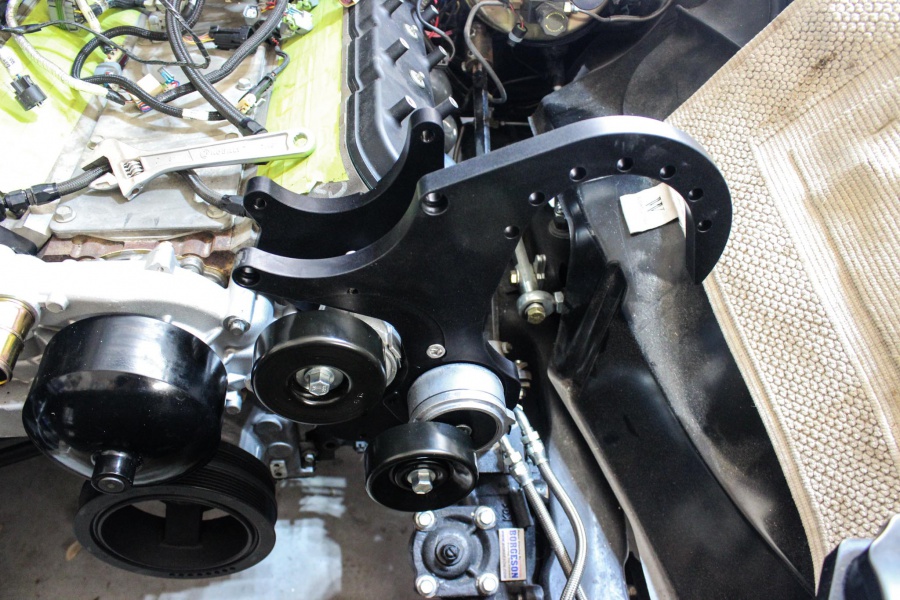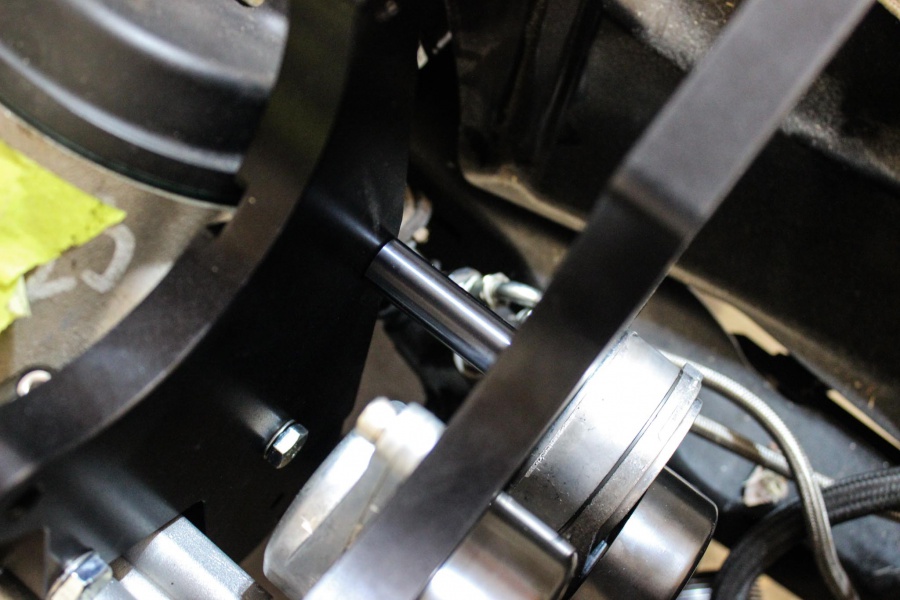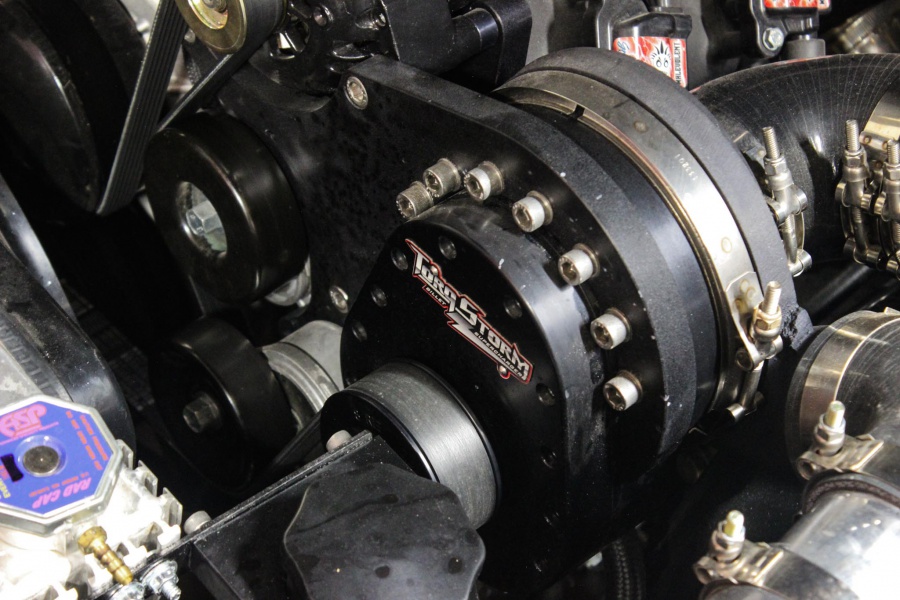 Upgrades For Boost
With the TorqStorm all installed, we had a few other items to attend to before we could fire up our new set up. First, we ran a slightly colder plug to help with ignition. With a supercharger comes more air, which means we will need more fuel. A new set of Holley 83lb-hr injectors(Part no 522-838) were installed to handle that issue. Then we got rid of the 1-bar MAP sensor and swapped it out for a 2.5-bar MAP sensor to make the Holley HP EFI happy.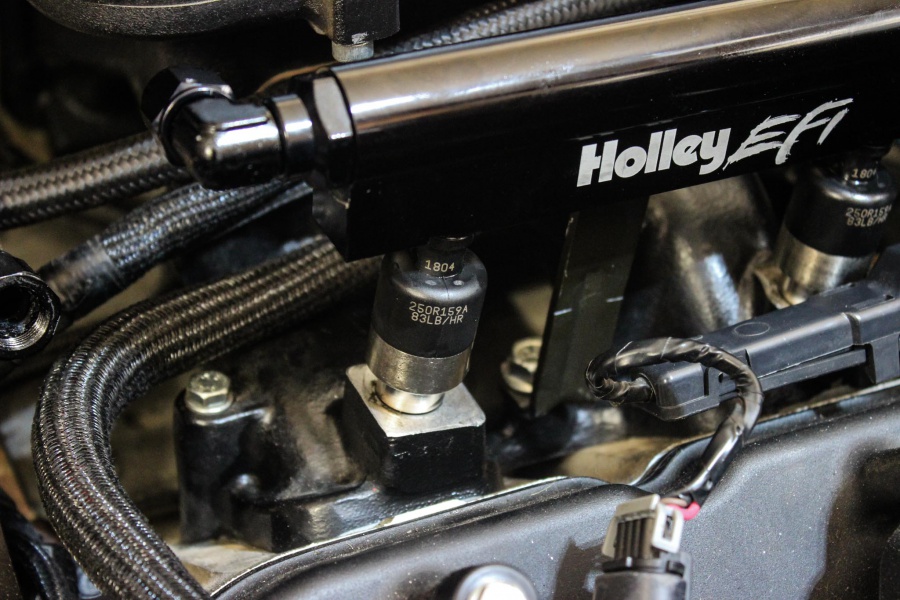 In a '66 Chevelle, there isn't much room by the core support. We knew that to get the best possible results we needed a big intercooler to keep the intake temps down to keep the engine safe with the boost. We measured, measured, remeasured, and measured again. We were about 51% sure we could fit a big 3″ thick Frostbite intercooler in front of the radiator. Our game plan was to scoot the radiator/fan back towards the engine about 1″, push the condenser forward about 1″, which would then give us the 3″ needed to get the intercooler in there since there was already a 1″ gap between the radiator and condenser.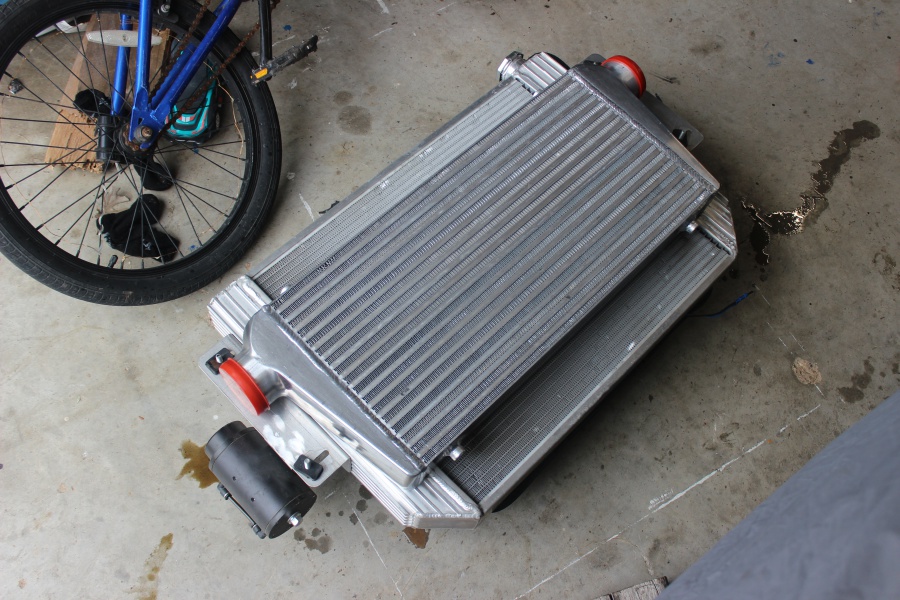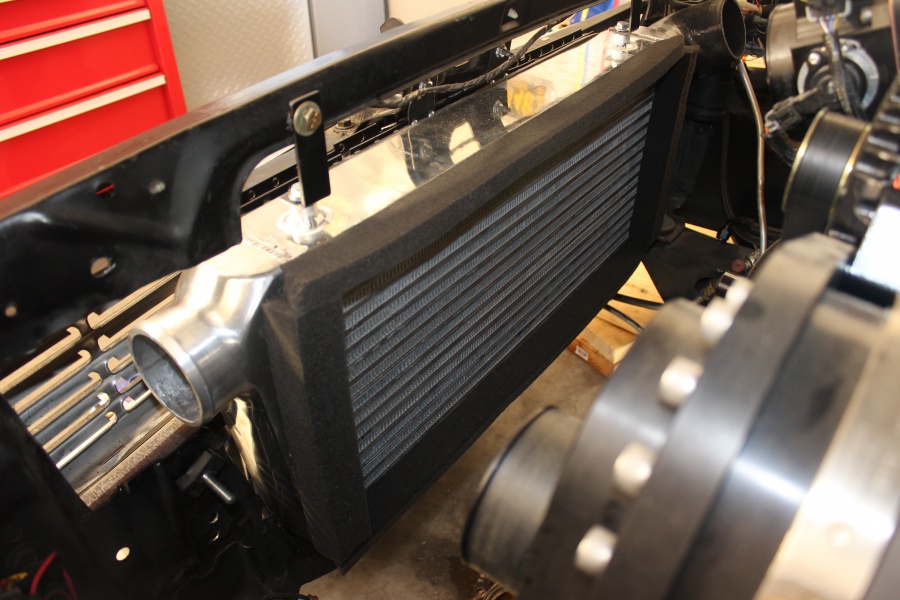 Let's just say this, it took a lot of cutting and measuring. There's no kit for this step and we spent countless hours cutting, trimming, grinding and measuring to get it all to fit perfectly. The end result though is that we had an appropriate sized intercooler that will keep the engine making plenty of power. We even did the old "put a piece of paper in front" trick and the paper was glued to the condenser, showing us that we had tons of airflow through the intercooler with the Flex-A-Lite fan.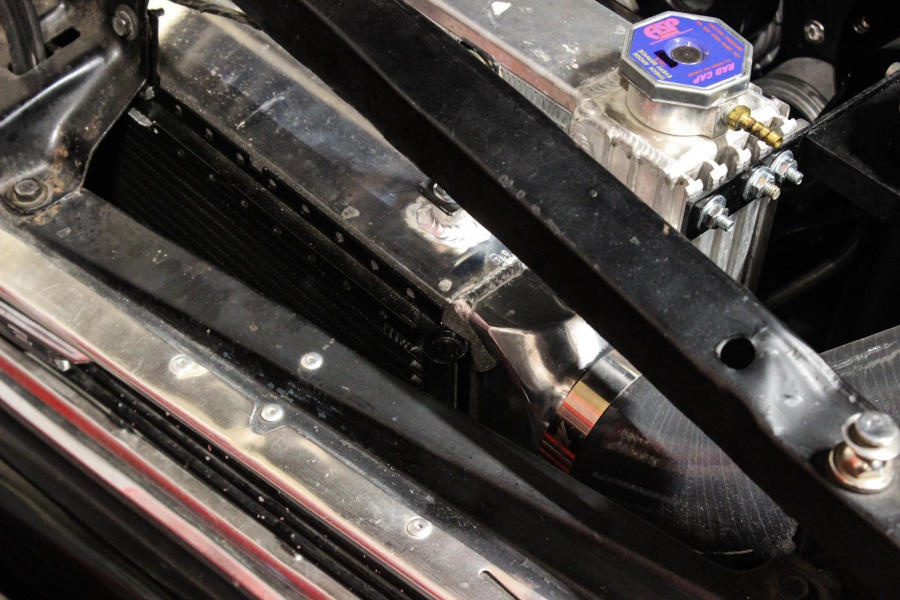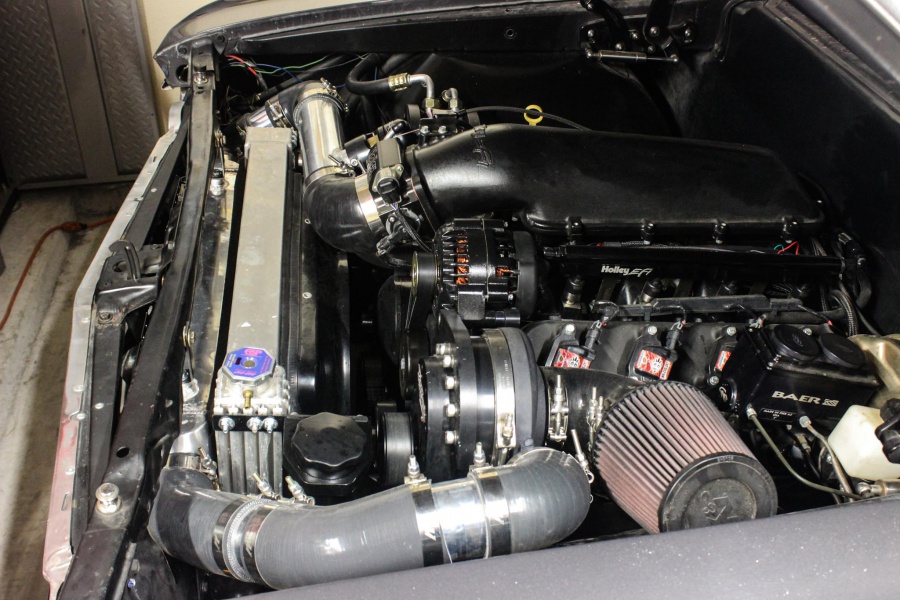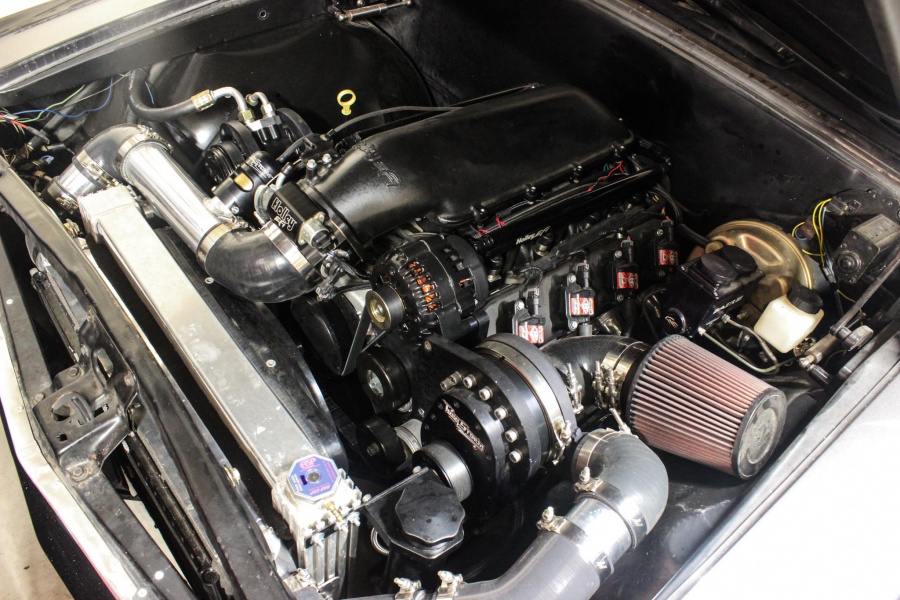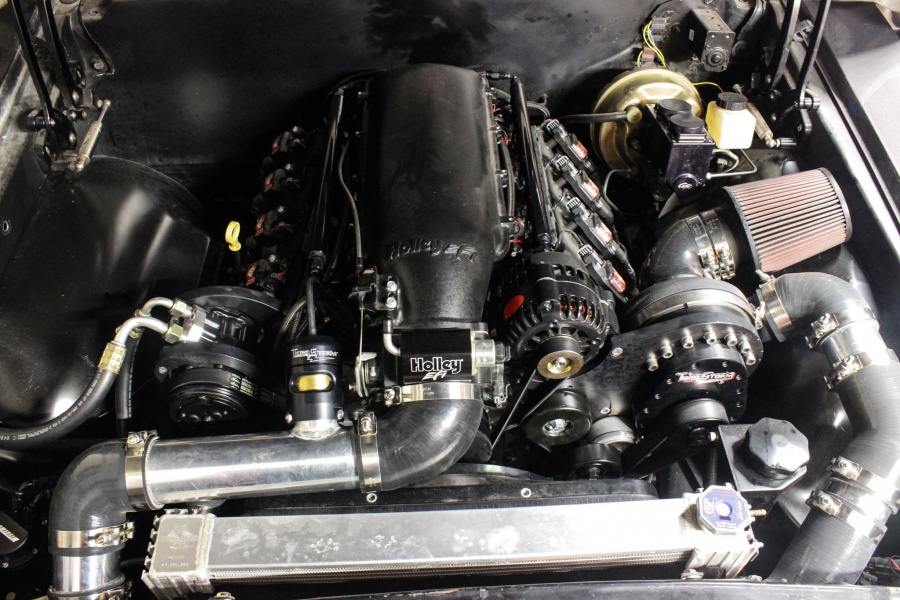 For all the piping we utilized Summit Racing elbows and piping, then had our friends at Pro Touring Texas tig weld in the blow off valve. When you open the hood there's a lot going on, but it all has a spot and a purpose. Since the car had been sitting for so long with a battery that was ancient, we decided to pop in a fresh Optima red top to give this combo plenty of juice to fire up.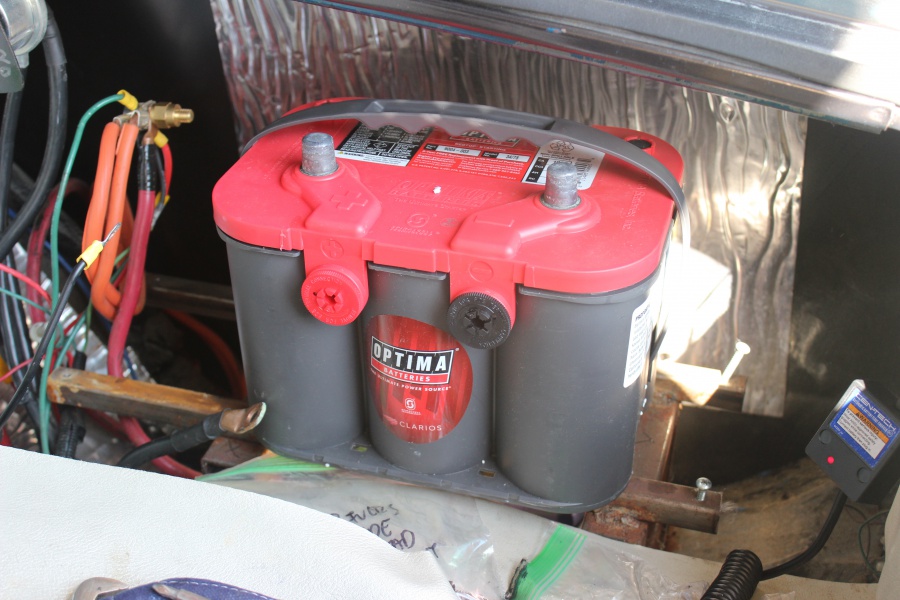 The End Results
We hit the key and…it ran terrible! We wanted to hear it run, but the tune wasn't set yet. We gave Andrew of @projectgattago a ring – an hour later the tune was set. The engine fired and purred like a kitten. After taking it around the block a few times we went for a cruise and this car absolutely hauls the mail! We have about 500 miles we need to complete to break in the Centerforce clutch and American Powertrain T-56 Magnum, but we are off to the dyno to see what kind of numbers this baby can pull!
After those break in miles we ended up at Jessie's Performance in Fort Worth, Texas. We knew this was the right shop after walking in and seeing all the cool rides and several 1,000+ rides in there getting finished. Jessie had tuned several cars with TorqStorm superchargers, but never really played with one. Being a Saturday afternoon, we took the time to do that. First he made a base pull with the current tune, then tweaked the timing just a hair but left the rest as is.
Then Jessie had the idea to disconnect the charge pipe to the intake and do a pull naturally aspirated. The end result was 279HP and 293lb-ft of torque. Remember that we decreased the compression a bit with LS9 head gaskets, put a COMP blower cam in it, and have an intake not really designed for low end power. After that, we hooked the blower back up and hit it to see what kind of numbers would pop up.
Editors Note: When I wrote this I totally messed up – actual percentage change is 79% increase in power, not 43%. 
The result was 500hp and 445lb-ft of torque at the wheels! That means we almost DOUBLED the HP with the blower which gave us an additional 221hp and 152lb-ft of torque. That's a 44% increase and means this engine is now making close to 600HP at the crank. The best part is this is a conservative build and tune. The TorqStorm was really designed to be street friendly. Cruising around it drives like any normal car, but when you get on it and the RPM's get over 3,000 it wakes up and flat out pumps out the power! The tune could also be a little hotter but we didn't want to blow up the engine, we wanted to keep the nice street manners it has.
If you're looking to add a couple hundred horsepower to your ride, give the guys at TorqStorm a call at (616) 226-9476 or hop on their website to see everything they have to offer.
Again special thanks to Jessie's Performance for taking the extra time out of his day to help us get some numbers for you!